AirWire
AirWire (WIRE) (founded in 2018) is a blockchain platform in rewards, earning, and crypto mass-adoption technology, Users are able to generate WIRE tokens through the process of mining.[1]
Its SaaS platform provides digital assets with the ability to provide rewards for activities, including an ad-based model. In addition, users have the ability to transmit tokens directly and securely through text, email, QR code, social media, or custom links, utilizing their patent-pending technology.[1]
History
AirWire was founded in 2018 by Ken DiCross, in Anaheim, California. Recently, Alpha Sigma Capital (ASC), a pioneering digital asset fund investing in upcoming cryptocurrencies and blockchain companies completed its purchase of AirWire's assets for an undisclosed amount.
The assets including AirWire's intellectual property, source code, user base, and WIRE tokens were all included in the purchase. They agreed that Ken DiCross will continue as CEO and hold a board position. The company was newly named AirWire Network.[1]
All previous users and account holders will still be able to access their accounts and wallets on the platform.
In the first half of 2021, AirWire planned to conduct a swap for the classic WIRE tokens in order to ease migration to its new blockchain protocol, still presently under redevelopment, migrating from the original PIVX blockchain that the WIRE token currently uses.
Overview
AirWire is a blockchain platform that is designed to allow cryptocurrency to be sent easily, quickly, and securely, over today's existing social network infrastructure.
No setup is needed by the user nor is it required to have any awareness of the transaction itself. The applications needed to use this platform are as vast as the main reasons people post on social media, to begin with.[1]
By taking advantage of the power of the blockchain, mobile technology, and global internet access, AirWire aims to give everyone another option that makes transferring money as easy as sending a text message.
It also allows individuals to send cryptocurrency user-to-user directly on the platform or through Facebook, Twitter, and Email. This ability is currently developed and being used by individuals all over the world.
$WIRE Token
"Wire" is an early banking term, which means payment transfer from one bank account to another. The AirWire Social Wallet allows the quick and easy transfer of funds on social media by using a cryptocurrency token.
This utility token is called the WIRE Token and WIRE powers Social Wallet, which is required for access to the platform and as fuel for each transaction.[1]
The benefit of the WIRE token is to ensure that the large, decentralized, worldwide network will flourish in the future.
Updates and the State of the Ecosystem
Currently, the ecosystem has advanced to Non-Fungible Tokens trading and its website has become a marketplace for trading them. Users will need to connect their wallets to interact with the whole ecosystem and can list and feature their NFTs on the marketplace for all to see.
The most recent emphasis from the ecosystem has been on NFTs, NFTs swaps, listings, and the price ranges in floor prices. Accordingly, the native token of the ecosystem (denoted with the ticker) $WIRE, has a total/circulating supply capped at 500M[3]. Accordingly, the token has a recorded self-reported market cap of $50.00 Million and no 24-hour trading volume.
Coinmarketcap has sectioned the token as a "Market data is untracked"[2]digital currency and it is not listed as well on coingecko.
'
See something wrong?
Report to us.
AirWire
Did you find this article interesting?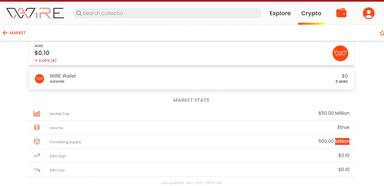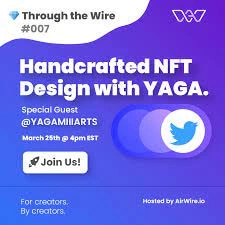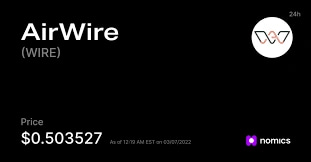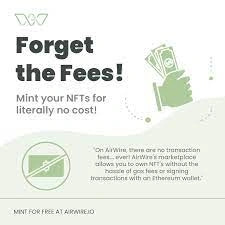 REFERENCES
[1]
Airwire Review
Jul 27, 2022
[3]
Token economy- AirWire
Sep 11, 2022
[4]
Recent post- instagram
Sep 11, 2022