Brave Frontier Heroes
Brave Frontier Heroes is a blockchain game based on the existing title My Crypto Heroes featuring Brave Frontier characters. The game is very accessible and available on mobile phones[1][2][3].
Overview
Brave Frontier Heroes is a play-to-earn idle RPG from the makers of My Crypto Heroes and Brave Frontier. It was released on January 30, 2020. In the first 48 hours after release, Brave Frontier Heroes reached over 700 users and $280,000 in transaction volume[4][5].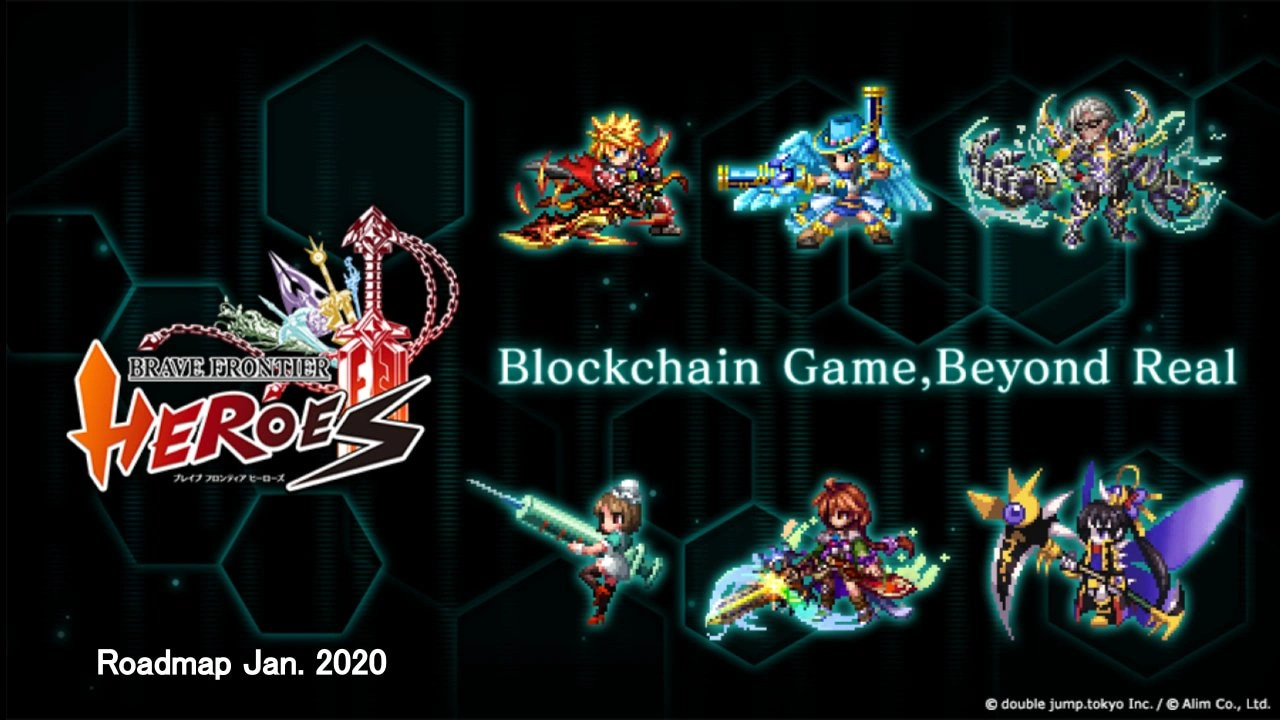 Game data, such as units and items, are owned by users in the form of assets. Unlike other entries, BRAVE FRONTIER HEROES allows users to buy and sell units assets using the virtual currency Ethereum. Additionally, there are a limited number of characters and items with their monetary value determined by the player base.
My Crypto Heroes and Brave Frontier Heroes are free games. Players can spend as much time as they want in these games. During their play-time, they can find valuable items or new heroes. These can be sold on a marketplace. Instead of the traditional free-to-play model, these games use a so-called play-to-earn business model.
My Crypto Heroes uses the My Crypto Heroes platform, which will also be used by Brave Frontier Heroes. That means that the newly announced role-playing game allows players to earn money for their efforts in the game world. Players can send their heroes on quests to find rare items and battle other players for rewards and internet fame. Farmers can sell loot on the market, warriors can fight for items, creators can make their own skins and try to sell those. Traders can try to buy and sell items in an effort to make a profit.
Each hero with the rarity of uncommon or higher becomes player property. Unique items called Original Extensions are player-owned as well. Gamers can sell both the heroes and the virtual items on an online marketplace, like OpenSea for example. It's very likely that the play-to-earn business model will push the traditional free-to-play model away in the near future.
History
On January 30th, 2020, the game "Brave Frontier Heroes" was released, a mix between the eponymous game Brave Frontier and My Crypto Heroes, the 4,000-player game that has long occupied the Weekly Top #10 by Active Wallets.
One of the first mixes of genres between a "traditional" game and a "blockchain" game.
Brave Frontier is already quite a successful game on mobile devices. This game hit the market in 2013 and is available for iOS and Android. Brave Frontier 2 launched last year. Worldwide more than 38 million players have downloaded Brave Frontier.
My Crypto Heroes is an RPG battle game with player-owner historical heroes. Brave Frontier Heroes will have game characters from the beloved mobile game series, but probably not from the licensed partnerships the original mobile game has[6].
Tech
Registering
To register for Brave Frontier Heroes, navigate to the official homepage and click the yellow play game button. MetaMask will popup and ask if the player want to connect their wallet. Click connect wallet. If they've never used MetaMask, read this guide to installing and using Metamask.
Once their wallet is connected, a second MetaMask window will appear asking them to sign a transaction. Click sign to continue. Enter a username and password, and click OK. The tutorial will begin.
Questing
Once the tutorial is finished, the main menu will open. Click the quest tab at the top of the screen to open the list of questing zones. Players select which zone they want to send their units to. Adventurer's Prairie is the easiest and most recommended for new units.
Push the prepare button to see the preparation screen. This screen provides information about the zone's difficulty, required party level, and what loot drops from it. Click departure to continue.
The battle animation will begin playing. Players can move through the battle step-by-step by left-clicking or just hit the fast forward button in the upper-right to skip through it all and find out whether they won or lost. A total of three battles will play out. After the final battle, they'll receive their loot.
Selling Spheres
To sell replica spheres for ZEL, they'll need to first subscribe to Brave Frontier Heroes Prime. This can be done by clicking Home → Market → Prime from just about any page within the site.
In order to subscribe, they'll need to verify their telephone number by entering a code from a text message.
Once this is done, click Market → EXP Exchange to go to the exp exchange menu. Players see a chart with the current exchange rate between exp and ZEL. Click Sell Replica Spheres to exchange their spheres for ZEL.
Once they've got the ZEL, they can click Buy EXP from this same screen to get more exp for their units.
Buying Units
To use their ZEL to buy units from the developer, click Market → Summon. To use it to buy units from players, click Market → Trade.
Equipping Spheres
Players may prefer to use their spheres instead of selling them for ZEL. If so, there is no need to take a special action to equip their spheres. They will automatically gives buffs to their team when they enter battle.
Receiving Original Spheres
While testing, they were unable to acquire any original spheres. So they can't verify for certain whether these items are held in a smart contract until the player pushes a button or automatically transferred.
But players can't sign up for the game without connecting with a wallet. So these assets probably transfer automatically.
Stamina and ZEL
Every time their units quest or enter the arena, they will use up stamina. This attribute will regenerate over time.
Players' units' current stamina is listed beside the heart icon at the top of the screen. The amount of ZEL they currently own is listed in yellow to the right of this.
Gameplay
Brave Frontier Heroes gameplay consists of a simple loop that players engage in over and over again to progress. Here is how it works.
Units
When a new player begins, he receives a set of free characters called units. These units have anime names like God Blade Mifune and Dragon Zephu.
Quests
The player can send his units on quests to battle monsters. Each quest consists of three battles. Depending on the outcome of the quest, the units involved will receive a certain amount of xp as a reward. Spheres, or items, will also drop from these quests.
Some of these spheres are replicas that have no existence outside of the game's servers. Others are original. These original spheres are Ethereum NFTs that can be traded freely on sites like OpenSea and Auctionity. Spheres increase the stats of units, making them more likely to win battles.
Arena
The player can also send his units to the arena to battle against another player's team. PvP matches increase or decrease a player's rank according to an ELO system. Gaining a high rank results in exclusive original sphere rewards.
Leveling and Purchasing Experience
Questing in easy, low-level areas does not result in original sphere rewards. To get the best loot, the player needs to level up his units over a period of time.
A player can speed up the leveling process by purchasing exp through the game's exp exchange.
From the research, it appears that the developer does not sell exp directly to players. Instead, some players convert replica spheres into experience at a fixed rate of 10 exp per sphere. This exp is then immediately sold to other players through the exp exchange.
Experience can only be purchased with the in-game currency, ZEL. And replica spheres can only be sold by converting them to exp and offering it for ZEL.
The exp exchange is only available to Brave Frontier Heroes Prime members.
Steps to Play
The basic gameplay loop of Brave Frontier Heroes is simple. It consists of the following steps.
Send units on quests or to battle in the arena
Earn exp and items
As the units get more powerful, send them on higher-level quests or against players with higher rank
As players earn spheres they can convert old ones they no longer need to exp, and sell it to other players for ZEL
Use ZEL to buy exp and/or new, more powerful units
Earn original spheres from playing in higher-level areas or gaining PvP rank
Use original spheres to quest in even higher levels or gain more rank
When they no longer need a sphere, sell it for ETH
Repeat
Tokens
If a player wants to buy exp but doesn't have any ZEL, he can purchase the ZEL directly from the developer at a rate of 0.05 ETH (approx. US$9) per 500 ZEL. New units can be purchased from the developer in exchange for ZEL. Each type of unit has a unique name, image, and individual stats. And each is strictly limited in quantity.
These units can be resold to other players through the game's internal exchange. The units were not verified if they are NFTs or centralized assets. But since only spheres can be found on external sites such as OpenSea, players should probably assume all units are centralized
Amounts Generated
1 ETH = 10.000 ZEL. The price of the 4 legendary characters (the most expensive) was 20,000 ZIL and their price increased with each sale. On average, 60 units of each legendary character were sold on the first day, doubling or even tripling the price. So on average, 4 characters x 60 units x 4 ethereum = 960 ethereum were traded in one day.
Developer
Japanese game developer Double Jump.Tokyo is working on a blockchain version of the successful free-to-play game Brave Frontier. The game will be a modified version of My Crypto Heroes with characters from Brave Frontier. There are plans to have characters from My Crypto Heroes and Brave Frontier Heroes appear in both games. The first character to make this move is Nightingale.
Double Jump.Tokyo is expanding its efforts in the blockchain space. The studio is also working together with Real World Games on an untitled location-based game. In addition the studio is working together with Samurai Soft on a game called My Crypto Footballer.
Collaborations
My Hero Academia X Brave Frontier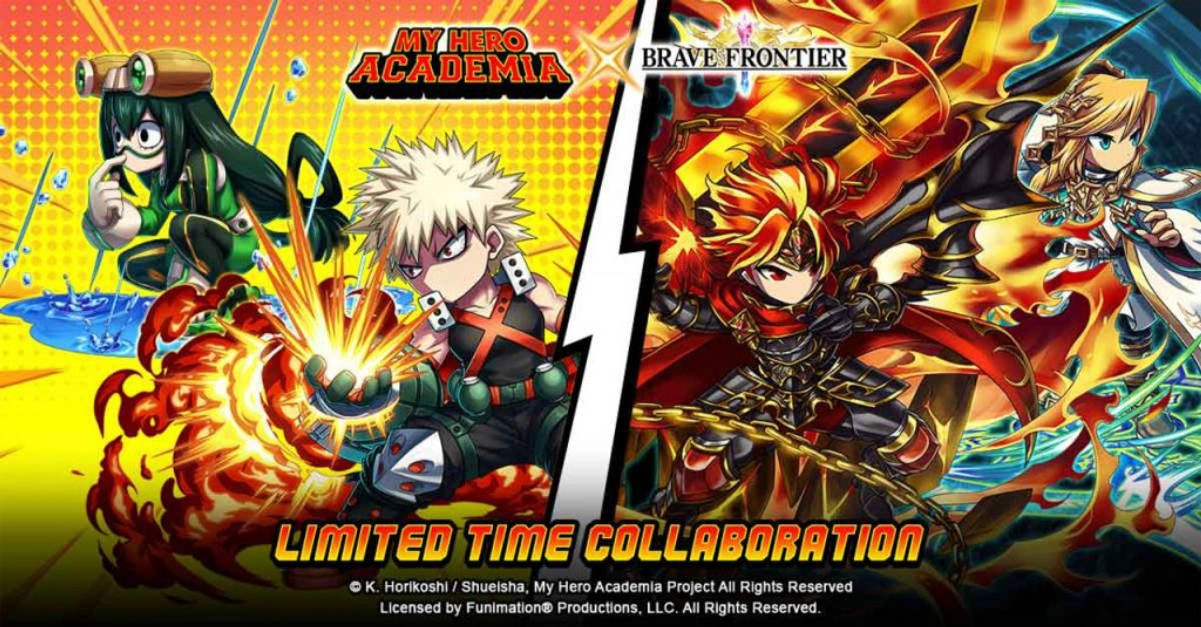 My Hero Academia X Brave Frontier
My Hero Academia and Brave Frontier collaborated together. Players will be able to summon their favorite heroes-in-training in the Brave Frontier X My Hero Academia crossover event. The even took place from July 26 until August 22, 2018.
The four My Hero Academia characters available for summon include Izuku Midoriya, Ochaco Uraraka, Katsuki Bakugo, and Tsuyu Asui. MHA's #1 Hero All Might can also be acquired by players through finishing one of the two challenge dungeons in the collab event.
The event's two challenge dungeons are Time for Training! and Escape Through the Gate! Time for Training will be playable from July 26 – August 8, and will feature Deku and Ochaco fighting of an unknown entity that appeared from a sudden black fog.
Escape Through the Gate meanwhile will be playable on August 6 -19, and will feature Tsuyu and Katsuko preparing for an exam through a warm-up spar. Completing this dungeon will give players access to All-Might himself.
Guinness World Record
Brave Frontier holds Guinness World Records for the most playable pixel art characters in a mobile game. There are currently 627 characters and it's expected to see a lot of them in the new game, Brave Frontier Heroes. It's worth mentioning that the game is already 7 years old and it counts players from more than 64 countries.
See something wrong?
Report to us.
Brave Frontier Heroes
Did you find this article interesting?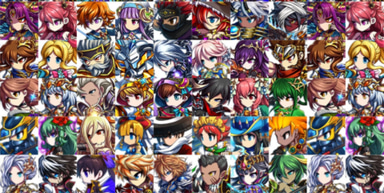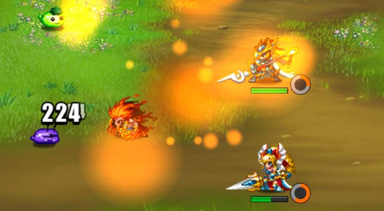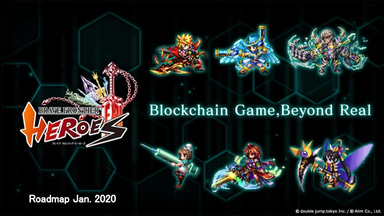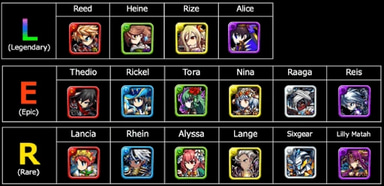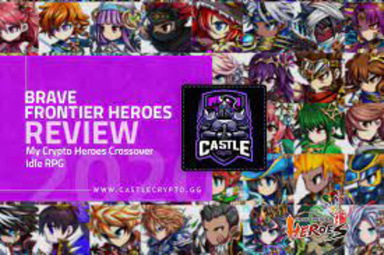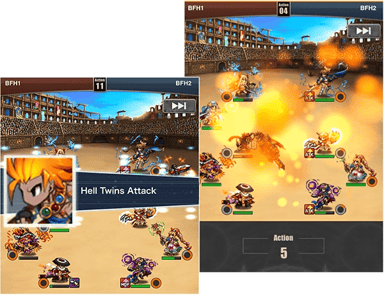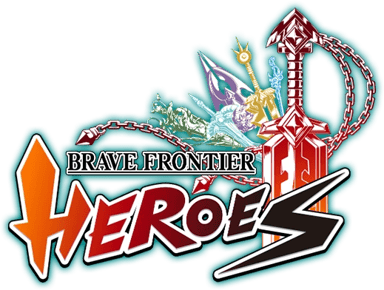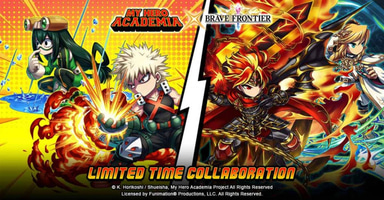 REFERENCES
[1]
Brave Frontier Website
Jul 31, 2022
[2]
Brave Frontier Wiki
Jul 31, 2022
[3]
Brave Frontier Heroes Tutorial & Gameplay
Jul 31, 2022
[4]
Gameplay review of Brave Frontier Heroes
Jul 31, 2022
[5]
Brave Frontier Heroes: Play-to-Earn Idle Game Review
Jul 31, 2022
[6]
Brave Frontier on OpenSea
Jul 31, 2022