GAMEE
GAMEE is a high-engagement, gaming entertainment platform that provides a library of 80+ proprietary hyper-casual HTML5 games via its website and mobile apps on the App Store and Google Play. Usage of the platform ranges from casual game sessions to highly competitive tournaments that offer prizes.
In addition to dozens of original games, GAMEE also develops games in collaboration with internationally famous brands including NASA, Guinness World Records, Manchester City Football Club and Atari.
GAMEE has over 25 million registered users, 50 million monthly gameplays, and more than 4 billion gameplay sessions to date. On average, each user plays GAMEE's games for 25 minutes a day.[1]
GAMEE mission is to introduce value of blockchain to mainstream gaming audience.
GAMEE Platform
GAMEE Prizes
Gaming entertainment with over 80 casual-style games and 25M registered users across web and mobile applications on the App Store and Google Play; GMEE token will be introduced as a reward for players and a way to onboard current free-to-play audience into blockchain.
GAMEE Arc8
GAMEE preparing second generation of GAMEE, blockchain-powered. GAMEE Arc8 will introduce skill-based gaming tournaments over casual-style games, that utilizes GMEE for tournament entry fees and rewards. GAMEE Arc8 will support G-Bot NFTs and Game Parcel NFTs.
This will come with a network mining app to introduce the concept to new users and generate the first playerbase on the platform. Arc8 - GMEE mining app will allow users to earn GMEE tokens before Arc8 Beta releases.
GAMEE Robots
Set of robot themed games that will utilize G-Bot NFTs as game characters in their own dedicated games, with the GMEE token used to purchase and upgrade the G-Bot.
NFTs
Supported NFTs (non fungible tokens, ERC-721/ERC-1155):
G-Bots
Non Fungible Tokens representing upgradeable robot character collectibles that give owners a reward bonus in GAMEE Arc8 tournaments and function as game characters across multiple robot-themed games. G-Bots are purchasable and upgradeable using the GMEE token.
Game Parcel
Non Fungible Tokens representing game launch slots on GAMEE Arc8, that will allow third-party game developers and publishers to publish their own games on the GAMEE platform to access GAMEE's audience; GMEE will provide essential utility to purchase or rent Game Parcel and to govern certain elements of it.
GAMEE Token (GMEE)
The GAMEE Token (GMEE) is an ERC-20 utility token that is designed to be the currency of purchase, utility, reward and action in supported play-to-earn games provided on the GAMEE casual gaming platform.
GMEE is a utility token that has real use beyond any innate stored value it may hold. The purpose of GMEE is to serve as a medium of action, reward, and incentive that connects multiple game titles on the GAMEE platform. The total supply of GMEE has been fixed at 3,180,000,000 tokens.[2]
Team
Founders
Bozena Rezab - Co-Founder and CEO
Jan Castek - Co-Founder and CPO
Miroslav Chmelka - Co-Founder and CTO
Advisors
Yat Siu - Chairman of the Board, Animoca Brands
Sebastien Borget - Co-Founder and COO of the Sandbox
Robby Yung - CEO, Animoca Brands
See something wrong?
Report to us.
GAMEE
Did you find this article interesting?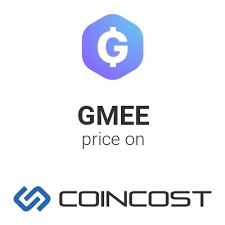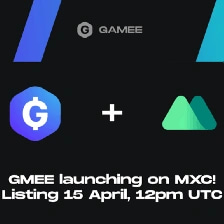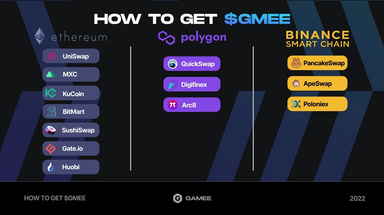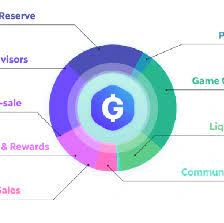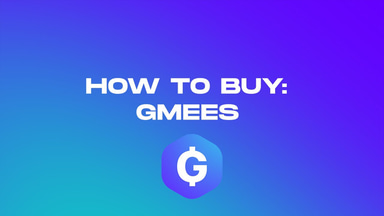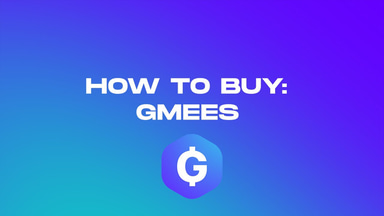 REFERENCES
[1]
Introducing Gamee
Aug 25, 2022
[2]
Gamee's tokenomics
Aug 25, 2022