RENGA
RENGA is a collection of 10,000 hand-drawn PFP characters created by the artist DirtyRobot.[1]
Overview
RENGA is a handcrafted collection of 10,000 characters developed by artist DirtyRobot who is also known as Daniel Isles. DirtyRobot is based out of Japan and his primary work revolves around the use of ink and paper which explains why this collection is handmade in nature. Each RENGA character has their own identity to be discovered within the broader stories of RENGA.[1] As for the meaning of the 'RENGA' word, it means sequential art or pictures, so RENGA NFTs often have only one panel per page and very little use of dialogue.[2]
The maximum possible supply of RENGA Characters is 10,000, but this number will be relative to the number of RENGA Black Boxes that are opened (burned). Every RENGA Black Box holder will be given the opportunity to open their box (burn) and reveal a character (mint) from the RENGA universe via a burn-to-mint mechanism. Aside from the cost of gas, there will be no additional fees to open each box, and the option to open the box and reveal the character will be available until there are no remaining boxes.
RENGA is currently available on OpenSea.[3] When the collection sold out, DirtyRobot posted the following on his Twitter:
Wowowow! Absolutely insane! Thank you all so much for your amazing support— totally lost for words right now! Seriously, thank you so much for appreciating the Art and work we've put in to this project— much love!
See something wrong?
Report to us.
RENGA
Did you find this article interesting?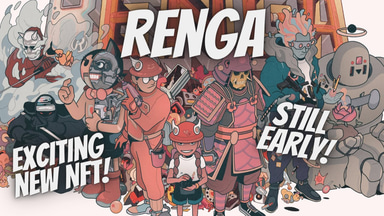 REFERENCES
[1]
RENGA official website
Oct 8, 2022
[2]
RENGA overview
Oct 8, 2022