30-50 Feral Hogs NFTs
30-50 Feral Hogs - ERC721A NFTs on Ethereum Mainnet
The 30-50 Feral Hogs NFT collection is made up of 3250 (read: 30 to 50) algorithmically assembled profile-picture style NFTs of wild boars (aka, feral hogs). The origin of the collection was initially considered in mid-2021 by brucethegoose; but was delayed until proper infrastructure was more readily available to deploy smart-contracts and blockchain-driven applications, without requiring extensive programming knowledge. After experimenting with several "no-code NFT collection" platforms, the art was created, randomized, and made publicly available for minting on 10/31/22.

Hodl'er Benefits:
The FHYC NFT project was designed, created, and deployed as a light-hearted, inexpensive PFP project with the potential to trigger internet-wide nostalgia by breathing new life into the "30-50 feral hogs" memes and parodies that were wildly popular for a short time. As such, the project was initially planned to be a free, CC0 collectible, and remains bereft of a clearly stated roadmap, or any promise of specific perks, rewards or dividends.
This is not to imply a total lack of utility or an absence of any planned benefits for the Feral Hog Yard Club memberships. There are very few specifics that can be revealed at the time of this writing, based on the planned surprise features, and the cryptic, "DYOR"- format of the "Yard Map".
The scarce availaility of the FHYC mint (3250) will create added demand for club membership
Members will have exclusive and unrestricted access to "The Yard"
Holding a Feral Hog NFT for an extended period of time will improve the quality and variety of rewards available to them.
The nature of the Feral Hogs make the NFTs uniquely meme-able, while potentially capturing the attention of twitter users by triggering nostalgia for the rapidity and hilarity of the 2019 tweet.
Exclusive content, services and products will also be made available as is possible and as is reasonable.
FHYC holders are granted full commercial and consumer IP rights for their owner NFTs.
'The Yard'
'The Yard' is a token gated content zone on the web; similar to "The Bathroom" (the first milestone unlock of the Bored Ape Yacht Club's v.1 roadmap), but in a more productive manner than digital 'dive bar bathroom graffiti'. 'The Yard' is hosted on a community-management platform called 'The Melting Spot', which is currently available in beta, and combines features that are reminiscent of Discord, Medium, and a standard content-centric website; as well as the ability to host scheduled livestreams, and to publish/organize a large library of content. This platform will become the central members-only zone made available to FHYC members; and will be home to an ongoing effort to catalog, curate and pass along the knowledge and experience that has resulted from being deeply ingrained in the growth and evolution of the NFT space since the end of 2019. For perspective, it would be reasonable to expect that within a short time after the platform opens to FHYC hodlers, there will be well beyond 250 hours worth of content to read, watch or listen to. All of which will have been cherry-picked from among thousands of bookmarks saved to return to another time; and will include content, "strategy guides", tools, etc. covering NFTs, DeFi, L2s, Altchains, Zk Rollups/Snarks, etc.
The potential value of which is very likely to exceed that of the revenue generated by selling all 3250 Feral Hogs; judging by the price tags attached to Web3-focused courses offered on various platforms; and often by individuals or groups who have a negligible amount of experience with the relevant topics by comparison to that of the FHYC founder.
In addition to the wealth of knowledge and experience to be made available to holders via "The Yard", members will also gain the benefit of having a direct point of contact with a veteran in the NFT/DeFi/Web3 space; and the ability to request feedback and recommendations related to their own projects; and (while there's no reasonable way to guarantee it to everyone) may also gain opportunities for warm intros or more reliable contact channels with numerous industry leaders and other movers-and-shakers from the founder's vast personal and professional networking over the past several years.
The Feral Finding Challenge
The 30-50 Feral Hogs NFTs may, though may not, be the first PFP project to design a bespoke minting incentive that, in practice, will distribute rewards (though the exact nature of said rewards is yet to be finalized) to minters, as well as to secondary market participants. The Feral Finding Challenge is inspired by the popular time-sensitive 'Fancy Chase' events that take place in the CryptoKitties ecosystem. Full details of this mechanic will be included in this wiki after being revealed in the near future; to replace this generalized overview:
Among the 3250 available NFTs; approximately 10 (it may be a few less or a few more) were slightly manipulated after the full collection was generated algorithmically with the provided art layers. These *10 NFTs each have a specific combination of at least 3 or 4 very rare traits; all of which can also be present on any of the other NFTs, but have no added benefit (beyond rarity) when not present as a part of a "set".
The original minters of these 10 hogs will be entitled to proportional amounts of the TBD reward pool; and will share their portion of rewards with buyers in the event the NFT is sold before the collection is revealed. The prize distribution heirarchy is intended to create an incentive to mint early, and often (for those trying to acquire the 'special' NFTs), but in a manner that doesn't simultaneously punish the original minter by denying them their victory and reward should they decide to take profits while unaware that they've minted one of the "Fancy Feral Hogs".
The rewards structure is designed as such, to be the most fair to all participants at the time of reveal and reward distribution.
[ the following example is based on a collector minting ONE of these special hogs, with a hypothetical reward of $100 USDC for each ]
Minted - HODL'ing when revealed :
$100 USDC Prize
Minted - Sold, with the buyer holding at reveal:
$50 USDC Prize to minter, $50 USDC Prize to buyer
Minted, Sold, Buyer1 Sold, Buyer2 holding on reveal:
$50 USDC to minter - $25 USDC to B1 - $25 USDC to B2
---
---
Beyond the Meme
While the project's origins lie purely in the memetics of the 30-50 Feral Hogs viral rise on Twitter[2], working on the project led to much the same result as the popularity of the online jokes. Namely; the realization that there are very legitimate issues arising from wild pigs in multiple US states. In an interview with a podcaster who'd seen the memes and become aware of the severity of the matter, one farmer estimated that agriculture-based production is at a 10% defecit nationwide as a direct result of the billions of dollars a year, in property damages these animals cause.
With that in mind, there will be community discussions related to the ways we can build awareness, and promote or take actions that contribute to a solution the threat of 30-50 Feral Hogs.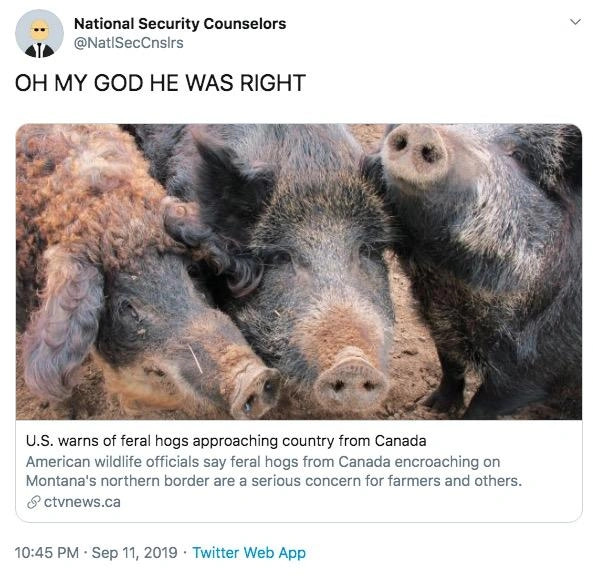 See something wrong?
Report to us.
30-50 Feral Hogs NFTs
Did you find this article interesting?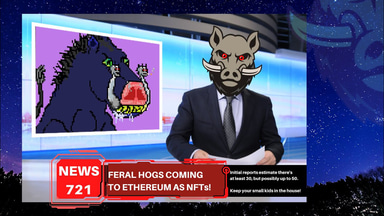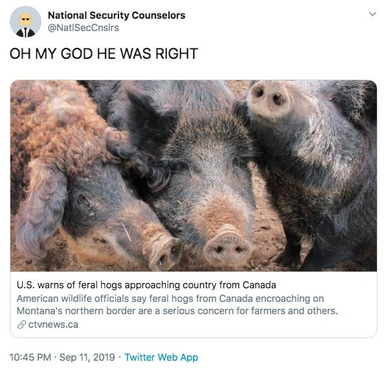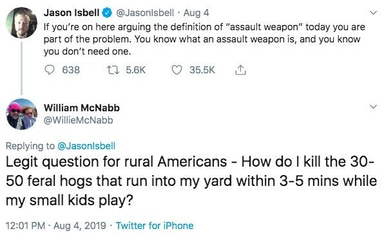 REFERENCES
[1]
Willie McNabb's original tweet can be found here
Mar 28, 2023
[2]
Original tweet from Willie McNabb about 30-50 feral hogs.
Mar 28, 2023