Mad Dog Jones
Mad Dog Jones (born Michah Dowbak) is a Canadian digital artist. In January 2021, Jones collaborated with electronic dance music star Deadmau5 to release two NFT art collections. Previously, Jones worked with Chromeo, Vanoss, Run the Jewels, Jabbawockeez, Conor McGregor, and more.[1][6]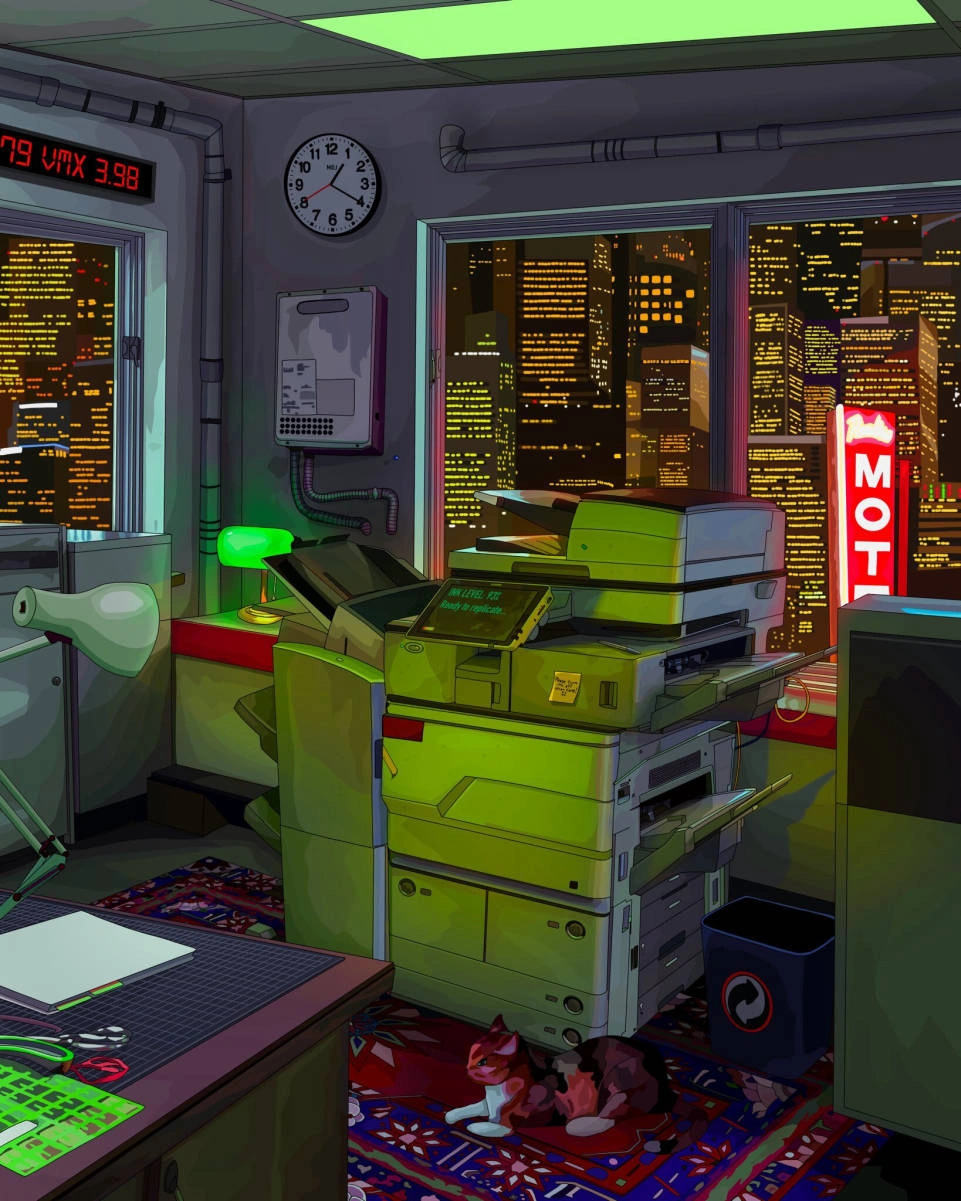 In April 2021, Mad Dog Jones partnered with Phillips auction house. The partnership includes the release of REPLICATOR, the first 
Non-Fungible Token
(NFT) to be offered by the auction house in company history. With an opening bid of $100, the work was created with the ability to generate new unique NFTs from itself every 28 days. REPLICATOR will be offered in an online-only auction, open for bidding to collectors around the globe on phillips.com from April 12-23, 2021.
[11]
Early Life
Jones' hometown is Thunder Bay in Ontario, Canada. Growing up at the former French trading post on the banks of Lake Superior, Jones' childhood was embedded in nature, with days spent hiking the trails and paddling a canoe through the hundreds of lakes that make up the nearby Quetico Provincial Park.[4]
Jones' father is a stained glass artist and professional musician who built the family home with the help of friends in a forest. The house is 100 percent wood-heated throughout the Canadian winter.[4]
Jones started playing violin from age five and watched his father install the stained-glass windows at the Thunder Bay Saint Anthony's Church designed by a family friend and architect Walter Kuch. His father taught him color relationships, shape, and form. Meanwhile, his brother, seven years his senior, introduced Jones to anime, manga, and The Chemical Brothers.[4]
In an interview with Tokyo Weekender, Jones said:
"I am really lucky to have a family that is so artistic, and that's really allowed me to be confident in pursuing art. I really lived off day-old doughnuts and on a shoestring budget for years to be an artist. I truly grinded."[4]
Jones earned his degree with honors in human kinetics from the University of Guelph. His first job was helping seniors at a care center run through their daily exercises.[4]
Career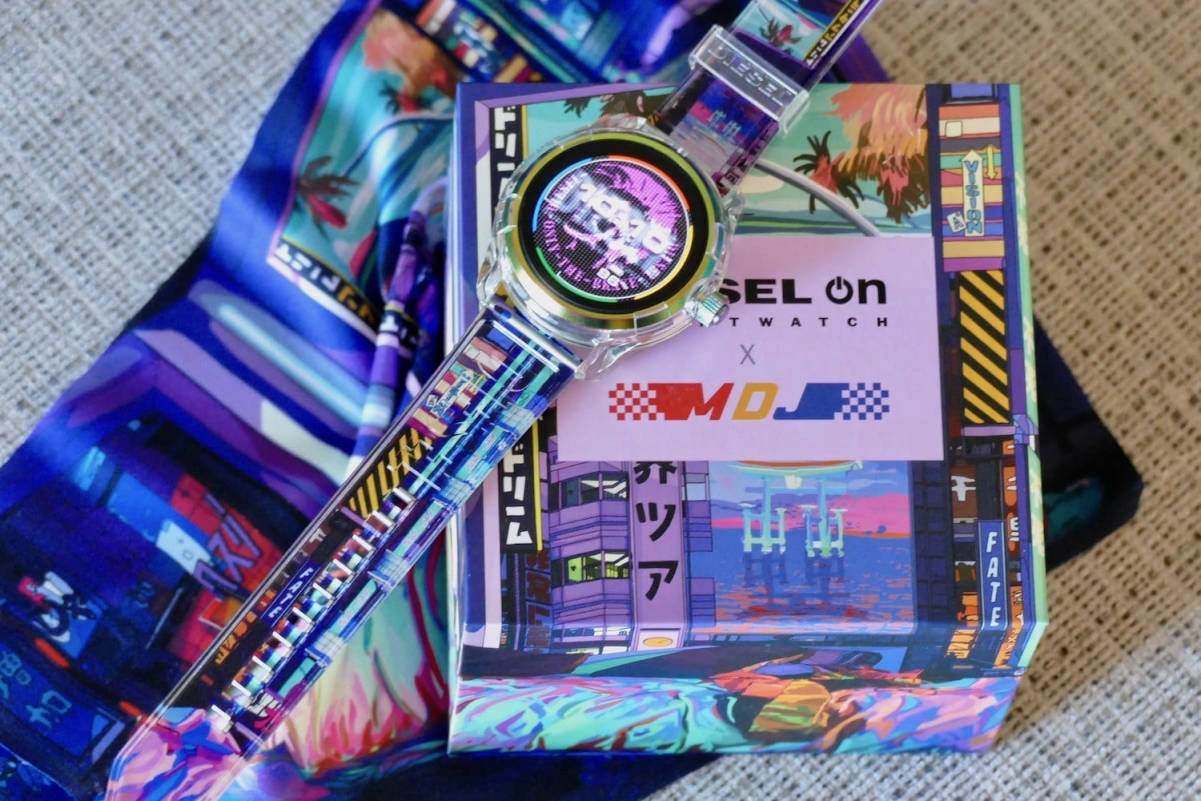 After finishing the university, for two years, Jones recorded and toured as DJ, keyboardist, and percussionist with fellow Thunder Bay native Coleman Hell. Their 2015 song "2 Heads," a club anthem with a folk banjo hook, went quadruple platinum in Canada and reached number five on Billboard's US alternative rock chart. Along with Hell and fellow Canadian artists La+ch and Shan Vincent de Paul, Jones founded the Toronto-based collective Sideways.
[4]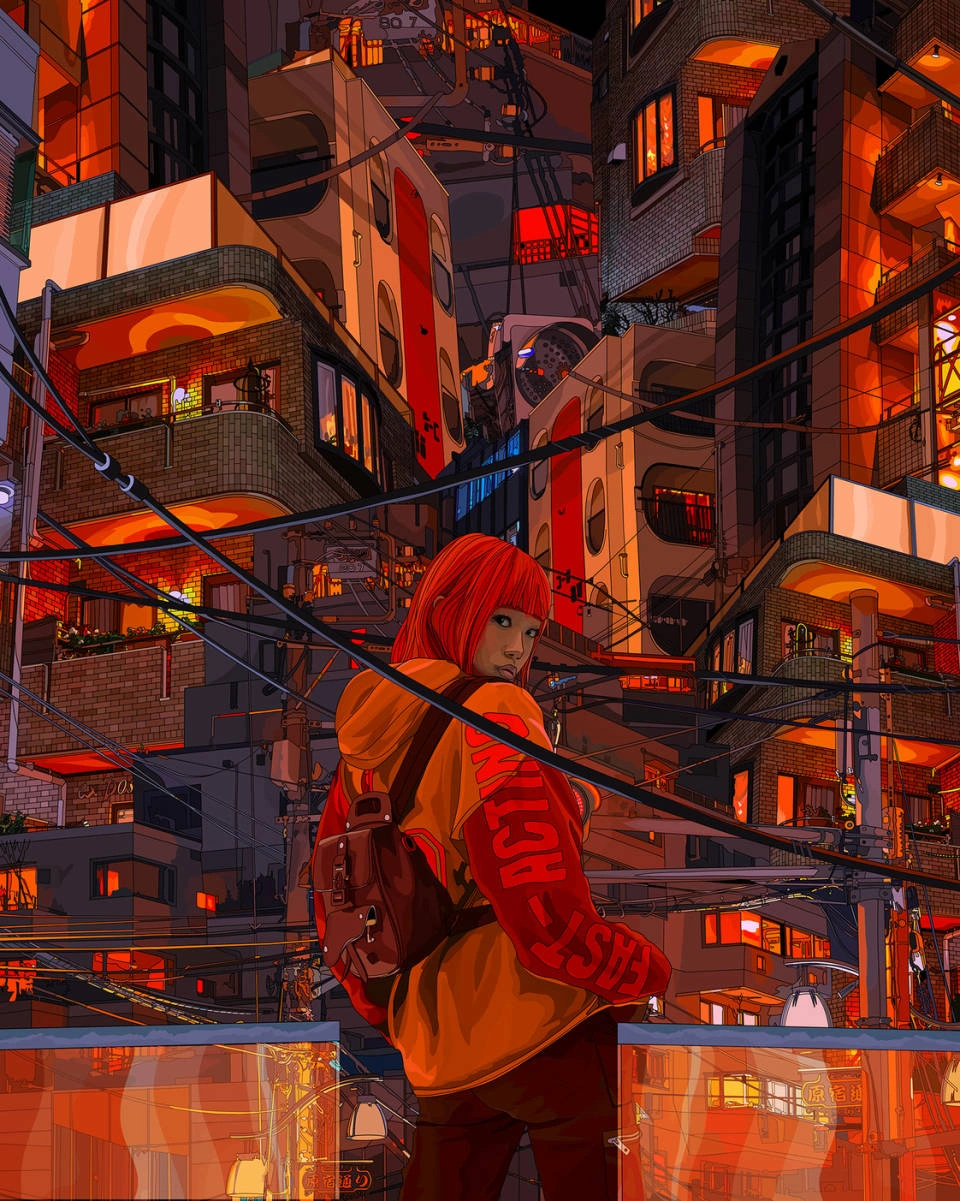 Jones' illustrations soon started to gain traction, and he was asked to produce artwork for Maroon 5. When the tour ended, the Mad Dog Jones Instagram account was launched. 
[4]
 Jones later worked with Trippie Redd, Chromeo, Vanoss, Run the Jewels, Jabbawockeez, Conor McGregor, and more.
[6]
Partnerships
Diesel
In September 2020, the Diesel On Fadelite X Mad Dog Jones limited edition smartwatch was released. This limited edition model with Mad Dog Jones' design on it came in a special box and a cloth featuring artwork by him. At the time of release, it was priced at $295 on Diesel's online store.
Julian Meiojas
In 2020, Mad Dog Jones collaborated with writer Julian Meiojas to publish DNA, a neon-noir futuristic novella from NeoText. Set in a twisted future America, DNA is accompanied by spot illustrations from Mad Dog Jones in his recognizable style. The book was released in October 2020.[5]
Deadmau5
In 2021, Mad Dog Jones partnered with electronic dance music star Deadmau5 to release two NFT art collections on the Tyler Winklevoss-owned Nifty Gateway on January, 14. The NFTs are a combination of music from renowned multi-Grammy nominated Deadmau5 and artwork from Jones. According to the announcement on Nifty Gateway's Twitter on January 16, after the $66,717.66 auction result, the total primary market sales for collections ended up at $404,910.[7][8]
Phillips
In April 2021, Mad Dog Jones partnered with Phillips, one of the leading auction houses, to release a 'REPLICATOR' - a work that can make a new Non-Fungible Token (NFT) from itself every 28 days. The artist is offering the work via a Phillips online auction at a starting bid of US $100. The auction will run from April 12 to April 23, 2021. The winning bidder can pay Phillips in dollars or Ethereum (ETH), the auction house said.[9]
REPLICATOR will include seven "unique generations of artworks" beginning with an illustration of a copier in an office with a nighttime city scene visible through the window, Phillips said. The first generation will make one unique Non-Fungible Token (NFT) a month for six months, and each generation that follows will make one less artwork until generation 7, which won't produce any more works of art, the auction house said. After any NFT produced is sold, the new owner will own anything new that is created. The catch is REPLICATOR can jam, just like a real-world copy machine, and when that happens, the "Jam Artwork" that's created is unique to its generation but won't replicate, Phillips said, noting that the "jam rate" is about 50% to 80% for generations two to six. The total average number of artworks expected to be created by REPLICATOR throughout one year is estimated to be 220, although the range is 75 to 300, Phillips said.[9][10]
Mad Dog Jones said:
'REPLICATOR is the story of a machine through time. It is a reflection on forms of past groundbreaking innovation and serves as a metaphor for modern technology's continuum.'
NFT Artworks
Time Is An Illusion
Pieces by Mad Dog Jones are really distinctive. His distinctive visual style is as vibrant and detailed as a Gustav Doré etching and has the flamboyant colors of a Lisa Frank folder from your fourth-grade social studies assignment (around 1996). (ca. 19th century). This eight-second NFT explores the idea of time passing while a Metro train flies through the air.
REPLICATOR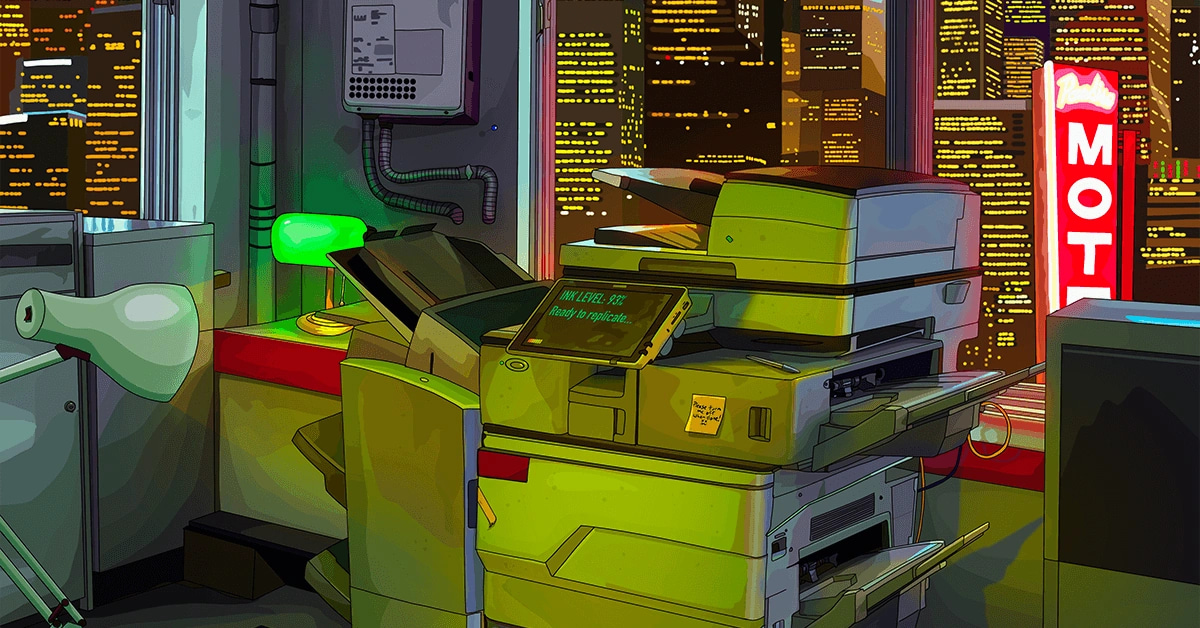 The real account of how a group of engineers at Xerox created the graphic user interface (GUI) is told in the made-for-television film "Pirates of Silicon Valley" (1999). Of course, fax machines were already synonymous with Xerox at that point. Because of its advanced method for creating digital objects that cannot be replicated, Bitcoin (the forerunner to and inspiration for Ethereum) was so creative.
The idea of manufactured scarcity is a theme in this composition. A wonderful view of a city block of skyscrapers can be seen from the interior of a high-rise workroom in the digital illustration. There is a telecopy fax machine there. Additionally, this deliciously odd NFT is programmed to create variants on itself every 28 days.
Each iteration portrays a different moment in the room's history as well as the copy machine's adventures creating copies, getting stuck, and occasionally breaking down and spewing ink everywhere (like Rudyard Kipling).
Dead Ramen
In order to fully use the potential of the digital medium, Mad Dog Jones and electronic musician deadmau5 released two NFT art collections in February 2021 that combined Mad Dog's visual work with 30-second audio.
This painting is an excellent example of Mad Dog's rich visual subject matter, which is always bustling with a riot of materials in a dizzying array and regularly juxtaposes organic elements that are alive and dead or dying in the same area with 20th-century electronic technology.
Galactic Garbage Day
According to science fiction legend, the Imperial Navy had a policy of discarding all waste before traveling at light speed. This Mad Dog Jones piece's appeal comes from its resemblance to the optical illusion art that rose to prominence in the fine arts during the 1960s, when mankind finally started to aim for the stars.
While one observer would see a vehicle in a densely packed metropolis, another might see the inside of a space station with a viewport in the distance and a congested foreground filled with mementos from the occupants' previous home on Earth.
No Save Point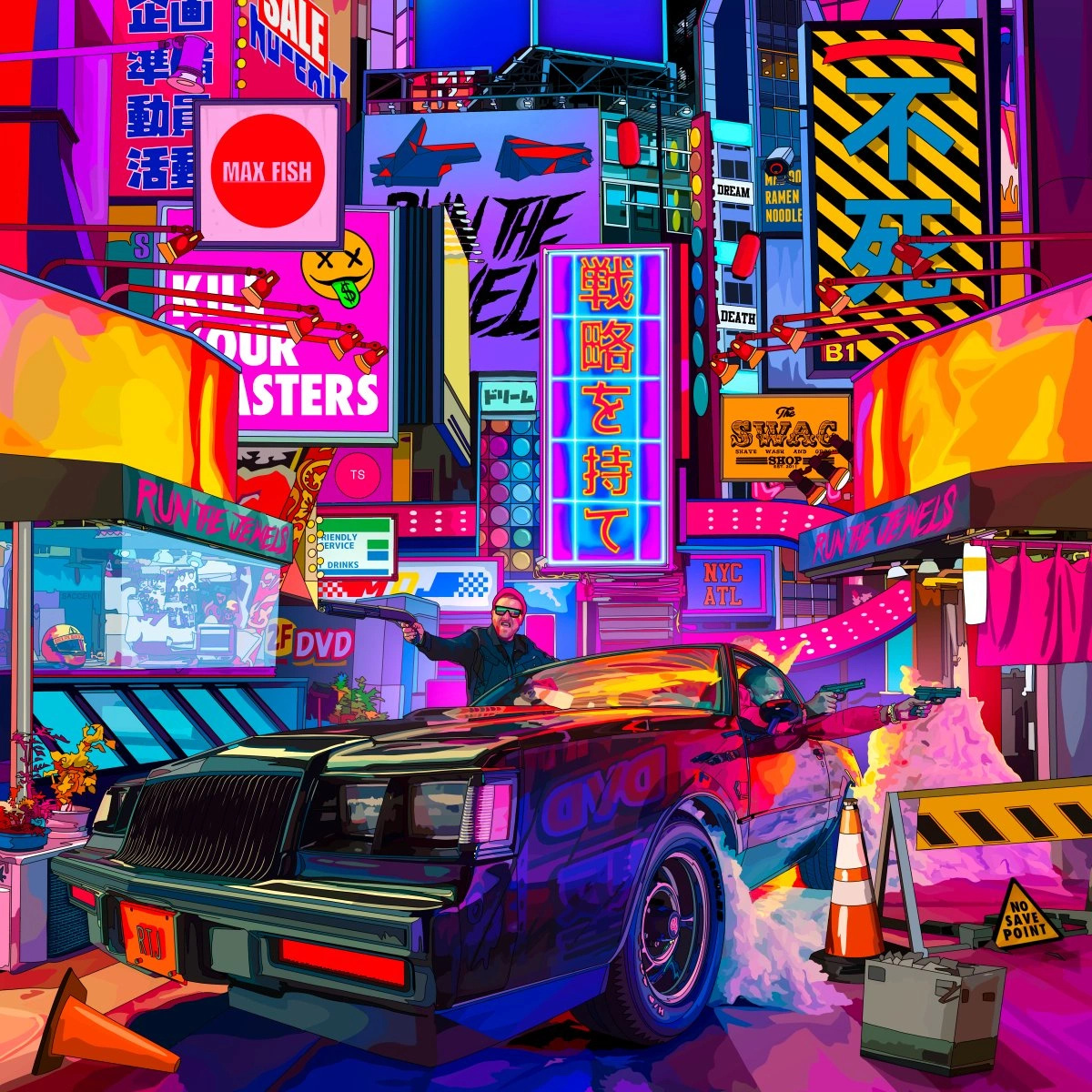 Tim Saccenti and Mad Dog Jones worked together on this NFT. Two guys brandishing weapons in a highly realistic metropolitan setting in the front appear to elicit remarks from the painters, as evidenced by the fact that the wheels of their automobile are spinning.
That implies to viewers that violence doesn't advance civilization. Unnoticeably positioned above the foreground and slightly to the right, a CCTV camera observes stoically.
Style
Jones' artwork starts as photographs or hand drawings of urban objects such as buildings, street signs, or traffic pylons which he then morphs through collage, coloring, and illustrating into a cyberpunk scene on his iPad.[4]
Each Jones' image has a specific story. The piece "I'm sure the cat is fine" contains a missing cat notice (written in French) posted to a Tokyo traffic sign, and in Jones' imagination he envisions the conversation between the couple that own the cat (Gaston), one of them in near-apocalyptic fear about the feline's fate, while the other nonchalantly says, "I'm sure the cat's fine." For the piece "Citrus," Jones photographed the model at a studio in his apartment and then created an urban landscape through photographs he snapped of eight different buildings.[4]
Social Media
Jones' Instagram account, launched in 2017, has more than 237,000 followers as of January 17, 2021.[2][3]
In an interview with Tokyo Weekender, Jones said:
"I started my style for Instagram. I was like, if I want to do this professionally, what do I need to do? Well, I need to get a bunch of followers on Instagram. I need to get people excited about my art."[4]
See something wrong?
Report to us.
Mad Dog Jones
Did you find this article interesting?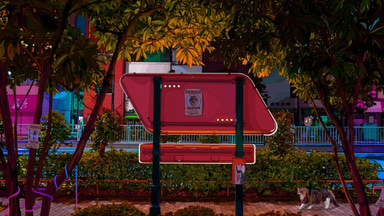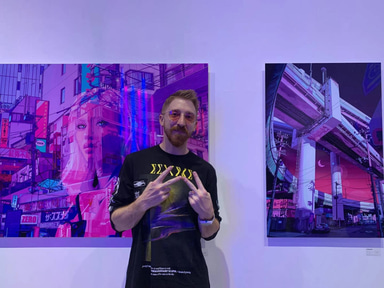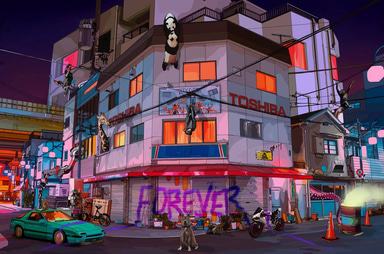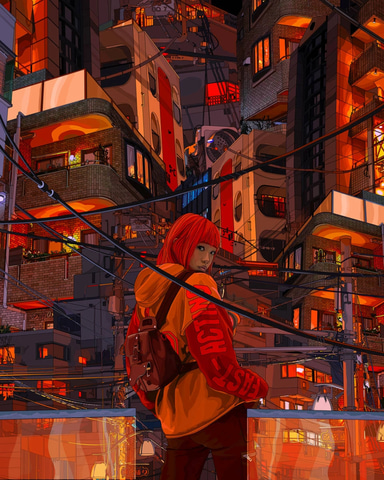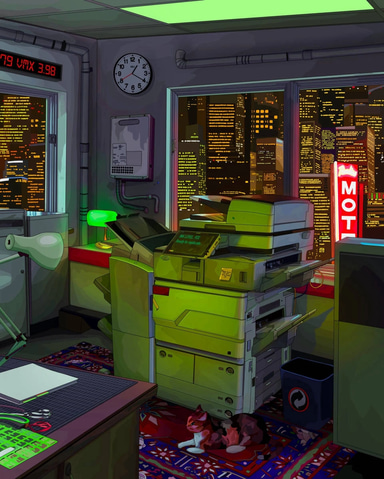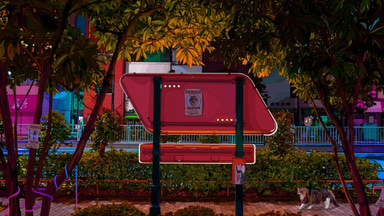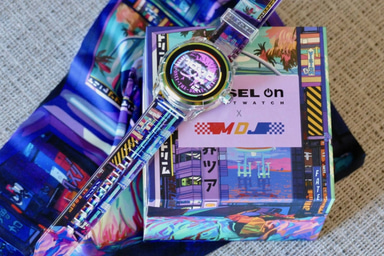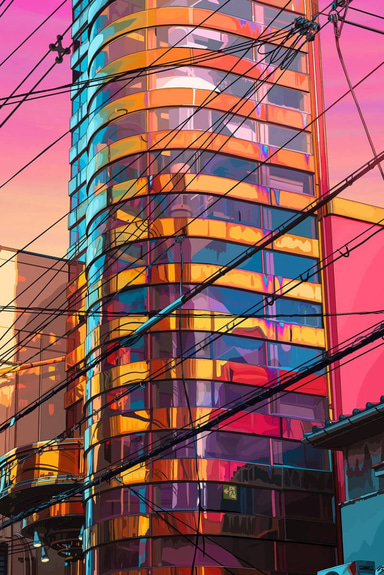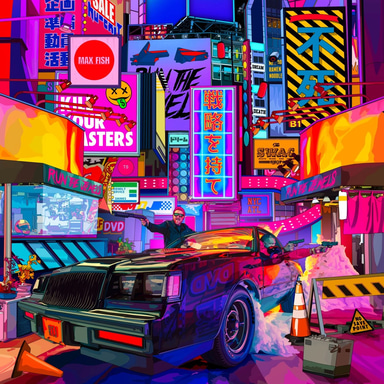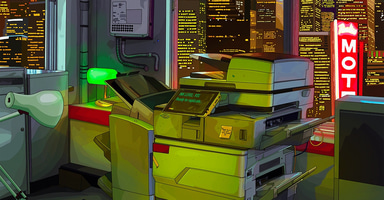 REFERENCES
[1]
Mad Dog Jones website
Aug 22, 2022
[2]
Mad Dog Jones on Instagram
Aug 22, 2022
[3]
Mad Dog jones on twitter
Aug 22, 2022
[4]
MDJ- At the Forefront of the Art World's Digital Revolution
Aug 22, 2022
[5]
Julian Meiojas and Artist Mad Dog Jones to Publish DNA
Aug 22, 2022
[6]
AFTERL-IFE WORLD | MAD DOG JONES – Diesel Gallery
Aug 22, 2022
[7]
Deadmau5 teams up with Mad Dog Jones on NFT art collection
Aug 22, 2022
[8]
sales for @deadmau5 x @Mad_Dog_Jones ends up at $404,910
Aug 22, 2022
[9]
Phillips Enters NFT Craze With a Work by Mad Dog Jones
Aug 22, 2022
[10]
Sotheby's and Phillips Announce High Concept NFT Auctions
Aug 22, 2022
[11]
Phillips to Offer REPLICATOR by Mad Dog Jones,The first NFT.
Aug 22, 2022