Navin Vethanayagam
Navin Vethanayagam is the Chief Brain of IQ.wiki formerly Everipedia, and the Galaxy Brain of BrainDAO. [1]
Career
Navin Vethanayagam serves as the Chief Brain of the IQ.wiki platform working to grow the site's traffic and community. He was previously the Chief Community Officer of Everipedia where he focused on growing the site's traffic by focusing on its community, social channels, and press relations. He is also the Galaxy Brain of BrainDAO, which manages the IQ token. [1][2]
As Chief Community Officer, Navin worked on several projects to improve the site's traffic through the editorial, marketing, and community aspects of building the IQ.wiki platform. He was interviewed by CryptoSlate's Akiba for SlateCast where he discussed the expansion of IQ.wiki onto Polygon and the platform's future plans. [12]
He also worked on the communications around the launch of the IQ token and later Everipedia's partnerships with The Associated Press (AP). He led the press relations and marketing for the Everipedia OraQles project which was used by AP to publish election data on the blockchain for the first time ever. The event was covered by several media outlets including Forbes, Coindesk, Cointelegraph, and Nasdaq News. He also worked closely with AP to create their first NFT which sold for 100.888 ETH on OpenSea. [3] [4] [5]
Navin also wrote several governance proposals involving the IQ token and BrainDAO. He wrote the proposal to fund BrainDAO, IQIP-9: Bridging the Real-world and the Metaverse with BrainDAO. [10] He also worked on governance proposals that involved IQ tokenomics including IQIP-14: New IQ Tokenomics for IQ.wiki which involves establishing new tokenomics for the IQ token after the launch of IQ.wiki. [11] Previously, he wrote IQIP-2: Reducing IQ's Max Supply which involved reducing the maximum supply of the IQ token and hard capping it to 21 billion tokens. [9] [1]
Navin first joined Everipedia in 2016 as the company's sixth team member. His role initially focused on creating content for the site before expanding into community management and growing the site's traffic. [2][6] [7] [8]
Prior to joining Everipedia, Navin worked as an Associate Business Analyst at Scotiabank in their Global Wholesale Technology - Derivatives division while studying at Western University. [1]
Early Life & Education
Navin Vethanayagam was born and raised in Ottawa, Ontario, Canada. He graduated from the Ivey Business School at Western University with a Bachelor of Arts, Honors Business Administration. He previously studied Business Management and Organizational Studies at Western University. [1]
See something wrong?
Report to us.
Navin Vethanayagam
Did you find this article interesting?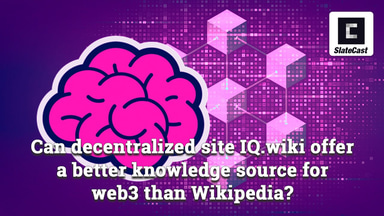 REFERENCES
[3]
AP News publishes US presidential election results on-chain
Oct 8, 2022
[4]
How To Track Official Election Results On Ethereum And EOS
Oct 8, 2022
[5]
Everipedia (IQ) rallies 400% after an NFT collaboration
Oct 8, 2022
[6]
STANDOUT: NAVIN VETHANYAGAM By Vic Gerami
Oct 8, 2022
[7]
Interview with Navin Vethanyagam from Everpedia
Oct 8, 2022
[8]
Everipedia: The Internet's Inclusive Encyclopedia
Oct 8, 2022
[9]
IQIP-2: Reducing IQ's Max Supply
Oct 8, 2022
[11]
Everipedia Snapshot
Oct 8, 2022
[12]
SlateCast #30: IQ.wiki
Mar 1, 2023