Crabada
Crabada (Launched on November 15, 2021) Is a fully Decentralized Play-to-Earn Idle game, launched on the Avalanche ecosystem. It is based in a world filled with fierce fighting Hermit-Crabs called Crabada (NFTs), Crabada's core Gameplay includes activities such as Mining, Looting and Breeding using Crabada (NFT assets)[1][14][15].
Crabada offers a fun and exciting experience with its diverse ecosystem and simplified Game mechanics. It is fully On-Chain, which means all Crabada live on the Blockchain so players have full control of their assets. All Gameplay interactions on Crabada are processed on-chain transparently[2][3].
Overview
---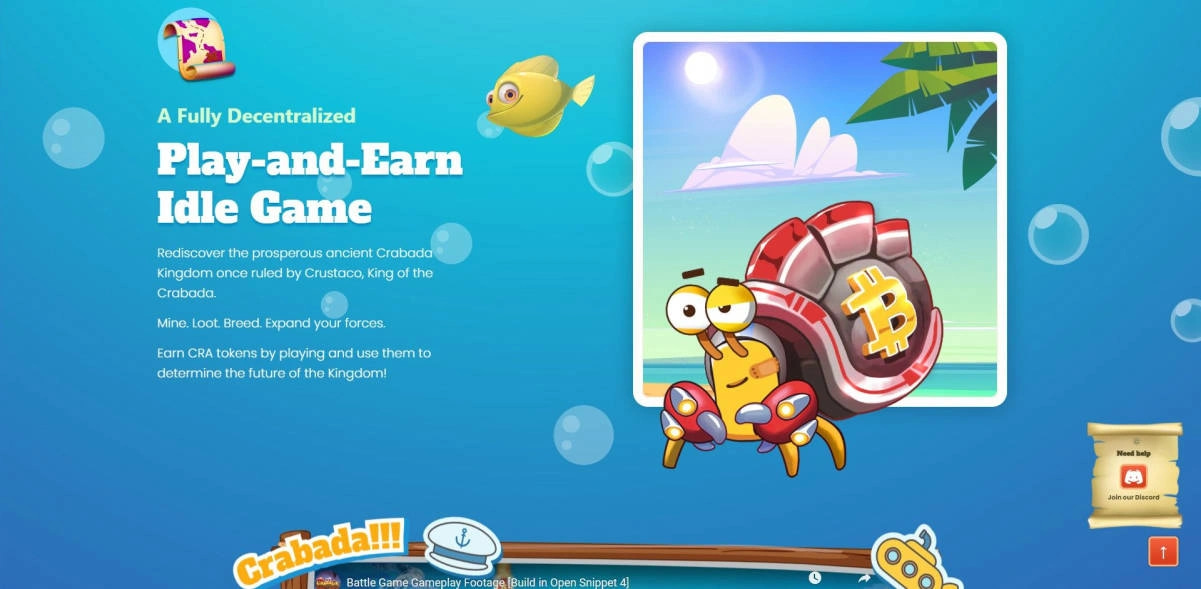 Crabada: A Fully Decentralized Play-and-Earn Idle Game
Crabada is an exciting play-and-earn Non-Fungible Token (NFT) game set in the future occupied by fierce fighting Hermit-Crabs. Players will rediscover the prosperous ancient Kingdom of Crabada and earn rewards through activities such as mining, looting, breeding, battling, exploring, crafting, and more.  Players can Recruit loyal followers to their cause, Harvest precious resources from mines, and breed new warriors for their army. Alternatively, this Assets can be sent on Looting Missions to steal from other Crabada that are currently on Mining Expeditions. Looting Missions are riskier but can potentially provide higher rewards. This is suited for players who prefer to be more actively engaged in the game[4][5].
Crabada are cute and productive assets that can earn rewards. They can be sent for Mining Expeditions to excavate and collect treasure. Since Crabada are so hardworking, minimal supervision is required from players[16][17].
CRA and TUS are the governance token of Crabada. be earned by participating in Crabada's various game modes during the incentive period. CRA can be staked to earn more via the game's Staking Program[2][6].
Crabada aims to revolutionize the Play-and-Earn genre where players can freely participate in the game with minimal disruption from their day-to-day activities[18][19].
Gameplay
---
Crabada NFT assets and core Gameplay effectively combine to create an addictive and undeniably fun experience. The game's goal is to bring an innovative play-and-earn model to market through a unique PvMP (Player Versus Player)-infused idle Gameplay.
Crabada comes in six different factions, eight different classes, eight different breeds, and six different body parts. By balancing different crabada classes, players can complement their team and maximize their mining successes. Crabada have different genetic makeups, meaning when players breed them to create new crabada, the chances of receiving a desired outcome depend on the crabada's genes.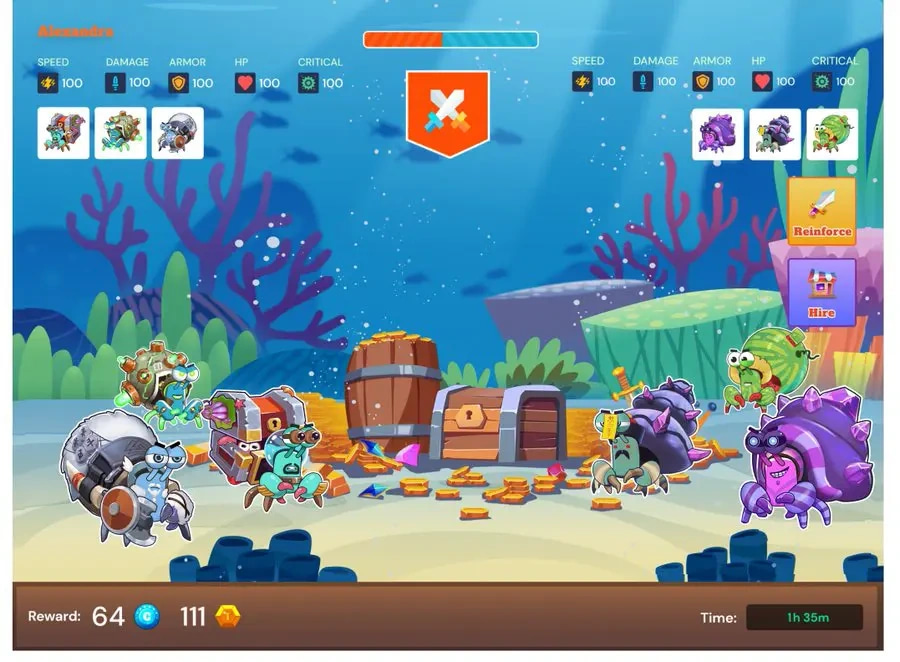 Concept Screen for Battle Game
Players can bring out the maximum potential of the team by balancing the composition of Crabada classes, choosing complementary Factions, combining skill synergies and positioning Crabada strategically in battle[3][7].
In-Game Activities
---

Crabada in-game Activities
Mining Expedition:
Crabada is a productive asset that can be deployed into the various mines of the undersea world. Players must first form a Mining Party (comprising 3 Crabada). Next, players select a vacant mine and deploy their Mining Party. The hardworking Crabada will begin the process of mining treasure without any supervision required from players.
By default, each Mining Expedition takes 4 hours and returns a reward of 3.75 CRA and 303.75 TUS once completed.
Looting Mission:
Crabada can be used to loot a mine that is occupied by a Mining Party. Depending on whether the Mining Party sends reinforcements to defend their mine, each Looting Mission will take from 1 hour to 2.5 hours. A Looting Party will receive 0.3 CRA and 24.3 TUS for each Looting Mission in which users participate.
A successful Looting Mission would result in stealing 65% of the Mining Party's rewards, for a sum of 2.4375 CRA and 197.4375 TUS.
An unsuccessful Looting Mission would result in stealing none of the Mining Party's rewards.
Breeding (By Using Crabada)
Each Crabada has a primary attribute of faction, which is determined by its class. Crabada inherits factional benefits and weaknesses based on the faction it belongs to.
There are a total of 8 Breed Types in each Class. Each Crabada has a primary attribute of Breed Type which can increase the number of rewards mined when at least one Crabada of this class is in the Mining Party.
When a pair of Crabada breed, the class of the offspring is 50% chance to be the class of either parent. In order to start breeding, Players are required to have two Crabada that are eligible for breeding, and a sufficient amount of Breeding Material to cover the Breeding Cost.
Players can breed Crabada at any time as long as the requirements for breeding are met. Each breeding activity creates a Blockchain transaction, and breeding completes once the transaction is successfully confirmed on the Blockchain. TUS are required during the breeding process, Successful completion of Breeding produces an Egg that belongs to the player. Eggs take exactly five days to hatch into a new brand new that is ready to begin the adventure in Crabada[8].
Crabada (Game Assests)
---
Crabada are powerful warriors from a past era. Each with unique strengths and abilities which are inherited through breeding. There are 64 Breed Types in total. Crabada can be bred and used in games to earn Cryptocurrencies with real value. All Crabada live on the Blockchain so players have full control of their assets.
Each Crabada is comprised of 6 body parts which determine its attributes, skills, and faction. Each body part will be associated with a specific Breed Type and each body part serves as an additional modifier to the Crabada's attributes.
The 8 Classes of Crabada
Each Crabada has a primary attribute of Breed Type which determines its Battle Skills. In combat, each Crabada can cast an active skill, as well as enjoy battle bonuses provided by its passive skill. These skills are determined by it's Breed Type[9].
Marketplace
---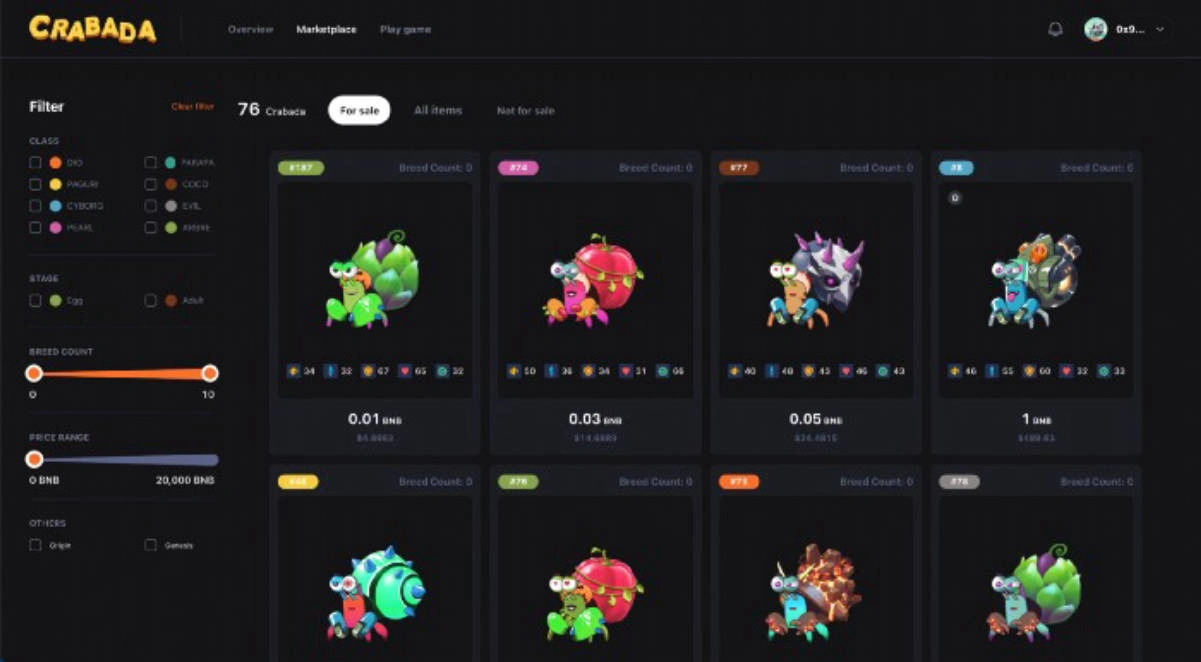 The Marketplace
The Crabada Marketplace provides a user-friendly interface for players to interact with Crabada assets. In the Marketplace they can buy and Sell Assets. Players sell Crabada by creating a listing, with a specified ask price. Buyers are able to purchase the Crabada by spending TUS from his wallet. Upon confirmation of the transaction on the Blockchain, the settlement is settled instantaneously. The Seller receives TUS in his wallet, and the Crabada is transferred to the Buyer.
The native currency used for transactions in the Marketplace is TUS tokens. Sellers are charged a 3.85% fee on completion of a transaction[10].
Tarvern
Crabada's that are not mining or looting are being deployed to the Tavern as Mercenaries. This allows other players who are short-staffed on to pay a fee to hire their Crabada as reinforcements. All Crabada are returned to the Tavern unharmed after a battle, regardless of the outcome.
Hiring Crabs
Players that do not have available Crabada for reinforcement can visit the Tavern to hire Crabada. Once a Crabada is hired, it will join your battle as reinforcement. After the end of the battle, the Crabada returns to the Tavern.
Lending Crabs
Players that have idle Crabada can deploy them to the Tavern. These Crabada are added to the pool of available Crabada-for-hire. When a borrowed Crabada participates as reinforcement in battle, it is affected by a before it can borrowed again. Players are able to withdraw their Crabada as long as it is not in battle.
Players are able to set a price at which to lend their Crabada. Market transaction data is provided to help players make the best decision[11].
Tokens
---
Crabada is made of Two different Tokens, which is CRA the governance Token and TUS which is the In-game Currency.
$CRA (Crabada)
CRA is a governance token which is rewarded via staking and playing the game during the incentive period. Before the launch of the Idle game, CRA can be initially obtained through a Community Bootstrap Event, or via DEX after the Community Bootstrap Event. It is an ERC20 token and has a total supply of 1,000,000,000[3].
Token Use Case:
TUS (Treasure Under Sea)
Governance: $CRA holders will be able to vote and participate in Carbada decision-making.
Farming: $CRA is used for farming Points that users can use for NFT redemption.
Payment: CRA and TUS tokens are used as a payment currency in NFTs Marketplace along with other tokens.
TUS (Treasure Under Sea)
TUS is the in-game currency earned via playing the game in the form of Mining, Looting and Lending Crabs via the Tavern. TUS can be earned through Gameplay, or bought via DEX[12].
Token Distribution:
| Activity | Allocation | CRA | Vest |
| --- | --- | --- | --- |
| Private Round | 6% | 60,000,000 | 1 year (3 months cliff, followed by quarterly release) |
| Community Bootstrap event | 6% | 60,000,000 | - |
| Ecosystem Fund | 20% | 200,000,000 | 50% no vest 50% unlocked 1 year later |
| Play-and-Earn | 30% | 300,000,000 | -- |
| Staking Rewards | 13% | 130,000,000 | -- |
| Advisor | 3% | 30,000,000 | 2 years (6 months cliff, followed by quaterly release) |
| Liquidity | 5% | 50,000,000 | -- |
| Team | 17% | 170,000,000 | 2 years (6 months cliff, followed by quaterly release) |
Token Sale:
Avalaunch
Registration Schedule: 3pm (UTC) Nov 02 – 6am (UTC) Nov 06, 2021
Validator Round: 6am – 6pm (UTC) Nov 08, 2021
Staking Round: 6:30pm (UTC) Nov 08 – 6am (UTC) Nov 09, 2021
Whitelist opens on Oct 16th, 2021 and ends on Oct 22th, 2021
Total Raise: $400,000
Tokens for sale in total: 22,000,000 CRA
Public sale Token price: $0.018 per token
A minimum of 90% of the sale will go to the community for Stakers of XAVA. Approximately 10% will be reserved for validators of the Avalanche network.
Partnership
---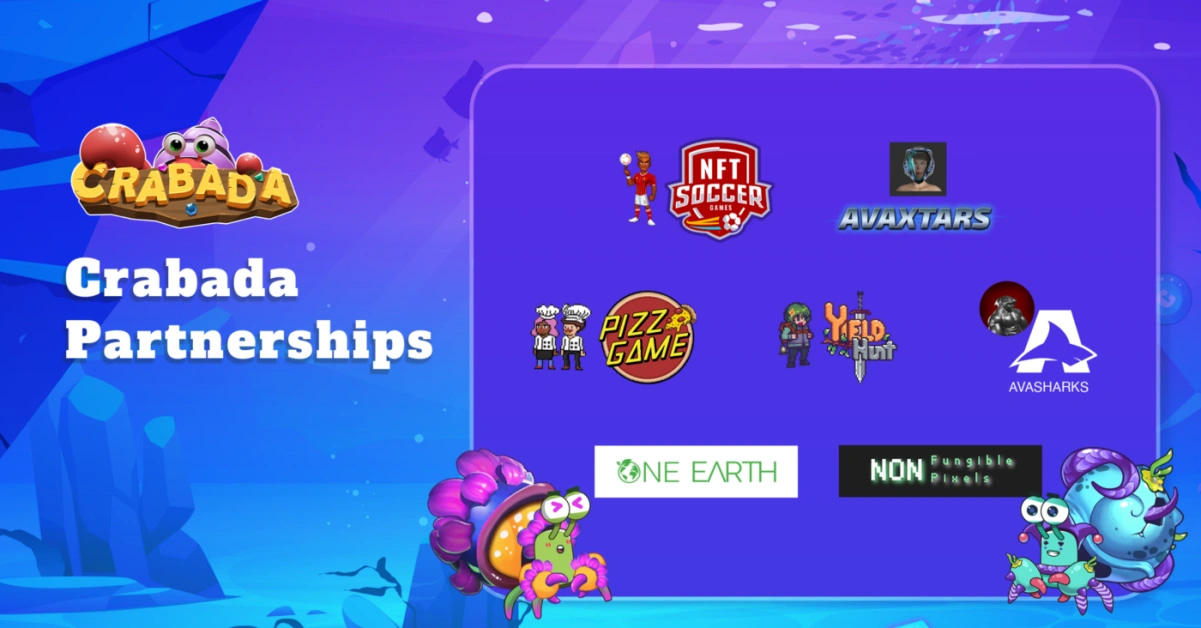 Crabada Partnership
Crabada is pleased to announce joint-partnerships with the following projects:
NFT Soccer Games
Pizza Game
NonFungiblePixels
Avastars
One Earth Netwoblockchain AvaSharks[13]
Team Members
---
Crabada is the brainchild of several people that, reportedly, have multiple years of experience in blockchain applications. The project was co-founded by several anonymous developers that are only partly active on social media.
Oxtender (Co-Founder)
Oxtender is responsible for business operations. He has worked in product management roles across digital exchange and cloud backup products, with more than 4 years of experience working on @blockchain products. Previously, he ran a tech consulting business.
Jay (Co-Founder)
Jay is responsible for product design. His latest stint was at Binance as a product designer with multiple years of experience under his belt in UX/UI and product development.
Fuji (Co-Founder)
Fuji is responsible for Blockchain engineering. He has been working in the blockchain space since 2016 for various duties such as smart contract implementation and Ethereum customization. He designed and implemented the very first backend system of a leading crypto wallet.
NH (Co-Founder)
NH is responsible for backend development. He has 10+ years of experience in backend development and has 4 years of experience working on several crypto projects at Infinity Blockchain Labs.
Jessie Morii (Creative Lead)
Jessie Morii is responsible for the creative direction and also created the artwork for Crabada Lore and Storytelling. She has 5 years of experience as an illustrator and is also the creator of Froyocats.
LA (Game Leader)
LA is responsible for game development. He has more than 11 years of experience in game development using the Unity engine. Recently, he worked for one of the biggest game companies as a Lead Game Developer. Some of his previous works include "Brother in Arms" and "N.O.V.A Legacy".
Min (Lead Artist)
Min is lead Artist at Crabada. He has more than 10 years of experience working as a game artist. Some of his previous works include "We Are Heroes" and "Captain Strike".
OTS (Content and Design Strategist)
OTS is an artist with a passion for style and storytelling. He is in charge of creative direction and design strategy. He has worked on several sound and visual projects for the last 4 years and is thrilled to experiment and collaborate with creators in the crypto community through blockchain games.
Roadmap
---
Q4-2021
Community Bootstrap Event (Nov)
Special Crabada Breeding Event (Nov)
Crabada Breeding Feature (Nov)
Crabada Marketplace (Nov)
Idle Game Release (Nov)
Battle Game Prototype (Nov)
Q1-2022
Battle Game Release (Mar)
Cross-Platform
PVE Campaigns
Quest
Player Levels
Crabada Levels
L2 / Private Chain
Q2-2022
Land Ownership in Crabada (Apr)
PVE Tower Maps (May)
PVP Matchmaking (June)
Global Rankings for Campaign, ELO, Player Levels (June)
Q3-2022
Game Item Marketplace (Jul)
Game Item - Equipment (Jul)
Game Item - Medals (Aug)
Game Item – Skill Books (Sep)
Q4-2022
PVP Tournaments (Oct)
PVE – Additional Content (Nov)
Friends List (Dec)[2]
See something wrong?
Report to us.
Crabada
Did you find this article interesting?