DefiDollar DAO
DefiDollar DAO (DFD) is a blockchain specifically dedicated to decentralized financial applications. DFD is also DefiDollar's governance token in which holders will be able to participate in protocol governance and act as a backstop for $DUSD to mitigate large peg deviations[3].
Overview
The DFD Blockchain is designed for investors in the cryptocurrency market who are looking to make their cryptocurrency work just like any other form of capital, such that they can ensure a return on investment in any market
The DFD Blockchain is a dedicated non-Turing-complete blockchain, designed specifically for the decentralized finance (DeFi) industry. DeFi provides full functionality for this specific segment of the DLT community, sacrificing other types of functionality for simplicity, rapid throughput, and security.
DefiDollar Blockchain uses token standards to bring in external tokens to DeFi Blockchain in a trustless manner and allow trustless financial contracts and trading of all major crypto-asset tokens. The token standards are similar to ERC20 on Ethereum and Omni on the Bitcoin blockchain. Through this standard, DFD Blockchain allows the tokenization of any assets.
On the DefiDollar DAO Blockchain, the standardized tokens are called DeFi Standard Token (DST). DST tokens are of two different types: DCT, created by users of the system, and DAT, which are asset-backed tokens created with the backing of crypto-assets.
Decentralized Exchange (DEX)
The DFD internal DEX provides decentralized trading for all Defi tokens and DFI itself, which means that all tokens: DFI and DCT (DAT and DCT) can be listed on the DeFi Blockchain DEX.
DEX on DFD Blockchain operates without the need to pass custody to any intermediaries. Users are able to trade on their own in a trustless manner. One of the key differentiators about DefiDollar DAO Blockchain as compared to many other decentralized financial solutions is that DFD Blockchain is not only a consensus protocol facilitating DefiDollar, but it also comes with a very simple to use client User interface (UI) that allows users to interact directly on the blockchain without any intermediaries.
Governance
The DFD Foundation located in Singapore is responsible for the insurance of tokens and is governed by an independent board. This board is governed by the DeFi master nodes voting on its members and also by giving directives on key decisions.
The DFD Foundation awards tokens to users and groups to speed up adoption. The Foundation is tasked with boosting the ecosystem, bringing in ecosystem partners, directing the development of tools for ecosystem partners, and other activities to increase the number of ecosystem partners.
DFD Products
DefiDollar has three core products launched on its platform.
Opeth: Opeth is a synthetic instrument fusing option with the underlying asset. Opeth harnesses the power of on-chain options and enables users to Leveraged ETH Upside + Yield Farming — Smart assets having a price floor allow stablecoin loans in a capital-efficient manner and it reduces Downside Protection costs[5].
$DUSD: It is the protocol's Meta Stabelcoin Index. DUSD is a stablecoin index that uses DeFi primitives to stay close to the dollar mark. DUSD provides an avenue for diversifying your stablecoin holdings to hedge against an event where the underlying stablecoins e.g Tether (USDT), and DAI deviate from their peg.‌ DUSD is collateralized by Curve Finance LP tokens.[6]
ibBTC: Also known as Interest-Bearing Bitcoin (ibBTC), was built with the vision to bundle wBTC, renBTC, tBTC & sBTC together and build a yUSD equivalent for BTC that would become the default BTC denominated asset on Ethereum while enabling users to stack more sats, the DeFi way.[7]
Tokenomics
DFD is DefiDollar's utility and governance token in which holders will be able to participate in protocol governance and act as a backstop for $DUSD to mitigate large peg deviations. The token supply of DFD tokens is 100m, and is still being traded on:
MEXC
Uniswap
Pancake Swap, etc.[2]
DFD Updates
The DefiDollar team has announced on its medium page that it has now moved on to build bubble protocol. DefiDolla token holders were advised to unstake their tokens and swap for Hubble at a 1:1 ratio[4].
The swap will ensure that the transition is transparent and that the community is incentivised to support Hubble while obtaining exposure to an upcoming derivatives protocol.
Accordingly, the team's vested DFD tokens have been returned to the team multi-sig and will be taken out of circulation. The investor unlocks will continue as planned[1].
The product launched on the DFD' site is still up and running, and according to the team members-
DefiDollar is close to our hearts and we will continue to help to maintain the products which are live. The decision to transition to build out something else hasn't been an easy one but we feel that it is the right thing to do. The ownership transfer will be driven by the community via proposals ensuring minimal dependency on the team. We've dedicated the remainder of the DefiDollar treasury(~500k USD) to fund these efforts via the DAO.
The team's intention for onboarding hubble, was to phase out DFD tokens from circulation through its token swap
See something wrong?
Report to us.
DefiDollar DAO
Did you find this article interesting?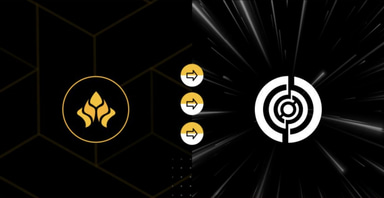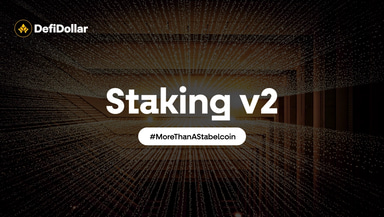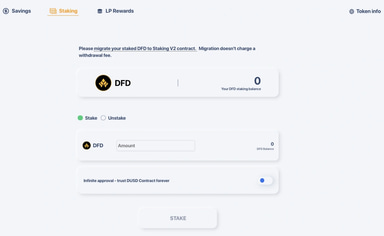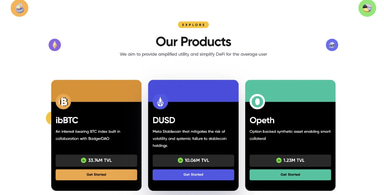 REFERENCES
[4]
Hubble protocol
Sep 26, 2022
[5]
Opeth- DFd product
Sep 26, 2022
[6]
DUSD- DFD products
Sep 26, 2022
[7]
ibBTC- DFD products
Sep 26, 2022