Forgotten Runes
(Launched 2021) is a Non-Fungible Token (NFT) collection of 10,000 Wizards pixels developed on the Ethereum Blockchain as an ERC-721 Standard token. [3]
Features
Given below are the features of the Forgotten Runes wizards NFTs-
On-chain Encoding of Forgotten Runes Wizard's Cult
The 10,000 Forgotten Wizards NFT pixels, names, and data are reportedly completely reproducible from on-chain data. Thus explaining how users can retrieve their NFTs forever.
Re-creating a Wizard
The forgotten runes Wizards NFTs incorporate functions that allow users to re-create their Wizard(s) entirely from on-chain data, by simply running some commands functions, as provided on the website, thus allowing trait changeability.
Use of an IPFS Mirror
The forgotten Runes wizard host a mirror of images and data on InterPlanetary File System (IPFS) and centralized services. "This is only a mirror and is for the convenience of tools like OpenSea and not a requirement for the provenance or persistence of the Wizards" explained the ecosystem.
Transactions
The transaction performed with the Wizard NFTs can be found since they are stored as data with certain hashes.
Trait Composability
The Forgortten Wizards. identified that NFTs traits, while readable on-chain, are not in STORE, implying that they are not readable by other Smart contracts. The forgotten runes developed their NFTs with the interest of composing their traits with other smart contracts (such as games), ensuring that the individual traits are readable on-chain.
Wizard's Cult
A collection of 10,000 wizard NFTs is found in Forgotten Runes Wizard's Cult. At the center of this vibrant group, affectionately known as the Cult, are these Wizards.
The members of the Cult update social media sites and the unique Book of Lore with new works of art, animations, stories, memes, and lore every day. The Runiverse grows as the Cult produces more and more.
The "collaborative legendarium," a decentralized method of world-building, is said to have endless possibilities.
The Wizards
No two Wizards are alike; they are all completely unique. They come in a variety of species, races, and genders. Additionally, every Wizard has a distinctive name. Users can still purchase a Wizard from the secondary market on Forgotten Market, OpenSea, LooksRare, or any NFT marketplace even if the initial launch sale ended in June 2021. Owners will be permitted to take part in the monumental experiment of decentralized world-building if they join the Cult. This is a ground-breaking method of creating an IP brand that was never actually feasible until the invention of blockchain technology.
Because it is being constructed by a large group of Cult members rather than a single authority, the Runiverse Legendarium wants to be larger than Middle Earth, Westeros, and Hogwarts put together.
Additionally, having a Wizard NFT allows you access to a wealth of additional surprises and riches. The NFTs are much more than just a picture; they are actually alive! For instance, a fully animated walk cycle is available in metaverses like World Wide Webb 3. Holders can use the GM generator to tweet about a "GM" to their pals. Free airdrops like the Sacred Flame and Ponies are planned as sporadic surprises. The creators of Forgotten Runes never fail to surprise the Cult.
NFT Sales
The Forgotten Runes Wizard's Cult- a collaborative legendarium NFTs consisting of 10,000 non-familiar Wizard NFTs, fully encoded on-chain, have been traded immensely on the OpenSea NFT marketplace. The NFTs are been sold for a Price floor of 0.71 ETH and have recorded about 4.1k ETH trading volumes upon minting on OpenSea. A total of 2.5k owners are recorded on-chain to currently hold and own a Wizard NFT as of 31st October 2021.[4][5]
See something wrong?
Report to us.
Forgotten Runes
Did you find this article interesting?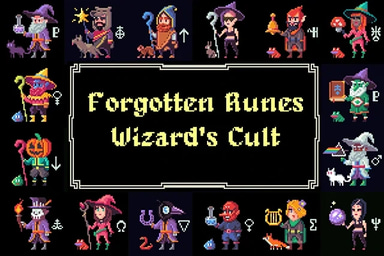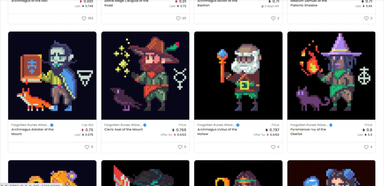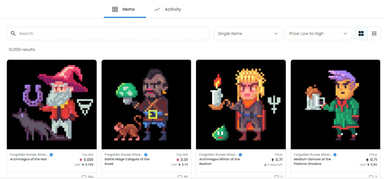 REFERENCES
[1]
Forgotten Runes website
Aug 14, 2022
[2]
Forgotten Runes on twitter
Aug 14, 2022
[3]
Forgotten Runes Introduction
Aug 14, 2022
[4]
Forgotten Runes collection on Opensea
Aug 14, 2022
[5]
Forgotten Runes on Coingecko
Aug 14, 2022