Mitch Liu
Mitch Liu is the Co-founder and CEO of Theta Network, a blockchain-powered network purpose-built for video streaming, THETA.tv (formerly SLIVER.tv), and Tapjoy. He was also the Co-Founder & President at Gameview Studios from 2010 to 2011 before it was sold to DeNA gaming company in Japan. [1][2]

Education
Mitch Liu attended the Massachusetts Institute of Technology (MIT) in 1988 and graduated with a Bachelor of Science degree in Computer Science and Engineering in 1992. He also attended Stanford University Graduate School of Business and obtained a Master of Business Administration (MBA) degree in 2004. [1][3]
Career
After Mitch Liu's business school at Stanford, he founded 4 mobile advertising and mobile gaming companies. He co-founded Tapjoy (previously Offerpal Media, Inc.) in June 2006 and served as the Head of Platform for the company until February 2010. In March 2010, Mitch Liu co-founded Gameview Studios, a pioneer of mobile resource management games & served as the President until December 2011. Gameview Studios was acquired by DeNA gaming company in Japan. [3][1]
In January 2012, Mitch Liu co-founded Midverse Studios, Inc. and served as the president of the company until July 2015. In August 2015, he co-founded SLIVER.tv (now THETA.tv), a tech streaming platform that offers esports VR integration. [1][6]
"I've been in Silicon Valley for well over ten years involved in various start-ups. I started playing Counter-Strike 1.6 back in the day around 2003, so I've been fascinated by FPS for a long time. I got into the Facebook social gaming apps space around 2009 by working with likes of Zynga and Playdom/Disney. From here I started developing my own mobile games for iOS and Android in 2010, and then we saw the emergence of Twitch and started to think about better ways of improving the spectator experience." - Mitch Liu when asked about the background behind THETA.tv[6]
Theta Network
Mitch Liu co-founded Theta Labs, the organization behind the Theta Network in July 2017 with the CTO Jieyi Long, the project was focused on video streaming technology, mainly in VR and ESports. Theta Network was also created as a way to solve their problems in delivering 4k, 8k, and VR video efficiently around the world. [1]
Theta Network is a media and entertainment-focused blockchain. Its infrastructure enables existing video and media platforms to drive revenues and reduce content delivery CDN costs while rewarding end-users for sharing their storage and/or bandwidth on any PC, mobile, Smart TV, or IoT device. [4]
"Theta Network is very focused on decentralized video delivery, sort of similar to the sharing economy with Airbnb and Uber. It's sharing your bandwidth resources for peer-to-peer video sharing"- Mitch Liu[5]

"Theta Network was created as we aimed to solve our own problems with video distribution for the video platform THETA.tv. As a startup with significant CDN (content delivery network) costs to Akamai and AWS, we looked to a peer-to-peer model that would help reduce those costs as users could relay video streams among themselves. The Theta blockchain was created to incentivize users to contribute their resources to this p2p network via the THETA and TFUEL tokens."[10]

When asked about the toughest challenge faced in the industry:
"I think convincing stakeholders in legacy industries that blockchain and Web3 technologies have a place in their industry's future. Understandably, this wasn't as hard with the tech folks — new technologies and new ideas are kind of their bread and butter. But you'd be surprised at how even people in those spaces can be wedded to an older way of doing things. It's hard to totally reimagine your industry. I don't blame anyone for that..." - Mitch Liu [7]
The Theta Network got into the NFT business in 2020 when one of the three talent agencies in Hollywood reached out to the team about some celebrities that were interested in learning about NFTs. Since then, the network has launched with a number of partners including Katy Perry who had her first NFT drop on December 15, 2021. [8][9]
"We want to bring all elements of live broadcast, live experience, in-person experience, potentially leveraging NFTs as a virtual ticket or a ticket to enter a physical event and then having the fans engage in this sort of complete entertainment experience is really how we see the future of NFTs - Mitch Liu on future of NFTs at Theta[5]
See something wrong?
Report to us.
Mitch Liu
Did you find this article interesting?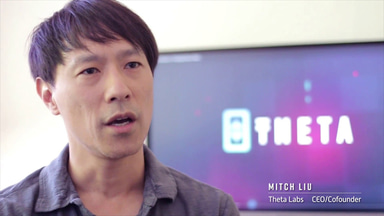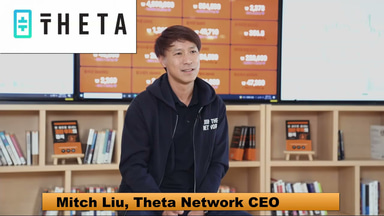 REFERENCES
[4]
theta website
Apr 26, 2023
[5]
mitch liu interview
Apr 26, 2023
[6]
interview about sliver.tv(theta tv)
Apr 26, 2023
[7]
cointelegraph interview of mitch liu
Apr 26, 2023
[8]
katy perry nft drop
Apr 26, 2023
[9]
cointelegraph, mitch liu on celebrities & nfts
Apr 26, 2023
[10]
cryptoslate- interview with mitch liu
Apr 26, 2023