Sakeswap
SakeSwap is an Automated Market Maker protocol that brings trading slippage capture and a more efficient incentive mechanism.
The SAKE token is the native coin on SakeSwap's platform and has two primary functions:
• Provide users with governance rights and a portion of the fees paid to the protocol[1]
• Allow liquidity providers and traders to benefit from protocol development.
Early adopters of the SakeSwap platform may be able to become significant stakeholders in SakeSwap. Moreover, to maintain the token price from a structural perspective, SakeSwap will also utilize tokenomics of deflation.SakeSwap is a fork of Uniswap and Sushiswap but with some key improvements.[2]
Overview
To incentivize trading, SakeSwap has a Slippage Token (S token). The platform supports trade mining and virtual trading curves in AMM protocol. The design of the liquidity pool ensures that traders will have a positive impact on price discovery. Moreover, the S token will be generated when trading, which helps to represent the trader's contribution to maintaining the AMM pool balance. Holders can also start to farm SAKE token by staking S token when SakeSwap AMM pools are active.
$SAKE Token
The SAKE token has two functions, which are entitling SAKE holders to governance rights and a portion of the fees paid to the protocol. Eventually, SAKE holders will own the protocol. SAKE tokens can entitle liquidity providers and traders to continue earning the benefit of the protocol development, which means the early adopters will be significant stakeholders of SakeSwap. Meanwhile, SakeSwap involves tokenomics of deflation to support the token price from a structural perspective.
Instead of arbitrators acquiring all the slippage in Uniswap, liquidity providers in SakeSwap are enabled to capture profits otherwise captured by arbitrageurs with virtual trading curves. In the case of spatial arbitrage, the AMM collects 50% slippage capacity from arbitrage traders.
As a result, the other 50% will be shared among liquidity providers. The 50% slippage capacity for liquidity providers can enlarge LPs' income to ~200% compared to transaction fee as income.
Sake Security
SAKE Dev Fund is set up for project sustainability and project security audit. 6% of every SAKE distribution is set aside for future iterations and the implementation of governance proposals. All bills for security audit will also be paid by the fund.
SakeSwap Irreversible NFT
SakeSwap Irreversible NFT is to further improve the SAKE token economic model by reducing SAKE total supply in a user-led way. As the new feature of SakeSwap, NFT enables SAKE holders to mint NFT with SAKE and xSAKE token which combines the concept of Finance and Game. In meanwhile, SAKE value is transferred to NFT in the process of creation.
The Irreversible NFT brings a new way of SAKE Burn. There are two ways to burn SAKE after the update.
• 90% of AMM transaction fee incomes
• NFT minting
NFT has the potential to be one of the key components of a new blockchain-powered world. SakeSwap NFT holders can trade NFTs in related exchanges. Holders have full control over NFTs which can be considered as profitable digital assets with SAKE valued embedded.
SakeSwap ILO
ILO (Initial Liquidity Offering), is an innovative crowdfunding mechanism that creates AMM liquidity pools directly for projects and investors. With ILO, projects built on Ethereum and Polkadot will be able to easily raise and exchange capital in public and develop from stage 0 to 1 with higher liquidity utilization.
Benefits of ILO
For Projects
Projects can list their tokens and use the platform to raise funds with lower cost and simpler process.
A seamless fusion of token issuance and trading.
The "Liquidity Provider (LP) Token Lock Period" feature can provide ILO projects with more stability.
The Community Voting provides ILO projects and their investors with increased transparency.****
For Investors
Investors, whales or retail traders will get the same opportunity to obtain priority access to ILO listings.
Projects and investors will become liquidity Providers after ILO and receive Liquidity Provider (LP) Token according to the scheduled LP Unlock Frequency.
Token Distribution
SAKE Token will be distributed in LP yield farming and traders trading mining.
Phase I. Yield farming: for liquidity Providers
• default 100 SAKE per block
• 0.5 x in the first ~5 days (35,000 blocks)
• 10 x in the next ~15 days (100,000 blocks)
• 1 x in the last ~15 days (100,000 blocks)
Phase 1 mining supply: 0.510035,000 + 10100100,000 + 100*100,000 = 111,750,000
To make the yield farming as easy as possible for current Uniswap LP token holders, Uniswap LP token holders, as users have learnt from SushiSwap, can start farming directly by staking their LP tokens into SakeSwap.
After the 5-day beta test farming (0.5 x), we will have 15-day Accelerated Farming (10 x) to thank our early SakeSwap supporters.
Partnership
$SAKE Swap x Bifrost
SakeSwap was pleased to have announced Bifrost, a Polkadot ecosystem project as their partner.
Bifrost is a Parachain designed to liberate Staking's liquidity. It is hoped that Staking will make the cross-chain more colorful and interesting. Bifrost users can exchange PoS currency through the transfer bridge to vToken at any time. The vETH-ETH liquidity pool is available on SakeSwap now.
$SAKE Swap x BSC
The SakeSwap development team has collaborated with Binance Smart Chain ("BSC") for an expansion. With this new developmnent, liquidity providers can farm $SAKE and $CAKE with Pancake LP Token on SakeSwap BSC.
See something wrong?
Report to us.
Sakeswap
Did you find this article interesting?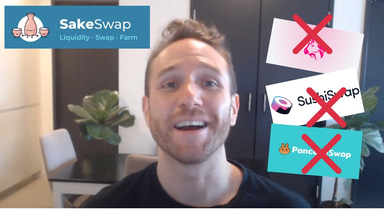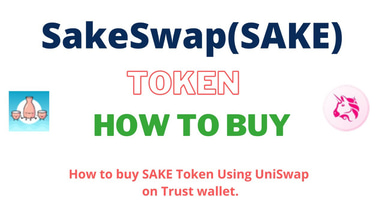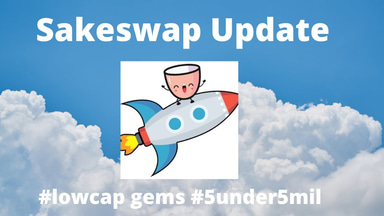 REFERENCES
[2]
Sakeswap price
Aug 12, 2022