Sorare
Sorare (launched in 2019) is a fantasy football game where users can buy, trade, and play with digital cards. Every card is an official digital collectible, certified by a club or league. Sorare's are Non-Fungible Token (NFT), based on the Ethereum Blockchain. It is backed by a world-class team of investors, supported by gaming giant Ubisoft and already trusted by 100+ football clubs, with many more coming every month[1][2].
In July 2020, Sorare raised $4 million in a seed fund round led by E.ventures[3][4].
Overview
---
Sorare is a virtual game platform, whose name means "so rare", focused on the area of sports and Blockchain, where it seeks to tokenize athletes[5]. 
It is a fantasy football game where a user can buy, trade, and play with digital cards. Every card is an official digital collectible, certified by a club or league[6]. 
"The difference with the cards is that, despite being digital, they are limited, licensed and portable," says Nicolas Julia, CEO of Sorare.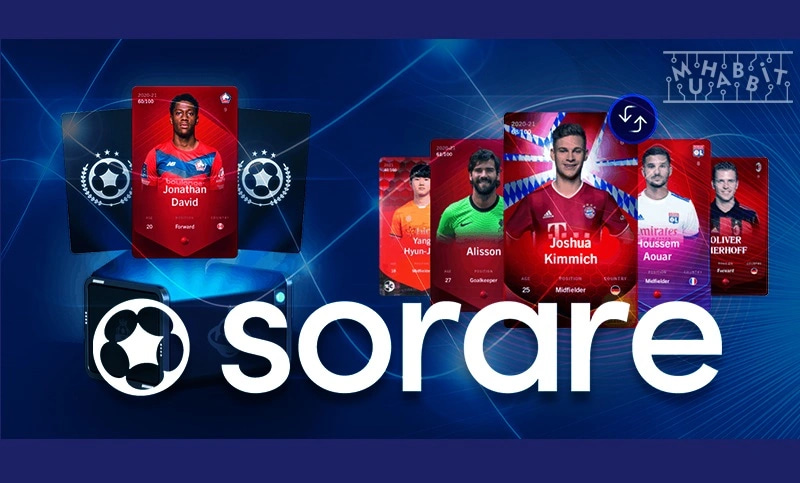 Using the Ethereum 
blockchain
, Sorare generates unique digital trading cards representing professional soccer players that can be traded by users. A user plays as the team manager and can use their five cards to compete in the weekly league competitions
[7]
. More than 140 football clubs from Europe, the United States, and Asia partnered with Sorare to issue officially licensed cards so that football fans can collect and play with their favorite players, amongst them Juventus F.C., Atletico, and Olympique Lyonnais
[8]
. 
The company was founded in 2018 and the game was launched in 2019. The two founders, Nicolas Julia and Adrien Montfort saw the potential of blockchain technology to create a new category in the sports gaming industry. The platform multiplied its volume by 10x from $30,000 in December 2019 to $350,000 in June 2020[8]. 
In June 2020, Sorare announced licensing partnerships with the U.S. soccer league, Major League Soccer, and the South Korean K League, bringing both leagues onto its platform. According to the firm's CEO, Nicolas Julia, the two agreements helped the firm add about 3,500 new users to its platform[7]. 
In July 2020, Sorare raised $4 million in a seed funding round led by E.ventures. In an announcement emailed to CoinDesk, the firm said Fabric Ventures, Semantic Ventures, and a former member of the German national soccer team, Andre Schurrle, had also invested in the firm[7]. 
Tech
---
Players, as managers, form virtual teams of five football players, from Blockchain cards on the Sorare platform. Teams are ranked based on their players' performance on the real-world football field and the points awarded. The cards vary in power and experience and can generate bonus points from (0 to 100) Every week, when a real world football team is playing, teams with the most points are rewarded with new cards. These teams must consist of:
1 GoalKeeper

1 Defender

1 Midfielder

1 Forward

1 Extra Player
Users can also nominate one captain who earns a 20% bonus. There are other bonuses depending on the type and experience of the card (basically how often it has been entered in tournaments – referred to as XP). Cards from the present season also get a 5% bonus but users can still use older cards. For example, a 2019/20 card can still be used in 2020/21, 2021/22, or even 2030/31 campaigns, even if the player has transferred to a different club – providing that club plays in one of the leagues that are featured on the platform.
Managers can buy and sell their cards to other managers on the Sorare platform, with market prices varying continuously, often driven by the performance of players in the real world field.
Some of the cards are licensed digital collectibles (rare, super rare and unique cards). The use of blockchain technology means that Sorare cards are limited edition digital collections that players can trade and use freely.
Sorare platform cards are traded through an auction mechanism. When there is a higher bid on a card, users who have a lower bid on the card are re-credited and notified. The bidder who offers the highest price receives the letter at the end[9][10].
Tournaments
---
Leagues
Tournaments run twice per week, covering the midweek and weekend fixture lists and are always free to enter. There are global tournaments where players from any of the covered competitions can be entered. There are also regional leagues where users have to select their five players from a specific region.
There are different types of Tournaments depending on the scarcity of the Collectibles composing the Teams. Participation in these Tournaments is subject to restrictions in terms of Team composition:
All Star League: The All-Star League contains several Divisions in which you can play with any combination of Player Cards (Unique, Super Rare or Rare).

Under 23 League: The Under 23 League contains several Divisions in which you can play with any combination of Player Cards (Unique, Super Rare or Rare) whose real life age is 23 years old or under.

Regional Leagues: The Regional Leagues contain several Divisions in which you can play with any combination of Player Cards (Unique, Super Rare or Rare) who are eligible for that region (Euope, America or Asia)
| Region | Leagues |
| --- | --- |
| European Champions League | EPL, LaLiga, Bundesliga, Serie A, Ligue 1 |
| European Challenger League | Top flights in Portugal, Russia, Belgium, The Netherlands, Scotland & Turkey plus the English Championship |
| American Champions League | MLS, Liga MX, Brazilian Serie A, Superliga Argentina, Colombian Primera A |
| Asian Champions League | J1 League, K League 1, Chinese Super League |
Training League: The Training League contains several Divisions in which users can play with any combination of Player Cards (Unique, Super Rare or Rare)
Sorare Card
---
A Sorare Card is an officially licensed digital collectible of a footballer for a particular football season. Thanks to Blockchain technology, fans can collect their favourite players with the benefits of provable scarcity (fixed supply). On top of that, Sorare Cards are freely tradeable and usable in an open world of different applications and games. Each collectible enjoys many of the attributes of other Blockchain-Asset: it cannot be copied or taken away from the user. Users also enjoy access to the complete digital history of the card. For the 2020-21 season, three levels of scarcity exist for each Sorare Card: Unique, Super Rare (10 copies) and Rare (100 copies).
The primary reasons to consider owning a Sorare Card are its collectible desirability (each Card will carry a unique level of desirability and as a result, value to different people (player represented, serial number, nationality, club...) and its in-game value (in addition to the underlying collectible appeal and intrinsic value of each Card, they can be used in a world-wide Fantasy Football game called SO5 where it is possible to win rewards every week), and its third-party game value (the ultimate vision is for Sorare Cards to carry value across multiple games (not just our Fantasy Football game).
How To Play With Sorare Cards
---
Every Sorare Card can be used to play in fantasy football tournaments on the platform. There are currently only five-a-side games available. However, the scoring system, based on data provided by Opta, is rather advanced. Users will get points for typical events like goals, assists, and clean-sheet, as well as for shots on target and tackles for defenders. Here is the complete scoring matrix below[16].
General (All Players)
| Fouls Won | +0.50 |
| --- | --- |
| Minutes Played | +0.02 |
| Fouls Committed | -0.50 |
| Yellow Card | - 2.00 |
| Red Card | -5.00 |
| Goals | 7.00 |
| Assists | 4.00 |
Listed Clubs
---
As of March 20, 2021, 140 clubs are present in the game in total. This marks an increase of over 50 additional club sides compared with that in October 2020. Sorare has signed a deal with the Major League's Players Association, meaning portraits of every player with the kits of those teams appear in the game except the image rights of MLS and its clubs. For example, La Liga is represented by Atlético Madrid, Real Betis, Real Madrid, and Valencia, four of the country's biggest clubs. That selection enables users to sign Jan Oblak, Sergio Ramos, Carlos Soler Ramos, and Sergio Canales, and include them all in the same team[13]. 
Funding
---
Sorare has raised a total of $59.2 million in funding over 3 rounds. Their latest funding was raised on Feb 25, 2021, from a Series A round. Sorare is funded by 20 investors. Benchmark and Accel are the most recent investors[15].
List of Investors
| Investor's Name | Funding Round | Partners |
| --- | --- | --- |
| Benchmark | Series A - Sorare | Peter Fenton |
| Accel | Series A - Sorare | Andrei Brasoveanu |
| Antoine Griezmann | Series A - Sorare | |
| Headline | Series A - Sorare | |
| Alexis Ohanian | Series A - Sorare | |
| Gary Vaynerchuk | Series A - Sorare | |
| Rio Gavin Ferdinand | Series A - Sorare | |
| MPGI | Seed Round - Sorare | Mato Peric |
| Fabric Ventures | Seed Round - Sorare | |
| Gerard Pique | Seed Round - Sorare | Gerard Pique [14] |
See something wrong?
Report to us.
Sorare
Did you find this article interesting?