The Heart Project
The Heart Project is a collection composed of 10,000 collectible Non-Fungible Token (NFTs) stored on the Ethereum blockchain[1][2].
The Hearts are generated by Artificial intelligence (AI) and are characterized by their level of rarity which determines the features and traits they possess. These elements include eyes, mouth, headwear, legs, arms, colour, body, and background[3][4].
On September 27, 2021, the public sale took place at a mint price of 0.08 ETH and sold out in under a minute.
Overview
The 10,000 NFT collection was launched on September 27, 2021, with the aim of giving back to the creative community and fostering digital and physical spaces where cherished projects can get the support they need to become reality[5][6].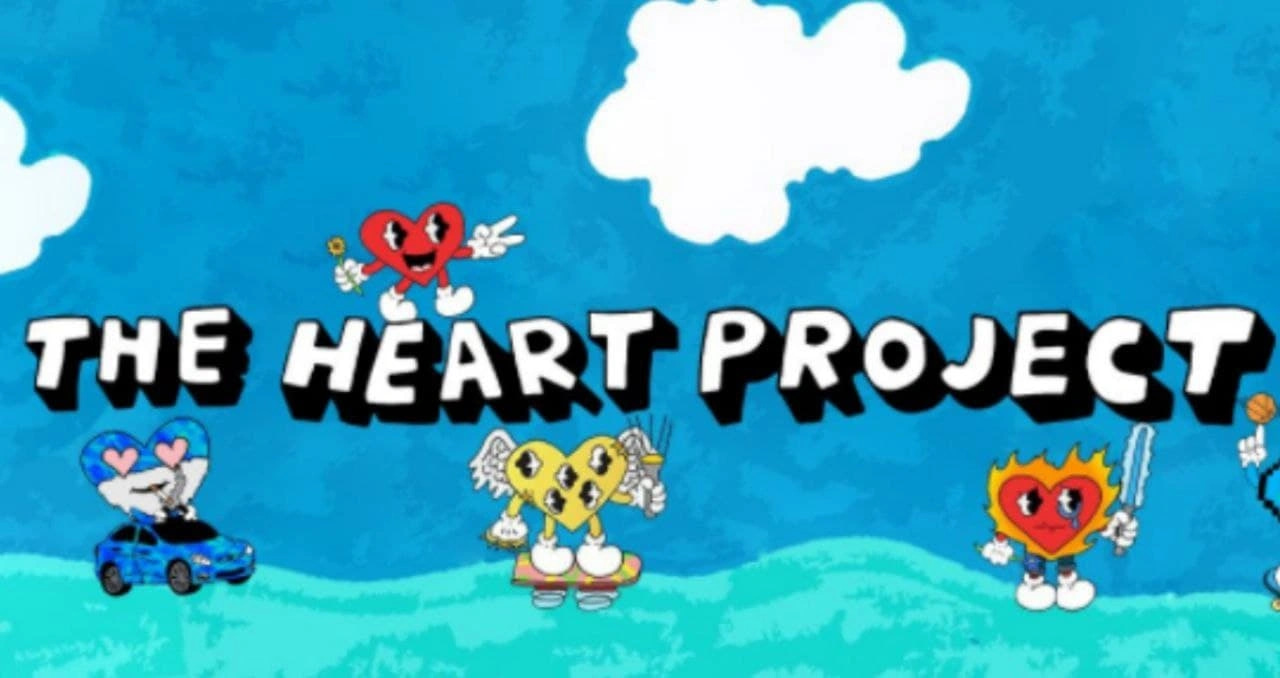 The Heart Project was created by Stefan Meier and Aidan Cullen in 2021. Holding a Heart NFT will serve as a membership pass, allowing holders to contribute creatively and share ownership of the project's creations
[7]
[8]
.
Speaking on the project launch, Cullen said:
We are working hard on locking in a bunch of artists—a bunch of upcoming artists and some of the biggest artists in the world. We're going to make a lot of songs and music videos with a lot of these amazing artists, and then release them as NFTs. Then the funds will go into a community wallet.
Notable Sales
On January 11, 2022, Heart #276 with Gold colour, sparkle arms, and picnic background sold on OpenSea for 14.3 ETH($46,300 at the time of sale)[9][10].
On January 10, 2022, Heart #161 with an electric car arm, and bruised body sold for 11.11 ETH ($34,300 at the time of sale)[11][12].
On January 9, 2022, Heart #6888 with left doge arm, and cloud background sold for 7.77 ETH ($24,500 at the time of purchase)[13].
On October 10, 2021, Heart #204 with wings headwear and sparkle body sold for 10 ETH ($34,300 at the time of purchase)[14][15].
On October 13, 2021, Heart #1311 with hairy arms and suspicious eyes sold on OpenSea for 10 ETH[16][17].
Team
He is a Los Angeles-based artist. He is a painter, a draughtsman, a collage artist, and a textile designer. Meier has collaborated with Bernhard Willhelm, David LaChapelle, Darren Romanelli, Maxfield LA, and the clothing line 'Emotionally Unavailable' since coming to Los Angeles in 2016.
His work has been included in a number of important group-shows in Los Angeles, as well as in private collections all around the world. His work frequently examines humanity's relationship with the natural world.
He was born and raised in Santa Mónica and Venice and is a photographer, filmmaker, and creative director. Aidan traveled to New York to attend New York University's Tisch School of the Arts photography program after becoming interested in photography in high school.
Aidan took a leave of absence from New York University after three semesters to work full-time. He is presently based in Los Angeles full-time. Aidan enjoys creating authentic, dynamic, and realistic photography while navigating across the worlds of music, fashion, documentary, and narrative.
Josh has worked in project management and creative consultancy and has been following the crypto world since 2016.
At the age of seven, he founded Aaron's Apple, a non-profit company that raised $2 million for charity. With no outside funding, Aaron started "Izaray" in 2017 at the age of 15 and developed it for 20 communities.
He has lived in the United Kingdom, Canada, and the United States as a full-time software engineer and crypto enthusiast. Luke has obtained programming skills that put him significantly ahead of the pack after starting many software enterprises during his teenage years. He knows a lot about cryptocurrencies and smart contract creation.
Roadmap
Stage 1 — Q4 2021
NYC party between November 2-4 for NFTNYC
Heart project event at Art Basel Miami beach
The Heart Project YouTube channel launch
Community designed clothing capsule
Community-made song (artist collab.)
Implement the ability to stake hearts for rewards
Heart Project music video for the song
EP with D33J
Jean Dawson's music video
Free merch drops for all heart holders
Establish a Heart charity fund & Philanthropic partnerships
Collaborative community zine
DEB never music video
Raffle to win a heart project jacket
Stage 2 — Q1-Q2 2022
DAO phase 1 launch
Community collaborative projects
Merch, clothing collaborations
New video content
Airdrops for holders
See something wrong?
Report to us.
The Heart Project
Did you find this article interesting?