The Picaroons
The Picaroons is a 10,000 generated NFTs created by Captainfly on the Ethereum blockchain.[1][2]
The Picaroons are 10,000 pirate NFTs whose designs were patterned to take their forms after the 16th-century pirates whose bravery lives on in these NFTs with rare Royal, Golden & Ghostly mole-like appearances and are available for trading on the OpenSea.[3]
Overview
---
The Picaroons is a new pirate NFT collectible launched in spring 2022 as a 10,000 randomly generated art, skillfully designed by the ecosystem's artist and muralist Alex Lucas.


According to the Picaroons' website, the NFT project is a consequential build-up after its artist launched an NFT named "Mischief Revenge", which gave a pictorial clue to the public of an NFT related to sea, sea creatures, sailing, pirates, and other animals.
With the tag on its Medium "The Lull Before the Storm", the Picaroons NFT introduced what a team member described as: "100% NFT vagabond animals of the high metaver-sea.."
Fictional History
The Picaroons NFTs date its fictional existence in the metaverse Sea to some 1665.
This story tells of how eight running animals mysteriously discovered themselves unexpectedly adrift on a pirate ship - which is referred to as (The Mischief's Revenge) - the Picaroon's very first NFT.
According to the Picaroon's fiction, there were human pirates aboard this ship, but they died of some plague. After the death of the Huma Pirates, these eight animals took the challenge of sailing the ship and discovering RARITIES and TREASURES.
As these animals engaged in sailing and discovering, they became what the ecosystem described as :
the invincible, the irascible & the most inspiring Picaroons - Team Member
The story continues with their NFT collectors joining these animals in their search for gems, biscuits, and love.[4]
The Picarrons' NFTs consist of pirate-looking animals with shades of diverse rarities. The NFT has its major forms in creatures such as:
Moles
Rats
Bats
Dogs
Rabbits, etc.
The Picaroons' NFTs are listed on the OpenSea as a verified tradable asset, which can be bought by sellers, buyers, curators, and/or NFT collectors for a floor price of 0.119 $ETH as of April 20, 2022.[5]
Features
The Picaroon's Log
Featuring the Picaroon's tripsters
The Picaroon's log is the NFT's official Medium page linked on its website, where users and visitors can access details about the project- its current state, progress, and prospects.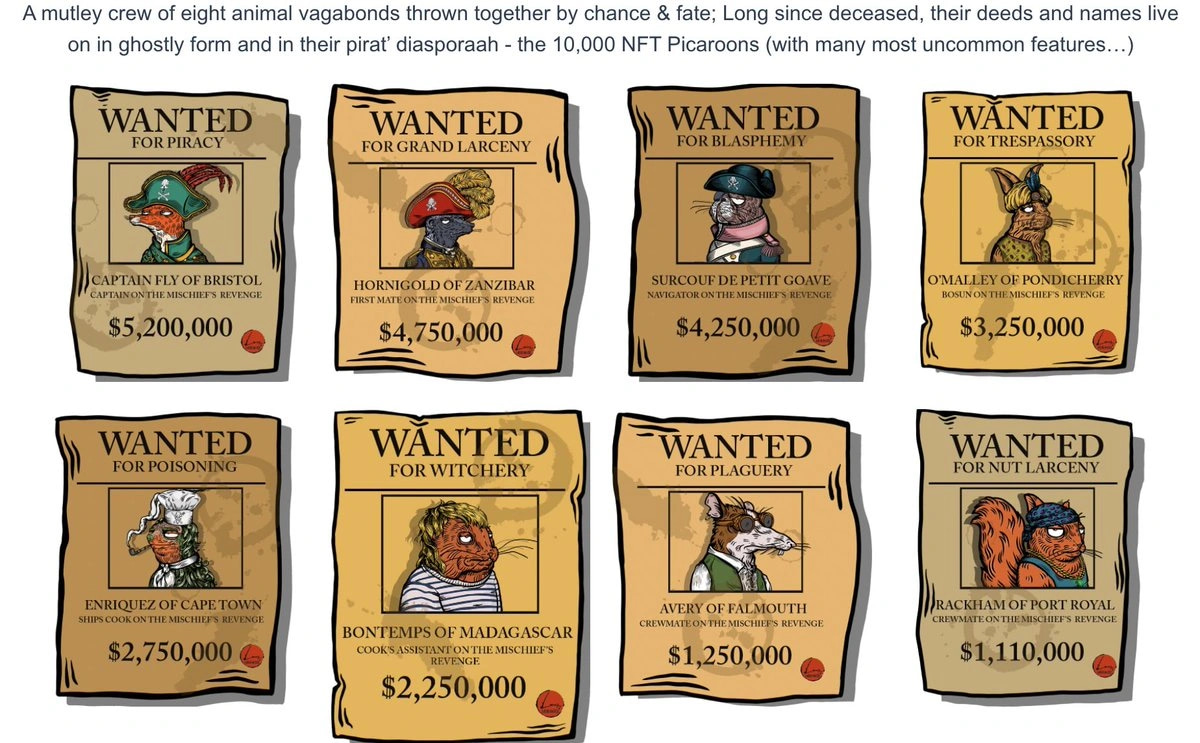 The Picarron's NFT has its Log customized with a team member named Arthur as its editor.
The Wanted List
The 'wanted list' is the Picarron's customized marketplace on its website. Similar to the OpenSea NFT marketplace, the Wanted List consists of specific details including filters, collections, categories, chains, on sale in $ETH and $wETH, thus helping users to have a personalized transaction on the picaroon's native website while making their trades or NFT collections.[6]
The Wanted List feature also helps users in sorting out different rarities out of its generated 10,000 collectibles available for sale.
Eyepatched Picaroon (rarities)
Appearance & Rarities
The Picaroons are built-in animal forms with unique attributes. Ranging from moles, cats, dogs, big-sized rats, and rabbits, the Picaroons pirate NFTs are randomly generated into rare appearances. The rarities of the Picaroons NFTs include its filters, prices, blockchains(Ethereum, Solana, Klaytn, and Polygon), and its sales in different traits (ETH and WETH).
Some of the characters are whiskers, some non-whiskers; some are with eyepatches, and some put on bandana headwear or chef-like pirate caps, some with cigarettes, and others with chains.
Notable Sales
---
Launched on April 2, 2022, the Picaroons' NFTs have recorded the following as notable transactions on the OpenSea marketplace and its Wanted List platform.
The recent NFTs listed for auctions with the highest bids are:
Bond Del porto farina ($ETH 0.5)[7]
Chancellor de nantes ($ETH 0.5)[8]
| Times Sold | Average Price ($) | Volumes of ETH Traded |
| --- | --- | --- |
| 8826 | $487 | 1,700 ETH |
| NFTs owners | Floor Price | Trading Volume in USD ($) |
| 3.9k | 0.076 ETH | $5.02 Millon[9] |
Public Mint
The public mint for The Picaroons NFT collection came live on April 15, 2022 on its minting website.
The final available Picaroons were made available to all NFT collectors at a price of 0.08 $ETH each and with a max of 2 mints per Ethereum address.
By the 16th of April, the Picaroon's NFT project team announced the total sale of all 10k NFTs.[9]
Shipbuilders
The Picaroons (NFTs) core team and strategic partners have been referred to as the project's shipbuilders. Named as pirates traveling on its metaverse, the Picaroons shipbuilders or team members include the following:
Alex Lucas
Alex Lucas, also known as Lucasantics on her Twitter handle, is a muralist and freelance artistic illustrator based in Bristol southwest England. She is described as the wind behind the sails of the Picaroons NFTs.[4][10]
Lucas alongside a companion (Paul Fearnside), has added their beautifully dark, quirky, humorous designs seen adorning walls and buildings around the UK and beyond.
Lucas has demonstrated her love for graphic novels and raw art combined with influences as wide as Ralph Steadman, Gary Baseman, and Egon Schiele they have honed a unique and compelling tune of their own.[11]
Pranksy
Pransky is an Entrepreneur who has demonstrated interest in Non-Fungible Tokens (NFTs) through experiences gotten as the Co-director of NFTBOXES Ltd. Pranksy is an investor in NFTs and/or digital arts and OG enthusiast.[12]
According to Picaroons, Pransky helps with the "navigation and keeping The Picaroons shipshape".[4]
BlockMark Technologies
BlockMark Technologies is a core and founding organization of the Picaroon's project. BlockMark Technologies reportedly provides software systems capacity to manage steps around certification, accreditation, and protecting intellectual properties (such as arts, music, etc).
We leverage the benefits of blockchain technology to increase cyber security, trust and convenience- BlockMart.
BlockMark technologies have the following within its portfolio:
BLOCKMARK REGISTRY (NFT digital collectibles featuring unique and rare gemstones and jewels. An OG (2018-19) project
BLOCKGAMES (Innovative blockchain leadership program for future-focused teams.)
BLOCKMARK GEMS (An exciting new NFT digital collectibles featuring a fantastic UK street artist.
THE PICAROONS (NFT Project).
Captainfly
Captainfly is the pseudonymous name of the founder of the Picaroon's NFT project. With little or no details about Captainfly, his/her function within the ecosystem remains driving the Picaroon's ship.
Voyages
The Picaroons voyages are the project's current state, roadmap, and prospective journey in the future as the motley crew pirates.
Some of the Picaroon's Voyages include:
Q2- Q4 2022 (Picaroons Rewards)
According to the Picaroons, users having a Picaroon (NFT) Profile Picture on Discord and Twitter, will be rewarded for their loyalty to the Picaroon flag. Users were provided Google Forms to enter their details (Discord name, Twitter name, Ethereum Address) and a winner will be chosen at random to receive an additional Picaroon (NFT). Competitions and giveaways similar to this will be run regularly.
Exclusive merchandise will be made available to Picaroon Collectors.
For loyal holders who owns more than 8 Picaroons NFTs, access to AMA sessions with Pranksy and the Picaroon's artist, Alex Lucas will be made available. Users holding 8+ Picaroons will also be awarded the Discord role 'Captain'.
Users holding over 50 Picaroons, will get the revered title, 'Pirate Queen/King'.
Picaroon's 1st Major Release
The Picaroon's NFT announced that users holding all 8 crew members including the following: Captain, a First Mate, a Bosun, a Navigator, a Ship's Cook, a Cook's Assistant, a Crew Mates – one squirrel and a rat, will be airdropped an NFT ship for their Pirate Crew featuring its own unique traits.
Exclusive merchandise will be made available to Picaroon Collectors.
An expansion of the lore behind the original Picaroons and their 10,000 Descendants will be made.[13]
See something wrong?
Report to us.
The Picaroons
Did you find this article interesting?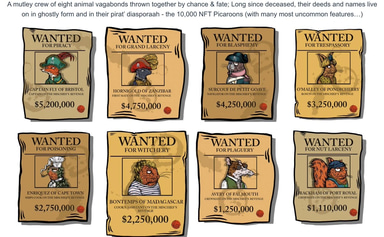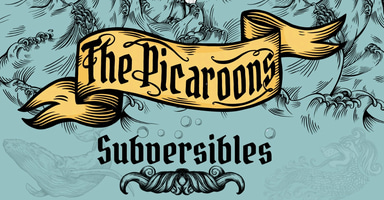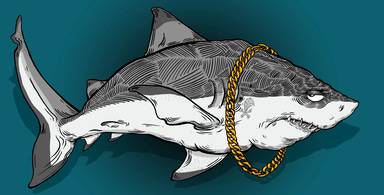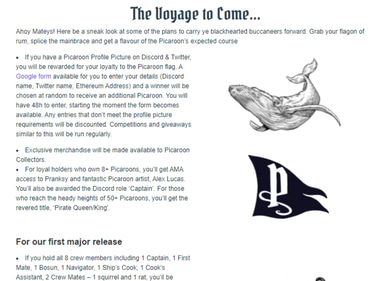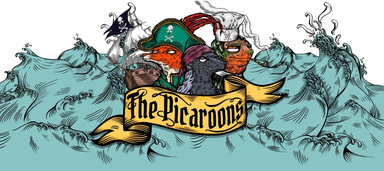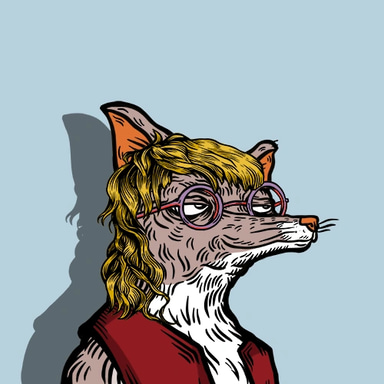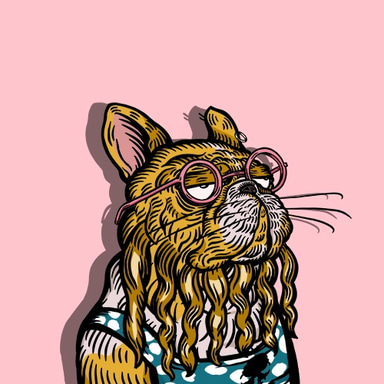 REFERENCES
[1]
The Picaroons NFT - New Art NFT Project by Pranksy
Aug 20, 2022
[2]
The Picaroons and Tripsters
Aug 20, 2022
[3]
The Picaroons on OpenSea
Aug 20, 2022
[5]
The Picaroons on OpenSea
Aug 20, 2022
[6]
The Picaroons L-OG Book
Aug 20, 2022
[7]
Bond del Porto Farina
Aug 20, 2022
[8]
Chancellor de Nantes
Aug 20, 2022
[9]
The Picaroons statistics
Aug 20, 2022
[11]
Lucas Antics Website
Aug 20, 2022
[13]
The Voyage to Come…
Aug 20, 2022