Bitcoin Addict
Bitcoin Addict is one of the largest crypto media groups and communities in Thailand, offering a platform that provides comprehensive coverage of cryptocurrencies and the web3 space. [1]
Overview
Founded in 2018 by Kannithi Tongtanagoon, Bitcoin Addict Thailand focuses on providing reliable and up-to-date information on all things related to cryptocurrencies. They manage around 90% of all Key Opinion Leaders (KOLs) in Thailand, fostering a welcoming environment for ICOs (initial coin offerings) and trading discussions, primarily through platforms like Telegram and Facebook. Bitcoin Addict's mission centers around increasing awareness and educating the Thai population about the potential of cryptocurrency and blockchain technology, firmly believing that these innovations should be accessible to everyone for their benefit. [1][3][4]
Moreover, the group offers a wide range of services, including media PR news, articles, community management, event organization, research advisory (SEC-licensed in Thailand), digital asset fund management (SEC-licensed in Thailand), token listing, market making, and more. They are also the hosts of the largest blockchain conference in Thailand, Blockchain Genesis, which they will also be hosting in 2023, working closely with Cryptomind Group. [1][2]
Services
News
Bitcoin Addict's News platform enables users to keep up-to-date with the latest information, by providing the most recent crypto or blockchain-related news articles. [5]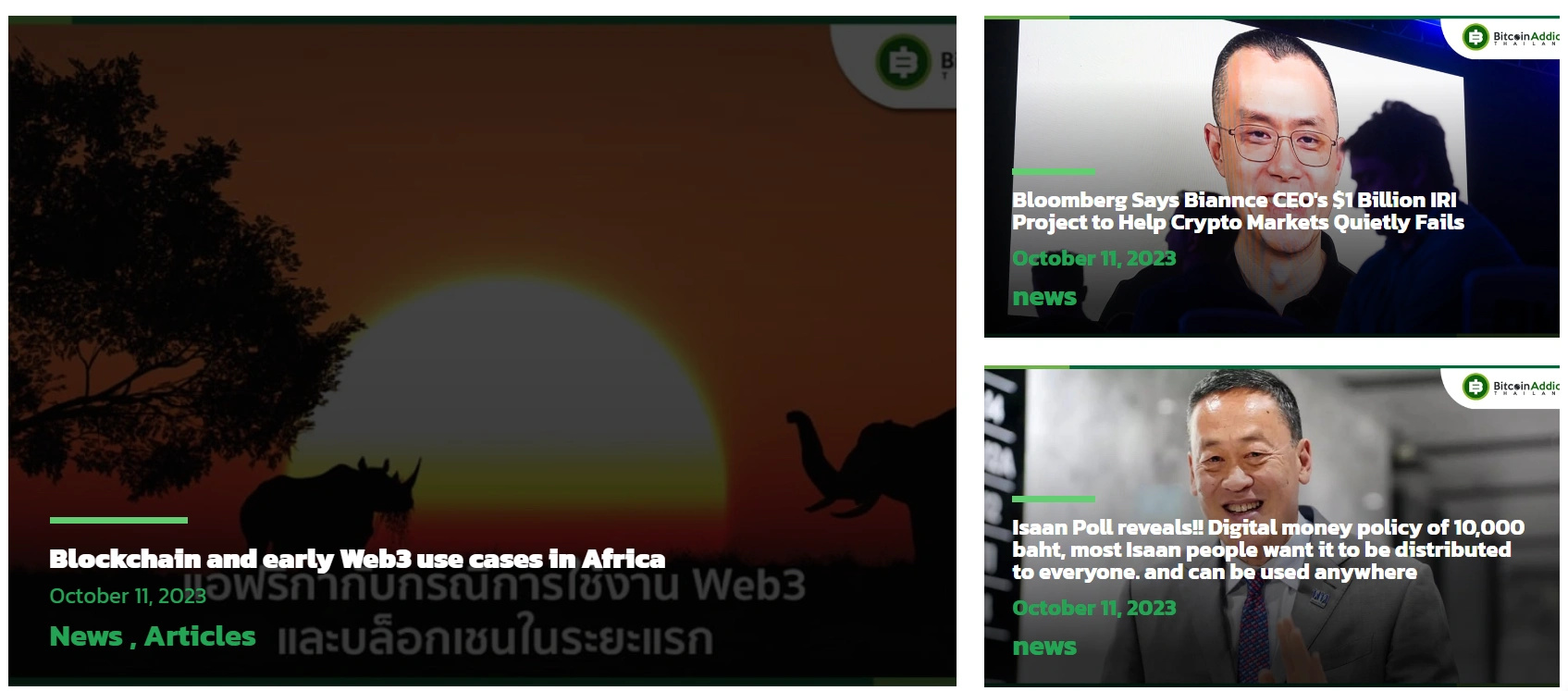 Review
Through their Review platform, Bitcoin Addict curates original and in-depth reviews on existing projects in the crypto space, allowing users to gain a deeper understanding of popular protocols, typically provided as an article. [6]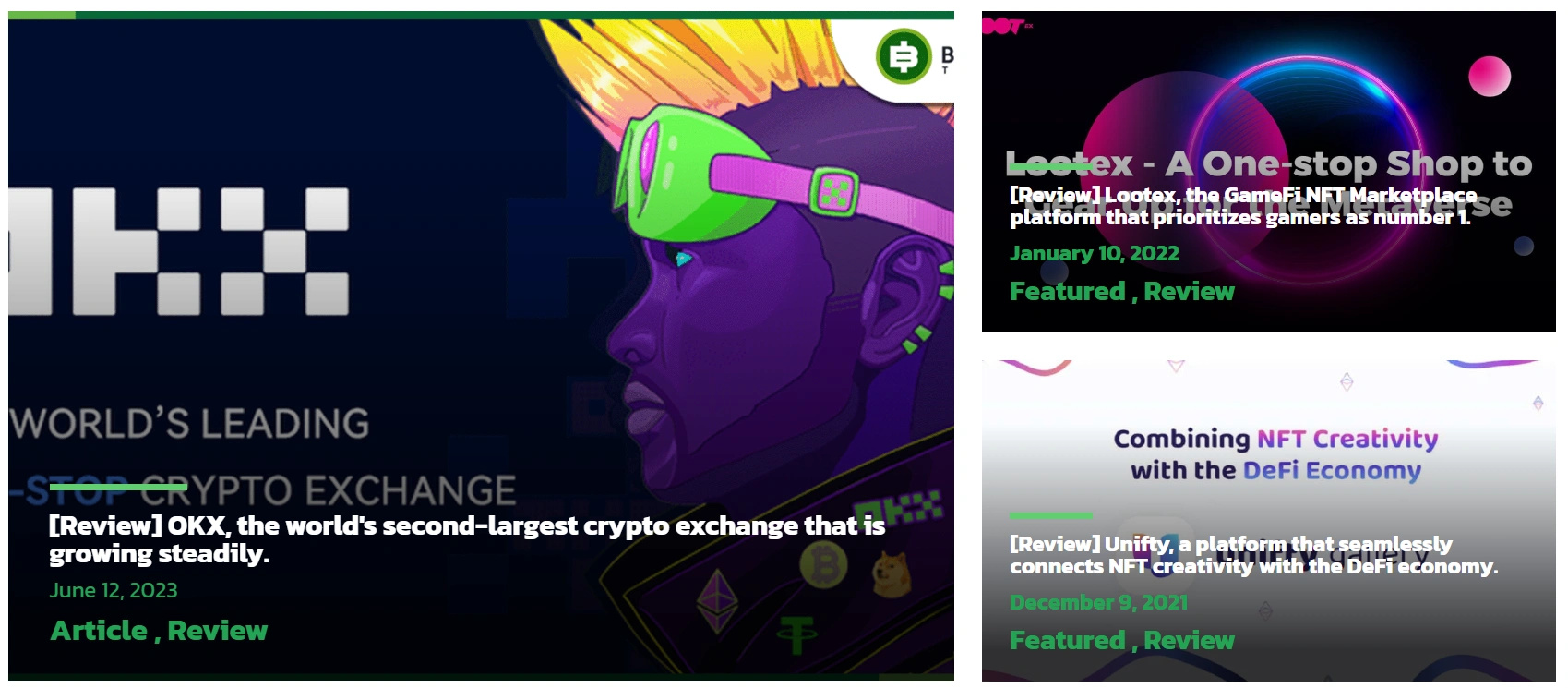 Market
Bitcoin Addict offers a Market platform, serving as a live cryptocurrency price aggregator, delivering data on a wide range of digital assets and providing vital market information. [7]
Academy
The Academy platform offers educational content curated by trusted bloggers, aggregating insights from credible sources in the blockchain and cryptocurrency space. This content is organized for easy accessibility, featuring a glossary to explain crypto terminology, and articles categorized into sections like NFT, Coin/Token, Analysis, DeFi, and Game-Fi. Furthermore, these articles are tagged with one of three proficiency levels: Beginner, Intermediate, or Advanced. [8]
Event Management
Bitcoin Addict also serves as event managers, planning, promoting, and hosting blockchain conferences, networking parties, and meetups for community members to attend to in real life. [9]
Fight for the Future - Hope is Dope: Episode Zero 2022
From July 30th to July 31st, 2022, Bitcoin Addict hosted a NFT and Metaverse community meetup in Siam Discovery, Bangkok, called "Fight for the Future - Hope is Dope: Episode Zero 2022". This event aimed to raise awareness of the companies and brands associated with the event, through an interactive and creative learning experience. [10]
Bitcoin Addict Meetup 2022
On August 28, 2022, Bitcoin Addict hosted a community get together, where community members were able to interact with the speakers and hosts of the event, fostering an educational environment for all participants. This meetup was also hosted in Siam Discovery, Bangkok, and had around 200 attendees. [11]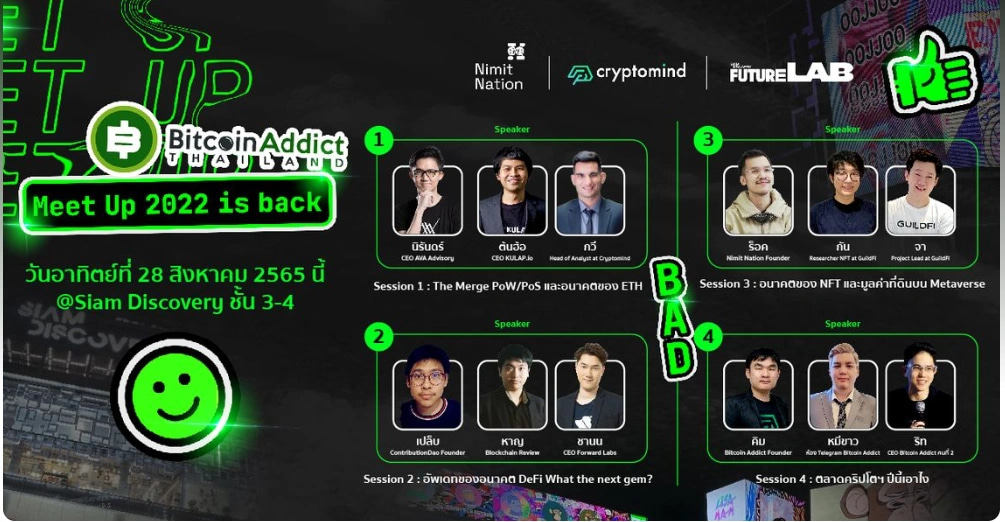 Blockchain Genesis 2022
From November 26th to November 27th, 2022, Blockchain Genesis, the largest blockchain conference in Thailand, was hosted by Bitcoin Addict. The event was hosted in the Royal Paragon Hall in Siam Paragon, Bangkok, where there were booths allocated to projects, the Genesis Stage where guest speakers were invited to talk openly to the audience, and a designated area for attendees to network and connect with one another. [12]

Blockchain Genesis 2023
Taking place for the 6th consecutive year, the 'Blockchain Genesis, Thailand Blockchain Week 2023' event is scheduled for November 11-12th at Samyan Mitrtown Hall. With an expected attendance of over 5,000 participants, the event centers around the theme 'Build in Bear, Rise in Bull.' It offers a platform to explore the future of the digital asset world, spanning from blockchain to Web3, including crypto, DeFi, NFT, GameFi, and the Metaverse. Bitcoin Addict assists Cryptomind Group in the organization of the event, along side many partners, with the aim of educating the broader audience about blockchain technology and facilitating networking opportunities for individuals interested in the blockchain space. [13]

Team
Kannithi Tongtanagoon: Founder
Patikorn Trethasayuth: CEO
Chonticha Dontree: Marketing Lead
Ditchamakorn Boonsirisakul: Marketing Executive
Rawiwarn Owattasanee: Content Writer
Wissarut Lonok: Content Writer
See something wrong?
Report to us.
Bitcoin Addict
Did you find this article interesting?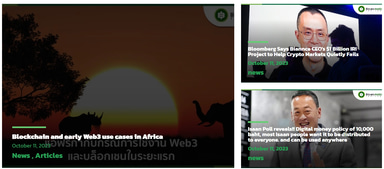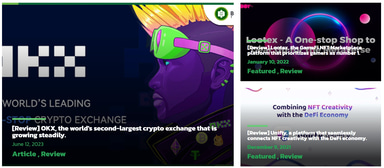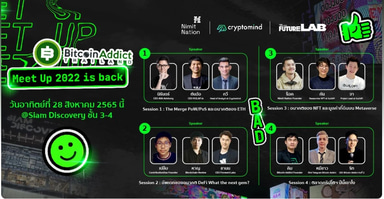 REFERENCES
[2]
Linkedin Profile
Oct 11, 2023
[3]
Crunchbase Profile
Oct 11, 2023
[4]
Linkedin About Section
Oct 11, 2023
[6]
Review Section
Oct 11, 2023
[7]
Market Section
Oct 11, 2023
[8]
Academy Platform
Oct 11, 2023
[9]
Event Section
Oct 11, 2023
[10]
Fight for the Future Intro Video
Oct 11, 2023
[11]
Meetup event post on Facebook
Oct 11, 2023
[12]
Cryptoevents on Genesis 2022
Oct 11, 2023
[13]
Blockchain Genesis 2023
Oct 11, 2023
[14]
Linkedin People Section
Oct 11, 2023