Erica Kang
Erica Kang is the CEO and founder of KryptoSeoul, a community focused on web3 technologies in Korea with a global reach. Prior to establishing KryptoSeoul, Erica engaged in the blockchain industry by leading a global community for nearly five years. [1] She owns her own social token, denominated EST.
Early Life & Education
Erica has a Master of Arts (MA) in International Policy Studies from Stanford University, which she pursued from 2009 to 2011. During her time at Stanford, she actively participated in the Korean Student Association at Stanford (KSAS). Prior to that, she completed her Bachelor of Arts (BA) in International Relations at Ewha Womans University from 2004 to 2008. At Ewha Womans University, she founded Rize, a girls' hiphop dance club, showcasing her passion for dance and leadership skills. [2]
Career
From August 2008 to June 2009, Erica worked as a Junior Analyst at Hana Daetoo Investment Bank in Seoul, South Korea. In this role, she was part of the M&A team, where her responsibilities included analyzing various companies for potential merger and acquisition opportunities.
Following that, Erica joined KT, a prominent telecommunications company in Seoul, as an Assistant Manager in September 2011. Initially, she managed the IT CEO Forum, a conference for CEOs in the South Korean IT industry, while also facilitating the establishment of an ecosystem between promising startups and conglomerates like KT. Later on, she was recruited to the Group Strategy Team directly under the CEO. In this position, Erica conducted analyses to identify potential synergy effects between KT and its subsidiaries or prospective partners. Additionally, she provided support to the CEO in managing VIP-level conferences.
From January 2018 to February 2019, for a duration of one year and two months, Erica served as an Advisor for the Korea Blockchain Association in Seoul, Korea. This association comprised over 60 companies operating in the Korean blockchain industry, and her role involved providing assistance and support to the organization. [2]
Blockchain
After previously working at a large Korean corporation until early 2017, Erica changed her career path towards the startup sector. In discussions with a friend who also expressed interest in startups and the blockchain industry, she developed a curiosity for this emerging field. This led her to attend a blockchain meetup, where she had the opportunity to meet her former employer and secure her first job in the crypto space. Additionally, she was also scouted by several individuals who have since become CEOs of prominent blockchain projects in Korea. [3]
As the founder of KryptoSeoul, Erica has facilitated the introduction of numerous global projects to the Korean community and fostering connections among diverse stakeholders. What initially began as small community events, it quickly expanded into a comprehensive portfolio encompassing prominent events, meetups, content, and conferences in Korea. Erica has organized, built, and led the following initiatives: [1]
KryptoSeoul Meetups
KryptoSeoul has organized a series of meetups that have garnered significant participation, with a membership of 2.3K in the KryptoSeoul Meetup group. Since March 2018, these meetups have taken place in various locations including Seoul, Lisbon, New York City, San Francisco, Tokyo, Denver, and Osaka. KryptoSeoul has co-hosted events with projects such as Ethereum, Zcash, Cosmos, Kadena, Filecoin, Quantstamp, RSK, Dfinity, Polkadot, Samsung NEXT, Origin Protocol, and others. [1]
BUIDL Asia Conference
BUIDL is a technical crypto conference hosted in diverse countries of Asia, with sponsors such as LINE, Cosmos, Avalanche, SK Telecom, Klaytn, among others. [1]
The Erica Show
With more than 6,000 subscribers on Youtube, this series hosts influential figures in the crypto space. More than 50 interviews have been held since September 2020, including guests as Vitalik Buterin, SEC Commissioner Hester Peirce, Emin Gun Sirer, Andre Cronje, Anatoly Yakovenko, Sam Bankman-Fried, and many more. [1]
See something wrong?
Report to us.
Erica Kang
Did you find this article interesting?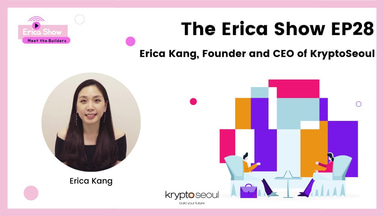 REFERENCES
[1]
Ericaverse Whitepaper
May 22, 2023
[3]
The Erica Show
May 22, 2023