Richard Craib
Richard Craib was a South African mathematician. He is the founder and CEO of Numerai, a San Francisco-based hedge fund that is designed to crowdsource data for artificial intelligence in stock market environments, and he's also the manager of AI hedge fund. [2]

Education
Richard attended University of Cape Town from 2007 to 2008. Later in 2008, he transferred to University of California and graduated from there in 2009, by majoring in Mathematics and Economics.
In 2012, Richard graduated with a degree in pure mathematics from Cornell University.
[3]
Career
Before he set off to develop Numerai, Richard was the Co-founder and Director of US Operations at DataProphet.[2]
Later on, he built a global equity fund powered by machine learning at $15 billion asset manager, Prudential (M&G). This is where he first developed Numerai's approach to financial data regularization, a crucial step in applying machine intelligence to the stock market.
Building on this, in October 2015 Richard founded Numerai in San Francisco to build a new kind of hedge fund where data scientists around the world collaborate to predict equity returns using artificial intelligence.[1]
In 2017, Richard was selected to the Forbes 30 Under 30 list in the Finance category.[4]
Numeraire
In 2014, Richard was working as a quant at his first job and using machine learning to model data. His thoughts about quant fund then, was stated in a podcast with 'Infinite Loops':[5]
Every single quant fund out there is in some form, gathering a lot of data, modeling it. Modeling means finding patterns in the historical data. The trick is there's a lot of patterns, and a lot of them don't repeat themselves. Most of them don't repeat themselves in the future, and so the goal of a machine learning model is to find patterns that will generalize into the future. The best quant funds have managed to do that.
He gives a detailed information about the genesis of Numeraire:[5]
I just thought, and it hit me very hard when I thought about it, I was like, "There needs to be at least one open hedge fund, and hopefully just one, where it's like open source, it gathers the best people, they build amazing software," and that's what Numerai did for hedge funds.

Numeraire is an Ethereum token that powers Numerai, a San Francisco-based hedge fund. Numeraire (NMR) holders can stake their NMR tokens every week on specific predictions. He has the backing of Peter Diamandis, Renaissance Technologies co-founder Howard Morgan and Union Square Ventures.[6]
Events
On April 9, 2018, he attended LendIt Fintech USA 2018 conference as a speaker.
On October 10, 2018, he attended Blockcon 2018 conference as a speaker.
[2]
Funding
On December 1, 2021, he invested in Seed round phase of Praxis.
On February 8, 2023, he invested in Series B round of Numerai.
[2]
See something wrong?
Report to us.
Richard Craib
Did you find this article interesting?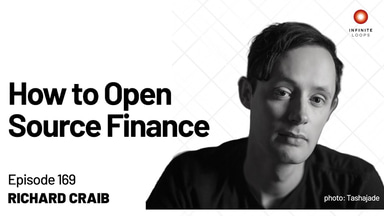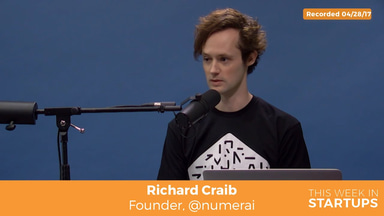 REFERENCES
[1]
company's portfolio
Oct 19, 2023
[2]
crunchbase prof
Oct 19, 2023
[3]
linkedin prof
Oct 19, 2023
[5]
infinite loops podcast
Oct 20, 2023