Bitcoin SV
Bitcoin SV is a payments-focused blockchain protocol that takes some of Bitcoin's key technical features. The network aims to restore Satoshi Nakamoto's original vision and scale the blockchain for more transactions. It focuses on four pillars: scalability, stability, security, and safe instant transactions. [1][2]
Overview
Founded in November 2018 after Bitcoin Cash's hard fork, Bitcoin SV (BSV) is led by Craig Wright, backed by Calvin Ayre, and developed by nChain, the network delivers a distributed data network that supports enterprise-level advanced blockchain applications. The acronym SV stands for "Satoshi Vision," which refers to Bitcoin's pseudonymous founder Satoshi Nakamoto's vision. [3][4][5]
The Bitcoin SV network has been able to remove the block size limits and re-enable the script command and other technical capabilities that were restricted in the Bitcoin blockchain. With this, Bitcoin SV can process tens of thousands of transactions per second while maintaining extremely low transaction fees for micropayments. Also, the Bitcoin SV network offers advanced capabilities like tokens, smart contracts, computation, and other data use cases. The uniqueness of Bitcoin SV has brought about unbounded on-chain scaling while still being more aligned with Bitcoin's original design than any other blockchain. Bitcoin SV has faced a lot of controversy, mainly due to Wright's unproven claims of being Satoshi Nakamoto, the creator of Bitcoin. [3][4][5]
In June 2019, FRNT Financial Inc. ('FRNT'), an institutionally focused fiat-settled cryptocurrency derivatives platform, partnered with Bitcoin SV through Calvin Ayre to offer a diverse set of derivatives known as synthetic exposure mechanisms ('SEMs'). With this partnership, FRNT offers the first fiat-settled BSV derivatives to investors. Several applications have been built on Bitcoin SV to leverage the network's low fees and massive scalability. In 2019, Streamanity launched its video streaming platform, built on the Bitcoin SV (BSV) blockchain. Also, Money Button, a wallet company, uses Bitcoin SV's network to handle large volumes of transactions. Run Platform, a software development kit (SDK) that helps developers create applications and tokenized software assets on top of the Bitcoin SV network, was established. Domineum, a London-based software development firm, uses the Bitcoin SV (BSV) blockchain to build "Blockchain-as-a-Service" (BaaS) products. [6][7][8][9]
In 2020, Bitcoin SV launched the Bitcoin SV Developer Zone in partnership with the Chinese Software Developer Network (CSDN), the largest developer community of up to 31 million people, to provide educational material for novice and expert developers as well as tools to develop applications on BSV. In the same year, the BSV/EUR trading pair became available on NovaDAX shortly after the European operation's launch. [10][11]
Bitcoin SV's Scalability
Scalability in the BSV blockchain network depends on two factors: block size and individual transaction size. [12]
Block size
In 2020, the BSV blockchain successfully handled a 309 MB block, accommodating over a million transactions. Furthermore, a block of 369 MB containing 1.3 million transactions was attained. In May 2022, the biggest block mined was 3.8 GB in size, and the network maintained an average block size of 100 MB. [12]
Individual transaction size
Another level of scalability the Bitcoin SV blockchain offers is at the transaction level. Script, a native language for supporting various contract types between entities exchanging value in a transaction, is employed. These scripts present in transactions contain payment information such as digital signatures, values, etc., as well as data, and each transaction can natively contain up to 4.2 GB of data using the OP_PUSHDATA opcode. [12]
Bitcoin SV Scalability Test
The scalability test for BSV was carried out using the Bitcoin SV Scaling Test Network (STN), a testnet specifically set up to test its scalability. In July 2020, the BSV network peaked at over 2400 TPS (transactions per second) and sustained performance of 1426 TPS across 8 hours. [13]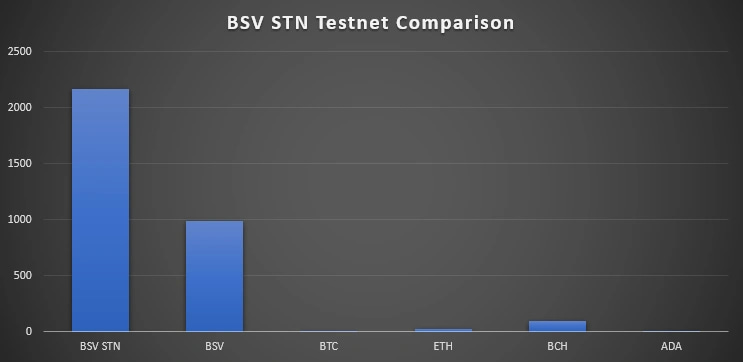 Source: Coingeek
In January 2021, Bitcoin SV hit 9232.51 TPS, and in May 2022, 19,308 TPS was reached. As of 2022, the main network had a peak throughput of 18,606 TPS. Teranode, a microservices-based node software framework, is underway and aims to deliver exponentially scaling capabilities of about 50,000 TPS (minimum) to 100,000 TPS (maximum). With this, a milestone was set for Bitcoin SV, proving that Bitcoin can scale on-chain beyond doubt. Also, awareness was created, causing projects and ventures to increase on the Bitcoin SV blockchain. For example, LAYER2 Technologies, an Australian firm, tested the Bitcoin SV network and proved that it could accommodate the data that will be generated if Australia's entire population were to vote in a national election. B-Vote was then built on the Bitcoin SV blockchain. Eli Afram, CTO of LAYER2 Technologies and Bitcoin Association Ambassador to Australia said: [14][12]
"We're not the first and we're definitely not the only voting platform – but Bitcoin SV is the only blockchain that can deliver a system that works. And that's been proven, now. We did 10 million transactions in October in bursts here and there. We didn't need to test the entire population of Australia—there was a short run we had where we pushed to see how much we could store on the blockchain and how quickly. We found that we would be able to cater to Australian's population in a day."
Indeed, the Bitcoin SV (BSV) network aligns with Satoshi Nakamoto's vision and also solidifies its future for scaling. [13]
It is fixed on ending up in data centers, where, according to Satoshi Nakamoto's whitepaper, Bitcoin lets users be users.
While users are users, they can still operate securely using Simplified Payment Verification (SPV) proofs. In comparison, SPV is a method that Satoshi Nakamoto first described on a very high level in the Bitcoin whitepaper.
Bitcoin SV's improvement over Bitcoin is as follows: [9]
It does not burden everyday users by having to keep a ledger of the entire transaction history, as seen in Bitcoin.
It intends to host the future of the internet, popularly known as the "Metanet."
Simplified Payment Verification (SPV) Channels for the Bitcoin SV Network
SPV channels are critical components of peer-to-peer transaction workflows. They help facilitate always-on encrypted messaging channels between participants on the Bitcoin SV network. In June 2021, the Bitcoin Association announced the release of SPV Channels CE v1.1.0 for the Bitcoin SV network. This introduces mobile client libraries with all-new functionalities, including push notifications for both Android and iOS devices on the network. Software development kits (SDKs) for both mobile operating systems are available for download on GitHub. [15]
Twetch: Bitcoin SV's Metanet
Metanet is a protocol for structuring the on-chain internet layered on top of a data storage network in Bitcoin. With this, the Bitcoin SV team developed its metanet, the Bitcoin SV metanet, to allow data from all activity to be recorded on the Bitcoin SV blockchain. In addition, people can control and own their data. Twetch, a BSV-based application, is a pay-to-earn, decentralized social media platform where users are given full ownership of their content or data. Twetch allows users to spend micropayments and eliminates the need to sell user data to make a profit. Users can earn money from the content they share based on its quality or popularity. [16][17]
Digital Exchanges Supporting Bitcoin SV
In September 2020, Bitcoin SV (BSV) introduced 11 fraud-free onramps at various digital asset exchanges and wallets through Simplex, a fiat infrastructure provider for digital currencies. This was made possible through the integration of Bitcoin SV on the Simplex platform in July 2020, enabling users to acquire BSV using various payment methods, including credit and debit cards, SEPA payments, and bank transfers. The digital platforms are: [20]
BitAsset
BitBay
Celsius
ChangeNOW
Changelly
Coinomi
Digifinex
Edge
Guarda
Okex
Poloniex
Speaking on the announcement, the co-founder and CEO of Simplex, Nimrod Lehavi, said: [18]
"Our mission is to enable every person, no matter where they are, the ability to onramp with whatever fiat currency they want, easily and risk-free. We're excited to provide users with accessible ways to purchase Bitcoin SV through so many of our trusted partners."
Jimmy Nguyen, the Founding President of the Bitcoin Association, responded by saying: [18]
"When Simplex added support for Bitcoin SV earlier this year, it opened the door for many exchanges and wallets to easily add fiat onramps for BSV, and we are now seeing the positive impact of Simplex's strong partner network. We are pleased that digital currency enthusiasts around the world now have so many more options to acquire BSV – with even more partners in the Simplex network to come."
In April 2021, Beaxy Exchange, a Chicago-based digital asset exchange company, listed BSV on its platform. Bay Abbott, the director and co-president of Beaxy Exchange, explained in a BSV Virtual Meetup: [19]
"The majority of the due diligence is looking into the utility of the asset. So that's where most of the legal spend [and] that's where most of the internal due diligence is. You're spending a lot of time determining that utility. And when we looked at the BSV ecosystem and we saw that there were 300 companies building on the BSV blockchain, we saw all of the things that contributed to that, like micropayments and the upcoming Teranode [project]. It's easy to make that determination at that point, so we decided to move forward with listing BSV."
See something wrong?
Report to us.
Bitcoin SV
Did you find this article interesting?