Blur
Blur is an NFT Aggregator and Marketplace (Aggregate NFT Exchange) designed to optimize the NFT trading experience and provide tools for professional NFT traders in the ecosystem. It is distinct from other existing NFT exchanges such as OpenSea, Gem, and X2Y2, which focus more on retail and collectibles, due to its use of Ethereum to list assets natively. [1]
The Blur interface integrates data parameters such as last sale price, time, the rarity of each NFT, ongoing transactions, liquidity depth, current gas fees, etc. [2]
Blur also has a lending feature known as Blend where NFT holders can borrow ETH against their NFTs without needing to sell. [27]

History & Development
In March 2022, the Blur marketplace was announced, prompting users to refer friends to a waitlist. Before launching to the public on October 19, 2022, a closed beta was run to test the platform, with access given to those with the most referrals and a few select community members. [5]
Blur marketplace was founded by Pacman (Twitter: @PacmanBlur)[3] who remained anonymous all through Blur's development until the 22nd of February 2023 when he doxxed himself on Twitter. [4]
Within two weeks of Blur's launch, it saw a significant amount of use among NFT enthusiasts. According to the official Blur Twitter account[18], the platform had become the highest-volume NFT aggregator just three days after its release. However, it was the Art Gobblers NFT mint on October 31, 2022, that further demonstrated Blur's potential. Blur's real-time data feed of NFT sales and listings caused an influx of traders to the platform, resulting in a daily trading volume of 8,453.7 ETH. This placed it in second place behind OpenSea for 30-day trading volume, ahead of X2Y2 and LooksRare. [5]
Following two months of sales growth, Blur overtook the leading NFT marketplace OpenSea, with traders rapidly flipping valuable NFTs. According to data from DappRadar on February 20, 2023,[19] Blur generated $460 million worth of Ethereum NFT trades seven days prior—a 361% increase over the previous span. OpenSea, meanwhile, saw a 12% increase in trading volume to $107 million during that period. The third-place marketplace, X2Y2, tallied barely $11 million in trades in that time. [20]
Funding
On March 28, 2022, Blur announced it had raised an $11 million seed round led by Paradigm[15] for the development of the Blur NFT marketplace. Other partners who joined the round included: eGirl Capital, Keyboard Monkey, LedgerStatus, 0xMaki, Santiago Santos, Zeneca, Deeze, Andy (Fractional), etc. [17]
The Blur team brings together experienced members from MIT, Citadel, Five Rings Capital, Twitch, Brex, Square, and Y Combinator. [17]
Team
Blur was co-founded by Pacman who revealed himself to be a developer and investor, Tieshun Roquerre. He mentioned in an interview that OpenSea's shortcomings were what initially motivated him to create a platform for more advanced NFT traders. [21]
"I really fell in love with the NFT space. I love the trading side of it, I was just very frustrated. And using OpenSea at the time, I just felt like it was very slow and clunky – you know, good for newcomers, but for someone that was more experienced and native in the space, it felt like I was fighting the platform a lot."
He set out to grow Blur as a platform aimed at courting more advanced NFT traders, which he likened to "a Binance for NFTs." He also cites decentralized crypto exchanges like Uniswap and Chinese e-commerce platform Taobao as inspirations for Blur's tokenomics and growth strategy. [22]
Pacman and his co-founder Galaga assembled a team of 10 builders and experienced members from MIT, Citadel, Five Rings Capital, Twitch, Brex, Square, and Y Combinator to bring Blur to life. [17]
Royalty Policy on Blur
In February 2023, Blur announced that it would enforce full royalties on collections that block trading on OpenSea. This is a direct response to OpenSea's royalty policy that "prevents collections from being able to earn royalties everywhere". [23]
According to Blur, creators have three options: no block, block Blur, and block Opensea, and the third one is recommended by Blur.
"Our preference is that creators should be able to earn royalties on all marketplaces that they whitelist, rather than being forced to choose. To encourage this, Blur enforces full royalties on collections that block trading on OpenSea."
In addition, Blur noted that creators blocking OpenSea would be eligible to receive Season 2 rewards.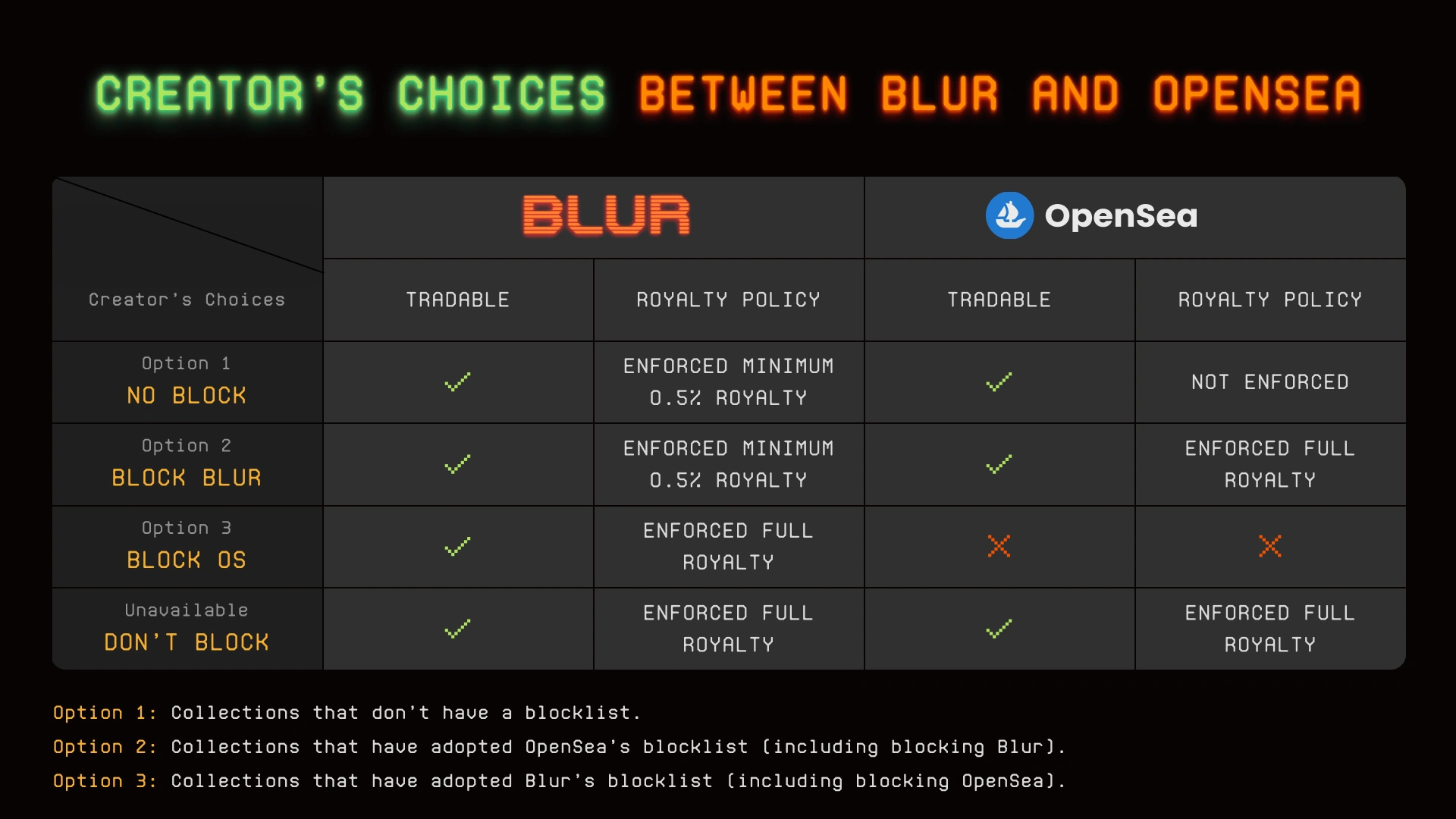 $BLUR Token
The BLUR token is an ERC-20 token that gives the community control over the decentralized autonomous organization (DAO) and allows the community to actively participate in governance.
Airdrop
On October 19, 2022, Blur announced two airdrops of their native token, $BLUR, to NFT OGs and traders on the platform. The first airdrop included digital "crates" and care packages containing an undisclosed amount of $BLUR and it was for people who traded NFTs 6 months to launch. [8][11]
The second airdrop included an additional $BLUR granted for listing with royalties and it was made available for traders who actively listed their NFTs on Blur through November 2022. This airdrop 2 mechanism ensures that traders who actively use Blur get the most tokens and control of the protocol.[7][13]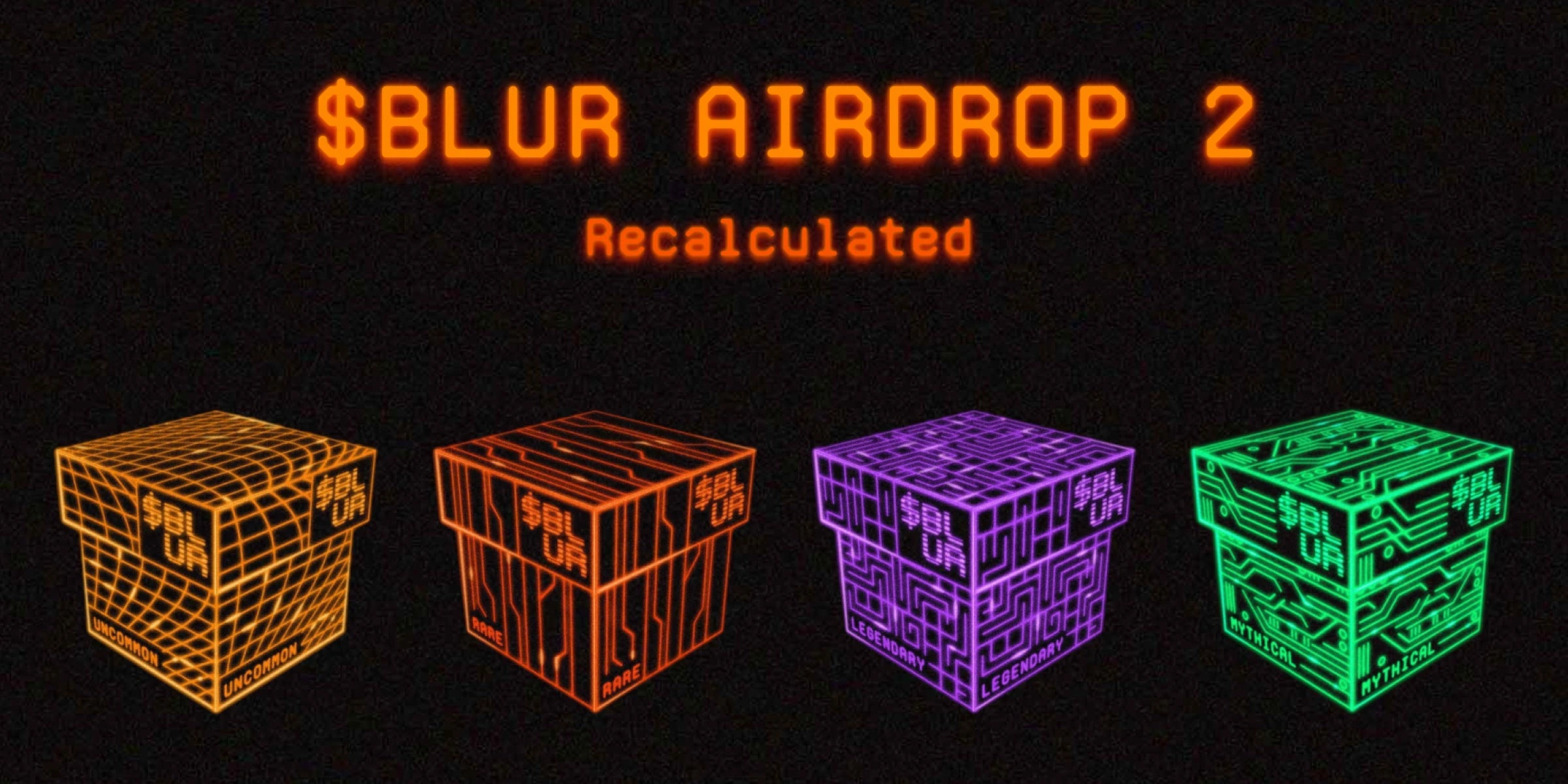 The $BLUR token officially went live on February 14th, 2023 with a 360M $BLUR
airdrop
-3 made available to all traders across all marketplaces, care package holders, and creators who place bids on Blur since November 2022. It was a larger airdrop than airdrop 2.
[6]
[14]
Blur Season 1 kicked off on October 19, 2022, which involved airdropping Care Packages containing $BLUR tokens to users who traded NFTs 6 months priors. [24]
Blur Season 2 came live on February 21, 2023, with 360,000,000 $BLUR tokens (~$ 360,000,000) available for an airdrop to the Blur community. Users with 100% loyalty have the highest chances of Mythical Care Packages, which are worth 100x Uncommon Care Packages. [25]
In Season 2, users get a 100% loyalty score if they only list NFTs on Blur and do not have any listings on competing NFT marketplaces. Blur has created a new maximize loyalty button that removes all of a user's third-party listings which gets their loyalty score to 100% in a single transaction. [25]
Blur Foundation
The Blur Foundation aims to facilitate community-led governance and participation in the DAO and assist contributors with the development and growth of the Blur ecosystem. [12]
Governance
The BLUR ERC-20 token governs key parameters of the Blur protocol. Voting is proportional to the amount of BLUR tokens owned or delegated. Users must delegate their token balance to an address in order to register their voting balance. Decisions made by the Blur DAO have on-chain results and the governance process consists of multiple steps. [9]
Governance Proposals
BIP (Blur Improvement Proposal) can fall under:
CORE
Proposals that require on-chain actions, including treasury grants.[16]
PROCESS
Proposals for making a change to a process or implementation. Examples include procedures, guidelines, changes to the decision-making process, and changes to the tools or environment of the Blur DAO. [9]
INFORMATIONAL
Proposals for general guidelines or information for the community.[9]
Tokenomics
Approximately 3 billion BLUR was created at the genesis and will become accessible over a time frame of 4 to 5 years. This schedule appears to be similar to the UNI token, but with additional cliffs and a longer vesting period for advisors. The initial 4 to 5-year allocation is as follows:
51% to Blur community members 1,530,000,000 BLUR
29% to past and future core contributors with a 4-year vesting 867,601,888 BLUR
19% to investors with a 4-year vesting 565,633,826 BLUR
1% to advisors with 4 to 5-year vesting 36,764,286 BLUR [10]

Community Treasury
12% of BLUR 360,000,000 BLUR was available to be claimed by all NFT traders across any marketplace from October 19, 2022, to February 14, 2023, historical users of Blur with Care Packages, and creators. With 12% of tokens available for claim by historical and future community members, the community treasury will have 39% of BLUR supply available to distribute to the community through contributor grants, community initiatives, and incentive programs. Of the 39%, 10% (300M BLUR) was allocated to the incentive budget for incentive release. If all of the incentive budgets is utilized, more can be allocated via governance vote. [10]
BLUR will vest to the community treasury on a continuous basis according to the following schedule:
| Year | Community Treasure | Distribution % |
| --- | --- | --- |
| Year 1 | 468,000,000 BLUR | 40% |
| Year 2 | 351,000,000 BLUR | 30% |
| Year 3 | 234,000,000 BLUR | 20% |
| Year 4 | 117,000,000 BLUR | 10% |
Core contributors' and launch partners' BLUR allocations will have tokens vested on an identical schedule with the addition of a 4-month cliff for transfers. Advisors' BLUR allocation will vest over 48 to 60 months with a 4 to 16-month cliff. [10]
Blur x DeGods
On April 1st, 2023, DeGods NFT migrated to the Ethereum blockchain and partnered with the Blur marketplace. According to crypto analyst Sammy.ETH (@S4mmyEth), the partnership between Blur and DeGods has the potential to boost the adoption of NFTs. [31][32][33]
"Leveraging the DeGods appeal to onboard new participants (eventually) will be useful. Get them onto a superior platform to Opensea. A platform that involves its users, aligns incentives & has a decentralized focus. After all, volume is on Blur, but the # traders are low."[34]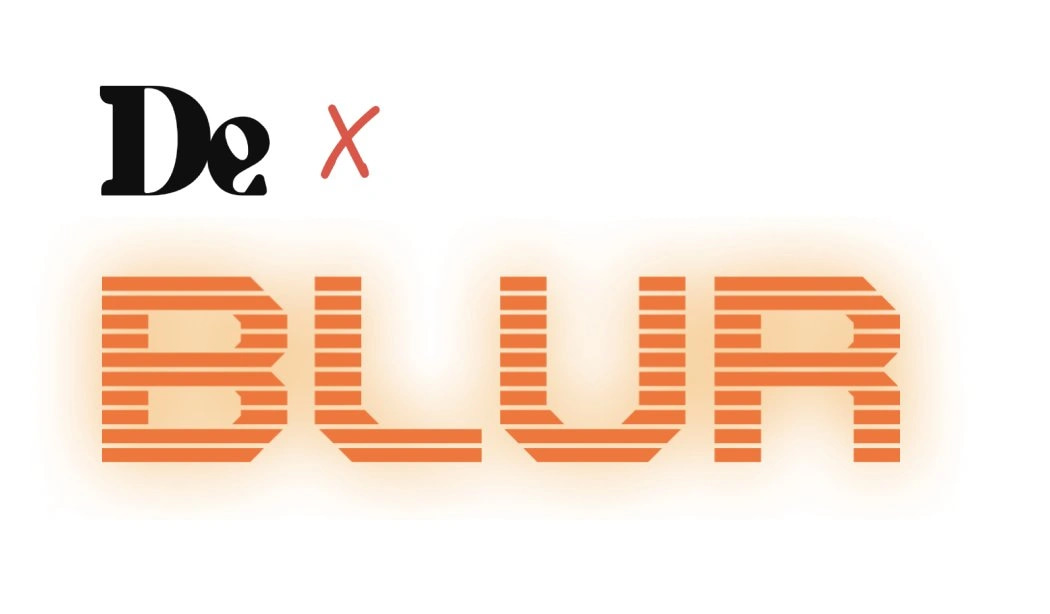 Blur Features
Sweeps
Blur is an aggregation service that provides tools for creators and collectors to purchase multiple NFTs from various projects at their floor price. This approach is commonly referred to as "sweeping" and is popular among pro-traders. [8]
Listing Options
The Blur marketplace provides NFT analytics and portfolio options, such as floor price, trait floor price, and ladder list. It also enables integrated analytics portfolio management. [8]
Portfolio View
Users of Blur marketplace can view portfolio activity of any wallet on the platform. Filtering by collection is available for any wallet trading on the platform, and all functions are accessible to traders at no cost. [8]
Blur Lending (BLEND)
On the 1st of May, 2023, Blur Lending, aka Blend went live on the Blur platform. Blend launched with 3 collections at 3 different price points to start: Punks, Azukis, and Miladys. DeGods was also added to Blend on May 9, 2023. [27]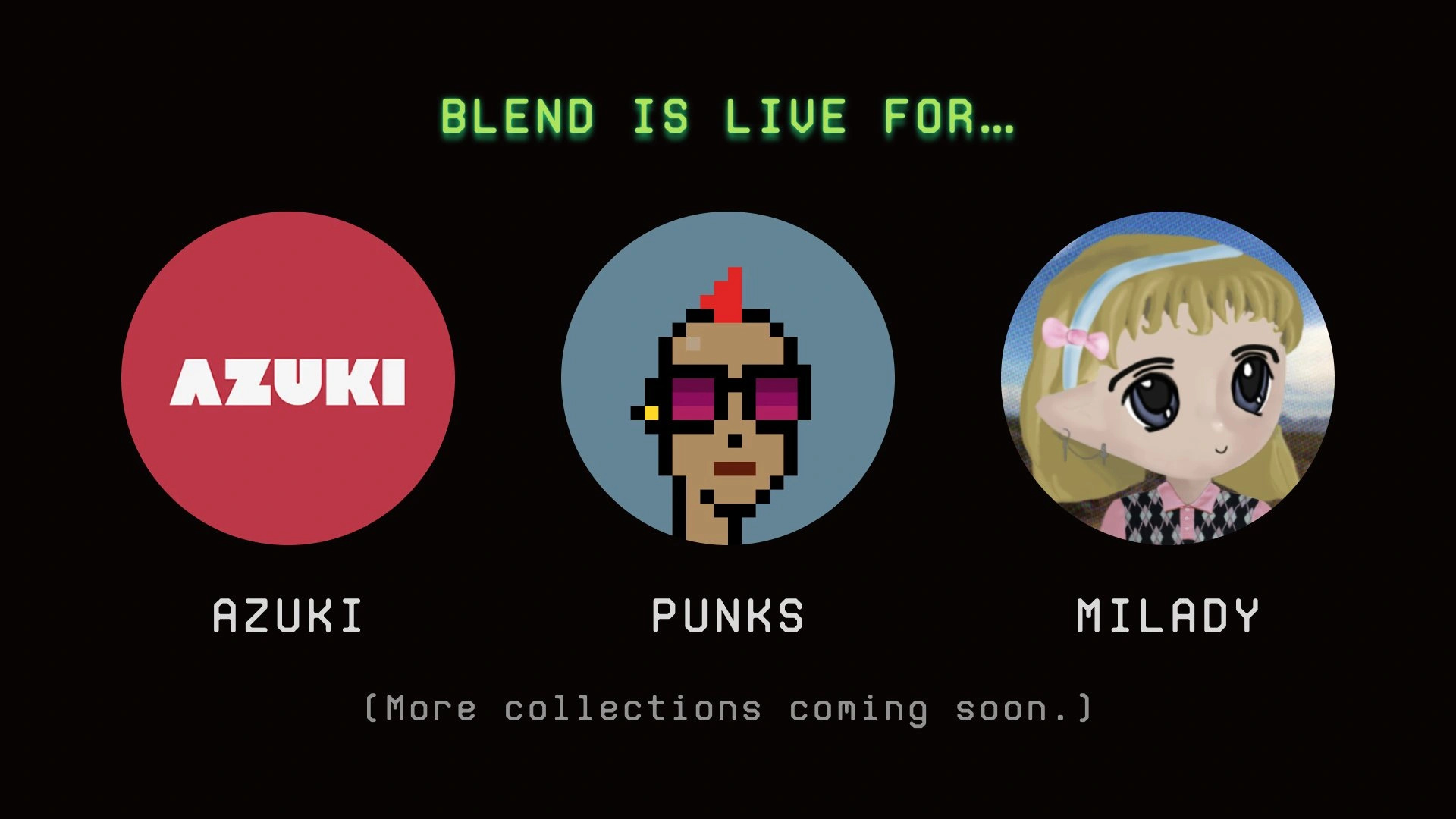 With Blend,
NFT
holders can borrow ETH against their NFTs without needing to sell.
[27]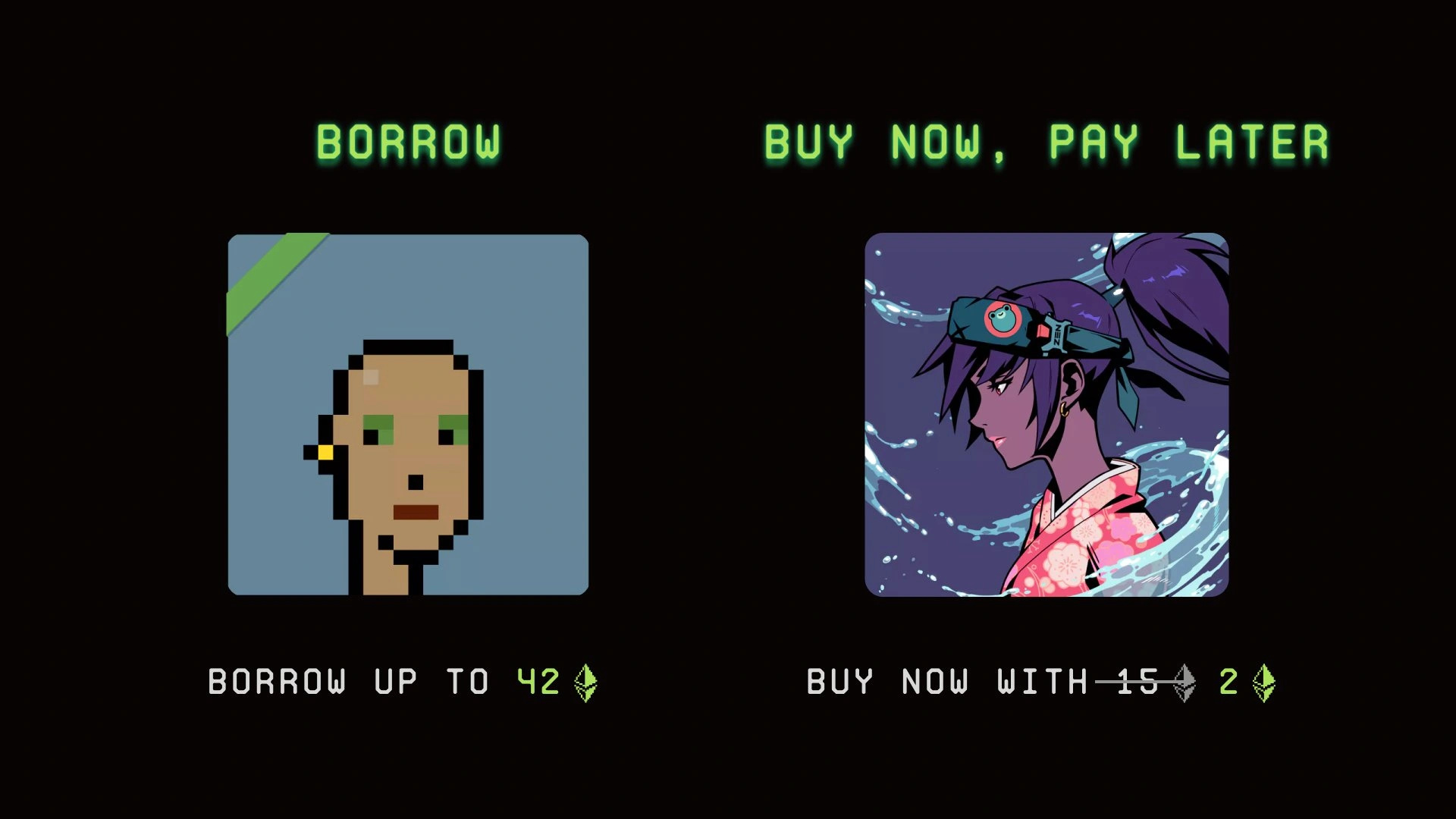 As of May 12, 2023, Blur Lending (Blend) has seen 60,541 ETH (more than $100M USD) in loan volume.
[29]
[30]
Buy Now Pay Later (BNPL)
The Buy Now Pay Later (BNPL) system launched on Blur on 1, May 2023 allows for the purchasing of NFTs using borrowed funds, which will accrue interest based on predetermined loan terms once the funds have been borrowed. [26]
Borrowers have the option to repay their loans in order to fully own the NFT or sell the NFT, and any profits earned after the loan balance is repaid will be retained by the borrower. In certain cases, borrowers may be called on to repay or refinance a loan by the lender. This can happen at any time, but it will most likely happen if the floor price of the NFT has fallen. When this happens, an automatic process will kick off to find a new lender for the loan at similar terms to the existing loan.
If a new lender is not found within 6 hours the borrower will need to repay or refinance their loan within 24 hours. If a borrower does not want to repay the loan, they can refinance the loan with a new lender. This process happens automatically based on the available loan offer. [26]

See something wrong?
Report to us.
Blur
Did you find this article interesting?