Bored Ape Kennel Club
Bored Ape Kennel Club (BAKC) is a collection of 10,000 NFTs that are made to be pets owned by bored apes of the Bored Ape Yacht Club (BAYC) collection. Each owner of a bored ape received a BAKC NFT for free and BAYC states that 9600 of these were claimed and the remaining 400 were released into the swamp. These NFTs are stored as ERC-721 tokens on the Ethereum blockchain and hosted on IPFS. [1][11][12]
Overview
The BAKC collection was launched on June 18, 2021 by Yuga Labs, and the minting process ended on June 25, 2021, when the dogs in the collection were revealed to their respective owners.[12]
During the first six weeks of trading, Yuga Labs imposed a 2.5% royalty on secondary sales of BAKC NFTs, in addition to a 2.5% transaction fee charged by the OpenSea marketplace. This extra trading fee was donated to no-kill animal shelters, such as Wright-Way Rescue and The Giving Block. The additional royalty has since been removed, and only the OpenSea transaction fee remains.[12]
Utility
BAKC NFTs grant access to the Bored Apes ecosystem, which includes opportunities to earn rewards and exclusive access to communities and events. Owners of BAKC NFTs also gain full artwork ownership rights that come with every purchase. This allows owners to monetize their NFTs by creating and selling merchandise featuring the NFTs' likenesses. [12][15]
In addition to these benefits, BAKC NFTs may also offer the possibility of staking in the future. On December 6th 2022, Binance announced the release of the Bored Ape Staking Program that was launched on December 12th, 2022. In the post and on their Bored Ape staking page, it is stated that the BAKC staking will be released in the future. [16][17]
Characteristics
The Bored Ape Kennel Club's NFTs feature stylized dogs with a variety of traits and characteristics. These traits are divided into eight categories: fur, eyes, mouth, background, head, back, feet, and neck. [13][14]
The background options include a swamp, outhouse, bar and club exterior, while the fur can be any of a number of colors and patterns. The back can include various items such as a Cyberpunk pack, mega-rocket launcher, service vest, doggie pack, basketball hoop, toilet paper dispenser, and beer saddle. Each dog also has a theme, such as combat, alcohol, golden, zombie, robot, Bayc, Cyberpunk, water, or trippy. The rarity of a dog's traits influences its cost. [13][14][22]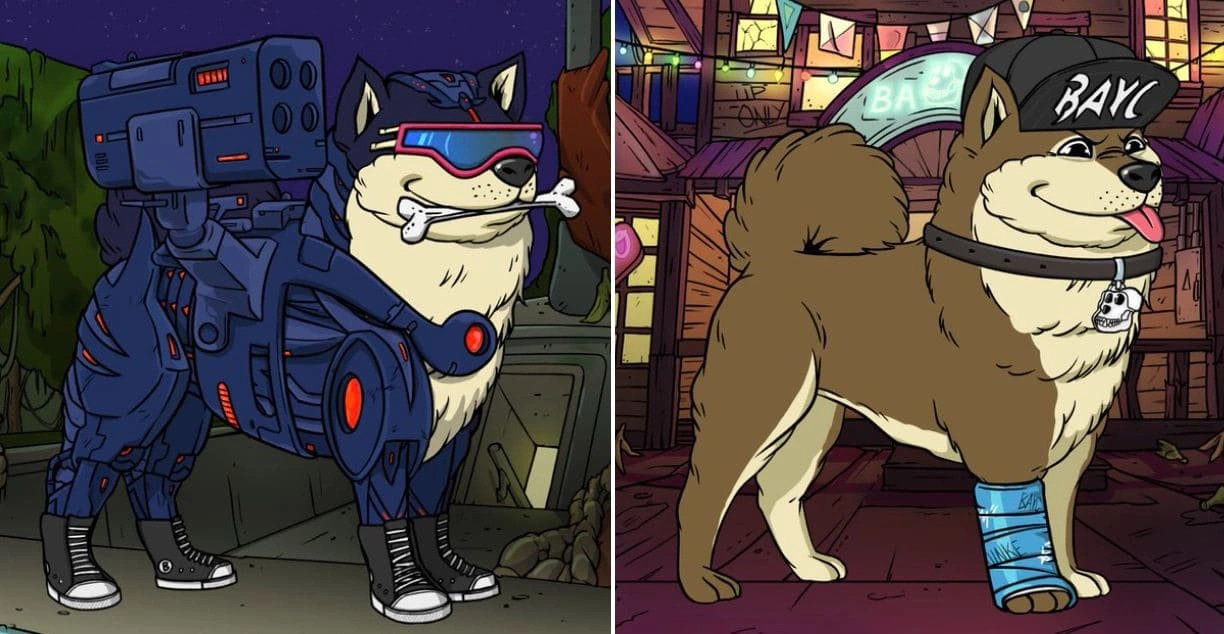 BAKC Airdrop
The Bored Ape Yacht Club project has gained significant attention for its successful non-fungible tokens (NFTs) and its use of storytelling. BAYC launched the BAKC airdrop for eligible members of the BAYC community, in an effort to support animal welfare causes and follow the model of Larva Labs' CryptoPunks.[18][19]
The BAKC airdrop was well-received by the community and helped to boost the value of the BAYC brand as a whole. The surprise element, engaging storyline, and mechanics of the airdrop helped to differentiate BAYC from other NFT projects that are often criticized for their lack of utility. By offering free NFTs to its community, BAYC was able to reward its supporters and add value to its brand.[18][19]
ApeCoin Airdrop
On March 17th 2022, an airdrop of 150 million APE tokens was distributed to members of the BAYC community. Holders of Bored and Mutant Apes were eligible to claim the airdrop and if Apes had a BAKC NFT as a companion, they had an extra amount claimable. [20][21]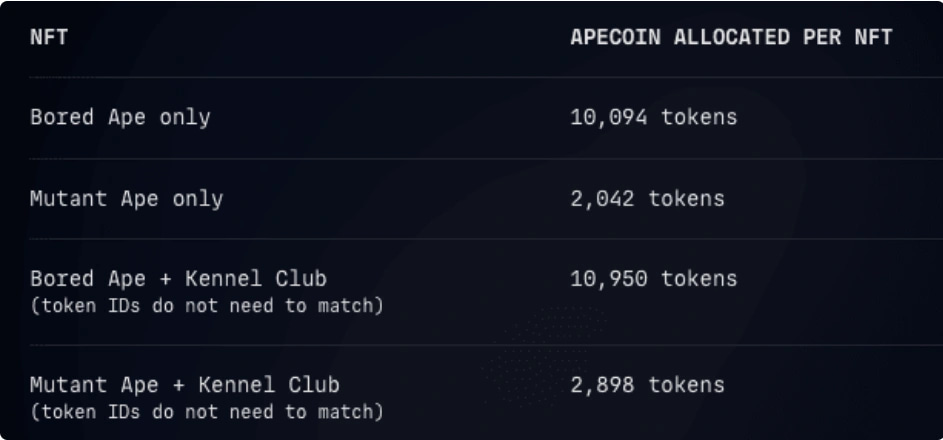 See something wrong?
Report to us.
Bored Ape Kennel Club
Did you find this article interesting?