CryptoPunks V1
CryptoPunks V1 is the original NFT series from the CryptoPunks collection, which was launched by Larva Labs in 2017. However, due to a vulnerability in the smart contract, the V1 Punks were later considered inauthentic when it was discovered that purchasers could obtain the NFT without paying any funds by withdrawing their own money. [1][2]

Overview
An error was identified in the code of the V1 contract after all 10,000 tokens had been claimed. To address this issue, a new contract was developed and V2 Punks were airdropped to original V1 claimants. The original V1 contract was mostly disregarded for a period of more than four years until a wrapper was introduced to address the code vulnerability and enable secure trading of the tokens on contemporary marketplaces. [1]
The V1 Cryptopunks are wrapped as during the creation of the CryptoPunks in 2017, ERC-20 was the only available token format, which was also used for other Ethereum-based tokens like USDC or USDT. The current ERC-721 standard is required for trading on major marketplaces such as OpenSea or LooksRare, and was developed later, taking inspiration from the Punks. Converting a V1 Punk token involves exchanging the ERC-20 token for an ERC-721 token through a central smart contract, which is a process known as wrapping. [1]
History
In 2021, members of the CryptoPunks community created a "wrapper" program that transformed the V1 versions into new NFTs, which could be traded independently of the official CryptoPunks (V2). However, the move was met with resistance from the creators of CryptoPunks, Matt Hall and John Watkinson. In January, they used Twitter to express their displeasure with the V1 Punks (as they are commonly known), stating that they were not official CryptoPunks and that they did not endorse them. [3]
Despite actively participating in the NFT wrapper program and even selling their own V1 Punks, Larva Labs later took legal action against the project by issuing a DMCA takedown notice to OpenSea on the grounds of copyright violation, despite the fact that the NFTs originated from their platform. Consequently, the V1 Punks were removed from the leading NFT marketplace. However, when Larva Labs sold the CryptoPunks IP to Yuga Labs in March, they no longer had the authority to pursue the DMCA claim. Additionally, Yuga Labs did not show any interest in pursuing the matter, causing the claim to expire and allowing the V1 Punks to return to OpenSea. [3]

See something wrong?
Report to us.
CryptoPunks V1
Did you find this article interesting?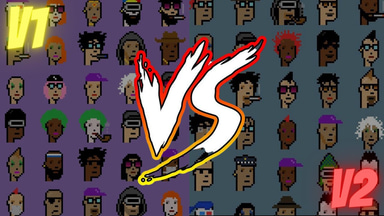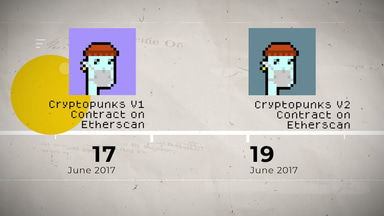 REFERENCES
[1]
CryptoPunks V1
Mar 18, 2023