Luis Cuende
Luis Cuende is a software developer best known for co-founding Aragon. He has appeared on Forbes 30 under 30 and MIT TR35 and was recognized as the best programmer in Europe under the age of 18 by HackFwd. At the age of 18, Cuende published his first book, called "Tengo 18 años y ni estudio ni trabajo: ¡monto empresas y vivo haciendo lo que me gusta!". [1][2]
Early Life & Education
In his youth, Cuende had a strong interest in astrophysics and taught himself about the subject. It was his father, a software developer, who first introduced him to the world of technology by giving him a Fedora 7 CD. Through exploring the contents of the CD, Cuende became fascinated with programming and went on to develop a free software system called Asturix, which was recognized as one of the most innovative projects at the Campus Party Europe 2010. He later went on to win Hack-Now, a contest that identified the best programmers in Europe under the age of 18. Following this, Cuende created Holalabs, a startup focused on changing the way users interacted with the internet. Although he eventually sold his shares to his co-founder, he continued to innovate and create by establishing Cardwee after moving to Madrid. [3]
And I got into open source because I felt it was like this incredible, very powerful way that you can create code and you could basically create new stuff that people all over the world can use with almost no investment. You have a laptop and that's it. And for me coming from a humble family, that was mind blowing. It was like, I don't need money to explore my hobby. I can just have a laptop and then grab code that other people have done.
Career
Cuende began his career in the field of free software, founding Asturix, a Linux distribution, at a young age of 12. Later on, he co-founded Stampery in 2014, which initially provided blockchain timestamping services but was later rebranded as Witnet, a decentralized oracle network. In 2016, he co-established Aragon, a significant player in the field of decentralized autonomous organizations (DAOs), which grew assets under management from zero to $1bn. Aragon's platform is now used by prominent Ethereum-based financial entities such as Lido Finance and Curve. [4]
I got into crypto in 2011. Back then it was just Bitcoin, not crypto really, but I saw this very liberating tool that could actually free people from financial slavery. I think financial slavery is a very powerful kind of slavery that we are living in today. And people like my parents who have been working their whole life for banks and that just didn't really seem right. [5]
He has participated in the creation of the whitepapers for Stampery, Witnet, and Aragon. [4]
Investments
Cuende is an angel investor who has collaborated with other angels such as Balaji Srinivasan, Snoop Dogg, Ryan Hoover, Alexis Ohanian, Ashton Kutcher, and venture capitalists including a16z, USV, and Placeholder. [4]
Some of his investments include Anytype, APY.vision, Babylon, Dune Analytics, Gelato, Guesser, Molecule, Sarcophagus, Syndicate, PWN, Rally, Ramp, and Texts.com. [4]
See something wrong?
Report to us.
Luis Cuende
Did you find this article interesting?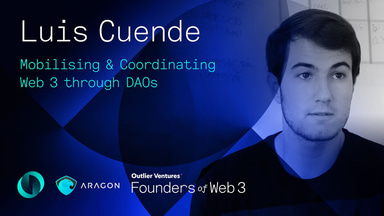 REFERENCES
[3]
Tengo 18 años y ni estudio ni trabajo
Apr 4, 2023