Chris Spadafora
Chris Spadafora is the Founder of BadgerDAO, a decentralized protocol that promotes the use of tokenized BTC in DeFi. [1]

Education
Chris Spadafora studied Finance and Entrepreneurship at Ryerson University where he graduated with a Bachelor of Commerce, in 2011. [1]
Career
Early Career
Chris Spadafora started his career as Director of Operations at Ryerson Entrepreneur Institute until May 2011. In June 2011, he moved on to serve as a territory sales representative US East team lead at Softchoice where he was awarded Top Sales Account Manager in the company across North America in both years. In October 2016, Spadafora founded Fitness Decor, an e-commerce business focused on providing motivational decor for the fitness industry. [1]
Chris Spadafora's blockchain career started as the Founder and CEO of North Block, an investment and advisory firm that helped accelerate the launch of the most recognized blockchain projects. [1]
Badger DAO
In September 2020, Chris Spadafora founded Badger DAO alongside his team of developers; Ameer Rosic[5], Albert Castellana[6], and Alberto Cevallos[7]. When building its DAO infrastructure, the Badger team collaborated with dOrg, a company that specializes in building DAO-related software. [8]
Badger DAO is an open-source, decentralized autonomous organization (DAO) that enables bitcoin to be used as collateral across decentralized finance (DeFi) applications. The DAO has its own native token, BADGER which allows users to vote on proposals put forward by community members. Voting power is determined by the amount of BADGER owned, and proposals that receive enough votes are implemented on the platform. [9]
When asked why BadgerDAO was built, Chris responded:
"the mission's for Badger DAO is to build products and infrastructure necessary to bring what I and many of the people in the community believe to be the best collateral ever invented into open finance and to really accelerate how it gets there and when it's there, give it utility" [2]
Chris Spadafora also serves as the Senior Community Manager at BadgerDAO. He is responsible for building and managing relationships with the Badger community, providing support and guidance to the community, and promoting engagement and excitement around Badger and the DeFi ecosystem. [10]
On February 23, 2023, Chris Spadafora announced eBTC, a decentralized bitcoin powered by Ethereum staking on his Twitter page[11]. eBTC is a collateralized crypto asset soft pegged to the price of Bitcoin, built on the Ethereum network and backed by Liquid Staked ETH (LSD). [12]
"The Badgers are completely focused on bringing this protocol to life and turning a new leaf for our ecosystem. I envision a world where thousands of protocols and platforms are built on the eBTC smart contracts. A world that can be evangelized by the
@BadgerDAO" - Chris tweeted. [13]
Blockchain Industry
Chris Spadafora is the founder of Alwayshodl, a crypto merch website where users can shop for cryptocurrency merchandise and pay with 55+ cryptocurrencies. [4] He organized Crypto After Dark, a crypto COVID-19 Charity Poker Tournament, and he's also a partner at Angelrock, a boutique consulting firm focused on helping large digital assets hodlers navigate the crypto space. [1][8]
Honors & Awards
Presidents Club Recipient, Softchoice (2012–2015)
Top Field Sales Rep Balance Scorecard Winner, Softchoice (2014–2015)
Top Territory Sales Rep Balance Scorecard Winner, Softchoice (2012–2013) [3]
See something wrong?
Report to us.
Chris Spadafora
Did you find this article interesting?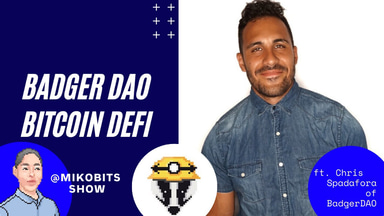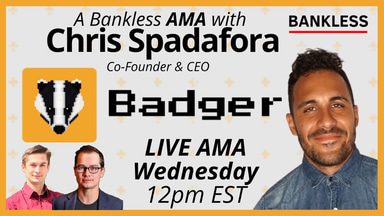 REFERENCES
[2]
AMA session with Chris
Mar 1, 2023
[3]
finnotes on chris spadafora
Mar 1, 2023
[6]
albert castellana
Mar 1, 2023
[7]
alberto cevallos
Mar 1, 2023
[9]
badger website
Mar 1, 2023
[11]
ebtc announcement
Mar 1, 2023
[12]
ebtc on forum
Mar 1, 2023