Coinbase Wrapped Staked ETH (cbETH)
Coinbase Wrapped Staked ETH (cbETH) is a token that represents ETH staked through Coinbase. [1][3]

Overview
cbETH was developed by Coinbase and introduced on August 24, 2022. Coinbase users can wrap their locked staked ETH to receive cbETH, which is an asset that can be traded, moved on-chain, and used in DeFi and other DApps. cbETH is known as a liquid staking token because it allows holders to get the benefits of staking without lockups or unbonding periods. [3][4]
"Coinbase Wrapped Staked ETH (cbETH) is a utility token that represents ETH2, which is ETH staked through Coinbase. cbETH can be sold or sent off-platform, while ETH2 will remain locked-up until a future protocol upgrade." - the Coinbase team tweeted[4]
Technology
cbETH is a standard ERC-20 token designed using the cToken model — a model created by Compound Finance to represent depository assets in their protocol and it can be minted or burned according to a floating conversion rate. At a high level, this conversion rate tracks the underlying staked ETH to account for staking/unstaking activity, rewards, penalties, and fees. [2]
This allows users to move between ETH and cbETH (once unwrapping is available) under constantly changing network conditions. It also means that ETH and cbETH are not pegged or expected to be interchangeable. [2]
Utility
cbETH can be used in exiting staked ETH, it can be used as collateral in decentralized finance (DeFi) and it can also be used in transferring staked ETH from one user to another. [3][2]
See something wrong?
Report to us.
Coinbase Wrapped Staked ETH (cbETH)
Did you find this article interesting?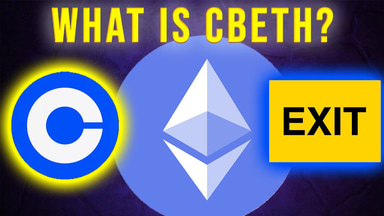 REFERENCES
[1]
coinmarketcap - cbeth
Sep 19, 2023
[2]
cbeth whitepaper
Sep 19, 2023
[3]
cbeth website
Sep 19, 2023
[4]
cbETH introduction
Sep 19, 2023