Flare (FLR) Token
Flare (FLR) Token, the primary token in the Flare ecosystem, initially known as Spark, serves as a crucial component with inflationary properties. It holds utility for functions such as facilitating smart contracts, covering transaction fees, and generating FLR tokens through FTSO. The objective is to maintain stable utilization costs, supporting diverse applications like DeFi, NFTs, the metaverse, and gaming.[1][2]
Token Distribution
The FLR token distribution, after an initial airdrop for XRP holders in December 2020, allocated 15% initially and the remaining 85% over 36 months, starting with the Flare Token Distribution Event January 9th, 2023. Following FIP.01 approval, the remaining 85% is shared among all wrapped FLR holders in 36 installments. Each installment is distributed monthly, based on WFLR holdings, and must be claimed within 90 days to avoid burning. Providers may offer automatic claiming functionality, similar to FTSO delegation rewards.[3][4]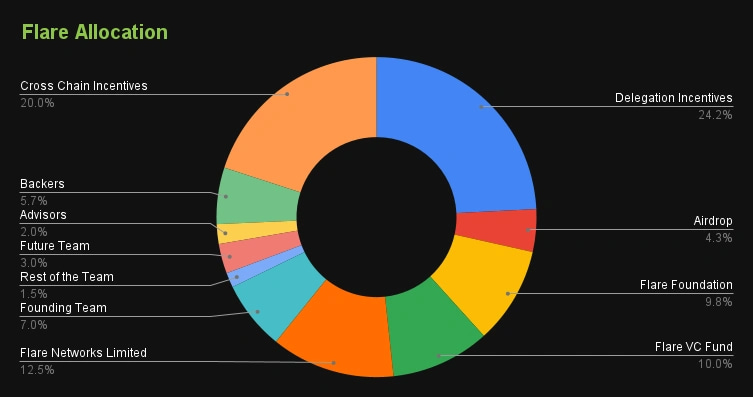 Utility
FLR's core goal is preventing spam attacks via transaction fees, maintaining network efficiency. It expands to WFLR, enabling DApp collateral, FTSO delegation, and governance involvement. Flare's launch was phased, starting as a soft beta on Jul 14, 2022, and shifting to public observation mode by Sep 30.
Beyond standard cryptocurrency features, FLR serves as a blockchain oracle and collateral during dApp trading. LFR facilitates governance participation and network interaction, influencing data routing in protocol governance.[5][6][7]
Delegating
Delegating to the Flare Time Series Oracle (FTSO) involves temporarily assigning FLR or SGB tokens to data providers, assisting in decentralized data delivery. These tokens can be withdrawn and used for other purposes. Delegators receive a share of rewards based on data providers' accuracy and token delegation levels for accurate data provision. Flare FTSO Delegation Rewards can be claimed every 3.5 days, and Songbird rewards are available on a weekly basis. [5]
Flare Drop
In Flare's token structure, 28.5 billion FLR tokens are reserved for public distribution, with the initial 15% distributed on 9 January 2023. The remaining 24.2 billion FLR tokens are distributed monthly to WFLR holders over 36 FlareDrops. The first FlareDrop occurred on 17 March 2023, resulting in approximately 670 million FLR claimed. To qualify for FlareDrops, holders need to maintain WFLR in their wallets the previous month, possibly necessitating a transfer to suitable wallets. FlareDrop, formerly known as the Delegation Incentive Pool, allocates the remaining 24.25 billion FLR tokens over 36 months to WFLR holders who actively engage in the network. Users with enabled PDAs containing WFLR are also eligible for FlareDrop, accessible in both Main and Delegation Accounts for claiming. [5][8]
Governance
Flare's governance model derives from two key entities: the Flare Foundation and the community. The Flare Foundation proposes alterations for the Flare and Songbird networks, allowing FLR and SGB token holders to participate in the decision-making process. In the future, an additional system will permit SGB token holders to suggest changes for the Songbird network, which could be further implemented as Flare Improvement Proposals.
This inclusive approach intends to empower stakeholders to propose, vote, and execute changes, promoting a decentralized decision-making process. The proposal types encompass Flare Improvement Proposals (FIPs) and Songbird Test Proposals (STPs). FIPs aim to prioritize stability, necessitating a majority vote for approval, while STPs aim to facilitate rapid testing and face rejection only with significant opposition.
For participation in proposals, having valid wrapped tokens is crucial. The voting process involves essential stages such as announcement, notice, and voting periods. Accepted proposals can be executed automatically or manually by the Flare Foundation. [9]
See something wrong?
Report to us.
Flare (FLR) Token
Did you find this article interesting?