Avery Ching
Avery Ching is the Co-Founder & CTO of Aptos — a layer-1 proof-of-stake blockchain infrastructure. [1][2][3][4]

Early Life & Education
Avery Ching was born and raised in Honolulu, Hawaii. As a youngster, he attended Central Union Preschool and spent less than a year at Nuuanu Elementary School. He transferred to Punahou School in the middle of kindergarten and continued there throughout high school. [4]
He studied computer engineering at Northwestern University where he also received his Ph.D. in Computer Engineering specializing in the area of supercomputing, parallel computing frameworks, and high-performance file systems. [1][5]
Career
Avery Ching started his career in October 2007 as a Principal Software Engineer at Yahoo! until September 2011. [1]
Avery Ching was the Tech Lead of Meta's crypto platform for over a decade, overseeing projects related to blockchain development, wallet infrastructure, strategy, and the Diem blockchain. Additionally, Avery served as the overall Tech Lead of all Meta's batch processing teams, including Spark, Graph processing, Facebook Hive/Hadoop, distributed scheduling, and the unified programming model for pipelines, which power analytics for all Meta's products across hundreds of thousands of machines. [1]
Aptos
In December 2021, Avery Ching co-founded Aptos alongside Mo Shaikh and he serves as the CTO of the company. Aptos is a layer-1 proof-of-stake blockchain (PoS) infrastructure developed on a combination of system securities, smart contract design, decentralization, consensus & performance technologies. Aptos uses a parallel execution engine (Block-STM)  — a Byzantine Fault-Tolerant (BFT) PoS consensus mechanism that provides a greater speed of processing transactions. [1][3]
"At Aptos, we think that our approach of of being focused on upgradeability actually is the most important thing. The fact that you can start on a journey and that journey can end up in a very different place because of the fact that you can continue to move the network forward with respect to technology and use cases and the primitives that people need to do to enable their use cases that we don't even know about yet" - Avery Ching on what makes Aptos unique. [6]
Aptos has partnered with several organizations like the Korean Triple-A gaming studio - NPIXEL, Google Cloud, Pontem Network, and MoonPay to improve gamer experience and to facilitate the running of Aptos nodes and decentralized applications (dApps) on different platforms. [8]
On how AI fits into the picture with blockchain technology, Avery Ching said:
"Blockchain is an amazing platform as input data for AI. As a source of data, it can be indexed, used in search engines and also support things like ChatGPT going forward. ChatGPT itself can be used to develop smart contracts & also be an assistant in terms of how you program. We believe there's an amazing potential with AI" - Avery Ching on a podcast episode with The Metaverse[7]
Avery Ching also talks about expectations in 2023 for Aptos:
"There's definitely a lot of projects that are coming onboard and that we're excited about, there's very exciting partnerships in the space that we've been focusing on. The 4 areas that we've been focusing on is the Gaming space, Social media space, the Finance space as well as the Media & Entertainment space"[7]
See something wrong?
Report to us.
Avery Ching
Did you find this article interesting?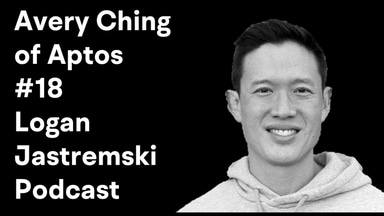 REFERENCES
[3]
aptos website
Mar 31, 2023
[4]
research web page
Mar 31, 2023
[5]
consensus bio
Mar 31, 2023
[6]
youtube interview
Mar 31, 2023
[7]
spotify podcast - the metaverse
Apr 12, 2023
[8]
medium - aptos
Apr 12, 2023