BakerySwap
BakerySwap (Founded in 2020) is a decentralized protocol offering a Decentralized Exchange (DEX) and automated market-making (AMM) on the Binance Smart Chain. The ticker symbol is BAKE and the total supply is 144,606,918. BAKE Tokens enables one to earn a share of trading fees and also participate in BakerySwap's voting[2][3][4].
BakerySwap is inspired by Uniswap, a popular DeFi (Decentralized Finance) network. It's similar to Uniswap but cheaper and faster[5][6].
Overview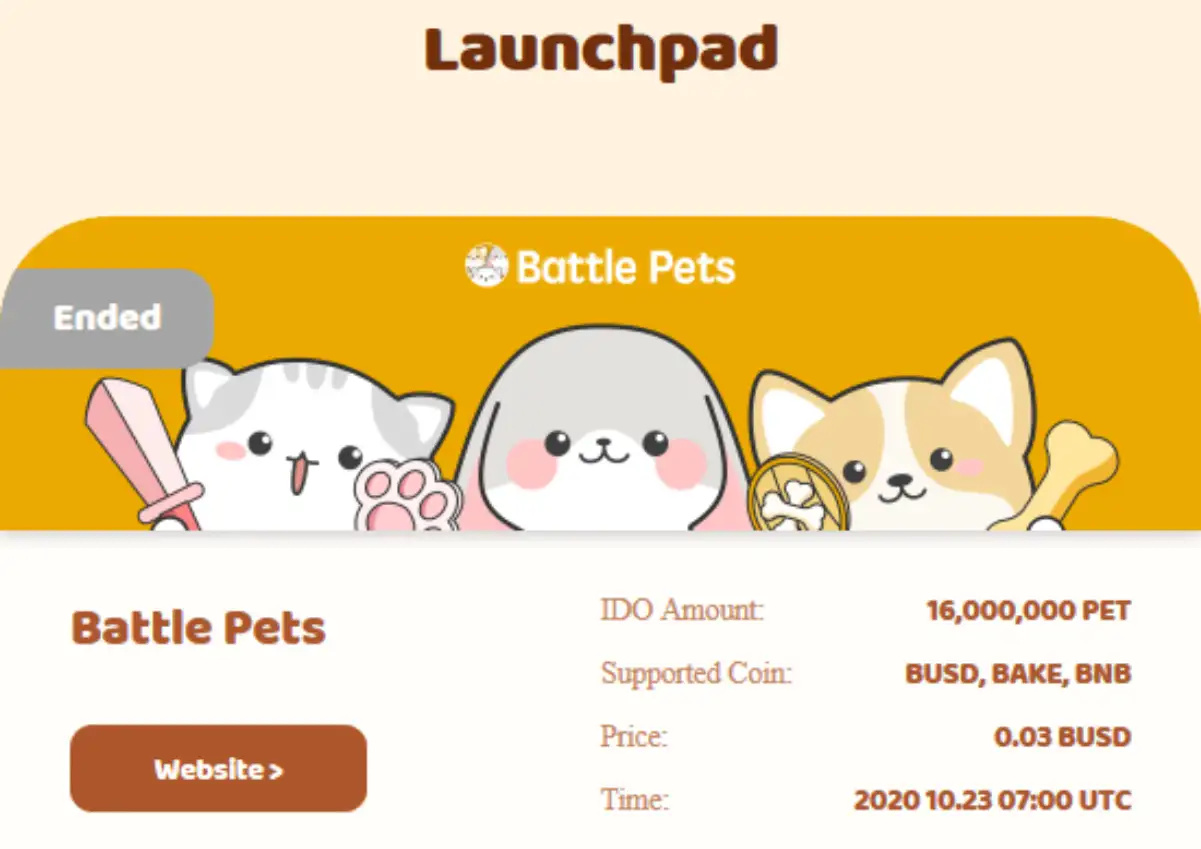 BakerySwap Launchpad
BakerySwap is developed by an anonymous team. The team claims to have the interest of Decentralized autonomous organizations (DAOs) at heart. As such, it allows for full community involvement in decision-making.
BakerySwap is a decentralized protocol offering automated market-making (AMM) on BSC. The protocol is an AMM Decentralized Exchange (DEX). It's similar to Uniswap but cheaper and faster. The platform has a native token called BAKE, which enhances interactions within the AMM DEX ecosystem.
The DeFi (Decentralized Finance) project chose to harness the power of the Binance blockchain due to its low gas fees. Apart from fees, BSC has higher scalability than Ethereum. Therefore, BakerySwap can achieve a higher transaction speed while keeping costs down.
By being hosted on the Binance Smart Chain, it provides major benefits to the Binance community. For instance, it carries arbitrage functionalities for tokens powered by either the Binance DEX or its centralized counterpart, Binance.com.
Notably, the tokens must follow BSC's BEP20 and BEP2 token standards.
BakerySwap's Native Currency (BAKE)
BakerySwap tokens are the fuel that drives community voting hence contributing to the protocol's governance. This provides transparency in the running and decision-making process despite the platform being developed by an anonymous team.
All trades on the AMM DEX impose a 0.30 percent fee from which liquidity providers take 0.25 percent. The remaining is baked into the platform's native currency and distributed to token holders in the form of rewards.
The Bakery protocol uses a multiplier to determine how much rewards are in a pool. The multiplier can either be 1X, 3X, or 10X. Note that the multiplier is based on how much value liquidity pools provide to BAKE holders.
BAKE did not have a pre-mine; neither did it hold a pre-sale. Additionally, there's no special BAKE allocation to the Bakery development team. However, although there's no token allocation to the team, the team receives one percent of all BAKE farmed. BAKE has a total supply of 144,606,918 tokens.
So, without a pre-mine, pre-sale, and no team allocation, how's BAKE distributed? Well, the token is accessible via liquidity pools. The network groups liquidity pools into two; with BAKE rewards and without BAKE rewards[7].
BAKE and NFTs
BakerySwap has incorporated Non-Fungible Tokens (NFTs) into its ecosystem. The platform is the first on BSC to combine the two worlds; AMM and NFT.
It allows BAKE holders to bake a meal of their choice, referred to as a "combo meal." Apart from being a collectible, the meal can be used to farm BAKE coins. Every meal carries a staking power allowing it to earn more BAKE when staked.
Additionally, the meal can be traded, or its ingredients dismantled back to BAKE. Dismantling or decomposing a meal gives back 90 percent of the BAKE used to prepare the meal. This functionality is ideal where a combo meal doesn't arouse the appetites of those in the BakerySwap ecosystem.
So, instead of holding on to it, and to avoid it becoming stale, you can decompose it. However, combos can only exist in four levels; primary, regular, luxury, and supreme. A combo's level is determined by the amount of BAKE tokens used in its preparation.
The higher the level, the more the staking power residing in the combo. BakerySwap is also on track to bring the combos to the open market via its "NFT Supermarket" platform.
BakerySwap Launchpad
Bakery has a launchpad that caters to unique upcoming projects. The first project on the platform was Battle Pets. Investments in the project were made using either BUSD, BAKE, or BNB, with each PET token retailing for $0.03. Depending on the investment, users either get a kitten, puppy, or bunny.
How to Farm BAKE
Assets from liquidity providers are converted into Bakery's liquidity pool tokens that can be staked to farm BAKE. Apart from representing a provider's share in the pool, the pool tokens entitle a liquidity provider to receive a section of fees charged in the pool.
How To Bake
Access the official Bakery website (https://www.bakeryswap.org/#/home) and connect to BSC using MetaMask.
On MetaMask, head over to the settings section and change the network name to "Binance Smart Chain, " input the RPC URL as "https://bsc-dataseed1.binance.org/," type 56 on ChainID, use the BNB as the symbol, and point the block explorer to "https://bscscan.com/".
Next, head over to Binance and either buy BNB or transfer your existing coins to MetaMask. Note: on the withdrawal page, remember to select "BEP20".
Provide your MetaMask BEP20 address and wait for BEP20 BNB to arrive in your MetaMask wallet.
Now that you have whipped some BNB in a bowl, it's time to enter into the Bakery. At this point, you are presented with two options "Swap" and "Pool."
Select the trading pair and hit Swap, and confirm the transaction on MetaMask. Note that the protocol supports swapping in six pairs. For example, you can swap BNB with BAKE, Bitcoin (BTC), DOT, Ethereum (ETH), LINK, or Binance stablecoin (BUSD).
In the next step, specify the number of tokens you wish to provide as liquidity.
Hit "Supply" and confirm your decision on MetaMask.
Enjoy your Bakery liquidity pool tokens (BLP).
How To Stake BLP To Receive Bake
Staking BLP is done through the "Earn BAKE" option. The platform has several options, such as Doughnut, Croissant, Toast, Cake, Cookies, and Pineapple bun. Each option provides a different coin for staking. For example, the Croissant option supports BLP tokens from a BUSD/BNB swap while the Toast option accommodates BLP coins from an ETH/BNB swap.
Choose the right option and click the "Approve XXX-BNB BLP" where XXX is the token you swapped with BNB. In the case of a Croissant, that would be "Approve BUSD-BNB BLP."
Click the "add" sign > stake > confirm transaction. Therefore, You are ready to harvest your BAKE tokens.
Conclusion
BakerySwap has provided another DeFi (Decentralized Finance) dimension. For example, it has combined AMM with NFTs. Therefore, instead of yield farmers only waiting for rewards from the normal staking process, they can whip up an NFT asset and sell it to other participants in the ecosystem.
With a "decompose" functionality, NFT creators don't have to worry that their creation won't be marketable since they can seamlessly convert them back to BAKE tokens.
Additionally, an anonymous team providing a DAO-based governance structure enhances trust among BAKE investors. The presence of a launchpad is also a unique addition to the DeFi (Decentralized Finance) ecosystem. It gives upcoming blockchain-based projects more ways to attract investments[8].
See something wrong?
Report to us.
BakerySwap
Did you find this article interesting?