Blake Kathryn
Blake Kathryn is a Los Angeles-based multidisciplinary designer and NFT artist. She has collaborated with many big companies including Jimmy Choo, Instagram, Facebook, Columbia Records, The New York Times, Bloomberg Businessweek, Fendi, and Adidas Originals[1].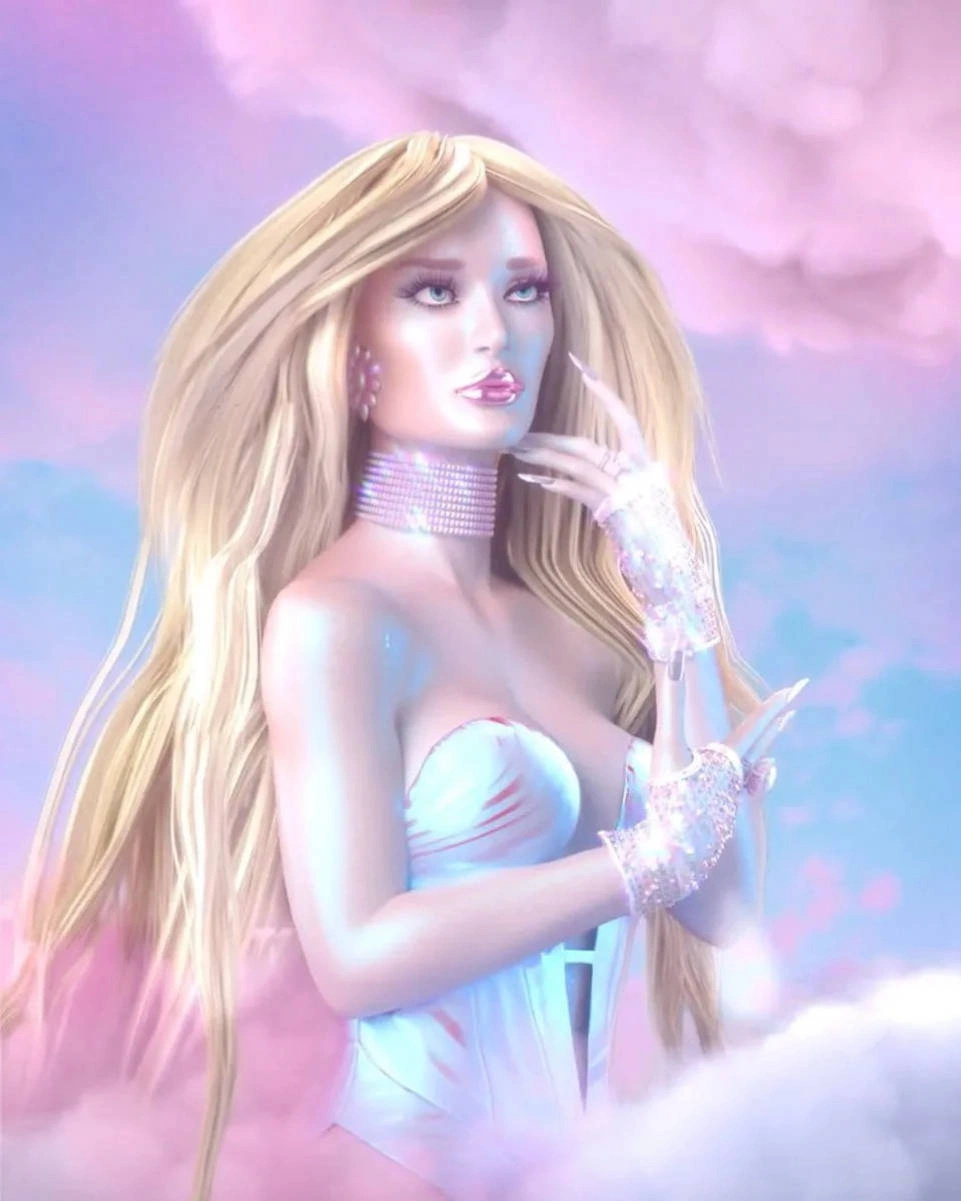 Preview of "Iconic Crypto Queen" NFT from Paris Hilton x Blake Kathryn collab, which sold for $1.1 million
In April 2021, Kathryn teamed up with Paris Hilton to release a special "Planet Paris" NFT collection. In June 2021, Kathryn will release original Pride-themed art in collaboration with Playboy[2][3].
Early Years
Blake Kathryn Thomas was born in Florida.  While growing up, she developed a strong passion for arts and illustration. She said,
"Growing up in the surreal state of Florida (literally we have a huge surrealist museum), surrounded by kitschy art, creativity was always around. That being said, I'm strongly averse to kitsch anything and minimalism/pop art strung my heartstrings the second I learned of the movements. Combine those influences with futuristic-utopia- vibes from my childhood love for anime and the aesthetic recipe for disoriented appeal naturally created itself.
"I grew up a fan of Nintendo and Anime, especially Cowboy Bebop and Sailor Moon. Those early influences seemed to have intermixed over the years with my graphic design background, creating the sort of hybrid dreamscapes I largely focus on today."
She migrated to New York City after college, and after a few years, she took a one-way ticket to Los Angeles[4].
Personal Life
Kathryn stated in an interview that her favorite pastime is walking the city. She said:
"I'm fortunate to live in a walkable neighborhood, West Hollywood, so I get off the screen to grab a bite, brew or sight as often as I can. Hobby-wise I on and off beer brew and am looking to take an urban gardening class soon, to upgrade the irl green thumb skills."
Her favorite food is sushi, burritos, and tsukemen. Her favorite genres of music are future-funk, lo-fi hip hop, 90's R&B, and 80's pop-rock. She has also stated that if she wasn't an artist, that she would love to own a plant nursery:
I'd love to own a plant nursery focused in succulents, cacti, palms and flowers. That'd be the dreamiest alternative reality."
Her favorite illustrators are James Jean, Aykut Aydogdu, and Jenny Yu. Her favorite creatives are Nadia Lee Cohen (director), Alex Garland (director/writer), Guillermo del Toro (director), Roger Deakins (cinematographer), Liam Wong (photographer).
Blake Kathryn currently resides in West Hollywood, California, USA.
Education
Kathryn studied Graphic design at the University of Florida. At first, she had the intention of going into advertising, but she found herself attracted to studying graphic design. She started studying in 2008 and graduated in 2013[5].
After graduation, she moved to New York City and started her career, while furthering her interests in the music industry and fine arts.
Career
Blake Kathryn began her career as a cashier for Publix in June 2006. From January 2011-April 2011, she was a Web Design Intern at 352 Media Group. She attended weekly lectures focused on coding (HTML/CSS) and web design to complete assigned projects, as well as improve technical skills[6].
She was also a Graphic Designer at the Division of Recreational Sports, the University of Florida from June 2011-May 2013. Her responsibilities included conceptualizing, designing, and producing various materials and campaigns regarding the University of Florida's Department of Recreational Sports.
Examples include posters, logos, television ads, print/digital campaigns, and the semesterly magazine. Later, she worked at Macy's from June 2013 - January 2015. Her gift card design selected for 2014's spring collection.
She also directed Macy's credit and loyalty programs in a collaborative team. She also developed concepts and designs for new loyalty initiatives, refreshed annual branding guidelines, and created visual collateral to communicate cross-platform.She eventually went on to become a freelancer and worked with many organizations.
She stated in an interview:
"Subject-wise I greatly enjoy distorting forms to create a new visual approach to everyday objects or themes. Upon transitioning to the 3D realm I fell in love with brightly lit environments, inspired from real life photoshoots. That detail preference quickly crafted the shiny pastel palette I work with today."
Her surrealist renderings demonstrate a deft command of digital art tools and a well-defined aesthetic that plays on visual tropes associated with 90's computer-generated imagery.
She has a one-of-a-kind look that has attracted clients like Adidas, Fendi, The New York Times, and Adobe.
During her interview with The Verge, Kathryn told how she first got into 3D:
"March 2015, I remember this so specifically as it was when the 100 Day Project was kicking off on Instagram. I promised myself to shake out of my vector-minimalist style leading up to this challenge. I was browsing old work a couple weeks ago and it's wild to see how rough those early days are. That being said, I went through a pretty common self- taught path: tutorial overload on Greyscalegorilla, YouTube, Eyedesyn, you name it. I fell so in love with the possibilities of breaking into a 3D canvas I never looked back and am happy to say it completely reshaped my career trajectory."
Speaking about software she uses to create her artwork, she mentioned the following:
"Cinema 4D is my bread and butter. Supported by After Effects, Photoshop, Daz3d, Redshift, and very occasionally Zbrush and Substance Painter. There's so many applications out there it can feel like a complex dance navigating between them for some projects."
Collaborations
Kathryn signed a campaign with Fendi, called F is For Fendi, and created a series of sensual three-dimensional illustrations in pastel tones that highlight Fendi's Peekaboo bag collection. Her other notable works include The Chainsmokers' "Side Effects" music video and campaigns for Adidas Originals and Complex x Sprite.
In addition, she has collaborated with other big names like Jimmy Choo, Instagram, Facebook, Columbia Records, The New York Times, Skrillex, Paco Rabanne, Super Deluxe, Rip It, Bloomberg Businessweek, Giphy, Happy Socks, Island Records, Lazy Oaf, Ramriddlz, Vox (website), Western Digital.
Playboy
In April 2021, Playboy announced a partnership with Nifty Gateway to create Non-Fungible Tokens (NFTs) from its extensive archive of photographs, interviews, covers, and art. One of the first NFT collaborations Playboy intends to bring to the table is with digital artist Blake Kathryn. Kathryn will create original Pride-themed art in time for Pride month which takes place every year in June[7][8].
Another project between Nifty and Playboy is original works from Boston-based collage artist Slime Sunday in collaboration with the magazine's editorial curators.
Paris Hilton
On April 17, 2021, Paris Hilton launched her first NFT drop on Nifty Gateway, for which she collaborated with Blake Kathryn. Hilton explained that the theme of the drop is all about female energy and empowerment, and she praised Blake for immediately understanding her vision for the project[9][10].
"Blake instantly understood my aesthetic and it was everything that I loved," Hilton said. "Feminine, ethereal, soft, yet powerful, and beautiful."
"Planet Paris" dropped on Nifty Gateway on April 17 and the collection's marquee work, titled "Iconic Crypto Queen," fetched a $1.1 million winning bid.
Artworks
Pathway
This artwork was minted on October 15th, 2020, and it's Blake Kathryn's first tokenized digital artwork. A common feeling during dreams is when one moves further away from, or closer to something as they travel at a constant speed.
Digital art collectors should pay special attention to Pathway as it not only hits the dreamlike perceptual distortion nail right on the head.
Passage
This artwork was minted on November 30th, 2020, takes a customer aboard a luxurious spacecraft adorned with dancing flowers while it gently moves through pink clouds with dreamlike surrealism.
Season
Traditionally as seasons turn people only see dramatic changes to the outdoors. However, in this hyper-real dream, Seasons, which was minted on December 12th, 2020 features a unique indoor symbiosis between nature and technology experienced by a wild array of trees, flowers, and even fireflies changing with the seasons.
Seven Sirens (Clay Edt)
Seven Sirens: Clay Edt. was minted on October 19th, 2020, and features characters from the mesmerizing video Seven Sirens which can be watched on Blake Kathryn's YouTube channel.
While the Seven Sirens video itself was posted in April 2020, this is the very first tokenized mention of the characters, and being as how they are uncolored (a colorized version was minted some weeks later) it gives a rare glimpse into the possible creation of the video.
NFTs
Blake Kathryn released her NFT artworks on curated platforms like Nifty Gateway, SuperRare, OpenSea, and Foundation. Her total artworks are currently valued at around 761.893 ETH. She has sold a total of 538 artworks and still counting. Her largest sale is currently worth 11 ETH so far[11].
See something wrong?
Report to us.
Blake Kathryn
Did you find this article interesting?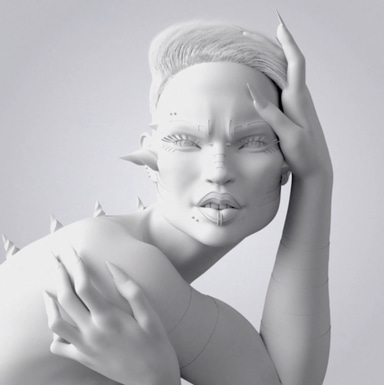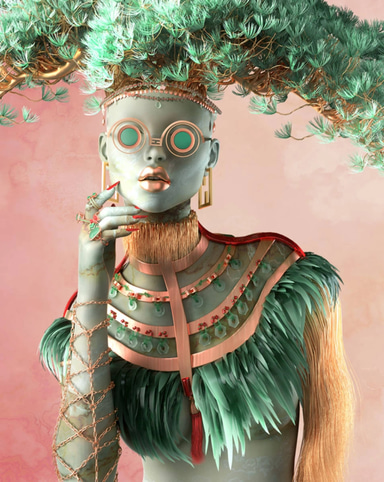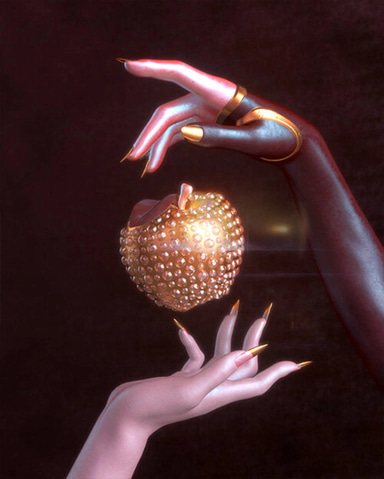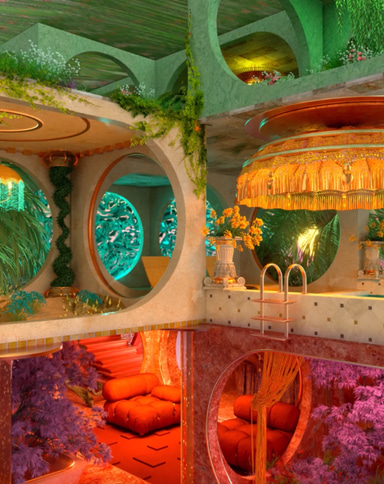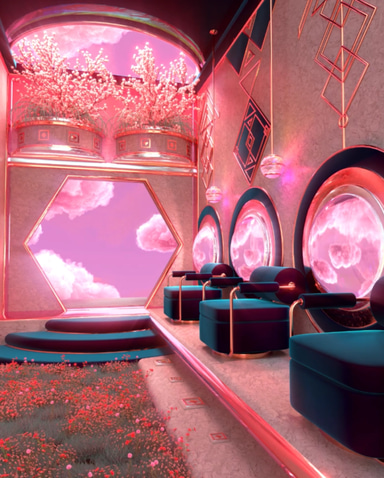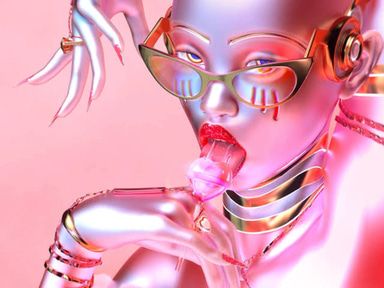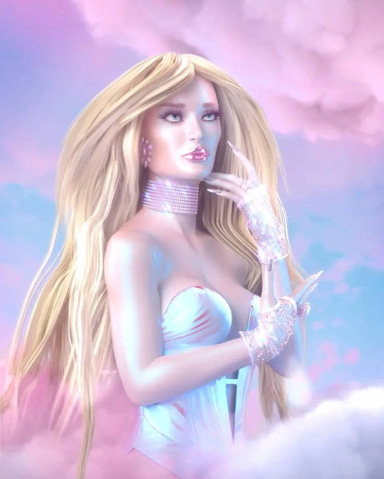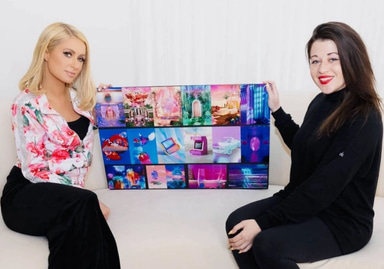 REFERENCES
[1]
'I'm Obsessed': Paris Hilton on NFTs,
Jul 29, 2022
[2]
MARKETS Playboy payoff: NFT prospects drive stock surge
Jul 29, 2022
[3]
HOW BLAKE KATHRYN PULLS FUTURISTIC 3D
Jul 29, 2022
[4]
Blake Kathryn
Jul 29, 2022
[5]
https://blakekathryn.com/
Jul 29, 2022
[6]
Blake Kathryn on LinkedIn
Jul 29, 2022
[7]
Playboy Partners With Nifty Gateway, Stock Price Surges
Jul 29, 2022
[8]
MARKETS Playboy payoff: NFT prospects drive stock surge
Jul 29, 2022
[9]
Paris Hilton on NFTs, Empowering Female Creators
Jul 29, 2022
[10]
PARIS HILTON'S DEBUT NFT COLLECTION SOLD FOR OVER $1.1M
Jul 29, 2022
[11]
The Pop-Minimalist Art of Blake Kathryn
Jul 29, 2022