Brandon Ramirez
Brandon Ramirez is a co-founder and the former Research Lead of the Graph Protocol, a decentralized query protocol for indexing. He is also the co-founder and Interim CEO of Edge & Node, the initial team behind The Graph. [1][5]
Education
Brandon Ramirez pursued a degree in Electrical Engineering with a focus on Robotics and Controls at the University of Southern California from 2006 to 2010. During his time at the university, he actively participated in various activities and societies on campus. He served as a mentor and board member in the Mexican American Engineers and Scientists organization. Additionally, Brandon was involved in the Entrepreneurship Club, Trojan Investing Society, and USC Ski and Snowboard Club, allowing him to explore different interests and expand his network. [1]
Volunteering
From January to February 2010, immediately following the devastating earthquake in Haiti, Brandon Ramirez volunteered with the International Medical Corps. His role focused on logistics, providing crucial support during the disaster and humanitarian relief efforts. He played a vital role in procuring medicine and equipment on the ground through coordination with other non-governmental organizations (NGOs). Brandon also organized local volunteers to expand the capacity of the Emergency Ward and assisted with the procurement and inventory of medicine from foreign donors. [1]
Inspired by his initial experience in Haiti, Brandon Ramirez continued his involvement with the International Medical Corps. In July 2010, six months after the earthquake, he returned to Haiti to build upon the work he had started earlier. One of his key contributions was the establishment of a cloud-synced inventory system to streamline asset management across multiple field offices. Brandon traveled to various field offices and warehouses, conducting asset inventories to ensure proper controls and accountability. Additionally, he digitized procurement and inventory documents, making them easily accessible and enhancing tracking capabilities. [1]
Career
In June 2008, Brandon Ramirez worked as a Professional Trainee at Southern California Edison in Rosemead, California. During his three-month tenure, he joined the Executive Support Services Team, providing exclusive IT-related solutions for senior executives within the company. Additionally, Brandon played a crucial role in training and supporting executives during their transition to the SAP Enterprise Resource Planning System. [3]
From June 2009 to August 2009, Brandon served as an Engineering Intern at Cisco in San Jose, California. During this three-month period, he worked in the Data Center Switching Technology Group (DCSTG). His responsibilities included writing scripts to performance test multicast networking protocols in the Nexus 7000 Series switches, tailoring them to meet the specific requirements of clients such as Verizon and Goldman Sachs. Furthermore, Brandon had the opportunity to shadow the Vice President of Engineering in the Voice Technology Group (VTG), attending business strategy and enterprise sales meetings. [3]
From August 2010 to September 2012, Brandon worked as a Program Manager at Microsoft in Redmond, Washington. During his two-year and two-month tenure, he played a pivotal role in driving key business intelligence features from planning to release in Excel 2013. Brandon oversaw a significant overhaul of PivotChart functionality, including a UI redesign, PivotChart animations, new ad-hoc analysis tools, improvements to the PivotCharts data and object models, and the introduction of new supported data sources. He was responsible for defining feature requirement specifications and priorities, incorporating inputs from usability studies, telemetry data, customer interviews, product marketing, development bandwidth, and stakeholders across three major product teams. Brandon also successfully pitched leadership to gain buy-in for new features and led multidisciplinary feature teams comprising designers, developers, and quality assurance personnel, working in both agile and waterfall environments. [3]
From November 2012 to March 2015, Brandon co-founded TapSavvy, a company based in Austin, Texas, where he held the positions of Founder and Head of Product. Over the course of two years and five months, he led the design, sales, and product development efforts through multiple iterations. Brandon successfully shipped TableTalk, a real-time guest satisfaction tracking tool, to high-volume Austin restaurants. He also defined and managed the feature roadmap for TapSavvy's entire product stack, which included a rich web app built with AngularJS and D3.js, a native Android app, an Android tablet purpose-built for restaurants, and a shared application back-end built on AWS, PostgreSQL, Node.js, and Express. Furthermore, Brandon oversaw the product's user experience, utilizing A/B tests, engagement data, success metrics, and numerous customer interviews. Brandon recruited sales representatives and developed a repeatable sales process supported by reporting and tracking through a CRM. Moreover, Brandon negotiated a hardware OEM partnership with Dell, securing financing and preferred pricing for Dell Android tablets. He successfully collaborated with Chinese and Los Angeles-based manufacturers to produce tablet cases tailored to TapSavvy's specifications. [3]
From June 2016 to April 2017, Brandon worked as a Software Engineering Contractor at MuleSoft in San Francisco, CA. As the sole UI engineer on the analytics team, he was responsible for accelerating the development of rich data-oriented experiences. Brandon shipped reusable charting components and analytics libraries, built React charting components using D3.js, Victory.js, RxJS, and Plottable. He also designed a JSON-based Query DSL and implemented a client for fetching analytics data. Additionally, Brandon built an "API Consumer Dashboard" using Angular, React, and Redux, allowing MuleSoft users to track their consumption of internal APIs. [3]
In May 2017, Brandon joined Workflo, Inc. in San Francisco, CA, as a Software Engineer and Product contributor. Workflo was a design systems platform that showcased and shared React components across UI design and engineering teams. Brandon kept this position until September 2017, playing a role in building key parts of the UI, designing and developing reusable layout primitives, and creating mockups in Sketch and InVision. He also conducted usability studies with potential customers to validate the product's user experience. [3]
During April 2015 to March 2018, Brandon worked as a Freelance Software Engineer, operating as a self-employed professional. He focused on building meaningful product experiences backed by cutting-edge web technologies. Additionally, Brandon specialized in Design Systems and UI Engineering, teaching teams best practices for shipping high-quality web apps. [3]
From April 2018 to December 2020, Brandon served as a Co-founder and Research Lead at Graph Protocol, Inc., which developed The Graph, a decentralized web protocol. He played a crucial role in the research and product development of The Graph, serving as a co-founder and leading the company's research efforts. Brandon worked on building the protocol and infrastructure for the decentralized web, contributing to the emerging blockchain space. Graph Protocol, Inc. was based in Oakland, CA. [3][4]
"The end goal is that the graph is a global decentralized market of indexers that operates efficiently, that consumers can reliably query that data from their device."

In December 2020, Brandon became a co-founder and the Research and Product Lead at Edge & Node. From Jan 2022 to Oct 2022, Brandon took an additional role of Head of Research & Product, focusing on researching and developing decentralized web technologies. From July 2022 to the present, Brandon continues his work at Edge & Node as the Co-founder and Interim CEO. In this role, he oversees the overall operations of the company and its projects. [2][3]
See something wrong?
Report to us.
Brandon Ramirez
Did you find this article interesting?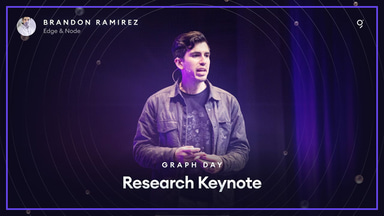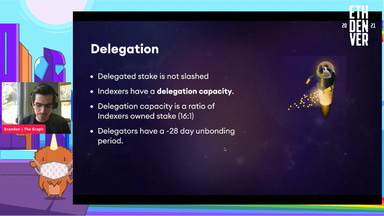 REFERENCES
[1]
Linkedin Profile
May 22, 2023
[2]
Edge & Node linkedin
May 22, 2023
[3]
Linkedin Experience Section
May 22, 2023
[4]
GRTiQ interview
May 30, 2023
[5]
Crunchbase profile
May 30, 2023