Brian Armstrong
Brian Armstrong (born January 25, 1983) is an American cryptocurrency entrepreneur, software engineer, and philanthropist. He is the Chief Executive Officer of Coinbase, the largest cryptocurrency exchange in the United States of America. Brian Armstrong co-founded Coinbase in 2012. Coinbase raised $300 million in October 2018 in a financing round led by Tiger Global that valued the company at $8 billion. He is also a co-founder of the GiveCrypto Foundation.[1][2][3][4][5]
Early Life
Brian Armstrong was born in San Jose, California on January 25, 1983, to engineer parents.[6] Armstrong was interested in technology at school and learned Java and CSS at an early age. He got his first job in Secondary school creating websites for local businesses.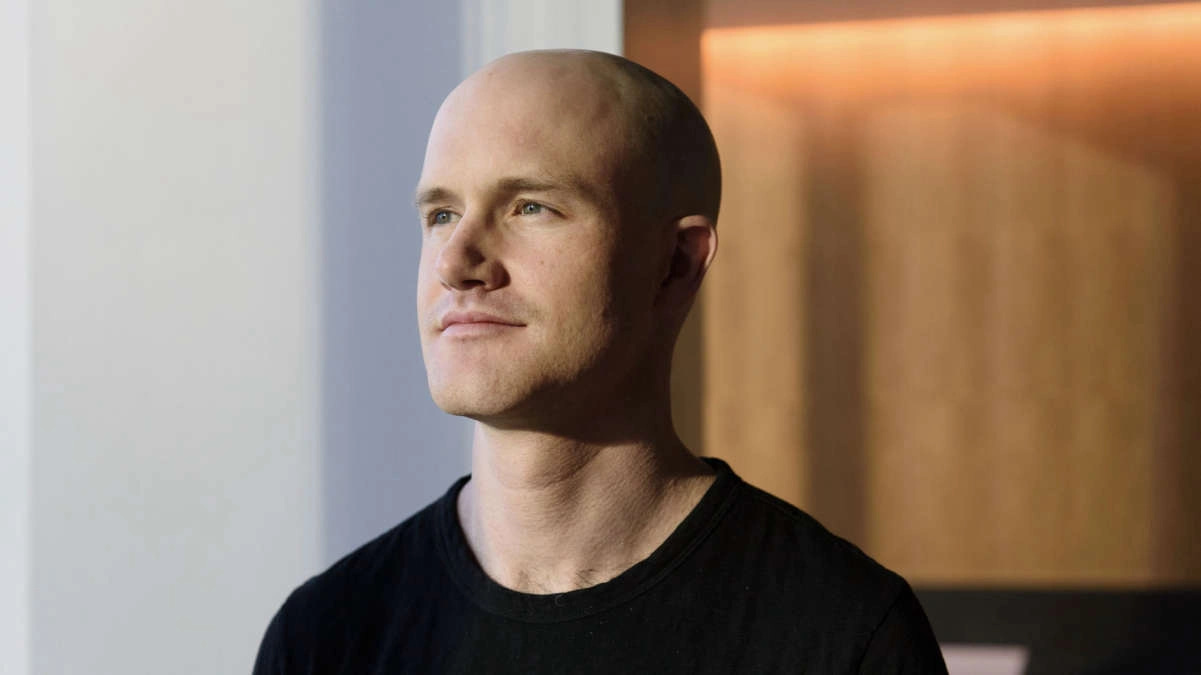 In 2018, Mr. Armstrong launched GiveCrypto.org, a nonprofit with the mission to financially empower people by distributing cryptocurrency globally. Later that year, he signed the Giving Pledge, committing to give the majority of his wealth to charitable causes throughout his lifetime.
[19]
Education
During high school, he attended Bellarmine College Preparatory, a Catholic, all-male private secondary school. He went on to earn a dual bachelor's degree in economics and computer science at Rice University and completed a master's in computer science. [24]
Career
Early beginnings
Armstrong co-founded University Tutor in August 2003 while he was a junior at Rice University. He worked on the education venture while living in Buenos Aires. "I had just decided, I've never been to South America. I want to travel for a year and try to work on this remotely as an adventure. Figure out what I want to do with my life." "It was an interesting experience to see the financial system in another country like that, that had gone through hyperinflation." [8]
He worked at Airbnb from 2011 to 2012 as a software engineer.[9] While at Airbnb, he worked as part of the hospitality marketplace, focusing on fraud prevention. At the time, Airbnb was moving money between 190 countries. During his time at Airbnb, Armstrong had a front-row seat in global payment systems. Previously, he worked as a developer for IBM and a consultant at Deloitte.[10]
Coinbase
Armstrong co-founded Coinbase in June 2012, and since then, has been responsible for introducing much of America and beyond to cryptocurrency.  [11][12]

As CEO, Armstrong is responsible for Coinbase's retail and institutional arms and all products and services that are developed by both trading platforms. Armstrong has led the team, now at over 200 employees, through over $200 million in venture capital funding from leading investors such as Andreessen Horowitz, IVP, USV, DFJ, and NYSE. Since co-founding the company, Armstrong has led Coinbase to serve over 10 million customers across 32 countries, providing custody for more than $10B in digital assets. [13]
Coinbase attracted around 30,000 users in its first year. Today it has more than 20 million. During the crypto boom in 2017, Coinbase was the most downloaded iPhone app in America, and it reportedly generated $1 billion in revenue that same year. [14]
Philanthropy
In 2018, Armstrong signed The Giving Pledge, becoming the first cryptocurrency entrepreneur to pledge to donate the majority of his wealth for the greater good. [15]
"Once a certain level of wealth is reached, there is little additional utility from spending more on yourself. One's ambition begins to move outwards. I've always admired founders and leaders whose ambition to improve the world supersedes any goal related to personal wealth."
Quotes
"There were over 379 articles written, prematurely declaring the end of Bitcoin. Not only did Bitcoin survive, but it also thrived, becoming the top-performing asset of the decade. The naysayers were proved wrong and we learned an important lesson about human nature: most big breakthroughs are contrarian ideas that people dismiss and ridicule at the start." [16]
After winning approval to offer crypto futures trading in the U.S. Brian Armstrong said:
"Major moment for crypto regulatory clarity in the U.S. This has been a multi-year process toward approval, and we're excited to finally be launching federally regulated crypto derivatives with margin to our U.S. customers. When there is a clear path to register, we do, "[33]
Awards and recognition
Controversies
Anonymous petition
An anonymous petition created by Coinbase employees has called for the removal of its Exces amid the underwhelming launch of Coinbase NFT and other missteps.
In June 2022, a petition was made public, which calls to remove COO Emilie Choi, Chief Product Officer Surojit Chatterjee, and Chief People Officer LJ Brock in a vote of no confidence from the biggest cryptocurrency exchange in the U.S.
It lists eight reasons for the vote of no confidence, including "the failure of the Coinbase NFT platform," "aggressively hiring for thousands of roles, although it is an unsustainable plan," and "toxic workplace culture." Brian took to his Twitter account to address the petition stating "This is really dumb on multiple levels."[20][21]
Coinbase and the SEC legal action
On June 6th 2023, the SEC filed a lawsuit against Coinbase, accusing the U.S.-based exchange of alleged violations of securities laws. This legal action followed the SEC's lawsuit against Binance by a day, and it came about two and a half months after Coinbase received a Wells notice, which alerted the exchange to the potential regulatory action that might be taken against it.
According to SEC's complaint, Coinbase has been engaged in the unlawful facilitation of buying and selling crypto asset securities, resulting in billions of dollars in revenue since at least 2019. The SEC asserts that Coinbase has effectively merged the functions of an exchange, broker, and clearing agency, all without adhering to the legal requirement of registering these activities with the Commission. [27]
The cryptocurrency exchange's chief legal officer, Paul Grewal, told the United States Congress on June 6. [29]
"Coinbase has embraced regulation since we were founded over a decade ago, The SEC [Securities and Exchange Commission] allowed us to become a public company in April 2021, which makes us unique in the crypto industry."
Founder and CEO of Coinbase, Brian Armstrong said:
"Even though this complaint came in from the SEC it's really business as usual today, we're continuing to trade the assets that we have on our platform. We're not going to wind down our staking service" We're not going to wind down our staking service. Coinbase's staking product is architected and built in a way to be compliant.  [26]
In April 2023, Coinbase filed an Administrative Procedure Act challenge asking the United States Third Circuit Court to force the SEC to respond to its 2022 petition for formal rulemaking in the digital assets sector, arguing that the existing requirements are ill-suited for digital assets. On June 6, 2023, the court ordered the SEC to explain within 7 days if it intends to decline Coinbase's request, the reasons for such a decision, or a timeline of when it expects to come to a decision. [30] [25]
Stand With Crypto NFT campaign
Coinbase CEO Brian Armstrong has backed a campaign urging the crypto community to unite in their efforts to have the government and regulators establish clear rules for the nascent industry.[31]
All proceeds associated with the "Stand With Crypto" NFT collection will be donated to "vetted organizations," including crypto lobbyist and educational organizations, such as the DeFi Education Fund, the Blockchain Association, CoinCenter, and the Blockchain Foundation.
The alliance shares NFT rewards, educational resources, and updates on crypto policy with its members. There are currently, over 65,405 people who joined the organization as crypto advocates.[32]
See something wrong?
Report to us.
Brian Armstrong
Did you find this article interesting?