DeFi Pulse
DeFi Pulse is a crypto index used in evaluating the market capitalization of the global decentralized finance (DeFi) performance by tracking it. It is a leaderboard that tracks ETH + tokens locked in DeFi projects by total value and dominance by category[1].
Overview
The website displays the latest analytics and rankings of DeFi protocols. Their rankings track the total value locked (TVL) into the smart contracts of popular DeFi applications and protocols. They monitor each protocol's underlying smart contracts on Ethereum and refresh their charts every hour by pulling the total balance of Ether (ETH) and ERC-20 tokens held by said smart contracts.
Its distinct objective is as a digital asset index designed to track tokens' performance within the Decentralized Finance industry.
The index is weighted based on the value of each token's circulating supply. The DeFi Pulse Index aims to track projects in Decentralized Finance that have significant usage and show a commitment to ongoing maintenance and development.[2]
TVL (USD) is calculated by taking these balances and multiplying them by their price in USD.
DeFi Pulse's Earn Income section allows users to compare the finer details of their loan including Interest Rates (APY), term length, and desired level of permissions.
The DeFi List & The Token List
DeFi Pulse also curates The DeFi List, a collection of some of the best resources in DeFi, and The Token List, a directory of authentic tokens on Ethereum.
Users can submit their projects on the DeFi Pulse website to be added to The DeFi List. Users with authentic tokens can also apply to have their tokens added.
The DeFi List
Anyone helping build DeFi has an opportunity to be on the list, whether it be a project, newsletter, news site, blog, analytics site, or service provider. Being included in The DeFi List signals to users that the site they are visiting has been perceived as being of high value within the DeFi community and is a resource list for all users.
In order to be listed on the DeFi Pulse Leaderboard, the project must be included on the list.
DPI's Underlying Tokens
Some digital currencies DPI derives its values from within DeFi includes:
Aave,
Balancer,
Compound,
Cream,
Farm,
KNC,
Loopring,
Maker,
meta,
REN,
Sushi,
Synthetix,
Uniswap,
Yearn,
Instadapp,
Badger,
Rari Capital, and
Vesper.[3]
Tokenomics
DeFi Pulse is a digital asset deployed on the Ethereum blockchain as an ERC-20 token. The total supply of the token is capped at 558,983 tokens, with the ticker symbol $DPI.[5]
Trading Exchanges
DPI is currently live and traded on the following crypto exchanges[4]-
Kucoin
Gemini
Uniswap
Bkex.
The Token List
On Ethereum, anyone can create a token, and name it whatever they desire, with nothing preventing a new token from having the same name, symbol, or even icon as an existing token. Integrating The Token List into an app is free and gives users confidence that they're interacting with the token they intend to.
Pretty much any token that can be verified as authentic and that users aren't likely to confuse with an already-listed or well-known token is eligible. Token descriptions are provided by token submitters/issuers and their review of an application for a new token isn't a qualitative assessment. Inclusion isn't an endorsement of any kind or a statement about the quality/value of the token or associated project.
The Token List provides all the relevant information for each authentic token in JSON format:
token name
contract address
ticker symbol
decimals
icon image
token standard (ERC20, ERC223, etc)
flags describing token qualities such as: is it used in governance, is it a social token, etc.
The DeFi Pulse Registry
The DeFi Pulse Registry is a registry of DeFi projects and the potential risks users may face while using them and help users make better decisions by making it easy to find reliable info regarding projects' risks.  It plans to track three major categories of DeFi user risks:
Centralization Risk – What are the risks to users associated with admin privileges?
Economic Risk – How has the project addressed the economic risks of using this protocol?
Security Risk – How has the project addressed the security risks of using this protocol?[6]
See something wrong?
Report to us.
DeFi Pulse
Did you find this article interesting?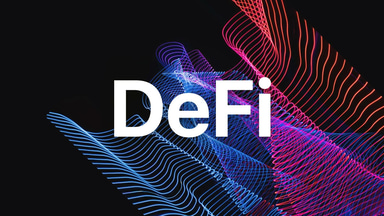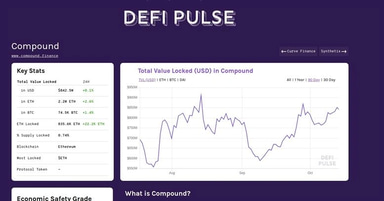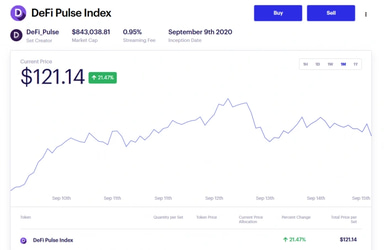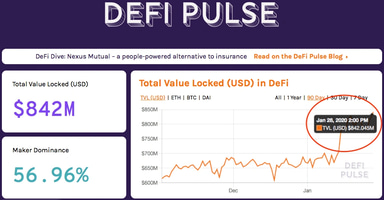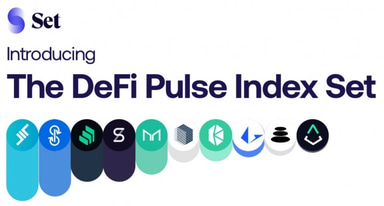 REFERENCES
[2]
DPI's objective
Sep 25, 2022
[3]
DPI Underlying Tokens
Sep 25, 2022
[4]
Crypto exchanges
Sep 25, 2022