Definer
DeFiner is a decentralized finance network for digital savings, loans, and payments. Powered by blockchain technology, DeFiner enables users to effortlessly lend, borrow, and earn digital assets within a global network. DeFiner removes the friction and costs associated with conventional financial services and instead offers maximum flexibility to set one's own rates and terms. DeFiner allows those embracing the new, digital economy to unlock instant value from their assets.
Overview
DeFiner aims to develop a fully decentralized financial ecosystem to promote financial inclusion and efficiency with autonomous lending agreements secured through blockchain and smart contract technology.
Using an innovative cross-chain decentralized application (DApp) that simplifies the user experience with "off-chain loan agreement matching with on-chain settlement", the DeFiner platform provides a trustworthy ecosystem for users worldwide to securely lend and borrow digital assets. Unlike conventional lending, the DeFiner platform eliminates custodial risk and trusted intermediary interference by utilizing smart contracts to execute all lending agreements on a highly decentralized blockchain.
The DeFiner token (FIN) economy is introduced to recognize, reward and incentivize all participants within the DeFiner ecosystem. Furthermore, all the value created through the DeFiner ecosystem will be distributed back to the community.
The DeFiner protocol codebase is hosted on GitHub. The protocol is implemented as a set of smart contracts on top of the Ethereum blockchain. smart contracts guarantee safety and do not require a middleman.
Users and applications can interact directly with the smart contract, the blockchain data, or via their favorite web3 providers. DeFiner Protocol is developed with security as a priority, having been audited by multiple auditors.
Features
Definer has the following as its basic features
Permissionless
It is truly permissionless. It is an ecosystem where no gatekeepers are needed- one that is launched with unlimited possibilities and all crypto assets are supported.
Configurable
Users are now welcome to a platform, where they can name their terms and also customize their parameters: currency, collateral, interest, and more.
Privacy
Definer helps with encrypted balance transfer with zero knowledge proof traceability protection.[2]
Definer's Products
Definer, the Defi lending protocol has three core products deployed within its ecosystem-
Earn
User can connect their wallets in this interface to save their digital assets and earn APRs from it. The interface opens myriads of cryptocurrencies users can save in; from USDT, $FIN, to DAI, ETH, WBTC, BAT, etc.[1]
Lend & Borrow
The same interface (i.e Definer's app), makes the provision for you to earn from its lending and borrowing possibility. Users can lend DAI, USDT, USDC, ETH, BAT, WBTC, and earn a percentage doing so. Borroweers can also have access to tokens that they are in need of from Definer's platform.[3]
Mobile App
Definer's mobile app is available on the apple store. It provides users with maximum convenience for crypto depositing, borrowing, and earning.
Our powerful multi-chain solution enables users to switch between networks seamlessly. Built in with a wallet function, DeFiner aims to provide more flexibility[4]
Definer 2.0
The DeFiner HODLer Market was introduced as the first stage of DeFiner 2.0.
Our full mission is to create a truly permissionless, configurable DeFi lending protocol with 100% privacy protection.
For DeFiner 2.0, the ecosystem plans to introduce even more applications into our ecosystem over time, including NFTs, Initial Loan Offerings (ILOs), non-collateralized loans, off-chain asset-backed loans, fixed-rate loans, term loans, and additional offerings based on community feedback.
DeFiner 2.0 is built to provide a near-perfect solution to support as many as possible DeFi tokens of the about 15,000 tokens and is designed to bring a true form of decentralization to the global DeFi ecosystem.
We want to provide the infrastructure and enable anybody to create a lending pool of their own. [5]

# Team
Jason Wu - Founder and CEO
Oussama El-Hilali - Co-Founder and Board Member
Chyna Qu - Co-Founder and COO
Hilal Al-Hilal – CTO
Tom Short – VP of Operations
Dr. Sichao Yang - Chief Architect
Rishabh Thaney - Blockchain Engineer.[6]
Partnership & Investors
Microsoft
Alphabit
Spark Digital Capital
Techstars
Signum Capital
See something wrong?
Report to us.
Definer
Did you find this article interesting?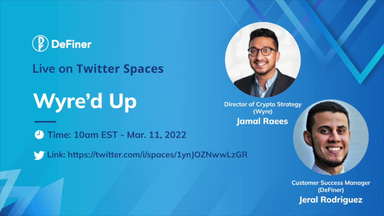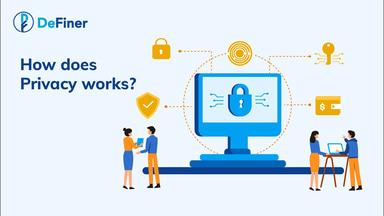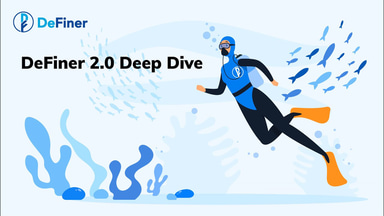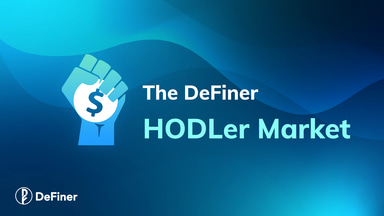 REFERENCES
[1]
Earning with Definer
Sep 26, 2022
[2]
features of definer
Sep 26, 2022
[3]
definers's products
Sep 26, 2022