DexKit
DexKit (KIT) is the next generation DEX ToolKit. It uses technology based on ZRX protocol, Uniswap and KyberSwap, among others, to create advanced trading, swapping, atomic swap, market making and decentralized ERC20 and erc721 Whitelabel solutions[7]. Hosting the $KIT token as its utility toke, the ecosystem depoy[10]s user-centric product advancing true entrepreneurial spirit in creative minds within web3, through its free tool kits.
Overview
DEXKIT is a next-generation DEX that uses technology based on the ZRX protocol to create advanced trading, swapping, atomic swapping and market-making tools for decentralized ERC20 and erc721 white-label solutions. DEXKIT offers customizable 'toolKITs' that will empower traders to make profitable, well-informed trades.
It is based on established open source technology and will build exclusive features that will only be available to users of the platform. DEXKIT uses a network of affiliates to promote the project and give KIT holders opportunities to earn passive income.
DexKit advanced trading tools will allow users to:
Place leverage orders
Set Decentralized stop/limits and private orders
Deploy arbitrage bots
Create an NFT collectable marketplace
Track 0x mesh liquidity and view stats on Decentralized protocols
Earn from arbitraged orders (arbitrage mining).[8]
How it Works
When trading cryptocurrencies the DEXKIT custom aggregator searches over 9 DEXs to find the best price and liquidity using a Uniswap-style interface that's familiar and easy to use. A suite of additional tools provides a trader with well-informed trades at the best possible price and liquidity, all while minimizing annoying slippage.
Traders will be able to use leverage, place decentralized stop/limit orders, run arbitrage bots, create, sell and trade NFTs, and place private orders. Traders can earn from staking KIT and gain from arbitraged orders through arbitrage mining. In addition to the DEXKIT tools, users can create their very own branded aggregator and NFT marketplace. It includes a full backend dashboard allowing complete control over adding and removing pairs and adjusting fees. In addition, WordPress is supported as a widget.
With the increased interest in NTFs, DEXKIT provides users with a wizard to create ERC20 and erc721 (NFT) collections, with full WordPress integration, allowing users to trade any NFT on their own website. The back-end solution manages your Multicurrency marketplace, which, in crypto-speak, is known as a white label exchange. With this backend, a user can easily add/remove pairs, add tokens, change the default layout and check earned fees.
With DEXKIT arbitrage tools users can quickly profit from, arbitrage. It becomes needless to give profit to arbitrageurs when DEXKIT can arbitrage their orders and create profit for them.
DexKit Main Products
DexKit's main products include:
DSWAP Aggregator
Users are opened to an opportunity to swap their tokens instantly with the lowest slippage ever. With 0x protocol API, users will get better liquidity sources to give them the most profitable offer in each trade.
KitDex Exchange
Users can now trade using order books from anywhere, anytime, with 0x liquidity. Deploy your own Whitelabel exchange and start earning passive income with their client trades.
Blockchain gaming
DexKit developed the fairest game on the Polygon Blockchain: Coin League, where players compete in cryptocurrency price prediction races against friends and colleagues.[9]
Features
Available Exchanges layouts: Uniswap Like the layout, Uniswap Like Layout with Orderbook, Basic, Medium and Professional like Coinbase Pro. This service is activated by an NFT card and the user needs to hold a minimum KIT.
Dex Aggregator using as liquidity sources Uniswap, ZRX, Kyber, Curve, Mooniswap and Whitelabel Dex Aggregator.
Next-generation DEX with free cancellation/ placement of orders.
Launchpad IEO like for projects to launch in a permissionless way with their token sale.
NFT and NFT Wizard: sell, buy, share on social media your cards and earn affiliate fees. This service is activated by an NFT card and the user needs to hold a minimum of KIT.
Wizard to create ERC20 and ERC721 collection
Extended affiliate program, Users can deploy their exchange/NFT Whitelabel solution and ( earn fees directly in their address when users use their platform with WordPress integration).
Easy widget for users who buys tokens and cards on their website with WordPress integration.
Transformer Kits, do multiple actions at once using the best liquidity on the market, like send 1 ETH to pool DAI/ETH and instantly buy LP tokens, leverage positions, and lend.
Updates
Free NFT tool
DexKit has launched an open source and free interface for NFT creators to market their digital collectibles. This tool lets you sell any of your collections (or the ones you already have in your wallet).
It was designed using TypeScript[2][3], React and hosted on Vercel[4] that ensures the total decentralization of each deployed instance, this tool is well ahead of competitors who also have high-end products offering them at exorbitant prices, with limited functions and even in some cases,[5] the KYC is mandatory.
SuperApp: DexKit wallet
Aimed at mass adoption, DEXKIT's developer team has given itself the task of launching its brand new SuperApp wallet. This app has also been updated with certain improvements in terms of usability, appearance, performance and platform scope.[6]
Tokenomics
DexKit's token is known as $KIT. $KIT is a Cryptocurrency that is deployed on the Ethereum network and is being hosted on other blockchain networks including Binance smart chain,= and polygon. $KIT has a current supply of 10,000,000and it is being traded on exchanges including:
Bilaxy,
Unsiwap
Apeswap
Quickcswap.[1]
See something wrong?
Report to us.
DexKit
Did you find this article interesting?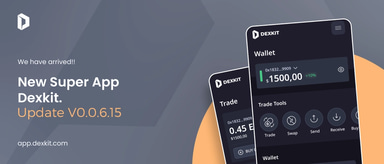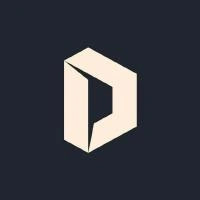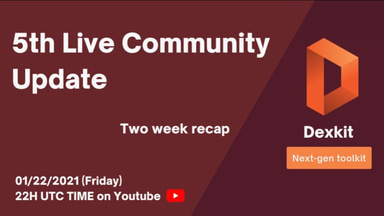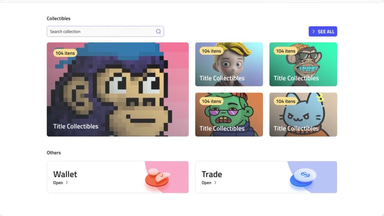 REFERENCES
[5]
Free NFT tool update
Sep 29, 2022
[7]
Introducing dexkit
Sep 29, 2022
[8]
Overview of Dexkit
Sep 29, 2022
[9]
DexKit's products
Sep 29, 2022
[10]
More on DexKit
Sep 29, 2022