DEXT FORCE Festival
The DEXT FORCE Festival is a DeFi event held at La Llotja de Mar, a historical space in the heart of Barcelona, Spain from November 10 to 11, 2023. [1][2][3]

Overview
The DEXT FORCE festival consists of 50 internationally renowned speakers who will be discussing blockchain, crypto-economics, and decentralized finance (DeFi), aimed at investors, executives, companies, and individuals. [3]
Activities at the DEXT FORCE Festival include; Web3 Congress — 50+ speakers, trading masterclass, immersive workshops, web3 companies exhibition, Fun Activities — VR experience, games & tournaments, meditation, crypto documentaries, Music Fest — 15+ DJs & artists, acoustic music, day & night party with top DJs, and a Menu to cover morning coffee, lunch, open night bar, and a networking cocktail. [1][2]
Some of the speakers at the event include; Javier Palomino, Álex Fernandez, Sergi Sagas, Gordon Einstein, Serge Conesa, Petr Krovina, Jimmy Nguyen, Edwin Mata, Dieter Brockmeyer, Michal Ptacnik, Dereck Alexander Jon Hoogenkamp, Vasilisa Marinchuk, Muhammad Salman, Anna Agu, Cripto Willy, Roberto Sanz, and many others. [3]
15 artists are set to DJ the event; Fedde le Grand, Adrian Marth, Marcelo Pantani, Clap Kent, Nahoomie, Tamarindo, Pional, and Yung Prado, among other international stars. [2][3]
See something wrong?
Report to us.
DEXT FORCE Festival
Did you find this article interesting?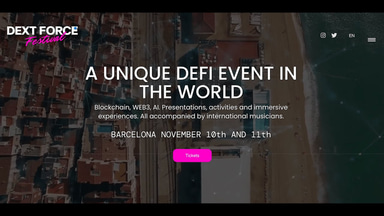 REFERENCES
[1]
twitter profile
Nov 9, 2023
[2]
instagram page
Nov 9, 2023
[3]
official website
Nov 9, 2023