Hakka Finance
Hakka Finance (HAKKA) is a DeFi (decentralized finance) ecosystem and cryptocurrency that allows users to pursue financial sovereignty. The protocol was built on Ethereum and offers various DeFi services like a stablecoin automated market maker (AMM) DEX, a gamified insurance product, and a general DeFi handbook.[1][2]
History
Hakka Finance project was created by an engineering team that focused on the research and development of decentralized finance in mid-2019. They developed experimental projects during 2019 and also participated in hackathon competitions. One of their products, the 'Crypto Structured Fund', was selected as a finalist project in the Kyber DeFi Hackathon in 2019.[3][4]
The Hakka team postponed the launch of its products because of the bear market in 2019. To cover the expenses of the team, they raised a seed fund from the 3Fs. Their supporters included established journalists in blockchain media, the owner of an Ethereum mining pool in Taiwan, crypto enthusiasts, and prominent developers in the industry. [5]
At the end of 2019, Hakka Finance issued HAKKA tokens as "proof of sponsorship", to get funds for the project and also build an ecosystem. 72,014,500 HAKKA tokens were released at USD 0.0005 by the end of 2019 and all of them were transferable with no lockup period. Two of their advisers, Ian Hsu and Wego Chen invested in HAKKA, covering expenses in exchange for tokens. By July 2020, Hakka's stablecoin swap module, BlackHoleSwap, was ready and so they decided to launch it.[6][7]
Products & Services
Hakka Finance has several DeFI services and products
DeFi Handbook
The DeFi Handbook includes information about all major aspects of the DeFi ecosystem. It includes major ERC tokens, DeFi liquidity pools, Lending Protocols, and Decentralized Exchanges (DEX), and also shows their code base and addresses. This is a helpful tool to learn about DeFi for both users and developers.
Liquidity Pool
Hakka Finance has liquidity pools on Balancer Network where users can earn rewards for staking HAKKA Tokens.
BlackHoleSwap
BlackHoleSwap is a decentralized AMM (Automated Market Maker) exchange designed for stablecoins. By integrating lending protocols to leverage the excess supply while borrowing on the inadequate side, it can therefore process transactions far exceeding its existing liquidity. Compared to other AMMs, BlackHoleSwap provides nearly infinite liquidity with the lowest price slippage, maximizing capital utilization. It currently supports DAI and USDC only. [8]
3F Mutual
Third Floor Mutual (3F Mutual) is a decentralized insurance protocol on Ethereum, aiming to hedge against the MakerDAO emergency shutdown. Empowered by a risk model designed by experts, 3F Mutual encourages depositors, traders, or developers to pay small amounts of insurance fees during regular times to accumulate security funds to compensate for losses during massive industrial crises. The insurance fees flow into the pool of capital, and when MakerDAO Emergency Shutdown happens, compensation will be paid out via this pool.
Tokenized CDP (tCDP)
This tool offers a fungible collateralized debt position for ETH. A user will get DAI and tCDP for their ETH collateral that can be flash migrated to use, invest or trade on other DeFi protocols. [9]
Crypto Structured Fund
CSF provides a wide variety of investment targets for investors with different risk profiles. It helps to earn interest in DAI. CSF project was the finalist in Kyber Hackathon 2019. [12][13]
Fulcrum Emergency Ejection
Fulcrum Emergency Ejection is a smart contract that automatically calculates the maximal claimable amount in Fulcrum iETH pool. It helps a user to withdraw stock funds. To withdraw from Fulcrum, a user should have a deposit and enough liquidity in iToken's contract. Fulcrum Emergency Ejection contract first checks how much ETH is there in the pool, if none, quits, and if some, withdraws the exact number. [14]
Tokenomics
Hakka Finance has a native token HAKKA created on the Ethereum blockchain. Hakka Finance issued HAKKA tokens as a "proof of sponsorship", dedicating them to the construction of a fully decentralized ecosystem with the token holders. 72,014,500 HAKKA tokens were released at $0.0005 by the end of 2019 to cover the following expenses: payroll of the developing team (~$3,000 per month per person, including compensation, insurance, and rent). According to the announcement on Sep 6, 2020, 60% of the HAKKA released in this phase will be kept locked in the foundation's multi-sig wallet for half a year. After February 17, 2021, all HAKKA will be returned. Another 150,000,000 HAKKA tokens were released at $0.001 by the end of July 2020. 40% of the tokens in this phase were released right after the product launch. The remaining 60% will also be locked up for half a year, the same as the token released in the bootstrap phase. [19]
Approximately 10% of HAKKA tokens were distributed to the community during the bootstrap and pre-launch phases. Overflowed tokens (7,266,135 HAKKA) in the early phase were deducted from the Team and Adviser reserves, which is the other 10% of the initial supply. Team and Adviser reserves (10%) are allocated for core team members, released linearly for one year (1/12 per month) from product launch. [20]
| HAKKA Token Distribution | % of Initial Supply |
| --- | --- |
| Bootstrap Fund (raised USD 200,000) | 10% |
| Liquidity Mining and Incentives (September 2020 - September 2024) | 40% |
| Ecosystem Fund | 20% |
| Team and Advisors | 10% |
| Future Sales | 20% |
Game: Hakka Finance Play To Earn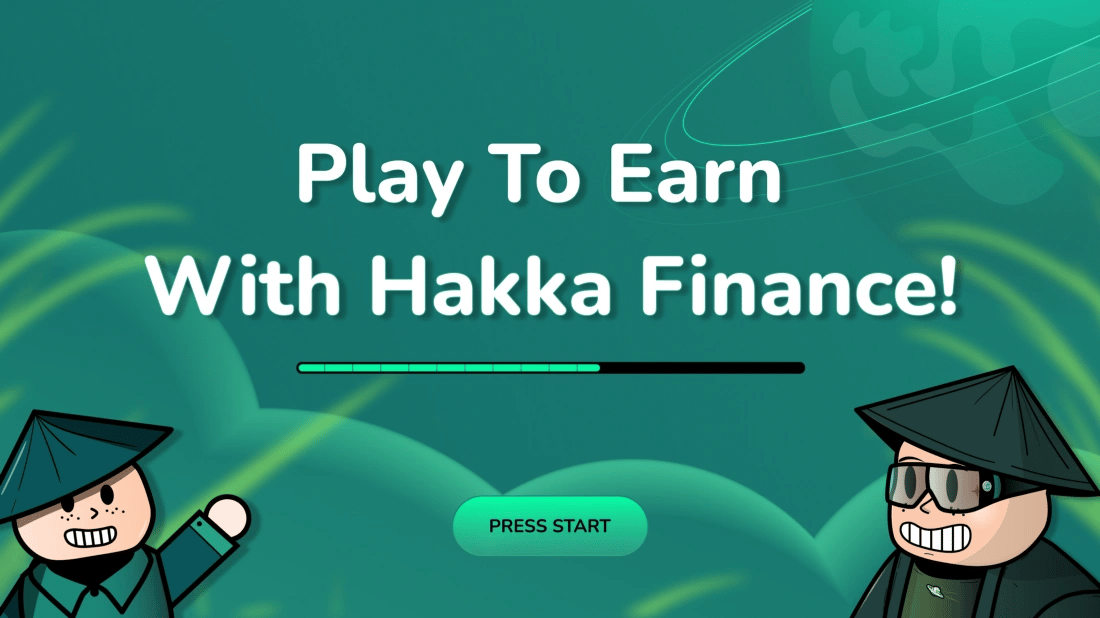 In the Hakka Play to Earn game, Users start as humble Hakka farmers, Explore the exciting Galaxy of Decentralized Finance and also Collect 
NFTs
 & make money across the Hakka Ecosystem to become a DeFi master.
Hakka Finance provides a means by which users can make money in DeFi and win NFTs by completing simple missions with Hakka Finance.[22][23]
Team
Ping Chen - Founder. He previously founded Pelith, providing Ethereum-related technical literature and meetups for core contributors to the ecosystem in Taipei, Taiwan.
Jack Lai - Technical Researcher. Jack is the co-organizer of Cypherpunks Taiwan, one of the largest developer/researcher communities of cryptography and blockchain technology.
Wego Chen - Advisor/Contributor. Wego is the co-founder of BlockTempo, the most influential blockchain media in the traditional Chinese market and the host of the largest blockchain conference in Asia, the Asia Blockchain Summit. Wego has served as an adjunct professor at National Tsing Hua University, and the Taiwan Academy of Banking and Finance.
Ian Hsu - Advisor/Contributor. Ian is the founder of the EM3 crypto community. Ian is an expert in tokenomics and a columnist for Economic Daily News.[21]
Governance Roadmap
Hakka Finance is a decentralized autonomous organization or DAO. These are the stages in which the governance of Hakka Finance will evolve.
Phase 1. Divine Right of Kings
At the very beginning, the developing team of Hakka Finance took responsibility for the majority of work, including product developments, implementation, and maintenance as well as the design of the yield farming model and bounty programs.[15]
Phase 2. Enlightened Despotism
Hakka token is distributedly allocated to the community of Hakka Finance along with the activation of liquidity mining and bounty programs. The "off-chain" voting system was implemented as the early governance model in this phase. Stakeholders can propose issues on the governance website and let the community vote. Although the results of off-chain voting, unlike on-chain voting, cannot be directly executed, they are adopted as crucial references for strategic decisions by the developing team. There is no gas price included in the off-chain voting system, which means community members can express their opinions regarding the development of the ecosystem without any cost.[16]
Phase 3. Constitutional Monarchy
During Phase 3, an on-chain voting system is going to be deployed. From this point forward, the developing team of Hakka Finance will retire, and reside as a ceremonial head of state. Governance powers will be fully released to all the community members along with token distribution, the developing team will no longer take charge in the directions of Hakka Finance.[17]
Phase 4. HAKKAnarchism
The ultimate phase of Hakka Finance is a DeFi (decentralized finance) ecosystem governed and maintained by all the community members. All the product users, value investors, and joint developers can receive corresponding returns from the DAO as they contribute to the ecosystem. When it comes to this phase, there will be no difference between the founding members of Hakka Finance and other community members.[18]
See something wrong?
Report to us.
Hakka Finance
Did you find this article interesting?