Katy Arrington
Katy Arrington is a digital painter and illustrator based in Australia, her works are inspired by the many forms of anime art from Kawaii (Japanese cuteness culture). Her works can be described as everything from beautiful, strange, cute, creepy, joyous, and even twisted. [1]
Early Life
Ever since she was a kid she made art but in between she had a very tumultuous relationship with it all of her life, battling lifelong procrastination, until one day she decided to quit it completely.
Career
In the past, she has worked for Disney Interactive in Glendale, California as a 2D Concept Art Intern and Microsoft in Seattle as a Concept Artist.[9]
A few years back she decided to recommit, find life coaching, and work to find her way back to art. Since then she has created so many artworks that she is proud of. She said in an interview
"I love the work in this gallery that I created since I gave art another shot and very glad I didn't give up." [2]
She also works as a life coach for artists, helping artists make money with their art.
She has gained a massive following for her anime-style characters who vary in style from cute and kawaii, to eerie and evil. Her artwork speaks to themes of empowerment and fully embracing femininity, they are bright, vivid, sensual, and full of life with each one containing a plethora of bold colors and undeniable personality. [1]
"I hope with these characters, the audience can relate to one or both of these characters and feel like they are fighting for what they believe in. The main piece, however, represents the balance of the market and I want to leave the audience with suspense." [4]
She has been a featured artist on MakersPlace since her indulgence in the world of rare digital art. Her works have been highly wanted by collectors due to her unmistakable illustrative style, evoking raw emotions in a playful and fun tone.
Her past works include her first-ever crypto-inspired artwork, BitcoinKitty, as well as her most recent collaboration with Vansdesign where she introduced her first animated piece, VR Girl. [7]
NFTs, Work, and Series
Katy has been exhibiting unique digital works on MakersPlace, a blockchain art portal, created by former employees of online pinboard Pinterest.[6]
"It connected me to a community that really valued digital art; it was pretty awesome," [5]
she says, adding that using the blockchain software required to exhibit her illustrations proved difficult at first, but has since become more intuitive. [5]
She has sold a total of 311 artworks on the marketplace platform with a total value of $561,628.86 (219.208 ETH)
Bull vs. Bear Series
The Bull vs. Bear series introduces two new characters Bull-san and Bear-chan, they represent two opposing forces in the financial market.
Regardless of the "select screen" found in video games, the first two artworks act as introductions to each character (Bull-san and Bear-chan) while the third artwork presents the two characters in an epic showdown, with weapons blazing and magic revealed. [4]
The third artwork is called the Bull vs Bear Drop and it resulted in a total of $159,958 in gross sales. It was described as a timeless epic battle between arch nemeses, Bull-san and Bear-chan, depicted in color in the main act art piece of the Bull vs. Bear series.
In the illustrated fight scene, there is no clear player with the upper hand. The outcome is very much unknown, leaving a cliffhanger on the enduring question, will bull or bear win? [3]
Fruit Girls Series
Fruit Girls is her latest work and it pays homage to the power and sensuality that every woman possesses. The series is about feeling comfortable in your own skin and owning the sweet qualities that make one an individual.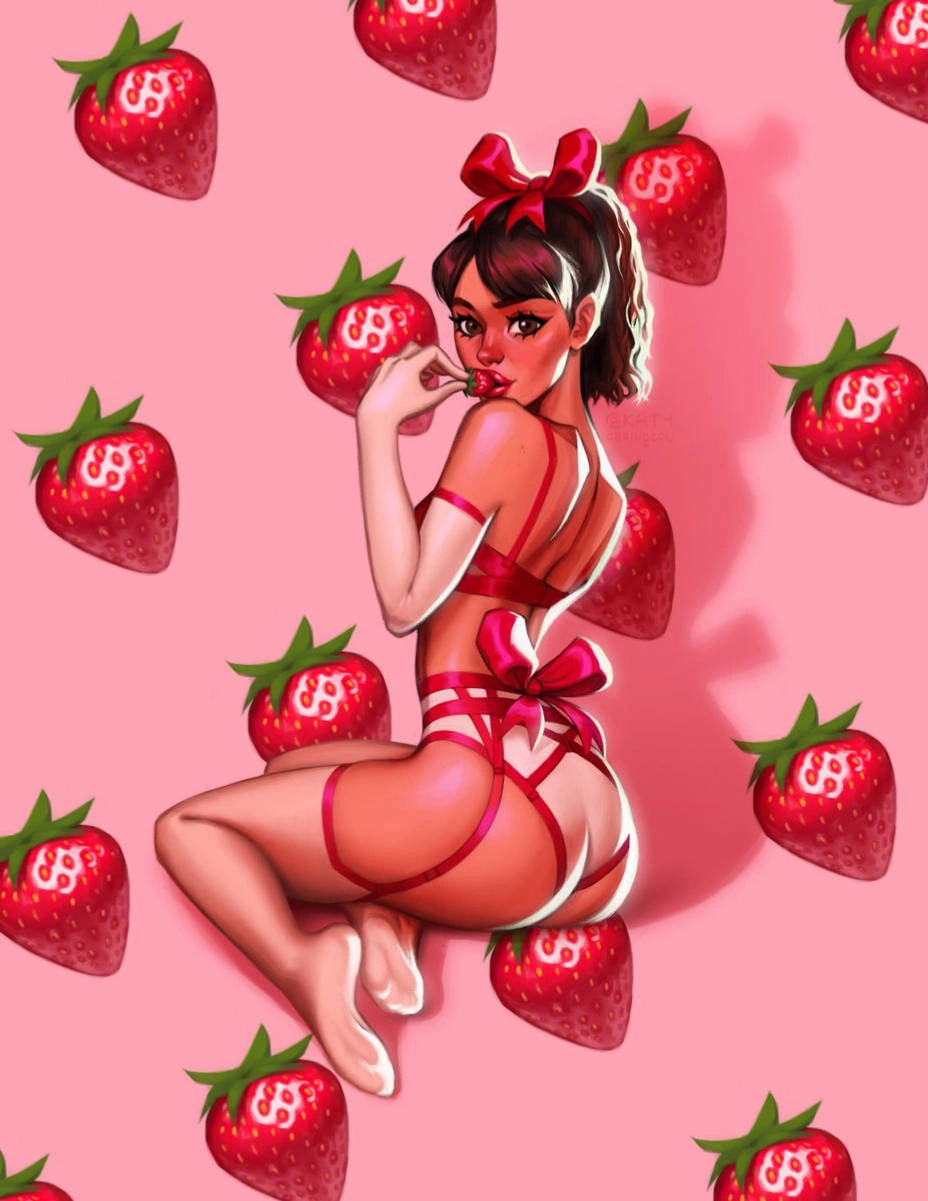 Each fruit is different in appearance, texture, and taste yet all are equally delicious. She hopes that this series will shine a light on the beauty of unfiltered femininity and encourage everyone to feel comfortable embracing their true selves.
The Collection includes
Kiwi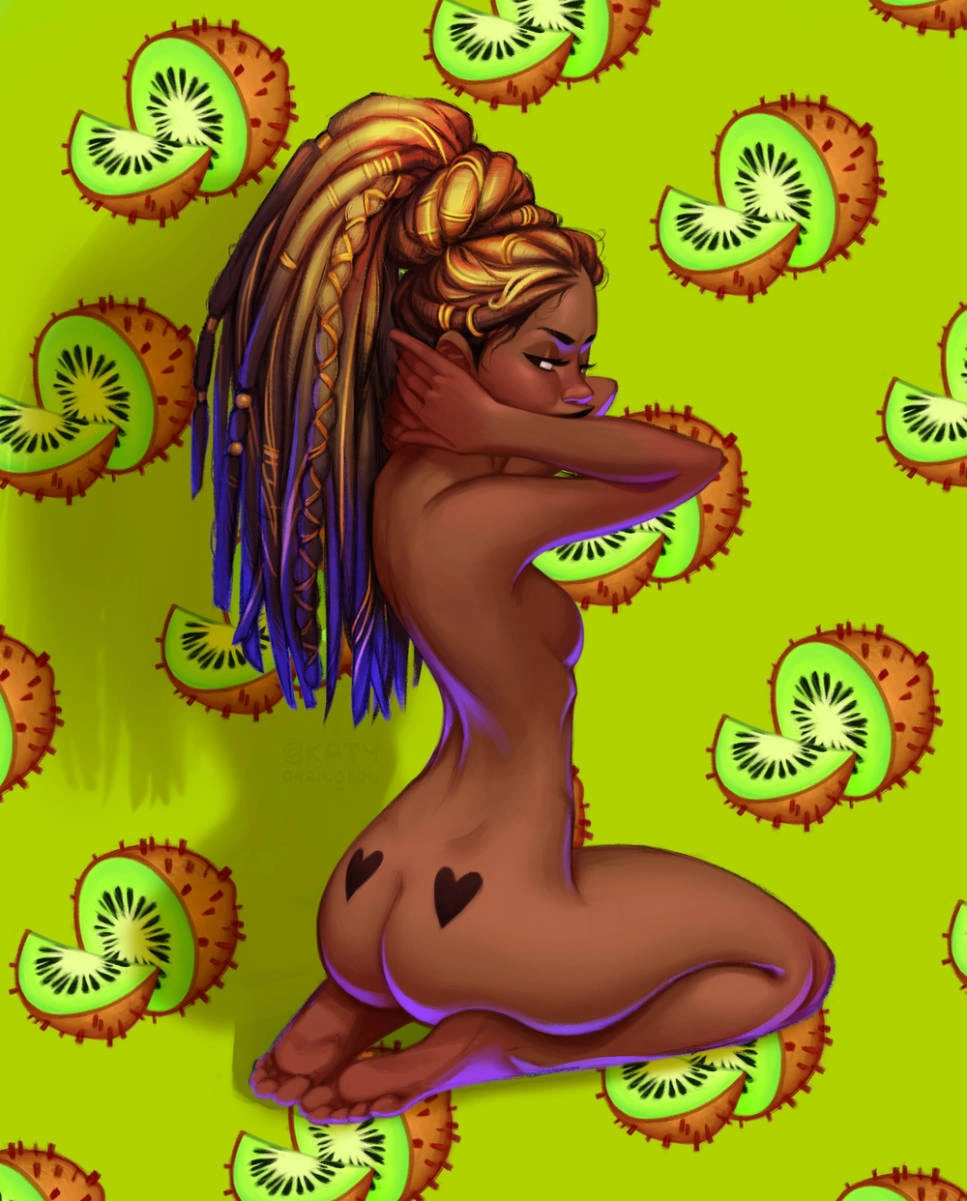 Inspired by a recent commission by a sexy and confident woman, Kiwi has a rougher exterior than the other fruits but she's actually very sweet and soft inside. She's a bad bitch who won't take shit from anyone, but really all she wants is a hug and to be loved like the rest of us.
This was sold for $33,307.04 (13 ETH) on the Makersplace platform
Banana
This is Banana, the cutest and silliest one! Inspired by a recent commission by a sexy and confident woman, this painting is part of another series of empowered women who enjoy being in their own skin. She hears voices in bananas. She's kinda bananas. [7]
Grape
Inspired by a recent commission by a sexy and confident woman, this painting is part of another series of empowered women who enjoy being in their own skin. The fruits highlight how beauty and power come in all shapes, looks, colors, and sizes. Grapes can indicate luxury and she is wrapped in an exquisite satin bow. She knows she is the prize. [7]
Bathtub Paradise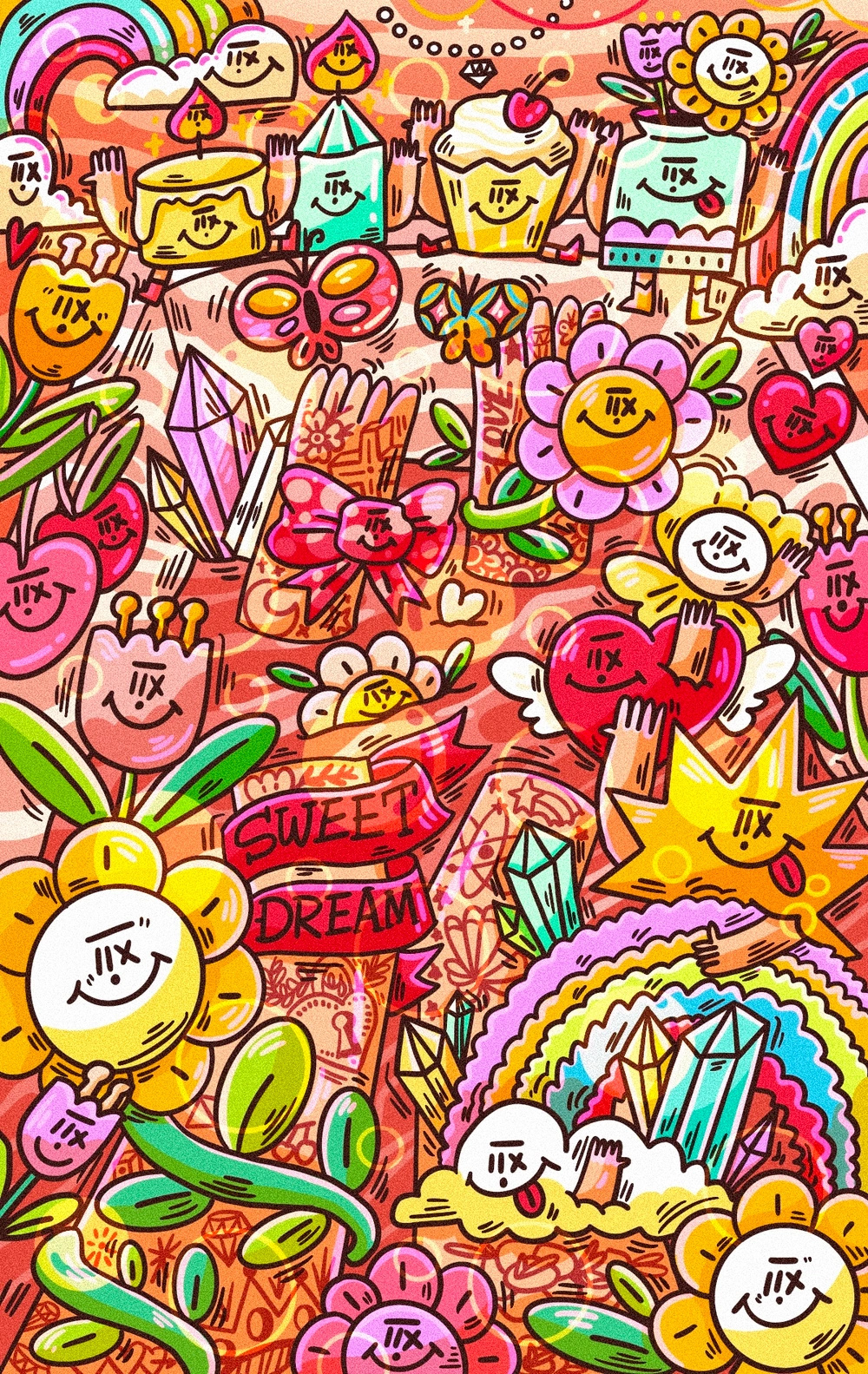 Taking a bath may relax your body and help remove toxins. It improves your physical and mental health and promotes rest, stress relief, and anxiety control. You can turn it into your zen zone if you put in a lot of work. Possibly you could participate if you don't already have one.
Let's Go Baby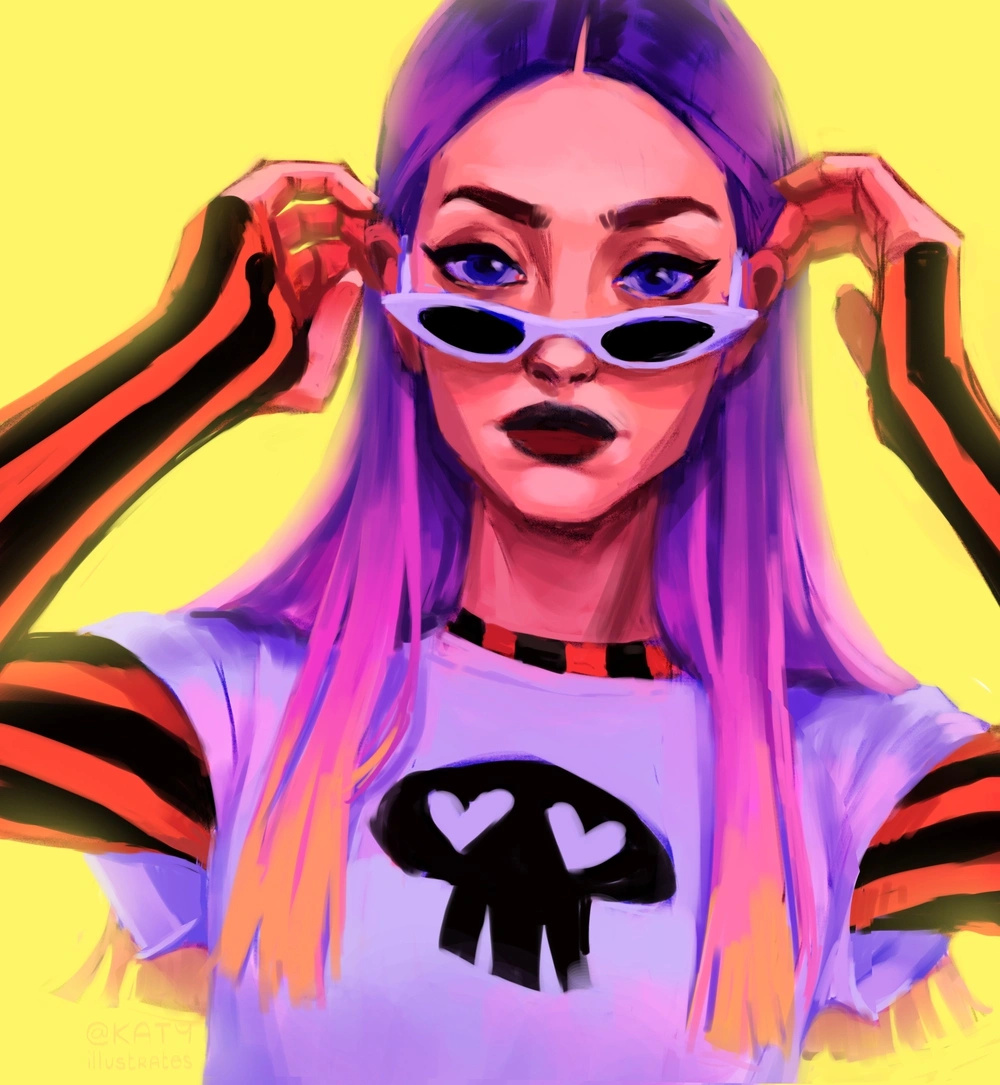 Heart pounding, vehicles humming, eyes narrowed... The goal isn't to defeat the rival; it's to cross the finish line. For her, that is. She's holding out. This digital artwork is a signed, limited edition piece. Users are buying all of this creation's noncommercial rights.
This work will be added to your virtual wallet after purchase. The platform of purchase will supply one for you if you don't already have one. You may print or even display the full-sized design for personal use by downloading it. Every purchase is final.
Others
Other pieces in this collection include Cherry, Lemon, and the recently released piece Strawberry.
CryptoKitties Series
CryptoKitties", which first started with BitcoinKitty is an original series that shows Katy's journey into the crypto world, through the lens of familiar cryptocurrencies, technologies, and kitties.
EthKitty
This work was inspired by the Ethereum (ETH) token as it was the first cryptocurrency ever owned by her, it was her first love and this piece was like Katy's love letter to her. [1]
It was sold at a whopping price of $12,810.40 (5 ETH)
DogeKitty
As the world was raving about Bitcoin (BTC) and the rise of cryptocurrencies, it was just much hype and not enough bite for Katy but one coin made her change her mind which is the now infamous Dogecoin. [1] It was sold for $5,124.16 (2 ETH)
MetaMaskKitty
This was her first introduction to owning cryptocurrencies and she frames this popular symbol like one of her french nudes. It was sold for $12,810.40 (5 ETH)
BitcoinKitty
BitcoinKitty was the first piece in her CryptoKitties series, it dropped in the early 2020 and was collected by Whaleshark_C4A after multiple rounds of bidding. [1] It was sold for $3,843.12 (1.5 ETH).
Other Remarkable Pieces
PhotoMosh Girl
This piece was inspired by the need to embrace being a digital artist, even more, she wanted to emphasize more what separates digital art from traditional art and one of those things is motion. According to her, she said;
"I loved the idea of mixing my digital paintings with animation but was at first daunted by the idea of learning animation. I then found PhotoMosh, a web app that makes it super easy to create those luscious glitchy gifs. Now my girls can have all the glitch effects they want." [8]
Birch Forest
This piece describes a mysterious girl in a white dress donning a bunny mask with big pointed ears. Despite the soft bright lighting, it is an unsettling image. Walking through a forest like this, even during the daylight, you wouldn't feel completely safe. When the trees have eyes, it feels like something is always watching you. [7]
It was sold for 0.66600 ETH ($253.69).
Personal Life
She is currently staying in Australia, about a year ago, she left the United States to go on a round-the-world trip indefinitely bringing all my artist equipment with her in order to feed her love of creating images and also to fund the ongoing trip.
See something wrong?
Report to us.
Katy Arrington
Did you find this article interesting?