Murakami.Flowers
Murakami.Flowers is a series of 11,664 pixelated dot flower art with unique traits and expressions created by Takashi Murakami , a famous Japanese artist, known for his aesthetic for blurring the lines between traditional Japanese art and modern pop culture.  [3][4]
Murakami.Flowers is an attempt to generate a worldview that joins the contemporary art world and the new NFT art or digital art community. Its mission is to connect it with those who inhabit the worlds of NFT and DAO. [3]
Hublot, a Swiss luxury watch company also launched two lines of watches with the Murakami.Flowers as a part of the NFT launch. [6]
Company
Kaikai Kiki Co is Takashi Murakami's company which is producing the Murakami.Flower. The company has also created numerous artworks, sculptures, CGI live-action films, TV-series-style animations, and many more. They are also involved in the world of luxury fashion by collaborating with famous and powerful brands, like Louis Vuitton, Vans, Vogüé, Suprême and many other famous brands. [9]
Overview
The Murakami.Flowers is Takashi's first NFT Project. The Non-Fungible Token (NFT) collection features 11,664 flowers that showcase Takashi's famous artworks. It is a collection of 2D pixelated 12-petal flowers with rare expressions, traits, and backgrounds.
The work is being developed with the number 108 as the keyword, a combination of 108 backgrounds and flower colors make up a field, and there are 108 fields, each field has 108 flower images, resulting in 11,664 flower images in total. The number 108 is a reference to bonnō, or earthly temptations.
Today the Murakami flowers can be seen in fine art, pop culture, fashion, and commercial products. The Murakami Flowers are supposed to be distributed in several steps: to Friends and Family, Whitelist, Public Sale, Lucky 727 Proof, Zen Number Proof and Bonno Proof.
At the time of launch, seeds will be distributed to holders which will then grow into flowers after the public sale.  [10][11]
Whitelist
The whitelist role will only be given to holders of the RTFKT's CLONE X holders, who own the Murakami Drip Series, where 3,500 whitelist roles will be given out also a total of 500 will be given out to Friends and Family. The sale price for the whitelist presale will be at a price of 0.0727 ETH. A total of 4,000 will be given to Friends and Family and Whitelist.
Any role which is left claimed from the total given to the whitelist holders will be offered for public sale.
Public Sale
The Public sale will come in form of lottery entries where a total of 6,751 spots will be given to lucky winners of the lottery and then offered through the public sale.
And then the Lucky 727 Proof. Also, 78 will be given to the Zen Number Proof and finally, 108 will be given to the Bonno Proof.
The Public Sale will be at a price of 0.108 ETH. Each purchase will be limited to one flower per Metamask wallet. [5]
NFT Distribution
| Distributed To | Percentage | Amount |
| --- | --- | --- |
| Whitelist Presale | 30% | 3,500 |
| Team, Artist, Family and Friends | 4.3% | 500 |
| Public Sale | 57.9% | 6,751 |
| Lucky 727 | 6.2% | 727 |
| Zen Number Proof | 0.7% | 78 |
| Bonno Proof | 0.9% | 108 |
Events
Takashi plans to hold an event in the summer of 2022. He plans to hold an exhibition at Gagosian, a global gallery specializing in modern and contemporary art. The exhibition will involve a surprise collaboration, as well as presentations of physical paintings and sculptures of Murakami.Flowers.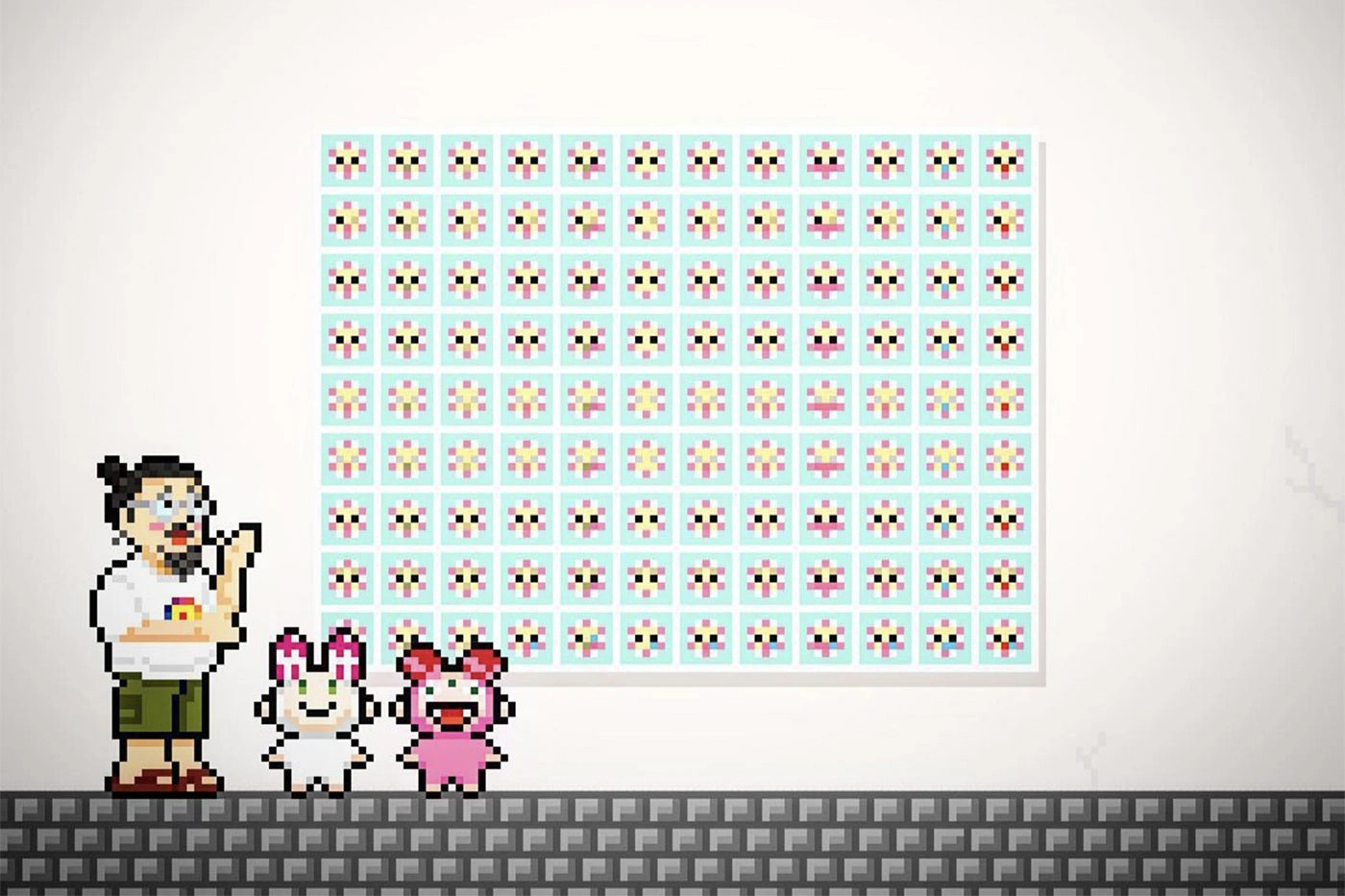 The event which is called ''An Arrow Through History'' is expected to be held on May 11, 2022, in three simultaneous presentations spanning two of Gagosian's New York galleries, at 976 and 980 Madison Avenue. During the event, Murakami plans to present his work based on the CLONE X - X Takashi Murakami NFT initiative, which he developed in collaboration with RTFKT Studios and also his newly developed project Murakami.Flowers which includes paintings of the pink-and-white works based on the initial designs for the 11,664 Non-Fungible Token (NFT) series.  [1][2]
Collaboration
Hublot x Takashi Murakami
Hublot, a Swiss luxury watch company, launched two lines of watches with the Murakami.Flowers as a part of the NFT launch. There will be two NFT Digital watch a Hublot Glass Takashi all Black and a Classic fusion Tikashi Saphire Rainbow.
The first NFT based on the All Black version, is a limited edition of 216, while the second, which will recreate the colors of the highly exclusive Sapphire Rainbow version, will be a limited edition of 108. These NFT digital works are mainly intended for the owners of these two limited-edition watches, to whom they will be offered. The current holders of these watches can easily be traced through Hublot's e-warranty protection and warranty system (a warranty system developed by Hublot, as part of a global trend to tackle corruption and track and trace the product's life cycle, initiated by LVMH. The Hublot e-warranty is stored in the AURA blockchain). If they want it, watch owners may then receive their free NFT in their E-wallet. In May, Hublot will then open a page on the Decentralized non-fungible token marketplace, where owners may exchange their NFTs. [6]
Artist
Murakami was born on the 1st of February, 1962, in Tokyo, Japan. He received an oil painting degree from Nihon University's College of Arts after studying at Musashino Art University and Tokyo National University of Fine Arts and Music.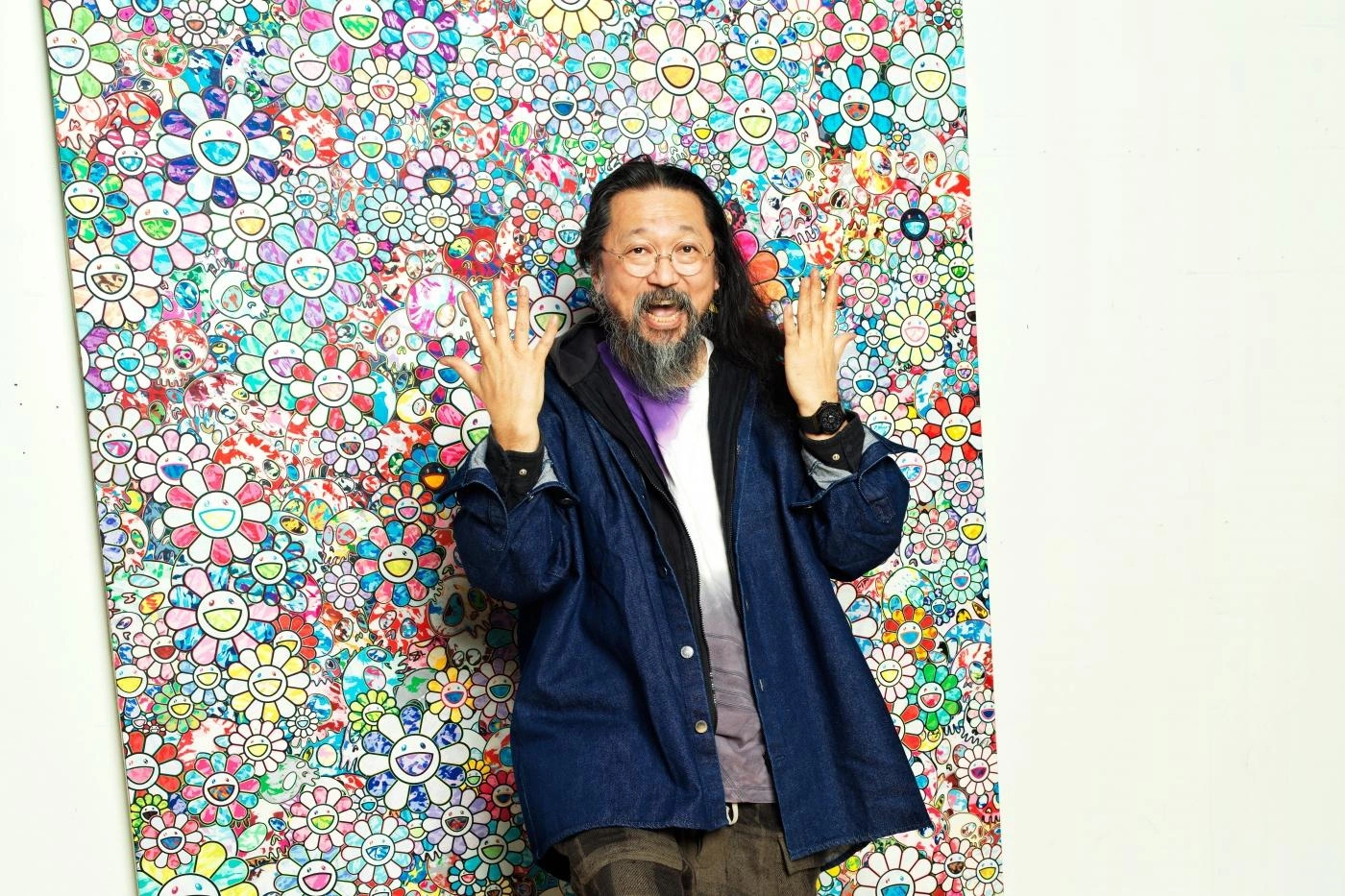 Murakami's work can be found in museums around the world, including the Museum of Contemporary Art in Los Angeles, the Ludwig Museum in Cologne, the Tate Modern in London, the Guggenheim Museum in Bilbao, the San Francisco Museum of Modern Art, the Walker Art Center in Minneapolis, the Hirshhorn Museum in Washington, DC, and the Palazzo Grassi in Venice.
Murakami is also the artist behind CLONE X - X Takashi Murakami, a collection of 20,000 avatars with a unique random mix of features in collaboration with RTFKT Studios.  [8]
[4]
See something wrong?
Report to us.
Murakami.Flowers
Did you find this article interesting?