Neo
NEO is a blockchain platform powered by NEO Token which enables the development of digital assets and smart contracts. The project was originally launched in 2014 as AntShares and was founded by Da Hongfei and Erik Zhang but rebranded from Antshares to NEO in June 2017. [1][3]
Neo uses a delegated Byzantine Fault Tolerance (dBFT) consensus mechanism and can support up to 10,000 transactions per second.[1][2][6]

Overview
The Neo platform provides a range of infrastructures, such as decentralized storage, oracles, and domain name services. Within this ecosystem, users can create, deploy, and utilize decentralized applications (dApps), products, and services. [7]
Neo is often compared to Ethereum due to its smart contract capabilities, allowing for the development of dApps that serve various purposes, including social media, prediction markets, decentralized finance (DeFi), and decentralized exchange (DEX) platforms. [7]
The Neo platform provides users with the ability to store, transact, and distribute different types of assets, including linking physical assets with digital tokens on the blockchain. [4]

Neo EcoBoost Program
On May 14, 2019, at the Consensus 2019 event, NEO Founder and CEO of NEO Global Development (NGD) Da Hongfei, announced the USD$100M EcoBoost program designed to support the growth of the NEO ecosystem. [17]
The NEO EcoBoost program was created to support developers and project participants in the NEO ecosystem. It provides growth support to projects from 0-1/1-N of their project development stage. [17]
The Ecoboost program was officially launched on June 26, 2019. [17]
History
In 2014, AntShares (ANS) platform was created, later rebranded as NEO in June 2017. Its establishment was led by Da Hongfei and Erik Zhang. Around the same time, Da Hongfei and Erik Zhang also founded OnChain, a Chinese cryptocurrency company that primarily offers blockchain solutions to local governments and enterprises. OnChain received venture capital and provided financial services based on blockchain technology, catering to the needs of government regulators and private companies.[8][10]
NEO holds the distinction of being the first Chinese blockchain to incorporate smart contract functionality for public use. It also introduced a dual-token system and implemented a consensus mechanism based on Byzantine Fault Tolerance (BFT). The Genesis Block included 100 million tokens, which were distributed according to the mechanism outlined in the white paper. [9]
In February 2019, Neo Blockchain opened an office in the United States city of Seattle. The office was headed by ex-Microsoft executive John deVadoss. The Neo Global Development (NGD) Seattle office was established to expand Neo's presence in the U.S. market and leverage Seattle's reputation for tech talent and innovation. [16]
On June 2, 2020, Neo initiated the InterWork Alliance (IWA)—a platform-neutral, non-profit organization as one of five sponsor members. To accelerate blockchain innovation, IWA was created to encourage mainstream adoption at the business level by developing and promoting tokenization standards to bring together various blockchain networks. [18]
On August 18, 2020, Neo launched Poly Network along with other founding members, Ontology and Switcheo. The main goal of Poly Network is to establish the foundation for the Next-gen Internet (NGI) by promoting integration, cooperation, and innovation in blockchain technology. [20]
Governance
The Neo governance model comprises three key components, namely candidates, committee members, and consensus nodes. The committee is tasked with maintaining the on-chain environment and adjusting parameters for the main network. On the other hand, consensus nodes are responsible for packaging transactions and creating blocks. The election process involves selecting consensus nodes and committee members from a pool of candidates based on the highest number of votes received. [11]
The relationship between committee members and consensus nodes is not explicitly defined. However, given that the default number of committee members is 21, which is greater than the number of consensus nodes (7), it can be inferred that consensus nodes are typically a subset of committee members. The nature of the relationship between the committee members and consensus is as presented in the image below: [11]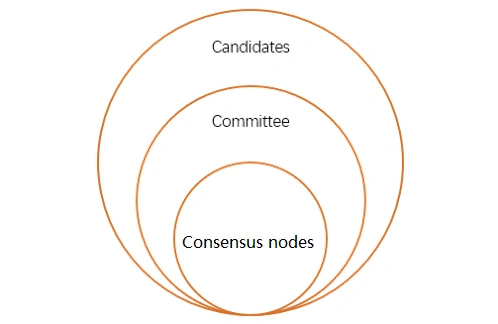 Tokens
The Neo ecosystem has two tokens:
NEO
The Neo network is owned and managed by NEO token holders. Through the creation of voting transactions on the Neo network, users can be involved with blockchain governance. This includes the ability to elect consensus nodes, adjust consensus plans of action, and modify pricing models. Additionally, users can claim GAS proportional to the amount of NEO they possess. [11][14]
NEO Distribution
The Neo initial coin offering (ICO) took place from August 8 to September 7, 2016. During this period, 50% of the tokens were sold and Neo raised $4.65 million. The remaining 50% was distributed to the NEO council. [3][9][25]
GAS
GAS is the designated fuel token for facilitating Neo network resource control. Its minimum unit of measurement is 0.00000001. GAS can be acquired by users through either a claiming process or a purchasing process. When using the Neo network, users are required to pay a specific amount of GAS as network fees for various actions including transferring, registering assets, publishing assets, running DApps, and more. [11]
GAS Distribution
The Neo blockchain generates five GAS tokens for each mined block. This in turn is distributed to the Neo Committee (consisting of consensus nodes and candidate nodes), NEO voters, and all NEO holders. [11]
The generated GAS is distributed as follows: 10% is allocated to the Neo holders, 10% to the NEO committee & consensus nodes, and the remaining 80% is divided among Voters in the Neo Committee. [10][11]
Technology
Smart Contract
Neo's smart contracts support multiple programming languages, such as Python, C#, Java, and Go. Neo's approach is to prioritize the integration of blockchain technology into the developer's workflow, rather than mandating developers to adjust to blockchain technology. Once the smart contracts are developed, they undergo compilation to conform to the standard NEF (Neo Execution Format). [11][10]
Consensus Mechanism
Due to the NEO platform's emphasis on regulatory compliance and its role as a decentralized application development platform, the system employs a delegated Byzantine Fault Tolerance (dBFT) consensus mechanism. [12]
The dBFT mechanism enables large-scale participation in consensus through proxy voting. The holder of the NEO token can, by voting, pick the consensus node it supports. The selected group of consensus nodes, through the BFT algorithm, reach a consensus and generate new blocks. Voting in the Neo network continues in real time, rather than by a fixed term. [12]
NeoFS
NeoFS is a decentralized data storage solution that allows for storing data in the NEO blockchain network. NeoFS is a secure and private data storage solution that can be used as a cost-effective alternative to centralized data silos. The data is safeguarded using cryptographic encryption and grants developers complete authority over the storage and management of their data. [9]
NeoID
NeoID allows users to create decentralized identities, securely stored on the Neo blockchain. Users can choose to transact exclusively with partners possessing verified digital identities within the NEO platform. This measure aims to enhance security against fraud while aligning with global legal regulations. [10][9]
Neo Name Service
Neo provides decentralized domain names for web applications built on the Neo blockchain, like the Ethereum Name Service. The available domain names terminate with the extension ".neo" and can serve as a substitute for a conventional wallet address, thereby facilitating the process of sending cryptocurrency, akin to sending an email. Users have the option to send funds to a designated name, such as "myname.neo," instead of a lengthy combination of alphanumeric characters. [10]
Neo Wallet
The Neo blockchain's native crypto wallet facilitates the transfer of NEO or GAS during transactions or smart contract interactions. The web wallet is designed to facilitate the navigation of decentralized applications within the Neo cryptocurrency ecosystem and is user-friendly.[10]
NEO Legacy to NEO N3 Migration
In August 2021, the Neo blockchain was upgraded from Neo Legacy to version 3.0 known as N3. [15]
The migration involved transferring NEO and GAS tokens from the Neo Legacy blockchain to the Neo N3 blockchain. The migration allowed users to take advantage of the enhanced features and capabilities of the Neo N3 platform. [13]
The migration process generally involved creating a new address on the Neo N3 blockchain and sending the Neo Legacy tokens to a migration contract. The tokens were migrated at a 1:1 ratio, meaning that each NEO or GAS token on the Neo Legacy blockchain was transferred as one NEO or GAS token on the Neo N3 blockchain. [15]
Neoverse
On September 1, 2021, NGD (Neo Global Development) launched Neoverse, an NFT mint and collection event to celebrate the launch of N3 together with all developer communities and users around the world were encouraged to participate. [21]
The Neoverse N3 Collector's Edition NFTs are invaluable collectibles and they also carry "VIP" privileges within the Neo ecosystem, further activating the growth of the N3 ecosystem. [21]
There were 9 N3 element pieces presented, which were randomly minted from blind boxes, representing 9 major features of Neo N3 respectively.[21]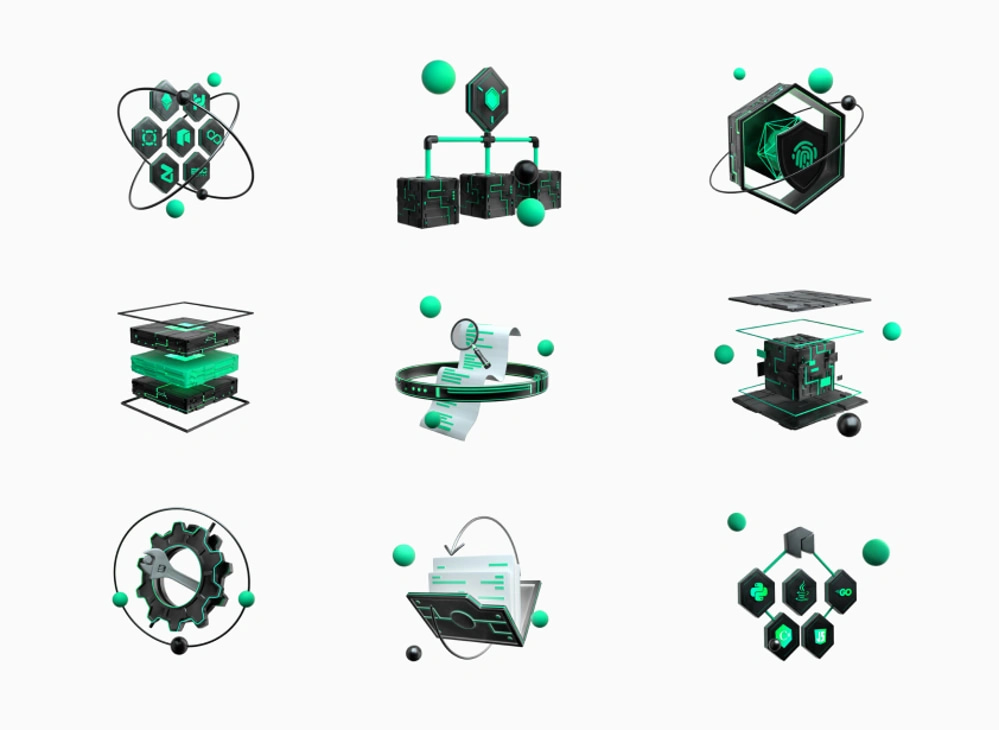 Partnerships
Neo x Blockchain-based Services Network
On July 21, 2020, Neo partnered with the Blockchain-based Services Network (BSN)—a global infrastructure aimed at building a digital economy by providing a low-cost platform for blockchain projects and companies alike. The partnership enabled Neo to become one of the technological pillars of the BSN while working alongside other key players such as the Chinese State Information Center, China UnionPay, and China Mobile to accelerate and realize blockchain innovation and mass adoption. [19]
Speaking on Neo's partnership with BSN, Da Hongfei, Founder of Neo, noted that,
"Blockchain adoption has accelerated dramatically within the past few years, and I'm excited to realize the smart economy of the future with the support from BSN. At our core, Neo is fundamentally committed to realizing a platform-neutral and fully digitized world to overcome the limitations of our current paradigm. As such, we look forward to overcoming the challenges facing mainstream blockchain while fostering cross-industry collaboration.  Hand-in-hand with our partners, I am confident that we will realize mass adoption of blockchain and build the smart economy of the future."[19]
Neo x Immunefi
On January 7, 2022, Neo collaborated with Immunefi, a bug bounty platform for Web3 to offer a vulnerability bounty program. [22]
The program was created to provide a proactive channel where security researchers could report on and earn rewards for identifying potential security vulnerabilities related to the underlying Neo blockchain infrastructure. [22]
Critical issues that could lead to severe asset loss were allocated a bounty of up to $100,000, High issues that could lead all networks to fail were allocated a bounty of up to $50,000, Medium issues regarding single node failure - bounty of up to $20,0000, and Low issues were allocated a bounty of up to $5,000. [22]
"Information and data security have always been the most important concern of Neo, so this collaboration with Immunefi is a natural fit. With the aim of deploying many more DeFi, NFTs, and other future-oriented applications, Neo N3 will continue to deliver unparalleled efficiency and security at a low cost." - Steven Liu, Head of Development at NGD.[22]
Neo x Diesis
On March 1, 2022, Neo partnered with the EU social economy network, Diesis to collaborate on a series of initiatives that would help Diesis Network create a smart, social economy based on the foundation of the Neo N3 ecosystem's decentralized file storage, NeoID, and use of smart contracts. [23]
The initiatives include technical assistance in incorporating blockchain solutions, as well as talks and training sessions for Diesis' organizations to identify areas where blockchain could foster stronger social communities and enterprises. [23]
Lili Zhao, Director at Neo Global Development, the operational arm of Neo, commented:
"With Diesis's international networks covering millions of members and its outstanding track record in supporting the European Commission, we are thrilled to join forces and take social innovation to the next level."[23]
Neo x OKX
On July 5, 2023, Neo announced the launch of the Neo APAC Hackathon in partnership with OKX. The event included a total prize pool of $120,000 for event winners and a post-hackathon grant fund of $1 million, provided by Neo Foundation and dedicated to fostering blockchain growth in line with recent positive regulatory developments in the APAC region. [24]
Neo invited Web3 enthusiasts and talented individuals across categories - DeFi & Payment, NFT & Gaming, AI, Social & DAO, Infrastructure & Tool, and General. Each category was allocated a final prize of $10,000. [24]
The Hackathon is set to run from July to October 2023, featuring a combination of virtual participation sessions and offline events across six APAC cities. [24]
See something wrong?
Report to us.
Neo
Did you find this article interesting?