OctoFi
OctoFi (OCTO) (Launched November 2020) is an ERC-20 native cryptocurrency token issued atop the Ethereum Blockchain and utilized to power the OctoFi's ecosystem[1][2].
OctoFi is an open-source platform that offers decentralized finance products, with the aim of empowering its users to invest in DeFi (Decentralized Finance) from a platform owned by users via aggregating thousands of opportunities with what OctoFi defines as 'decentralized finance tentacles'.
Company
OctoFi LLC was founded in 2020 as a financial service providing organization, that has its tentacles across Blockchain, DeFi (Decentralized Finance), and cryptocurrencies.
Team Member
Located in Sydney, New South Wales of Australia, OctoFi LLC has amassed between 1- 10 employees, with the majority of its core members being anonymous[3].
The team has chosen to remain anonymous and has a number of reasons for choosing to do so. Main reason: Decentralization- OctoFi Team[4].
The company's pursuit is aimed at being an all-in-one DeFi (Decentralized Finance) platform and an open-source, that combines the best that decentralized Finance) has to offer into a single user-friendly application.
Team Interests
With a sound affirmative message sent to the platform's users and prospecting participants, OctoFi Anonymous Team (OAT) introduced some cautions its users must take in a bid to keep them reclined within the platforms' decentralized sphere, which explains that: users are not to lean on founder's reputations, Avoid "cult leader" vulnerability, Foster grassroots organic community, Empower project to stand on its own, Minimize the chance of being shut down, Reduce social exploit attack surface, and Focus on the product and ecosystem.
Finally, on the OctoFi team, users are to realize that none of the ecosystem's team members will contact users requesting access to their funds, or that they share private keys or seed phrases. The OctoFi team members provide a transparency report to its users with respect to time[5]
The provided anon official contacts for its team are given as- @OctoFi and @OctoFi_Dev on Telegram, and @octofinance on Twitter.
Co-Founder
The Co-founder of the OctoFi's ecosystem is an anonymous financial enthusiast who has described himself on the platform's blog as a fellow of the "Tentacult" and refers to friends or users of the ecosystem as "frentacles". He is known as Dr. Octavius, whose doctorate can't be ascertained to be from an educational qualification.

Dr. Octavius- Cofounder OctoFi
Dr. Octavius summarized himself as the:
Co-founder of OctoFi and lifelong octopus enthusiast- Dr. Octavius[6].
Fund Raising
OctoFi LLC had a pre-seed round, in which the company was able to accrue a total of $400K USD in funding over one round. This pre-seed session was completed on the 1st of June, 2020[7].
OctoFi- Genesis
OctoFi infrastructure is a cryptocurrency project, founded and launched in 2020, and was designed by its Devs to offer a frictionless oversight by incentivized stakeholders who share in the ecosystem's best interests. The project's Data sourcing, provisioning, verification, quality assurance, storage, and consumption, all utilize the same tokenomics for effective governance.
The platform's governance token (OCTO), are important for users participating in voting to settle governance decisions, Remuneration for sourcing and provisioning data collection, Verifying data tentacles and support systems with Staking, Funding development resources and platform support, Gaining access to live data feeds and API marketplace
The platform's flagship project, Octoken, includes bonding curve distribution and Decentralized Exchange (DEX) allocation of the OCTO governance token which commenced on 14 September 2020[8].
Dashboard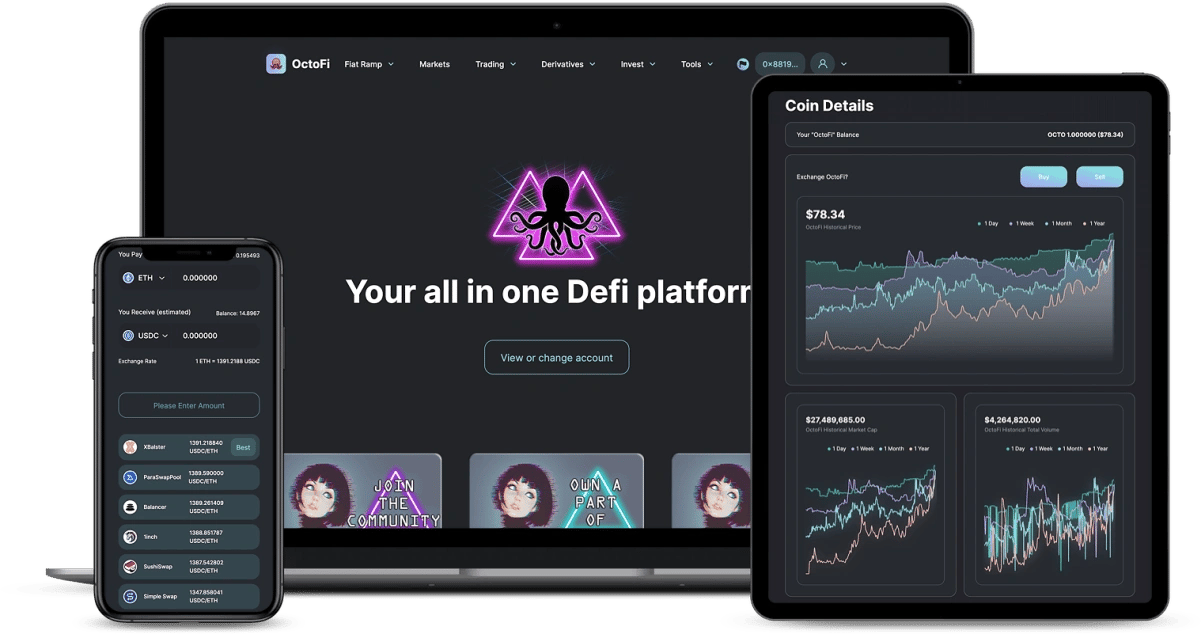 OctoFi dashboard
The OctoFi website's dashboard incorporates a relatable, clean, and simple user experience and user interface. The dashboard provides such an interface, users can easily go through. The OctoFi decentralized and open-source dashboard allows users to connect using MetaMask, Ledger, WalletConnect, Trezor, Trust Wallet, Portis, Coinbase Wallet, and Torus.  OctoFi dashboard offers its users the following features:
| Buy-Feature | Swap-Feature | Trade-Feature | Inves- Feature |
| --- | --- | --- | --- |
| Crypto (fiat on-ramp) | Uniswap | Spot markets | Liquidity pools |
| Gift cards (fiat off-ramp) | DEX routing | Spot trading | Token sets |
| Luxury goods (soon) | CEX routing | Market making | Loans |
| OctoFi swag (soon) | Cross-chain (soon) | Margin trading | NFT. |
Overview
OctoFi (OCTO) is a DeFi project that believes that transparency and anonymity is a Blockchain-Crypto possibility, and the project is in pursuit of this course with its eight guiding principles (with respect to 'OCTA' as the tentacles driving the project).
In the end, there will always be trade-offs associated with anonymity, but for OctoFi, we feel that staying anonymous is the right choice, at least for now- OctoFi
Summarily, the existence of OctoFi is to make everything open-source, cherish its community since they contribute immensely to the project, educate the inquisitive, remain transparent, say no to surveillance, keep the meme alive , empower the people, and to make trust obsolete- with an explanation that the project's movement is permissionless and trust was never part of the equation. As such users are advised not to trust a team, but to get their work verified[9].
OctoFi users are reportedly going to benefit from its 'octomized' structure whereby 'tentacles' connect them with various applications while leveraging truly open and transparent infrastructure[10].
OctoFi Features
OctoFi continues to evolve to meet its community's requirements. The following are fundamental and important features of the OctoFi ecosystem:
Buy-Feature:
A functioning and basic important feature, as displayed on the OctoFi's dashboard. Users can easily employ this feature to buy OCTO and many others using fiat currencies through payment methods with transparent fees. With an almost instant processing time, users can run their Know your customer using light (or basic) user details and address.  The OctoFi Buy Feature allows users from over 56 countries including the United States, Fiat currencies such as CHF, USD SEK PLN NOK NZD, HKD, CAD, AUD can be purchased directly using the OctoFi Buy Feature[11].
Swap-Feature:
The swap feature is an interesting crypto feature incorporated within the OctoFi's ecosystem and is used to exchange cryptocurrencies for another. This feature has been merged into one service known as Swaptopus. After users might have connected to the OctoFi Swap feature using wallets (e.g MetaMask, WalletConnect, Trust Wallet, etc,.) they can exchange over 50 crypto-coins or token (such as $Aave, $ALEPH, $ANJ, $BAL, $DODO, $ETH, amongst other numerous tokens) for another cryptocurrency. Othe Swap features within the OctOFi includes using:
Aggregators:
Aggregator swap featrure
The OctoFi Aggregator was initially known as Instant Swap and is utilized to allow more economical trades by routing through the Decentralized (or centralized account-less swap services) exchanges (DEX) offering the best exchange rate.
Uniswap:
Users can also employ this swap function as incorporated within OctoFi Swap features to swap tokens using Uniswap protocol. Users can therefore view total assets, net worth & debt, Search by name or paste token/coin address, Add and manage Token Lists, Swap directly in-app, and View pair analytics on the OctoFi Swap-Uniswap platform[12][13].
Trade-Feature:
With Centralized Exchange (CEX) in the front and Decentralized Exchange (DEX) at the back, OctoFi Trade feature offer:
| Trade Specifics | Description |
| --- | --- |
| Spot Market | where users can browse available spot trading markets; |
| Spot Trading | where users can get the centralized trading experience frontend while sourcing liquidity through decentralized protocols in the backend (which is a work in progress). |
| Market Making | where users can employ the market making limit order management (which is also a work in progress). |
| Margin Trading | This feature will allow users to trade up to 5x leverage (this also is a work in progress).[14] |
Invest-Feature:
By utilizing OctoFi's ecosystem users can access thousands of DeFi (Decentralized Finance) investment opportunities to which users can deploy their cryptocurrency capital. With about four sections of yield-able investments, users can explore fully the octoFi's investments platform. User can invest with OctoFi's:
Liquidity Pools: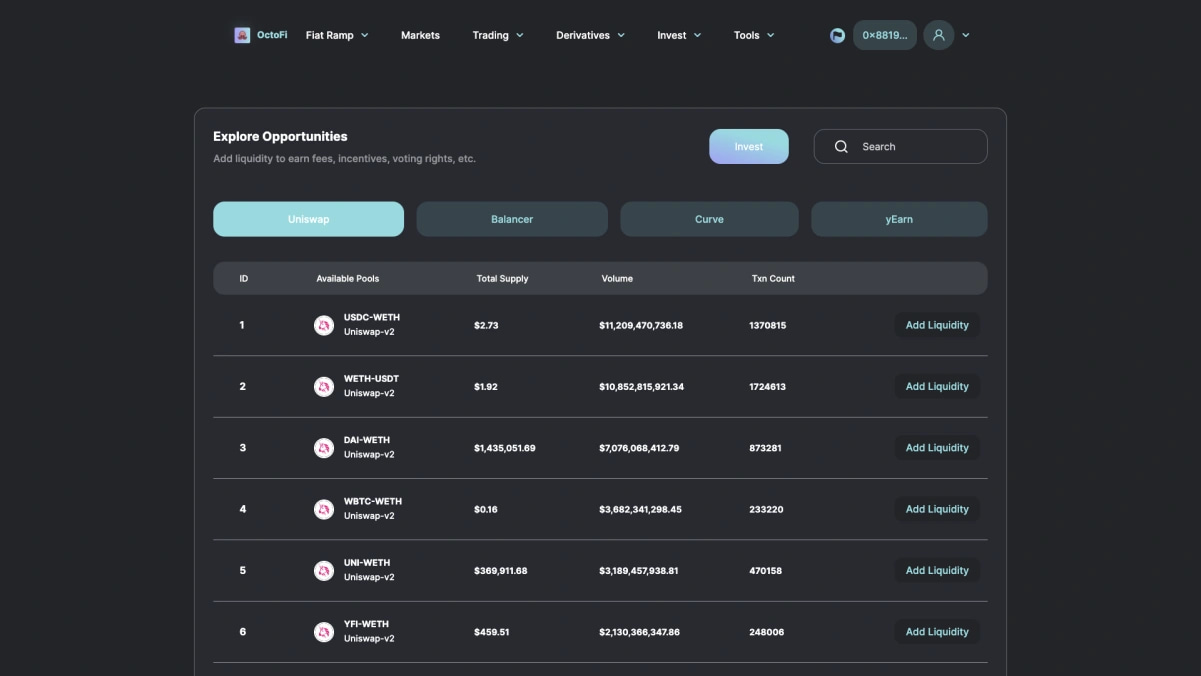 Liquidity Pool
Users can explore pools and provide liquidity. Users can also add liquidity to earn fees, incentives, voting rights and more, across various pools using OctoFi investment platform. Users can view total assets, debt, and net worth, Add to any pool using the Invest button, Filter liquidity pools by platform, Search for tokens and pairs, Add liquidity, and also Withdraw liquidity.
TokenSets-
Users can also explore and invest in token sets, as indicated atop the OctoFi's platform. The tokensets interface shows the users' portfolios and rebalancing sets[15].
Loans-
Users can Lend and borrow money market protocols using the OctoFi invest feature. Users can deposit tokens as well as borrow others and benefit from investing with OctoFi invest.
NFT-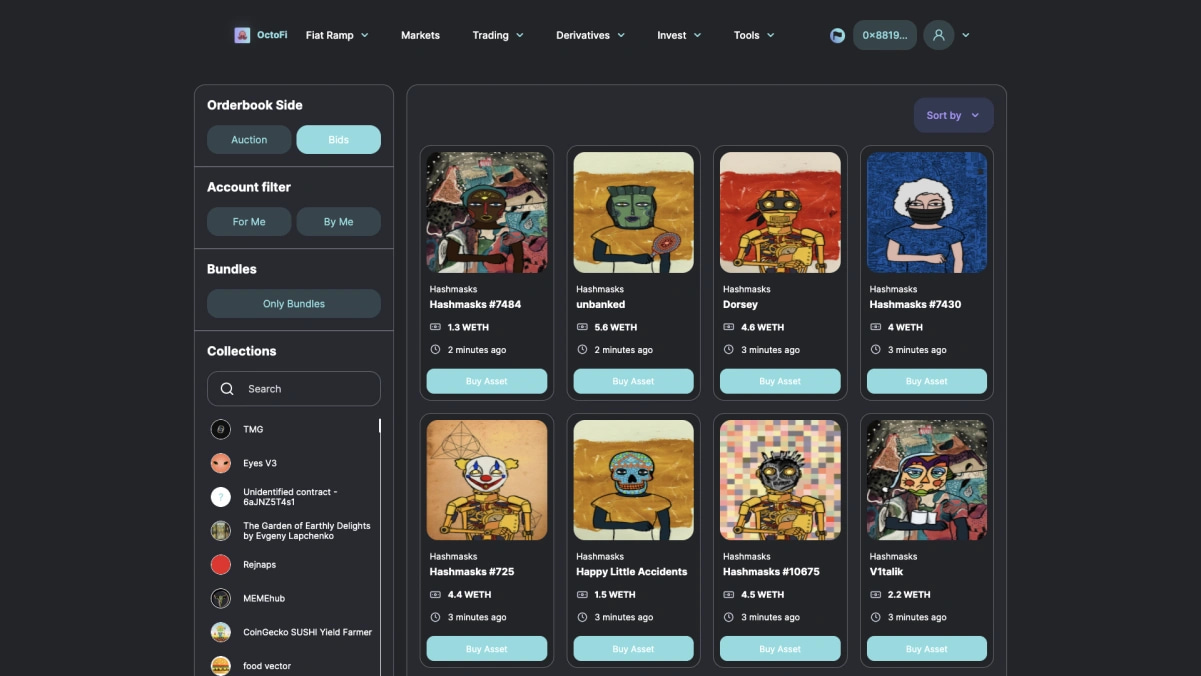 OCTO NFTs Sample
Users can browse through and trade non-fungible tokens (NFTs) and collectibles atop the OctoFi Invest interface. Users can filter Non-Fungible Tokens (NFTs) by status , categories, and cal so search and filter by collection, utilizing various options for sorting, and Buy and sell directly in-app. Users can also analyze price history and view asset transaction history. OctoFi Invest aims to import other additional features[16].
Tools:
This feature allows users to participate in the DeFi (Decentralized Finance) ecosystem, by taking part in the OctoFi's Decentralized autonomous organization governance and voting.  Users can thus create proposals for any project using Snapshot gasless governance and can browse rankings of the cryptocurrency market. Users can analyze individual coin charts and information, explore and discover trending investment opportunities as displayed on the Tools' interface.
OctoFi Projects
OcToken Project:
The OctoToken Project was the beginning project issued within the OctoFi's ecosystem. OCTO governance tokens were distributed through a bonding curve sale that commences 14 September 2020 at 00:00 UTC and a total of 125,000 tokens were made available to participants and 'frentacles' were welcomed to support the development of the OctoFi DeFi (Decentralized Finance) ecosystem.
Aquafarm Project:
OctoFi's interest (and airdrop) program is a functional part of the OctoFi project and provides an attractive incentive scheme for holding governance tokens for 3, 6, and 12-month runtimes. OctoFi's own smart contract, and furthermore additional lending solutions, will provide the yield required for what the ecosystem calls Aquafarming. While the interest program allocation is specified, the potential for developing further yield-bearing applications for $OCTO token holders is within reach in the near future.
Tentacle Project:
OctoFi's DeFi (Decentralized Finance) oracles tentacles are the core component of the OctoFi ecosystem. All Octonauts, regardless of holdings, are encouraged to participate in the various applications associated with their OCTO tokens.
As a community, OctoFi claims to be committed to advancing an open and transparent standard for data oracles that are truly owned and operated by token holders. As part of the Tentacles platform, further token distributions are associated with:
Remuneration for sourcing and provisioning data collection
Funding development resources and platform support
Gaining access to live data feeds and API marketplace.
OctoFi Bonding Curve
Bonding curves are Smart contract s designed to provide tokens with their own market by creating buy and sell functions. Token prices increase and decrease as they are bought and sold from the contract respectively. The number of tokens on the market, and the average price of each token per transfer batch, are the characteristics that determine a trade.
The OctoFi's bonding curve was inspired by the 'sigmoid bonding curve' model, with the aim to remunerate the ecosystem's early supporters for their participation and commitment to DeFi (Decentralized Finance) in the broader sense, rather than favoring short-term speculators.
Tokenomics
OctoFi (OCTO) is an ERC20 Cryptocurrency token issued on the Ethereum Blockchain and is utilized to power the OctoFi's ecosystem as the native token. The token's ticker is denoted as $OCTO and it has a Total Supply of 800,000 OCTO (MAX). The current Circulating Supply of $OCTO is over 350,000 OCTO tokens. The token was launched for trading in November 2020 and recorded its All-Time-Low on October 21, 2020 as $6.19 USD. $OCTO's All-Time High (ATH) as $127.81 USD on February 15, 2021. Currently, the most active cryptocurrency market trading $OCTO is Uniswap (V2) cryptocurrency exchange[17].
Token Features
The $OCTO token has the following features:
Token utility
The following is highlighted utilities of the OctoFi tokens:
The OCTO token is used to govern the OctoFi platform,
The $OCTO token is also used to unlock exclusive features,
and to distribute ALL fees generated.
Users can purchase $OCTO on Uniswap or directly from OctoFi, but are advised to always check the token contract address first.
Users can currently utilize the $OCTO token as:
| Liquidity Providers | Passive Holders |
| --- | --- |
| Earn OCTO + USDC (usdc.octo.fi) pool fees | Earn OctoFi platform fees |
| Earn OCTO + ETH (eth.octo.fi) pools fees | Unlock exclusive features |
| Earn OCTO for LP staking (farm.octo.fi) | Vote on governance decisions |
a wholesome of 100% of the platform fees generated within OctoFi's ecosystem is distributed to holders proportional to their share of the $OCTO circulating Supply. Users are to also note that snapshots determine whose holdings are eligible at each monthly distribution. Payouts are made in Stablecoins directly to eligible wallets (with Liquidity Providers (LPs) excluded), and do not require staking or claiming.
Platform Fees :
Platform fee collection address can be found at (fees.octo.fi) and adheres to OctoFi's strict transparency standards. Revenue is derived from a combination of native platform fees, partner referral commissions, and project capital deployments, among other sources.  The table
Token Distribution:
OctoFi (OCTO) token is distributed thus:
| Token Allocation | Amount ($OCTO) | Mode of Distribution |
| --- | --- | --- |
| Public Sale | 125,000 OCTO | Distributed via bonding curve ($0.18 - $1.08)1 |
| Project Reserve | 275,000 OCTO | Assigned to the transparent project fund |
| Interest Program | 200,000 OCTO | Allocated to interest programs |
| Early Backers | 200,000 OCTO | Distributed among strategic cohort ($0.18) |
Audits
OctoFi LLC ecosystem has been audited with the majority of the code declared standard and copied from the widely-used and reviewed contract. The security audits amongst other audits have been conducted, making the ecosystem appear safe for 'frentacles' to venture.  OctoFi resounds that[18]:
The audit does not give any warranties on the security of the code. Besides, security audit is not an investment advice- OctoFi
Social Media
OctoFi (OCTO) is available on Social media handles. Even though the team is not known because of their anonymity, the ecosystem has channels on Twitter, Telegram, YouTube, and GitHub[19].
Conclusion
No doubt, DeFi (Decentralized Finance) is becoming big and is going to grow bigger. The recent boom in the Non-Fungible Token (NFT) is another 'gold' in the 'crypto-verse'. OctoFi's vision, in lieu of all these developments, is to make the ecosystem's transparency top notch and to offer its platform as the all-in-one Defi platform, proving scalable solutions for investments, Non-Fungible Token (NFT), and DeFi (Decentralized Finance).
OCTO is interesting because 100% of the platform fees are distributed among OCTO holders. As the platform continues to grow, and total revenue through fees continues to grow, so do the payouts to token holders. OctoFi (OCTO) also poses a tremendous growth opportunity for 'frentacles' (or friends of tentacles-the users).
See something wrong?
Report to us.
OctoFi
Did you find this article interesting?