adToken
adToken (ADT) is a cryptocurrency that improves the advertising market by detecting fraudulent websites. It is the native currency of the adChain Registry that provides solutions for the digital advertising ecosystem.[1]
Overview
adToken is a standard ERC20 token on the Ethereum Blockchain. It's intended for use in the adChain Registry app. adToken (ADT) is a true utility token because it is integral to the functionality of the adChain Registry.[3]
It is a browser-agnostic solution that builds up a clean pool of supply for advertisers who want to post their ads on non-fraudulent websites. The coin gained traction because it is the first ever decentralized whitelist for authentic publisher domains.[1]
Development
ConsenSys, MetaX, the Data & Marketing Association (DMA) and the adChain Association (ACA) have together set up the adChain Registry open protocol.
MetaX provides user interface for facilitating voting process through a Web browser. DMA promotes responsible gathering and refining of detailed data for the identification and fulfillment of customer needs and interests and also provides a marketing ecosystem for the industry participants.[2]
adToken Technology
adChain uses layer technology such as Transport Layer Security (TLS) to push authentication out of the application layer. This enables adChain registrants to conduct ad commerce in markup formats like RTB, VAST, VPAID, etc. This also allows authentication by the old production-ready software. So, new users can save significant onboarding costs which can be as low as a few lines in a webserver config file.
adChain uses bidirectional TLS to authenticate users with the help of certificate signing keys in the Web HTTPS regime. Publishers may either run their own ad servers to retain control of their certificate signing keys or work with vendors who solicit bids and return ad markup. This is mutual authentication wherein the vendors must apply for a listing in the adChain Registry or interface with publisher-controlled signing servers.[3]
Features
adChain's governance model prevents the websites from inflating the figures of the number of impressions that they acquire because it tracks the listed publishers' activities.
The platform is completely Decentralized as all participants are eligible to audit the whitelist. This also maintains transparency of the platform.
The developers can also create their own dApps, and customize or directly use adChain registry's dApps like the Bot Recognition dApps, which separates the bot-generated clicks from human clicks. This increases the functionality and usability of the platform.[1]
Tokenomics
The ADT token is launched on the Ethereum blockchain and is utilized as the native currency for MetaX[8]. According to its Ethereum explorer reports, its total supply is capped at 1,000,000,000 ADT and a current fully diluted market cap of $91,920.00. Currently, there is no centralized market open for trading $ADT tokens, and its major liquidity lies in Uniswap[6].[7]
Team
The technical team is led by Mike Goldin who is also the founder of ConsenSys, Ameen Soleimani and Miguel Morales. All of them have rich experience in  Blockchain technology. The development team is backed by Shailin Dhar and Raleigh Harbour, who have been chosen for active consulting roles given their experience in digital advertising industry.[1][4]
The most recent post from the team on their social handles dates 2019 on their twitter space.
See something wrong?
Report to us.
adToken
Did you find this article interesting?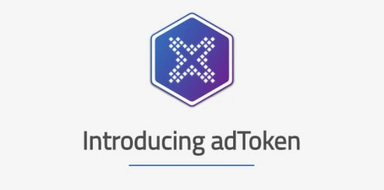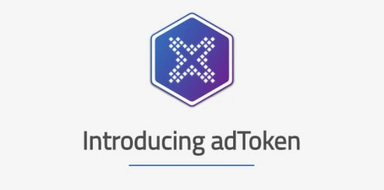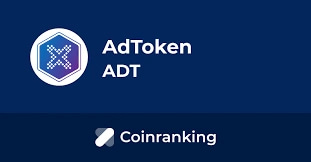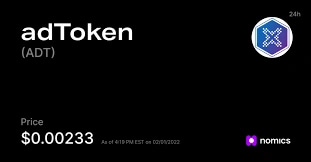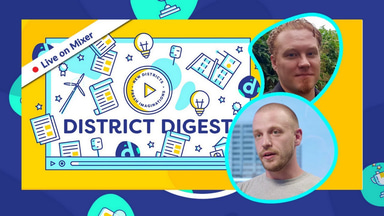 REFERENCES
[2]
AdToken Review
Jul 27, 2022
[4]
Crunch Review
Jul 27, 2022
[5]
Current liquidity histroy
Sep 8, 2022
[6]
ADT Uniswap liquidity
Sep 8, 2022
[8]
ADT token market overview
Sep 8, 2022