Atul Khekade
Atul Khekade is the Founding Director and Ecosystem Support at XDC Foundation, the community behind XDC Network, and Impel, a company bringing a global messaging standard to the web3 space, powered by XDC Network. He is also a co-founder of XinFin Hybrid Blockchain, the company that helped in the establishment of XDC, and is also a co-founder of TradeFinex, a DeFi protocol on XinFin. [1][2]

Education
In 1997, Atul enrolled at Government Polytechnic, where he he obtained a Diploma in Computer Engineering in 2000. [1]
Building upon his diploma, Atul pursued a Bachelor's degree in Information Technology at Sardar Patel College of Engineering in 2000 and graduated in 2003. [1][3]
In 2006, he participated in an Innovation Trip, attending executive education programs in Boston and San Francisco. During this time, Atul had the opportunity to engage with prestigious institutions such as MIT Campus in Boston, Stanford Campus in California, and Harvard Business School Campus. Through this experience, he explored new product development and systematic innovation under the guidance of esteemed faculty members, including the Chief Technology Officer of Hewlett Packard and the Chief Innovation Officer of 3M. [1]
We conduct these kinds of workshops with a company's executives in attendance. We take them on visits to organisations in the US like Ideo, the company that designed the palmtop, in Palo Alto. These sessions help people understand the importance of innovation and pioneering work in making a company successful.
Career
Atul Khekade has had a diverse and successful career in various roles, starting from his early days as a software programmer. From October 1997 to September 2005, he worked as a freelance software programmer, gaining extensive experience in systems and web programming in languages such as C++, Visual Basic, Java, and Oracle. During this time, he worked on distributed systems, core banking systems, and payment systems. [4]
In January 2004, Atul joined Oracle Financial Services Software Ltd as an Associate Consultant. In this role, he played a key role in the development of Citigroup's global transaction system, which was designed to handle trillions of dollars of transactions every month. He worked with i-flex Solutions (now Oracle) and contributed to the success of this crucial financial system until March 2005. [4]
From 2003 to 2004, Atul served as a Consultant for SmartStream Technologies, a UK-based company specializing in transaction processing systems, core banking, and reconciliation systems. He worked on projects for banks such as Wells Fargo and Bank of America, gaining valuable experience in the banking industry. [4]
In April 2005, Atul became a Partner at Netz Capital Advisors LLP, an asset management, financing, and investment fund advisory firm. During his 11-year tenure, he advised large transactions in real estate, technology, automotive, equipment, manufacturing, and education. His initiatives consistently outperformed the market returns, showcasing his expertise in managing mass-market global businesses. [4]
In September 2005, Atul co-founded Innovation Trip, a company based in the San Francisco Bay Area. He served as the Co-Founder and COO until August 2007, where he designed and arranged a corporate training program in innovation for senior executives from various companies. This program took place in Boston and Silicon Valley and received recognition from leading media outlets. Atul successfully catered to high-net-worth individuals from India, South America, and the USA. [4]
In September 2007, Atul founded Airnetz, a provider of on-demand private jet and helicopter services worldwide. Atul served as the company's CEO until February 2014, building a global distribution system for the private aircraft industry, connecting over 25,000 airfields with 3,000 certified aircrafts. [4]
From November 2014 to October 2017, Atul was a Founding Team Member and Managing Director, India, at MonetaGo Inc. He led the formation of the first production blockchain network for a consortium of Indian banks and financial institutions focused on fraud prevention in the trade finance industry. This initiative marked one of the world's first live production blockchain networks that were fully legal and compliant. Under Atul's leadership, MonetaGo also executed its first Proof of Concept with the Reserve Bank of India and established a partnership with SWIFT India to connect the fraud prevention network to the SWIFT Network. [4]
Blockchain Career
In March 2017, Atul became a Co-Founder of XinFin Hybrid Blockchain, a decentralized yet hybrid blockchain platform powering next-generation applications in finance, banking, supply chains, and trade finance. XinFin Network operated on KYC Enforced Development and completed Know Your Customer (KYC) verification for all participants. [4][5]

In August 2017, Atul co-founded TradeFinex, a decentralized finance (DeFi) protocol built on top of the XDC Network. As the Co-Founder and Head of Ecosystem Development and Technology, he played a pivotal role in enabling the tokenization of real-world assets into digital assets. TradeFinex utilized smart contracts on the XinFin Digital Contracts platform to record payment obligations, mitigating counter-party risk. The protocol allowed originators to unlock liquidity from alternative asset investors and facilitated Fintech or Bank originators in accessing capital. [4]
Since February 2021, Atul Khekade has been the Founding Director and provides ecosystem support at Impel, a project powered by the XDC Network. Atul has been instrumental in bringing ISO20022 messaging capabilities to banks and financial institutions. Based in Dubai, United Arab Emirates, Atul leverages the infrastructure capabilities of the XinFin/XDC Network to enable efficient and secure messaging solutions for the banking and financial sector. [4]
Since March 2021 Atul has been actively investing in companies that can build on the XinFin Hybrid Blockchain Network as a Founding Partner at XVC Tech. This network combines the best features of both private and public blockchains, offering scalability, security, and interoperability. Based in Dubai, United Arab Emirates, Atul's role as a Founding Partner involves identifying promising startups and supporting their growth on the XinFin network. [4]

Since March 2021, he has been actively contributing to the growth of the XDC Network, as the Founding Director of the XDC Foundation. The XDC Foundation, based in Dubai, United Arab Emirates, is an independent community-driven entity dedicated to fostering the ecosystem of the XDC Network. [4]
See something wrong?
Report to us.
Atul Khekade
Did you find this article interesting?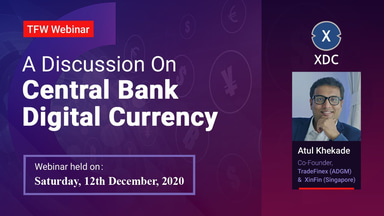 REFERENCES
[1]
Linkedin Profile
Jun 15, 2023
[2]
XinFin about section
Jun 15, 2023
[3]
Rediff interview
Jun 15, 2023
[4]
Linkedin Career section
Jun 15, 2023
[5]
Entrepreneur profile
Jun 15, 2023