Bored Ape Yacht Club
Bored Ape Yacht Club is a collection of 10,000 unique Bored Ape Non-Fungible Tokens - unique digital collectibles living on the Ethereum blockchain.[1][2] They consist of NFTs programmatically generated from over 170 different traits including fur color, shirt, and headwear. BAYC was released in 2021 by a group of 4 anonymous founders. In 2022, the founders' identities were revealed to be Greg Solano, Wylie Aronow, Zeshan Ali, and Kerem Atalay.
In September 2021, a set of 107 Bored Apes sold for $24.4 million in an online sale at Sotheby's auction house.[3] In March 2022, ApeCoin DAO launched its own token separate from Yuga Labs known as ApeCoin.
On October 31, 2021, the Bored Ape Yacht Club project's team held its first annual Ape Fest. The fest began in New York City and saw Bored Ape holders worldwide. The first event, APED NYC, at Bright Moments Gallery alone saw around 700 participants lined up outside the gallery.[5]
The Bored Apes have been featured on T-shirts sold at Old Navy and in a VMA-nominated music video by Snoop Dogg and Eminem. Celebrities like Justin Bieber, Gwyneth Paltrow, and Post Malone own BAYC NFTs. Other high-profile holders include Jimmy Fallon and Paris Hilton.[16]
In March 2022, the team behind BAYC announced its upcoming metaverse, Otherside, as a collaboration with Animoca Brands.
Overview
Each Bored Ape is unique and programmatically generated from over 170 possible traits, including expression, headwear, clothing, and more. All apes are unique, but some apes have rarer traits than others. [7]
The apes are stored as ERC-721 tokens on the Ethereum blockchain and hosted on InterPlanetary File System.[8]
History
The Bored Ape Yacht Club was launched on April 30, 2021. The creators are four friends using the following aliases: Gargamel, Gordon Goner, Emperor Tomato Ketchup, and Sass.
They originally came up with a different idea for an NFT project, they had backgrounds in crypto and trading, so the concept quickly evolved into the idea of what would Apes do if they all were able to retire early after the Crypto Supercycle.
From there the creative team pondered and created the Bored Ape Yacht Club.
At the time of launch, the creators (who had put their life savings into the project) were worried that the project wouldn't be successful since the pre-sale momentum suggested that the project may not have much momentum out the gate[11]
"We want to promote an active, creative community. Part of that means making sure that if you own an ape, you can throw it on a T-shirt, make a print, or create your own derivative NFT using your ape, and sell it. We give a full worldwide license only to the NFT holder to use, copy, and display the purchased art, as well as use it to make any creative, derivative works based upon the NFT." — The BAYC Team
BAYC Holders Benefits
Bored Ape Kennel Club
Yuga Labs has created several additional NFTs and benefits for Bored Ape holders. In 2021, they introduced two more collections — Bored Ape Kennel Club (BAKC) and Mutant Ape Yacht Club (MAYC). BAKC was not for sale and was offered for adoption to Bored Ape owners, who had to pay gas to claim a dog. The opportunity to claim Kennel NFTs only lasted a week.[42]
Mutant Ape Yacht Club
Mutant Ape Yacht Club (MAYC) is a collection created by exposure to "a vial of mutant serum or by minting a Mutant Ape in the public sale," according to the BAYC website. Every BAYC member was given a mutant serum, a potion that would turn their ape into a mutant version of itself. The mutant serums created the Bored Ape Chemistry Club. If the apes ingested M1 or M2 serums, they would still have their original traits. However, the M3 serum completely changed the look of an ape.[41][42]
Ape Coin
ApeCoin was distributed among owners of BAYC NFTs and is set to be used as the primary token in a new ecosystem of play-to-earn games from Yuga Labs and Animoca Brands. Owners of BAYC NFTs were able to claim approximately 10,000 ApeCoin each. ApeCoin will also be used in the upcoming play-to-earn game Benji Bananas from Hong Kong-based blockchain gaming company Animoca Brands.[43]
Otherside
Anyone who owned a Bored Ape or Mutant Ape was able to claim an Otherdeed within 21 days of the start of the sale. Furthermore, those NFT owners did not need to have a confirmed wallet that completed KYC checks, which included providing a user's full name and address, which was the requirement for non-holders.[44]

Mutant Cartel
The Mutant Cartel is a movement and organization that seeks to enrich the Bored Ape Yacht Club universe and the value of its members, called Mutants, within it. It is an independent and autonomous entity that works alongside the BAYC to spin a complementary narrative universe.[75]
ApeCoin
In March 2022, ApeCoin (APE) was released with NFT holders able to claim free tokens.[34]

ApeCoin is basically a reward for holding one of the Club's NFTs. About 15 percent of the total ApeCoin supply was airdropped to Bored Ape Yacht Club NFT holders upon the token's launch. Another 14 percent of the supply went to BAYC founders; 14 percent went to ApeCoin launch contributors, and 16 percent was distributed to Yuga Labs and the Jane Goodall Legacy Foundation. Eventually, a billion ApeCoins will be in circulation; about 28 percent of that total is already in circulation.[33]
As part of the creation of ApeCoin, BAYC has also created a new DAO (decentralized autonomous organization) to govern how ApeCoin functions moving forward. DAO members can propose changes to ApeCoin that they want, including things like fund allocations and partnerships. Any ApeCoin holders can join the DAO, though only a few select members function as the DAO's Board. The Board has pulled in some high-profile figures like Alexis Ohanian, co-founder of Reddit, and Amy Wu, head of ventures and gaming at FTX.[33]
In August 2022, Gucci announced it is accepting ApeCoin as a form of payment through BitPay's blockchain tech. Customers can use the coin for in-store purchases in select boutiques in the United States.[35]
The Trial of Jimmy the Monkey
In September 2021, Bored Ape Yacht Club released its roadmap 2.0, which included the introduction of the Trial of Jimmy the Monkey. Despite much speculation, little is known about what the trial will involve. The co-founder of BAYC, Garga, stated in an interview that the team wanted to return to the "silliness, strangeness and fun and novel mechanics" that they had in the early stages of the company. On November 25, 2022, the BAYC Twitter page excited the community by announcing that the trial would begin on Christmas Day. [83][84]
On December 22nd, 2022, a two-minute short film was released which depicts a party attended by BAYC characters, including Jimmy the monkey and Curtis the Captain. The focus points are a mysterious box that is presented by a BAYC knight and the apes trying to get the key to the box. It is not clear what the key or the box are for, but there are hints in the short film of time travel and the existence of multiple versions of Curtis. The Trial of Jimmy the Monkey is just the first of six phases of the BAYC roadmap, which will run from December 21 to February 8. [85]
BAYC Community Council
The Bored Ape Yacht Club community council is made up of seven members who have actively contributed to the club since its inception. The council aims to represent the club at large and provide new perspectives. The council members include: [76]
Josh Ong
Sera
Laura Rod
0xEthan
0xWave
Negi
Peter Fang.
Each member has a specific focus and experience, such as community building, event planning, and technical expertise. The council will work to foster the growth and development of the BAYC community, including organizing events and facilitating communication and collaboration among members. The council will also serve as a liaison between the community and the BAYC team.[76]
Notable Sales
The Bored Ape Yacht Club NFTs sold out in 12 hours and hit CryptoPunks pricing on May 2, 2021.
On August 11, 2021, Bored Ape Yacht Club #3749 was sold for 400 ETH on OpenSea. Based on the price of Ethereum at the time of sale, the total paid was $1.29 million by OpenSea user Boothy. The collector also previously purchased Bored Ape Yacht Club #9507 for $175,140. What makes #3749 particularly desirable is a combination of features that add to its rarity and collectability. For example, #3749 is one of just 3% of Apes that sport a black t-shirt, one of 3% with a sea captain's hat, and one of 4% with a grin on its face. It is also one of just 69 that has laser eyes and one of just 46 that has solid gold fur.[20]
On August 8, 2021, Bored Ape 7345 was sold for 210 ETH or around $663,000. The same day, Bored Ape 8877 was sold for 175 ETH or around $553,000. On August 5, Bored Ape 7090 was sold for 199 ETH or around $628,000.[21]
As of August 11, 2021, the current floor price is 13.24 ETH or around $42,715 for a Bored Ape.[22]
On August 23, 2021, Bored Ape #1734 sold for 420 ETH ($1.3M). The same day, KSI announced he bought one of the collection's NFTs. On August 28, Stephen Curry bought a BAYC NFT 7990 with a blue-fur ape wearing a brown tweed suit with green zombie eyes for 55 ETH ($178,000).
On September 2, a #BAYC 7090 ape with solid gold fur was sold for 600 ETH ($2.27M).[23]
Sotheby's will auction off two lots of NFTs during an auction lasting from September 2-9, 2021.  The first lot contains 101 Bored Apes and 3 M1 and 3 M2 mutant serums from the recently launched Mutant Ape Yacht Club. Among the 101 Bored Apes are #5809 and #7440, which rank as the 21st and 52nd most rare Bored Apes on Rarity Tools. The second lot contains 101 Bored Ape Kennel Club NFTs, a series that was airdropped for free to Bored Ape holders.
On September 6, 2021, The Sandbox bought the BAYC #3749 "The Captain" for 740 ETH ($2.9M) which is currently the highest an Ape was sold for.[24]
In September 2021, BAYC #8746 sold for $1.2 million as a part of Christie's Hong Kong auction house NFT drop.[25]
On September 30, 2021, an anonymous NFT collector gave the highest bid on Bored Ape Yacht Club NFT. The anon collector got the Bored Ape Yacht Club (BAYC) NFT #2087 for a colossal sum, by paying 769 ETH. This is the most elevated measure of ETH spent on the BAYC NFT. According to the current market value, this sum is almost $2,328,524 USD. The NFT #2087 is the rainbow-cleaned Ape, in which the primate bits a cigarette in its mouth with furious eyes and Trippy hide.[26]
On October 19, 2021, Bored Ape #8585 with King's crown, trippy fur, and heart eyes sold for 696.969 ETH ($2.7M) on OpenSea.[27]
On November 19, 2021, Bored Ape #7698 wearing a leather punk jacket and a king's crown sold for almost $1 million.[28]
On June 14, 2022, BAYC #7537 sold for 1,024 ETH ($1.23M) at the time of sale.[30]
On July 8, 2022, BAYC #6388 sold for 869.69 WETH ($1.07M) at the time of sale.[29]
Bored Ape Wear
Bored Ape Wear was founded by members of the BAYC community who purchased and committed to holding onto at least one Bored Ape forever.
They will be offering limited edition, open edition apparel, and merchandise featuring prints of official Bored Apes and their licensed derivatives.
Each limited edition item features one of the 10,000 verified Bored Apes or an official derivative by one of the BAYC members.
Each item also includes the original Bored Ape Token ID / License Number and blockchain QR code printed on the neck label.
Collaborations
BAYC x Sandbox
BAYC purchased a big chunk of land in The Sandbox and they're going to be gifting pieces of it to members of the club. The Sandbox is a virtual world where one can buy land and soon will be able to interact with it as an avatar. Currently, there are over 82,000 NFTs from The Sandbox on OpenSea and the price is steadily going up. Along with land, one can buy lots of virtual goodies in The Sandbox.
BAYC x Adidas
Adidas has collaborated with the Bored Ape Yacht Club (BAYC) and other metaverse players to create their first NFT collection called "Into the Metaverse". The collection includes exclusive access to Adidas experiences and products which are both virtual and physical. It also includes an NFT comic telling the story of Indigo Herz, a BAYC NFT that was purchased for around $156,000 in September 2021 and even had its own Twitter account made in December 2021. [68][69]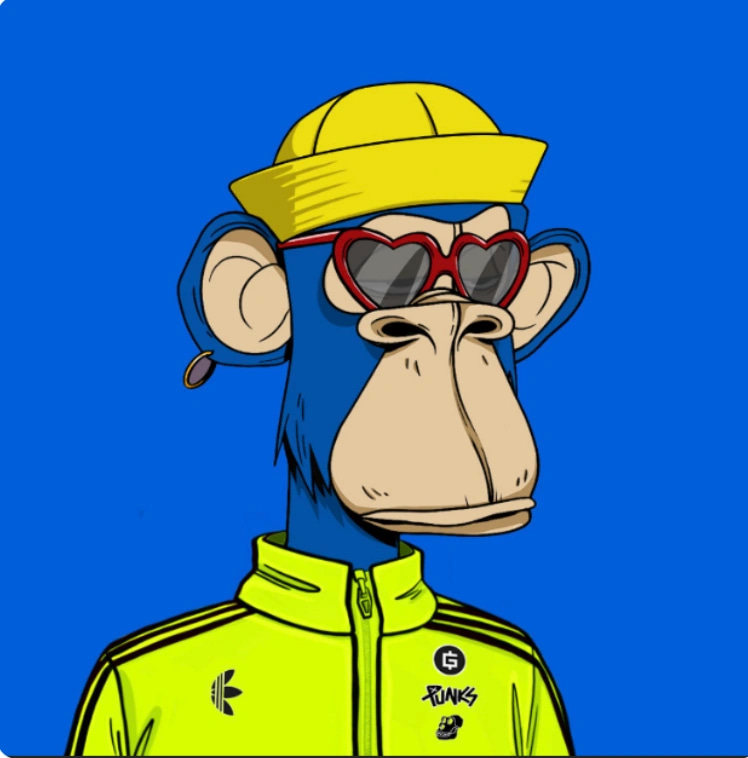 [70]
On November 16th, 2022, Adidas Originals introduced a limited collection of blockchain-based virtual wearables. The collection called "Virtual Gear," was launched as NFTs on the brand's website and represents Adidas Originals' first step into NFT wearables. The collection is interoperable with different projects and worlds, meaning it can adapt to different metaverse environments. It includes three limited-edition garments created by Bored Ape Yacht Club, Gmoney, and Punks Comics. [71]
BAYC x Universal Music Group
In November 2021, Universal Music Group announced the formation of a new group called KINGSHIP, whose members are four Bored Ape Yacht Club NFTs. The project was created by 10:22 PM founder Celine Joshua in collaboration with Jimmy McNelis, a leading NFT collector, who provided the Apes for the group. In a statement, Universal Music Group said 10:22 PM will "guide the group in developing and releasing new music, NFTs, community-based products, activations and experiences in the metaverse, and kick off a new generation of artist, fan and community engagement."[17]
The group consists of a Mutant Ape and three Bored Ape characters, including rare Golden Fur and Bluebeam Apes.[17]
BAYC x Timbaland
Grammy-winning producer and songwriter Timbaland announced Ape-In Productions (AIP) - an entertainment company and virtual community that will launch and promote Bored Apes as successful music artists in the metaverse. According to the announcement, Timbaland, who acquired a Bored Ape NFT, and his partners "plan on disrupting the music business again with this new venture similar to how Verzuz and Beatclub have." AIP's first artist signing is TheZoo, a hip-hop group in the Bored Ape Yacht Club universe. They will release their debut single "ApeSh!t" - produced by Timbaland - in conjunction with the initial AIP label NFT on November 17, 2021. Timbaland's partners in this venture include Gary Marella, Clement Kwan, Andrew Rosener, and Jonathan Tenenbaum of MediaOptions.[18]
The AIP roster will feature a select group of Bored Apes who will release original music and animation in the metaverse as NFTs. By acquiring these NFTs, collectors will also gain access to a host of exclusive items, such as merchandise, community-building events, virtual studio sessions, and animated concerts performed by AIP's roster in the Bored Ape Yacht Club world. All animation including the forthcoming AIP animated series and concerts will be created and produced in partnership with BRON Digital using Epic Games' Unreal Engine technology. Token holders of the initial AIP NFT will also have access to custom art by production studio Myth Division, as well as other exclusive extras.[18]
BAYC x Rolling Stone
In November 2021, Rolling Stone announced its first-ever digital cover Non-Fungible Token (NFT) created in partnership with Bored Ape Yacht Club. The publication and BAYC minted a digital cover image as an NFT and served as one of two pieces from the collaboration that utilizes Rolling Stone's logo. The full collection featured a total of seven NFTs, including the two logo-infused animated cover designs by Yuga Labs and five commissioned pieces by NFT artists, each of which will focus on different Bored Apes or Mutant Apes.[19]
BAYC x Old Navy
In July 2022, Old Navy revealed a partnership with BAYC, creating a gender-neutral T-shirt. The design depicts Bored Ape #7285 atop a heather gray background color referred to by the brand as "Bored Ape."[36]
BAYC x Bugatti Group
On November 16th, 2022, Bugatti Group, a luxury brand of luggage and bags, announced that they are releasing their first collection of non-fungible tokens (NFTs) in partnership with the Bored Ape Yacht Club (BAYC). The collection includes physical products such as eco-friendly bags, as well as six digital rarities. The technology used will allow NFT holders to print their custom profile pictures on the physical products, and eventually on international retailers' websites.[72][73][74]
On November 18th, 2022, a mint pass that offers a discount on all Bugatti Group items to holders was released, available for purchase on the Bugatti Group website with prices ranging from $155 to $185. Bugatti Group is also building a facility to produce custom NFTs on luggage and crossbody bags, and notable individuals such as Jong Ong, Amanda Woolley, and Adam Hollander have contributed their NFTs to the collection.[72][73]
Ape Fest
On October 31, 2021, the Bored Ape Yacht Club project's team held its first annual Ape Fest. The fest began in New York City and saw Bored Ape holders worldwide. The first event, APED NYC, at Bright Moments Gallery alone saw around 700 participants lined up outside the gallery. "There are about 700 apes lined up wrapping the block surrounding the gallery on three sides," BAYC tweeted. To avoid police shutting down the event, BAYC handed out timed wristbands to all in line. The bands came with an hour-long timeslot and those who received them had to return at the allotted time to claim their yacht wristband. This way, BAYC could not only "break up the crowd" but also prevent anyone from waiting in line for hours.[31]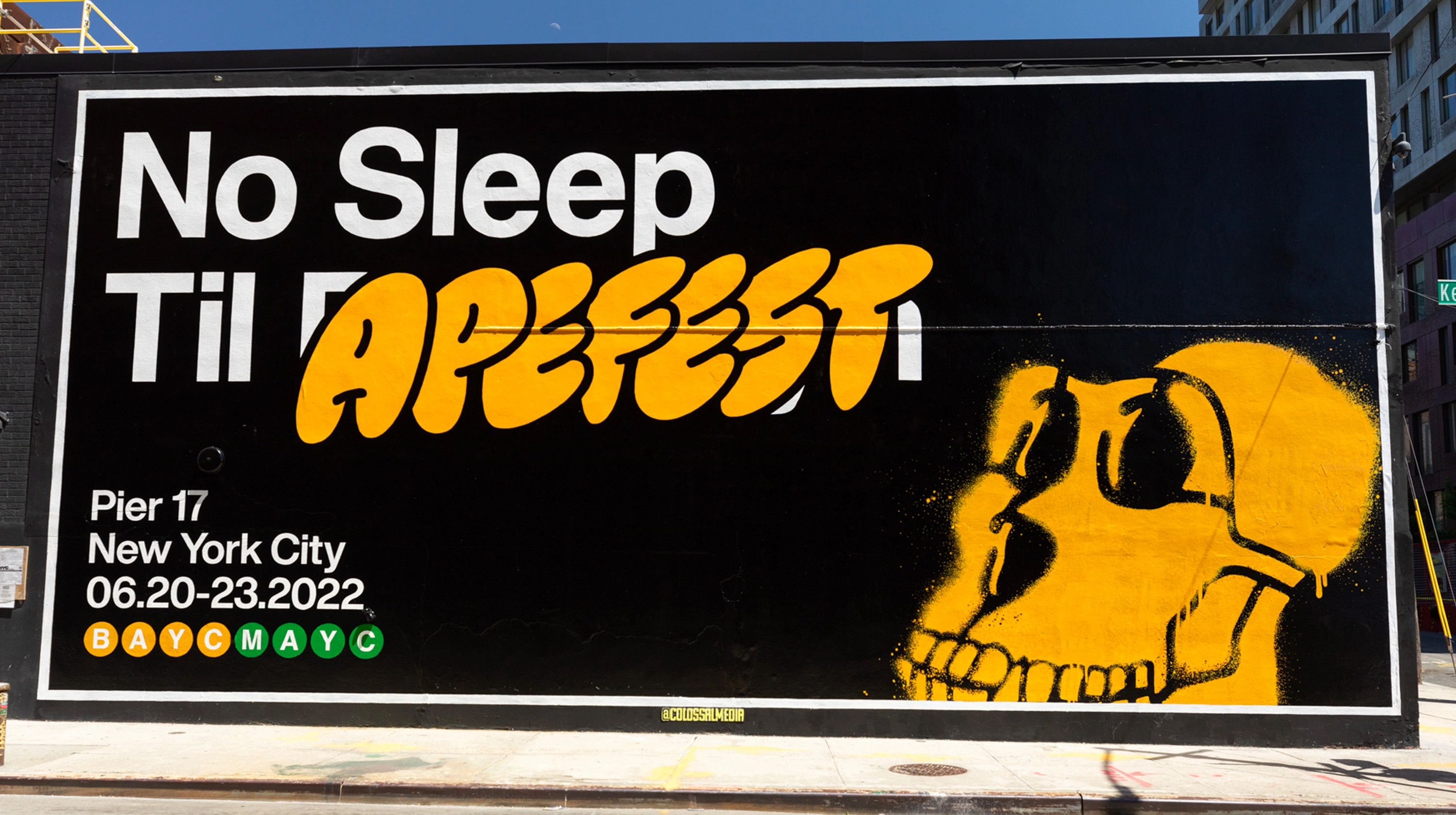 The APED NYC was followed by a costume contest and "Ape Fest Mutant Halloween Party". Then came the"Ape Fest Yacht Party" aboard a 1,000-person yacht. The tickets for the yacht party were free for Bored Ape and Mutant Ape Yacht Club holders on a first come first serve basis. The party also had celebrities joining in including DJ and producer, Kygo, and musician OneRepublic's lead singer, Ryan Tedder.
[31]
On November 1st and 2nd, BAYC hosted a pop-up merch event with merch, music, a food truck, and arcade machines. This event was open to the public. The merch pop-up event was followed by a Warehouse Party At Brooklyn Steel on November 3rd. The last leg of the BAYC Ape Fest was a VIP Charity Dinner on November 6 at Carbone. As the capacity is "extremely limited", tickets went on auction on October 29. The dinner raised over $100,000. All proceeds from the sales will go to charity.[31]
Founders' Identities Revealed
On February 4, 2022, the identities of the team behind the Bored Apes were revealed by Buzzfeed. They were Greg Solano and Wylie Aronow. Up until the BuzzFeed article dropped, most people only knew them by the handles they use online — Solano is Gargamel, after the villainous wizard from The Smurfs, and Aronow is Gordon Goner, a punk-inspired name — and their corresponding Ape avatars. The same went for BAYC's other two co-founders, engaged in the technical side of things: Zeshan Ali, who went by No Sass, since shortened to Sass, and Kerem Atalay, who went by Emperor Tomato Ketchup, a name taken from an album by the Anglo-French indie pop band Stereolab.[16]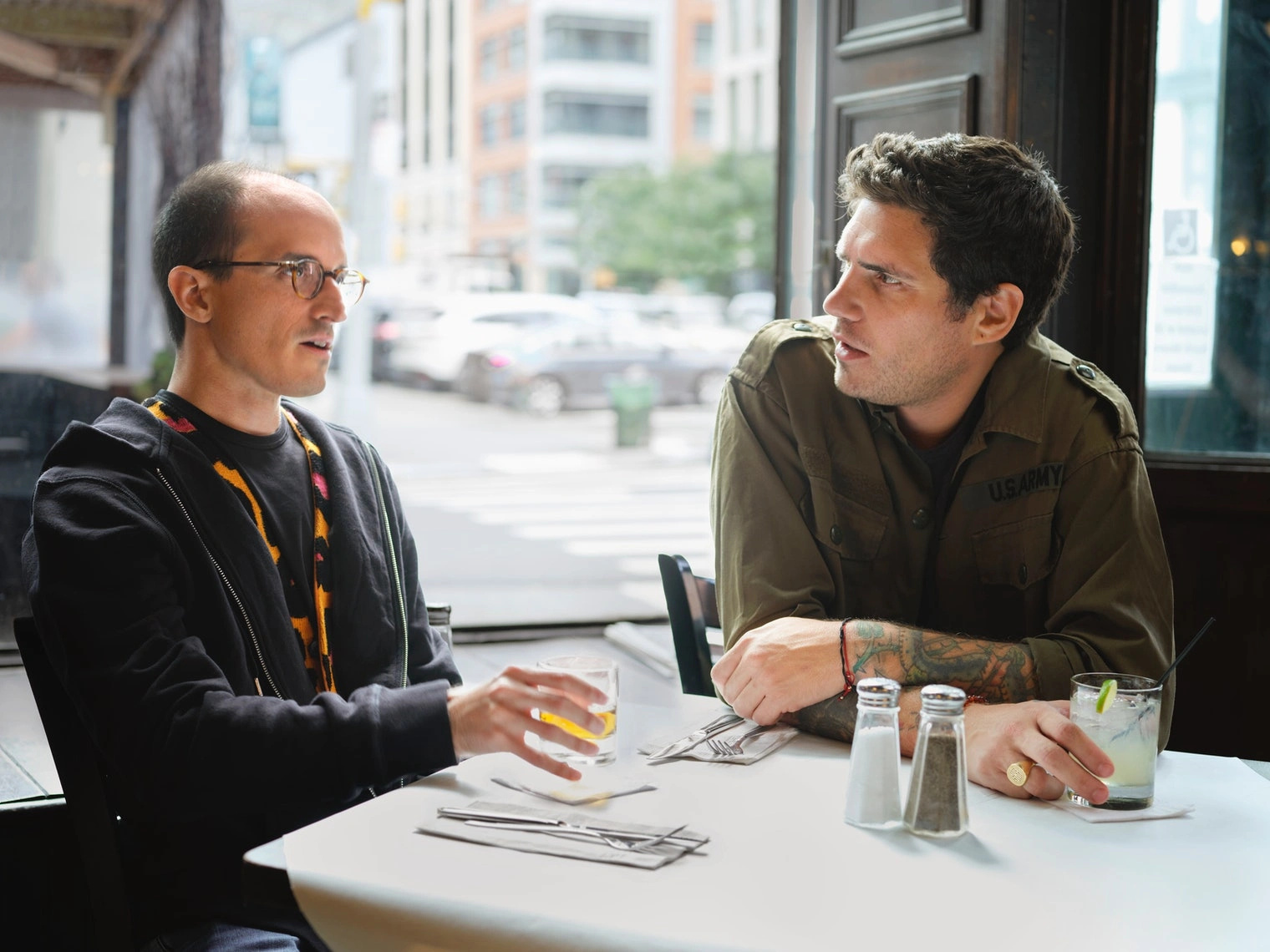 All four of them wanted to stay incognito, so in their minds, Solano and Aronow were being doxxed by the Buzzfeed article, because Ali and Atalay's identities were not revealed in the piece. Solano and Aronow decided it was best to "doxx themselves" first by tweeting out their photos. Four days later, Ali and Atalay posted their first names and photos of themselves on Twitter to have more control over the narrative.
[16]
After the doxxing, the Co-Founders felt as if they had no control over their identities which led them to hire a PR firm as they wanted to find the best outlet to publish their side of the story and "take control of the narrative". The PR firm then connected Yuga's PR team with the Deputy Editor at Fast Company, David Lidsky where David and Yuga's PR team met for the first time. After this, there was a second meeting consisting of the same people that met the first time around with the addition of Nicole Muniz and Connie Lin and Yaz Gagne, Staff Writer and Associate Editor at Fast Company, respectively. The team at Fast Company started working on the story behind Yuga Labs in early July 2022 and on October 26th 2022, their official story was released. [86][87]
CryptoPunks Acquisition
In March 2022, Yuga Labs announced that they have acquired the rights to the CryptoPunks and Meebits NFT collections from creator Larva Labs. The terms of the deal were not announced. They had acquired 423 CryptoPunks and 1,711 Meebits from the company, leaving the founders with just a few of each in addition to their generative art project Autoglyphs which was not part of the deal.[32]
In August 2022, former Meebits DAO General Manager, DannyGreene.Eth announced that he joined the Yuga Labs team. In his eight-part Twitter thread, Greene, whose profile photo on Twitter is Meebit # 17407, commented on joining the company:
"I'm so excited to join a growing team of creatives, producers, and engineers at @yugalabs as Brand Lead for @MeebitsNFTs. For the last 7 months, I've lived and breathed Meebits as the General Manager of the @MeebitsDAO and truly love this collection and community."[67]
Instagram Hack
In April 2022, the Bored Ape Yacht Club's official Instagram account was hacked, according to a tweet posted by BAYC's Twitter account. Four Bored Ape NFTs were stolen along with several NFTs from related projects — seven from the Mutant Apes collection and three from the Bored Ape Kennel Club collection. A hacker posted a fraudulent link to the compromised Instagram account that, if clicked, led victims to a copycat of the BAYC website with the promise that holders of Bored Ape NFTs would be able to mint a special new feature. The link was a phishing link, which allowed the hacker to gain access to the users' Ethereum wallets and steal their assets.[40]
Otherside
Yuga Labs, the creators of Bored Ape Yacht Club launched its metaverse, the Otherside, which dropped on April 30, 2022. It consists of 200,000 plots of land that are available through the purchase, or minting, of so-called "Otherdeeds" - NFTs that act as title deeds for the plots of virtual land.[37]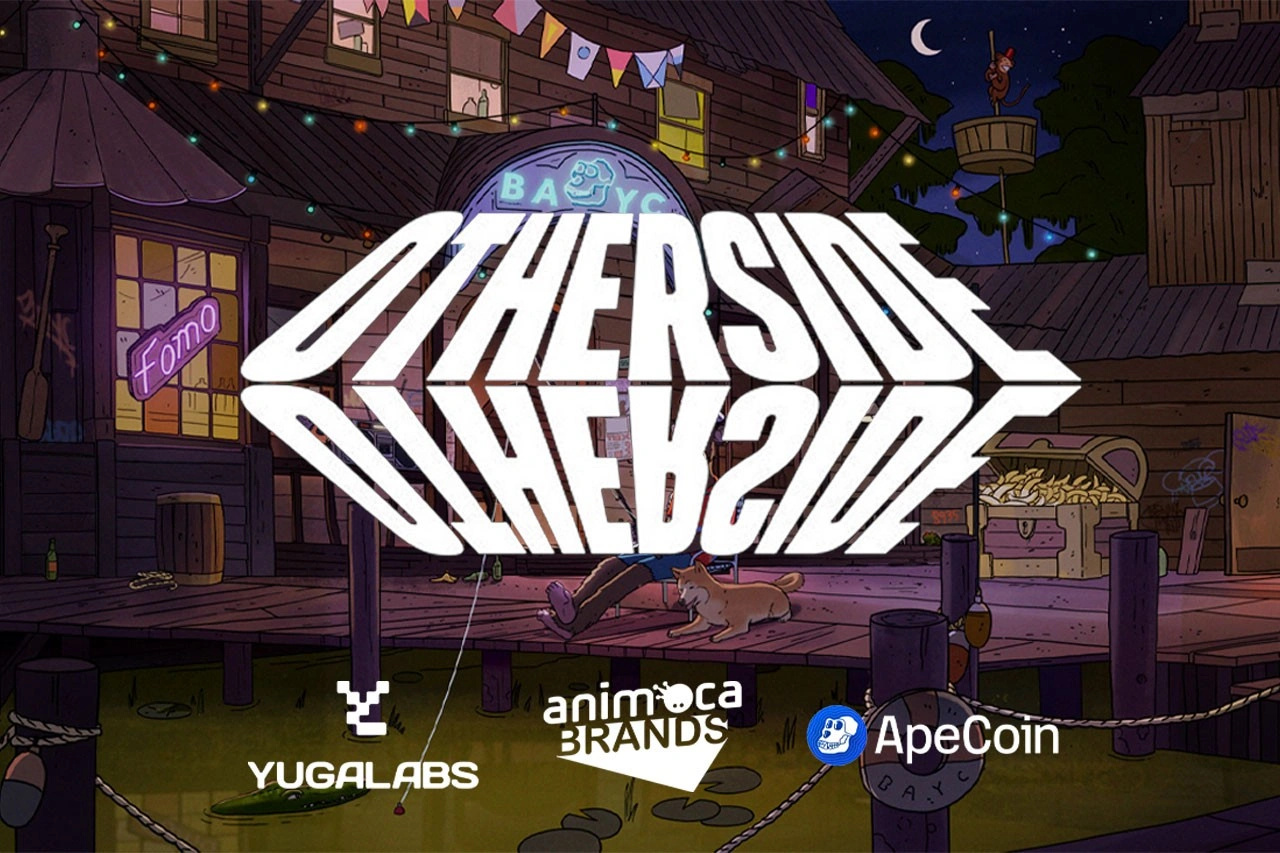 In Phase 1, only Otherdeed holders (aka Voyagers) and selected third-party developers are able to participate and contribute to the first stages of the platform's features and uses.[38] The Otherside ecosystem uses ApeCoin, ERC-20 governance, and utility tokens controlled by and built on by the ApeCoin DAO community. ApeCoin DAO membership is open to all ApeCoin holders, and the token is available on major exchanges.[39]
Otherside also features the Agora, the planned marketplace for buying, sorting, finding, trading, and selling the variety of things that can be created, farmed, harvested, and more.[39]
Racism Allegations
Creative director Ryder Ripps has accused the Bored Ape Yacht Club (BAYC) and its parent company, Yuga Labs, of containing coded neo-Nazi propaganda in its art collection. Ripps first began sharing his allegations on social media in late 2021 and compiled his research on a website. [77]
In January 2022, Ripps participated in a Twitter Spaces chat called "The BAYC Racism Debate" and later gave an interview with KnowYourMeme, in which he outlined his allegations in more detail. Ripps claims that the name of the company that produces the BAYC collection, Yuga Labs, is a reference to the "Kali Yuga," an esoteric idea of a recurring age of demonic struggle that leads to cultural rebirth and is associated with the alt-right. Ripps also points to the similarities between the BAYC ape skull logo and the Totenkopf symbol used by the Nazi party, including the fact that both depict skulls with 18 teeth. This statement was also backed with another piece of evidence through a tweet explaining how the founders behind Yuga Labs are coding neo-Nazi propaganda in their art collection. [78][79][80]
1987 on the prison uniform, same year nazi prison is demolished where Hitler's secretary, Rudolf Hess kills himself in PRISON. another coincidence? need the mathematicians to run the numbers here! what are the odds?!
Ripps highlights the use of pseudonyms, such as "Gargamel" and "Gordon Goner," by the founders of BAYC as further evidence of alt-right connections. Ripps claims that the name "Gargamel" has long been thought to be an anti-Semitic caricature and that the name "Gordon Goner" is a coded racist phrase when rearranged to spell "Drongo Negro." Ripps also claims that the launch date of the BAYC collection on April 30, the day Adolf Hitler was born, is evidence of Nazi sympathies. [78]
Founders' response
Yuga Labs and the BAYC have denied any connections to extremist imagery and have characterized Ripps' allegations as aggressive and disturbing. In a thread on Twitter on January 3, 2022, Yuga Labs stated that the name of the company was inspired by a villain in the video game Legend of Zelda: A Link Between Worlds and not by the "Kali Yuga." [78][81]
Experts from the Anti-Defamation League (ADL) consulted by Input have also cast doubt on the evidence presented by Ripps, stating that the connections between the BAYC and Nazism are tenuous and not supported by the evidence. Mark Pitcavage, a senior research fellow at the ADL's Center on Extremism, stated that he saw no connection between the BAYC logo and the Nazi Totenkopf image and that the use of the Pickelhaube helmet by BAYC does not have any association with Nazis. Pitcavage also pointed out that the Totenkopf symbol has a long history that predates the Nazi party and that the name "Gordon Goner" does not have any meaning outside of the potentially coded racist phrase suggested by Ripps. [78]
CEO of Yuga Labs, Nicole Muniz, has emphasized that the BAYC aims to foster a sense of community and that the allegations run counter to this goal. The founders of BAYC have provided explanations for their pseudonyms, such as "Gargamel," stating that they were chosen for personal reasons and not as a reference to alt-right symbols. [78]
On June 25th, 2022, a letter from all the founders was released, going over all of the allegations and explaining how they are all false and "insanely far-fetched" which seemingly marked the end of the scandal. [77][82]
Lawsuit against Ryder Ripps
In June 2022, Yuga sued the conceptual artist Ryder Ripps, known for collaborating with artists like Kanye West and brands like Gucci, for trademark infringement, among other complaints, after he created an NFT collection identical to the Bored Apes in May. The project made an estimated $1.8 million in profit, according to Artnet.[16]
Notable Owners
Major Collectors
Bend.DAO (264 Apes)
JRNY Crypto (107 Apes)
Dingaling (105 Apes)
canaryvault.eth (71 Apes)
Franklin has 60 apes (60 Apes)
j1mmy.eth (56 Apes)
Machi Big Brother (51 Apes)
cryptobeaker (34 Apes)
BrandonKangFilms (32 Apes)
Celebrities
Pop Culture
BAYC Music Band
In November 2021, Universal Music Group announced that four characters from the BAYC NFT project are now a band called Kingship. The group, which consists of a Mutant Ape and three Bored Apes, is part of UMG's imprint 10:22PM, a web3 label. The Apes are from the collection of influential collector Jimmy McNeils.[66]
In March 2022, UMG acquired another NFT from the Bored Ape Yacht Club collection to front the Kingship band. UMG announced that it paid $360,817 worth of Ethereum to buy a Bored Ape named Manager Noet All, who will be the band's leader.[66]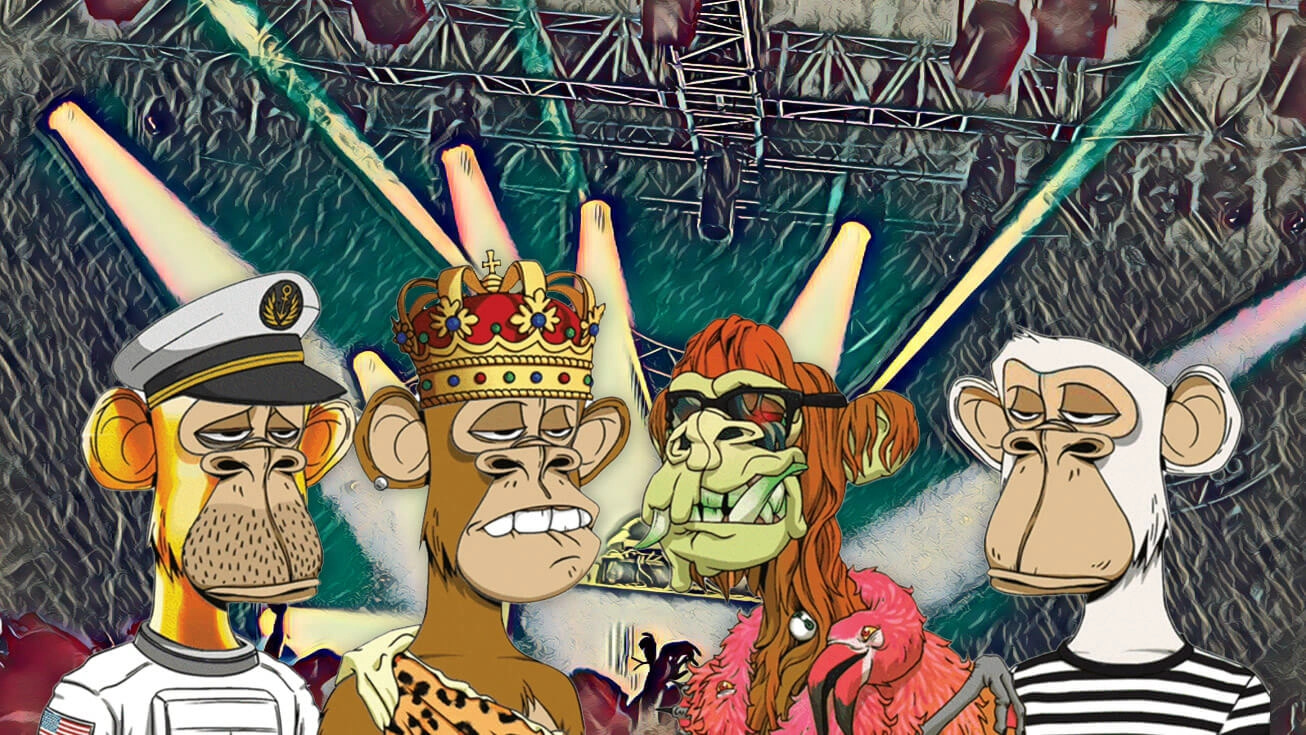 SuperPlastic Figurines
On July 15, 2022, the vinyl figurine company SuperPlastic emailed their users and gave them two updates on the company's Bored Ape Yacht Club collaborations.
SuperPlastic collaborated with the BAYC earlier this year and released a collection of five vinyl figurines. Each of these items was available for 15 minutes and cost $222 USD each. These five figurines were based on the BAYC's mascot Curtis and Super Plastic's Bored Ape, Bored Ape #6984 AKA Skipper. [65]
The company stated that those who purchased BAYC figurines earlier should receive them in November and also shared a new image of their latest Mutant Ape Yacht Club figurine based on Mutant Ape #1590.[65]
Jarritos Joined BAYC
In June 2022, Mexican soda company Jarritos announced that it has joined the BAYC and purchased Mutant Ape #5240. Mutant Ape #5240 is a six-trait brown fur M1 Mutant Ape with a striped tee and a bowler hat.[62]
Jarritos is just the latest brand to ape into the BAYC. Arizona Iced Tea, Pretty Little Thing, and E11even Night Club, among others, have all previously joined the club.[62]
Timbaland Music Video
On June 30, 2022, BAYC member and Grammy Award-winning producer Timbaland released the music video for his new song "Has A Meaning" featuring his Bored Ape #590. Prior to releasing his song and music video, Timbaland premiered it on the second night of Ape Fest.[63]
VMA Nomination
In July 2022, the Video Music Award released a list of this year's award nominees. BAYC members Snoop Dogg and Eminem were nominated for "Best Hip Hop" for their song "From The D 2 The LBC." The song features Snoop Dogg and Eminem's Bored Apes throughout the music video. The two rappers debuted their song on the last night of Ape Fest 2022. As of December 2022, "From The D 2 The LBC" has been viewed over 66 million times on YouTube.[59][60]

After the nomination, the BAYC congratulated the two members on their accomplishments and also encouraged the rest of the community to vote for them.[60]
Bored N Hungry Restaurant
Bored N Hungry opened its first location in Long Beach California on April 9th, 2022. The restaurant was designed to be a 90-day pop up, but the burgers were so successful with the NFT community and the public that the founders decided to make it a permanent location.[64]
In July 2022, the team behind Bored N Hungry announced that the brand will be opening its second location in Seoul, South Korea later this year. The restaurant's parent company Food Fighters University wrote in a press release:
"Bored & Hungry Korea will bring the restaurant's signature branding and packaging featuring Bored Ape Yacht Club NFT #6184, with an updated store design in Seoul's Gangnam District. It will offer a familiar menu to its US location, including "Bored" beef smashburgers powered by Bun B's Trill Burgers and "Mutant" vegan smashburgers powered by Beleaf Burgers. Like Bored & Hungry in Long Beach, customers will be able to pay in cryptocurrency using cross-chain technology developed by Devour exclusively for FFU."[64]
Major League Soccer Contact
In early August 2022, Major League Soccer announced that the league had signed a bored ape to a pro contract and shared a photo of the first-ever digital athlete on social media.[61]
"We're excited to announce that the League has signed Striker, a Bored Ape, to a professional contract, making him the first digital athlete to sign with a professional sports organization. Follow @Striker6045 and look out for more during our upcoming MLS All-Star week."
- the MLS posted on Instagram along with a photo of Striker.[61]
See something wrong?
Report to us.
Bored Ape Yacht Club
Did you find this article interesting?