Chao Deng
Chao Deng is the CEO and the Head of HashKey Group Singapore and the Managing Director of HashKey, digital asset financial services group in the web3 space. He is also an active investor in web3 based projects. [1][2]

Education
Chao Deng's education started at China University of Geosciences, where he earned his Bachelor of Arts (B.A.) in English (Economics & International Trade) from 2002 to 2006. [3]
Building upon this foundation, Deng pursued a Master of Arts (M.A.) in English Language and Literature, General, at China University of Geosciences from 2006 to 2009. Continuing his academic journey, Deng enrolled at The University of Hong Kong, where he pursued a Master's in Social Sciences (MBS) from 2007 to 2009. [3]
In 2020, Deng undertook the Global Executive Master of Business Administration (GEMBA) program at China Europe International Business School (CEIBS), and completed the program in 2022. [3]
Finally from June 2023, to August 2023, Deng studied at Stanford University Graduate School of Business, where he engaged in the Stanford Executive Program (SEP) focused on General Business Administration and Management. [3]
Career
Chao Deng's career began with being the Assistant to the President at Bosera Asset Management Co. in Shenzhen, Guangdong, China, from July 2009 to December 2011. [4]
Following this, in January 2012, Deng joined China Wanxiang Holding Co., Ltd, initially assuming the position of Deputy General Manager in the Department of Corporate Strategy and Administration, where he played a crucial role in shaping and executing corporate strategies. Then in January 2015, he moved up to the Acting General Manager position in the same department until 2015. [4]
From August 2015 to September 2017, Deng worked at DataYes Inc. in Shanghai, where he assumed the role of Managing Director & Company Secretary. In this capacity, Deng took charge of critical functions such as HR, finance, administration, and the Board of Directors. [4]
Since April 2019, Deng became an investor, investing in platforms in web3 such as dYdX, FalconX, Animoca Brands, CoinList, ZenGo, Blockfolio, and Polkadot.
HashKey
In April 2018, Deng joined HashKey Digital Asset Group Limited (HashKey Group) in Hong Kong as Managing Director. As of August 2021, Deng assumed the role of Chief Executive Officer at HashKey Capital Singapore Pte. Ltd., further expanding his leadership responsibilities within the HashKey ecosystem. [4]
In December 2022, Deng took on the role of Head of HashKey Singapore Group, marking his current position at HashKey Group's Singapore office. In this capacity, he oversees and steers the group's operations in Singapore, contributing to its ongoing mission of accelerating innovation and promoting entrepreneurship in the blockchain space. [4]
See something wrong?
Report to us.
Chao Deng
Did you find this article interesting?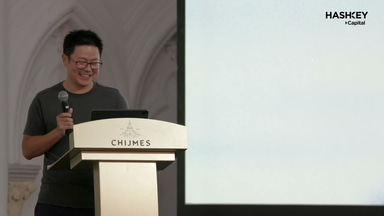 REFERENCES
[2]
Linkedin Profile
Nov 16, 2023
[3]
Linkedin Education Section
Nov 16, 2023
[4]
Linkedin Experience Section
Nov 16, 2023