Cryptovoxels
Cryptovoxels (launched in 2018) is a blockchain-based game developed as a metaverse powered by the Ethereum Blockchain. Cryptovoxels provides properties (land, built stores, and art galleries) as crypto-collectibles or Non-Fungible Token (NFT) utilities for players (or users) to purchase, own, and trade. Users can implement its gameplay experience to navigate the Cryptovoxels' virtual universe . [1][2]
Overview
Cryptovoxel is a web-based metaverse, that incorporates cities of streets and parcels, thus allowing users to purchase land(s) in the city and build their shop, artwork, or performance space.
The Cryptovoxels' virtual world was built by Nolan Consulting, an independent game developer based in Wellington, New Zealand.
Launched in 2018, Cryptovoxels is built on the Ethereum blockchain as an entire metaverse having an amalgamate of Minecraft and Facebook. The Cryptovoxels, developed as a basic block building, offers allows the addition of text, images, gifs, audio files,.vox files, scripting with Video streaming in its works.
The parcels in Cryptovoxels are represented as ERC-721 tokens, and owners are given a set of tools for building their parcel using Minecraft-like voxels.
Cryptovoxels developed its central city named the Origin City, which is divided into 3000 parcels, using a derivative of an L-system and bounds of Origin City (480 meters in each direction from the origin) thus creating a network of streets and parcels.
Users can gain entry to the Cryptovoxels' metaverse as players, making adventure to its virtual space by toggling their anon representative within the universe as they gain an immersive experience of its parcels, cities, and block-formed buildings.[3][4]
Founder's Interest
Ben Nolan, the founder of Cryptovoxels, who is a vlogger and synthesist, started the journey to Cryptovoxels and wrote the code to the virtual universe, with the goal of building a virtual reality metaverse where anyone can execute transactions, make purchases, and build on their virtual land.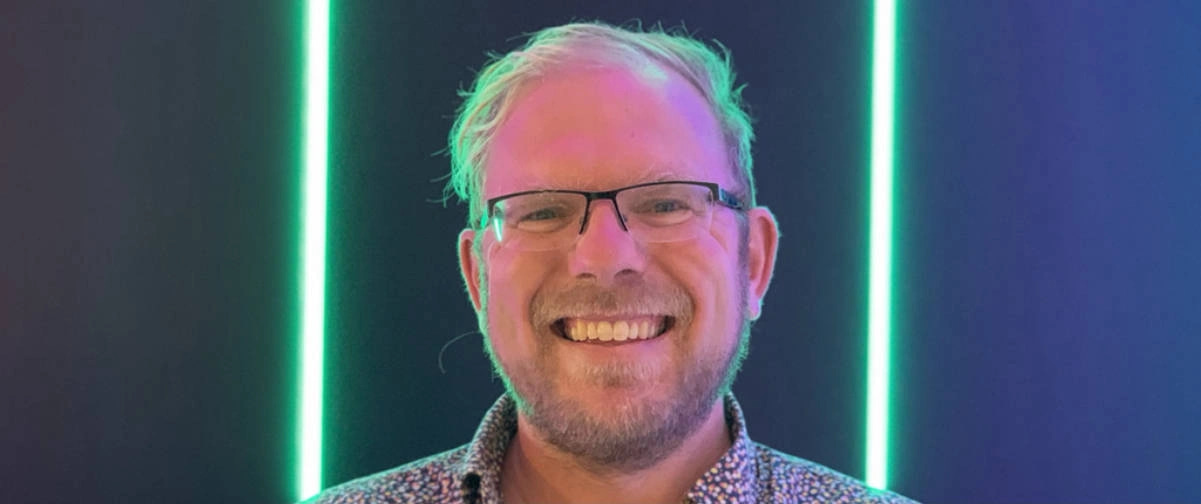 His interest was reportedly descriptive of users accessing storage such as Ethereum 
Blockchain
 to make the land ownership decentralized, permanently stored in a smart contract on the Ethereum blockchain, in place of storing this ownership record in a SQL database.
Features
Cryptovoxels has the following as key properties of their metaverse:
Map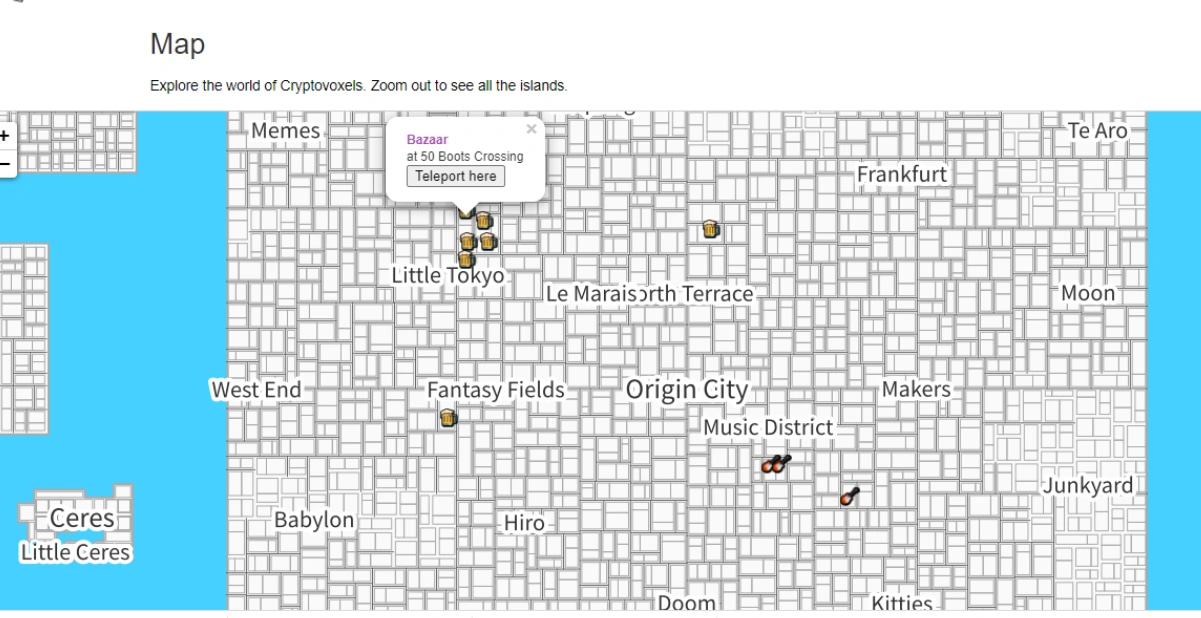 The Cryptovoxels' map is a utility tool, users can implement to extensively explore the world of Cryptovoxels. Users can zoom in and out to see all the islands. Some of the strategic locations and the number within the map includes-
Gallery - 228
Club - 26
Bar - 9
Teleports - 31
Library - 9
Park - 37
Beach - 22
Factory - 12
Sports - 42.[6]
Buying parcels could be done within Cryptovoxels since it has primary sales every week. Users can proceed to the OpenSea NFT marketplace to purchase from the secondary market. Parcels could be sorted for purchase using the Token ID, Area, Height, Closing price.[7]
Marketplace
The Cryptovoxels' marketplace is its unique NFT collectibles store, where users (players, gamers, and art collectors) can collect its unique wearables, costumes, and other designated NFTs versions (such as Voxel kitties, Voxelpunks, etc.). The Cryptovoxels' marketplace is an NFT store of 9309 minted collectibles from 562 authors.[8]
Gameplay
Cryptovoxels is a game with no direct mission. Users can interact with anything which includes exploring, building, and socializing with friends. Having similarity with The Sandbox (SAND) environment enables absolute creativity with how a user interacts with the world.
Cryptovoxels' game bears similarity with the Minecraft gaming User interface with location on a user-owned parcel of land, selecting "tab" opens in-menu controls such as building blocks, 2D and 3D text, images, paragraphs, audio, scripting buttons, 3D modeling imports, and more.
The gameplay includes users building with voxels (blocks), which could be easily done by clicking on which block the user intends to use and then clicking where the user wants to place it. Users have an unlimited supply of black and white building voxels (blocks), but are to add color (if needed) by purchasing the $COLR tokens. The gameplay also has peer-to-peer communication, which can be easily done with others with a text chat and voice chat function.
Viewing & Accessing the Origin City
Users can also view the Cryptovoxels' Origin city, by using other engines within the Cryovoxels' ecosystem such as:
To access the entire virtual space of Cryptovoxels, users will need to:
Install MetaMask, on their desktop or PC. They might also have the mobile install Coinbase wallet - iOS or Android.
Users will also need an Ethereum account, to possess the Cryptovoxels properties since they are crypto collectibles, specifically ERC-721 tokens, the protocol that Cryptokitties is built on. Users' property is theirs to build, hold or sell.
NFTs
The Cryptovoxels' metaverse is developed with a variety of Non-Fungible Token (NFT) within the interplay of its universe. Lands, parcels, wearables, gameplay assets, voxels (blocks), etc.
Cryptovoxel's NFT Wearables
The Cryptovoxels' NFT wearables have totaled up to 8,634 wearables created by 536 parcel owners as of 15 October 2021. On average, each of them created 16 wearables, but the record-holder has created 455 wearables. These wearables are owned by 11,532 individuals. Owners significantly outnumber creators because every wearable can have multiple copies.
Getting Started
To get on the virtual space of Cryptovoxels, users can explore the world even without an Ethereum wallet or a parcel. Users can proceed to play tap on the website's display and have an experience of the metaverse.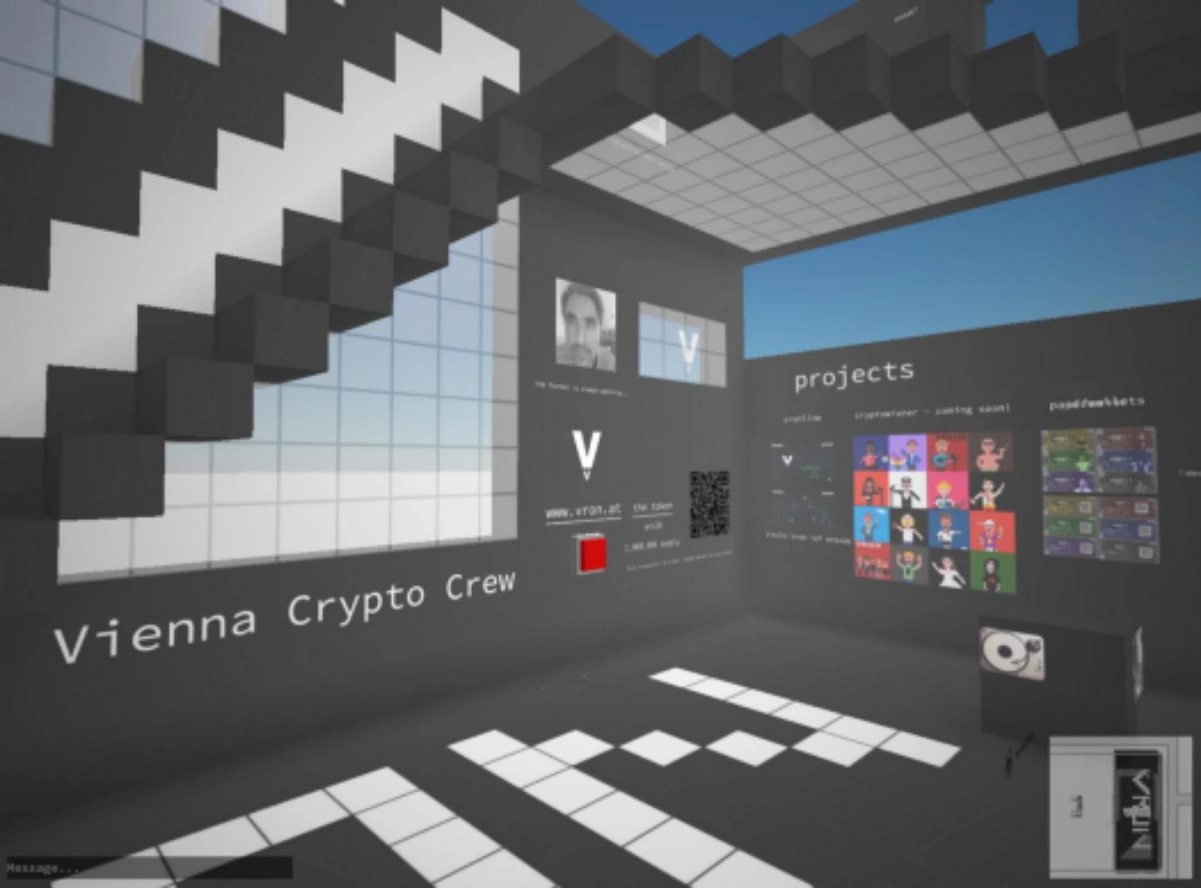 Users interested in the metaverse's building, are provided with three main options. Which include:
Purchase a parcel of their own and build on that.
Build on one of the available sandbox parcels.
Use a space, free editable non-grid space - under their account settings.
Building parcels - Cryptovoxels' parcel is a plot of land that lives inside the Cryptovoxels metaverse. Each parcel resides in a different neighborhood and has different dimensions. Building parcels is done completely in the user's browser. Users would not require any programming expertise. By simply clicking, users can place blocks and build their own parcel.
Buying parcels

Users can buy a parcel from . Once the user owns a parcel, such user should ensure that their MetaMask wallet is unlocked and then click sign in above.
NFT Marketplace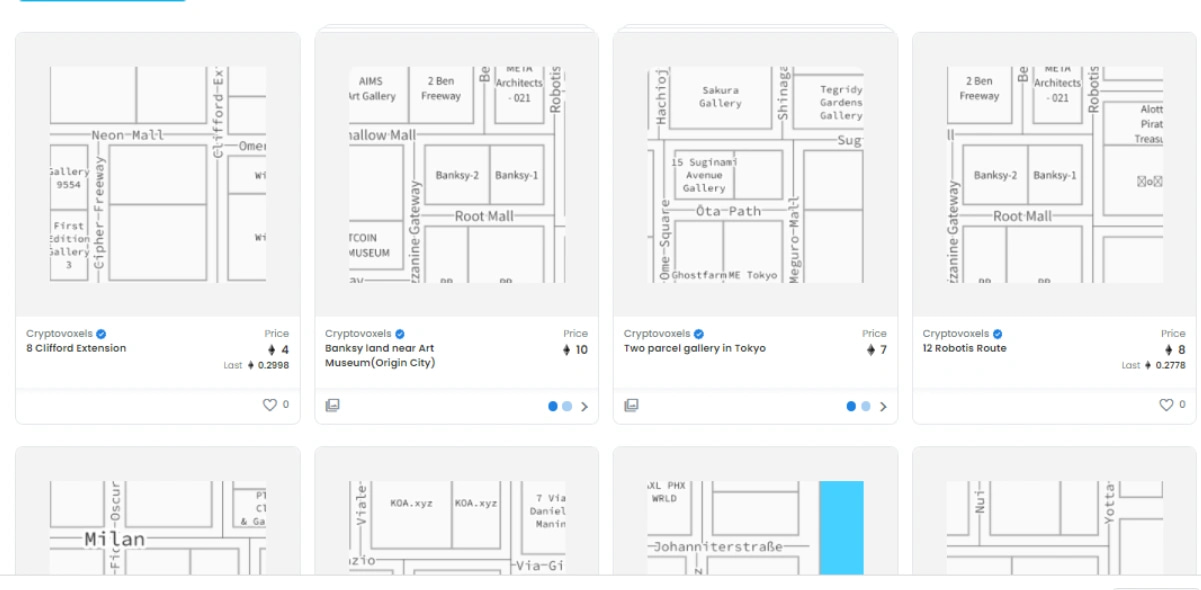 Cryptovoxels' secondary marketplace is the OpenSea marketplace. The primary marketplace of Cryptovoxels is its in-world marketplace, which can be accessed using the platform's website. Cryptovoxels' asset traded within the OpenSea marketplace includes:
Islands,
Suburb,
Titles,
Area,
Depth,
Elevation,
Height
Width.
Requirements
A digital wallet, such as Metamask.
Users will also need cryptocurrency to make the purchase (usually ETH or WETH).[15]
Voxel Building
The Cryptovoxels' metaverse provides a virtual world, where anyone can own lands, build properties, and essentially incorporate real estate functions into its universe. Cryptovoxels' lands are developed on the Ethereum Blockchain network, with its world consisting of a city known as Origin City, which contains streets that are in turn owned by The Corporation (i.e. a governing entity) as well as parcels that are owned by individual people, where anyone with an Ethereum wallet is capable of buying a parcel.
Cryptovoxels' real estate establishment is an intermesh between Parcel owners, builders, and traders. Parcel owners are in turn capable of building on their parcels and are able to add/remove blocks in the form of voxels as well as features on their parcels. Parcel owners additionally have the ability to designate their parcels as sandbox parcels, which makes their parcel free for anyone to build on as they so choose. For explicitness, "highlights" allude to things like GIFs, sound buttons, voxel models, pictures, text, polytext (3D text), and other such augmentations.
For optimal rendering in user browsers, Cryptovoxels employs babylon.js: one of the most powerful and clear rendering engines which are completely free and open-sourced, with the aim of enabling everyone to animate their ideas and creations.
Cryptovoxels has underlying similarities with an assortment of the top virtual realities gadgets if clients decide to take part in VR mode versus ordinary 2D mode. These gadgets incorporate a portion of the accompanying: Oculus Quest, Oculus Rift, and HTC Vive.
Users are capable of exploring the Cryptovoxels world without an Ethereum wallet or parcel simply by playing in free mode, enabling them to explore and interact with whatever activities catch their attention as they find them. The platform hosts a wide array of different activities, including galleries, curated item collections, portals, and more.[10]
Buildings
In Cryptovoxels blocks are known as voxels. Users can interact and utilize these structures known as voxels to build- being placed on each other, having similarity to Minecraft.
Users can also use a Megavox (which are large (126x126x126).vox models, currently limited to 5 per parcel) as the building structure, animate objects, use scripting, and more with their Parcel too.
Where to Build
Users can build their buildings:
In a Parcel that they own
In a Parcel that they are a collaborator on
In a sandbox Parcel
In a free Space.
Building Tools
Once users are around a Parcel, they can build on, tools will slide in on the right side.
Add - Use this to add new content to the Parcel, like voxels or features
Edit - Use this to edit, replicate or move features, or customize voxel textures and tints
Snapshots - Save and load states of the Parcel, used as a backup feature or to change the structure
Parcel Features - List of features in the parcel sorted by proximity.
Voxels (blocks)
Each Parcel has a maximum amount of blocks that can be placed and is listed on the Parcel's page.
| Measurements | Dimensions |
| --- | --- |
| Size | 9x19 |
| Build Height | 11 meters |
| Elevation | 0 to 11 meters |
| Area | 171 square meters |
| Volume | 15048 voxels |
| Token URL | ............ |
Positioning Voxels
To position a voxel(block) upon another, users have to:
Right-click (or press TAB or click the Add button) to open the Add menu,
Click Build,
Place block (click and drag to place multiple blocks).[9]
Textures & colors
Adding textures and colors to each voxel is another unique feature of Cryptovoxels' buildings. Users are to note that each Parcel can have 8 different voxel color tints and 16 different textures. To add textures with different colors, users are to:
Right-click
Select a texture under Voxels
Click Build
Place the block(s)
Tokenomics
The utility token of the Cryptovoxels metaverse is $COLR. It was of basic utility within the Cryptovoxels' metaverse in 2020. More recently, the Cryptovoxels parcels (land grids that voxels are placed on) are bought and sold on OpenSea using ETH, the native currency of the Ethereum Blockchain, which parcel ownership is verified with.
Previously, the parcels (which are black and white) can be purchased from an individual that left color ($COLR) staked to it. The $COLR token was utilized to give color to voxels (blocks) and images and can be purchased on Uniswap. Audio, text, and images are all usable without color but will appear as black and white;.vox sculptures require color to appear in-world. (The embellishments on the tower in the cover photo were done with.vox files).[5]
$COLR token was declared a dead token, with no support from the team Cryptovoxels. Users will not need $COLR to use any of the features within the Cryptovoxels' Metaverse, as the team believes that "Color in the world is free".
Token Buyback
Cryptovoxels' team has announced that users who purchased $COLR prior to May 1st, 2020, will exchange their $COLR for Ethereum (ETH) at the rate of 4000 $COLR = 1 Ether (or part thereof). The updates were sent via the platform's Twitter handle.[13]  The buyback scheme was given and users were enabled to withdraw their $COLR that is staked to parcels.
Users within the Cryptovoxels' platform were advised not to purchase, receive, trade, or use $COLR after May 1st, 2020.
Company & Team
Cryptovoxels NFTs and metaverse was developed by Nolan Consulting Ltd. Nolan Consulting Ltd is an independent computer programming organization, incorporated on November 12, 2008. Located in New Zealand, Nolan Consulting Ltd. renders services such as industrial computer programming, blockchain-related developments, and has recently ventured into cryptocurrency, Non-Fungible Token (NFT), and the metaverse. The company is directed by Ben Nolan, who is the founder of Cryptovoxels.[12]
Team
The Cryptovoxels' team members consist of experienced technologists, developers, and analysts. Cryptovoxels' core members include:
| Name | Designation |
| --- | --- |
| Ben Nolan | Founder (memeLord) |
| Benjy Larcher | Developer, Analyst |
| Stig Lindqvist | Developer, Infrastructure |
| Matt McKegg | Technology Lead |
| Michael Braae | Godot Developer |
| Pete Black | Godot Developer |
| Joran Kikke | Godot Developer |
Roadmap
The roadmap for the Cryptovoxels remains in GitHub as the founder explained. Given below are some key features that are being improved on, and are to be added in the Cryptovoxels' version 2:
Voice chat
User profile (show user name, description, parcels owned, inventory)
Emote
More animations (wave, dance)
Join/leave messages
Teleport to user
Private chat rooms
Persistent chat
Show users on the map
Outline distant users.
Partnerships
Cryptovoxels has partnered with Offsetra, an ecosystem in pursuance of high-quality carbon reduction. This strategic partnership was implemented to remove Carbon dioxide (CO2) by supporting pro-climate projects. According to Offsetra reports, Cryptovoxels has offset 1,528 tonnes of CO2 which is equivalent to 3,820 Bitcoin transactions; 134,982 Ethereum transactions; 3,820,000 Miles of driving, and 382,000 Cheeseburgers.[14]
Cryptovoxels Rebranding to Voxels
Cryptovoxels, one of the most significant players in the metaverse space, has rebranded to Voxels. The rebrand happened on May 3rd, 2022.
Voxels will retain the indie feel of Cryptovoxels while pursuing further growth and development. With the metaverse platform seeing a continued expansion of players as themed islands, mini-games, and stories were added. A new character was created, VIDDA, the artificial intelligence heart that gives inspiration to new people in the game, became a symbol of the rebrand, representing a commitment to visuals, intent, design, direction, and atmosphere.
See something wrong?
Report to us.
Cryptovoxels
Did you find this article interesting?