Desperate ApeWives
Desperate ApeWives is a collection of 10,000 Desperate ApeWives NFTs. These NFTs are uniquely rare and algorithmically developed as Female Apes backed on the Ethereum Blockchain. Currently, the Desperate Apewives NFTs are being traded on OpenSea.  [1][2]
Overview
Desperate ApeWives NFTs is an artistic work inspired by the award-winning television series "The Desperate Housewives". The Desperate Apewives NFTs consist of algorithmically designed 10,000 Desperate female Apes in unique shapes and shades.
According to their curators-
some are frustrated with their husbands and are looking for new thrills. A few are smitten with their hot and steamy new relationships and others are simply looking for eternal romance. [3]
With signature red lips each Ape Wife is not only an awesome fine art JPEG, but also an exclusive DAW membership card that allows its owners access to members-only benefits which will be revealed over time, according to its website.
Features
The Desperate ApeWives' NFTs have the following as key traits distinguishing its characters:
Specs
The Desperate Apewives NFTs are uniquely designed and algorithmically fashioned from 218+ traits- thereby characterizing the NFTs as 'RARE'. The NFT curators boast of its top 22 Apewives NFT collections as ones designed with masterpiece curators to take the form of iconic female personalities amongst pop culture and human history.
With the aid of Blockchain technology, these NFTs are effectively backed-up or stored as ERC-721 tokens atop the Ethereum blockchain with its hosting on the InterPlanetary File System (IPFS).
Ownership
The Desperate Apewives NFTs curator's intent is to infuse users' sense of possession on their NFTs. The platform aims to achieve this by bridging the NFT space with the business world thereby vesting ownership and 'the user's right' to its owner more than their NFTs. [1]
NFTs Sales
The Desperate Apewives NFTs resumed trading on the OpenSea (NFT marketplace) in 2021. At minting, the Desperate Apewives NFTs costs 0.08ETH in a fair distribution with no bonding curve. The Desperate NFTs has recorded a total sale of its curated NFTs and advises collectors to proceed to the OpenSea (NFT marketplace) to buy or sell its NFTs.
As of 5th April 2022, a total of 11.2k ETH is being recorded as the volume of Ethereum traded on the Desperate Apewives NFTs. [1]
Achievements
Desperate ApeWives have in its records the following catalog as achievements-
| Achievements | Measurements3 |
| --- | --- |
| Owners | 4,516 |
| Volume Traded | 11,250 $ETH |
| Highest Sales | Daw #845 was purchased for 87 ETH |
Team
The Desperate Apewives' team members consist of developers, NFTs collectors, and expert creatives whose interest in creativity has been demonstrated through the development of the Desperate ApeWives NFTs. According to the team's page,
Desperate ApeWives (DAW) was created by friends who dipped their toes into the NFT space, got hooked and decided to go all in
The DAW core team members include-
| Team Member | Profile |
| --- | --- |
| THE GARDENER. | Described as an OG Traditional Art Market Collector and Planting Expert |
| ARCHER MCCALL. | Described as the Creative Outlaw. |
| ANNA. | She is Web Master and has been described on the DAW's team page as a heartbreaking expert.[4] |
Roadmap
The Desperate Apewives NFTs have achieved quite a number of deals in its NFT project. Accordingly, the DAW roadmap is given below:
DAW has completely donated the GoodDollar extremely rare Desperate Ape Wife to the GoodDollar Foundation.
DAW has also completed airdrop 5 hot apewives to random Apewives owners.
The ecosystem has also gone live with the DAW Anthem in collaboration with International DJ's.
As part of the Breast cancer awareness month of October, DAW donates the Stay Strong extremely rare Desperate Ape, Wife, to a breast cancer charity chosen by our community.
The ecosystem claims its debut of the DAW Dress Code.- and exclusive merch will be dropped for the DAW holders.
The launch of the DAW Artists collaboration program. Working with international artists on exclusive drops, exposing and guiding them through the NFT space.
DAW has initiated partnerships and collaborations, wherein it is working with people, brands, and companies to cause its exposure to the DAW brand, and offering a variety of perks and benefits to the DAW community. [1]
See something wrong?
Report to us.
Desperate ApeWives
Did you find this article interesting?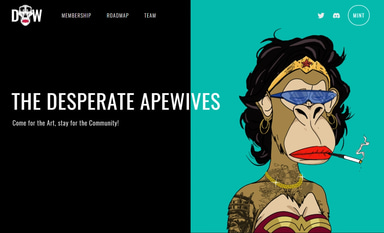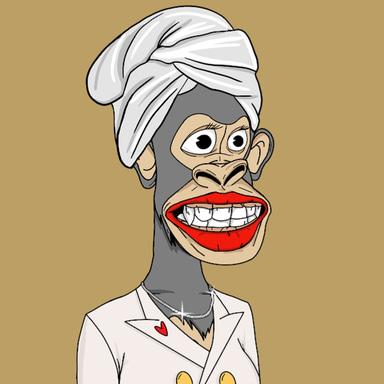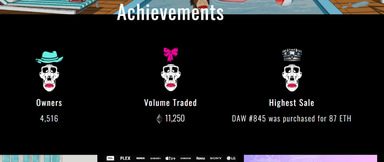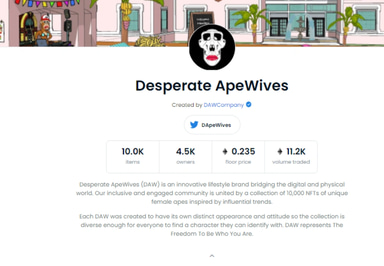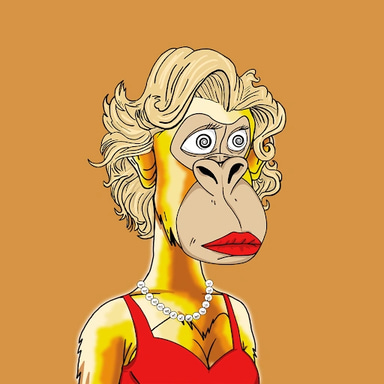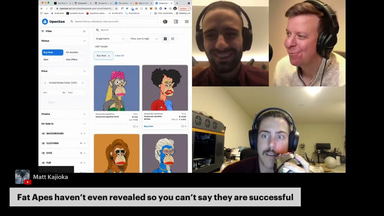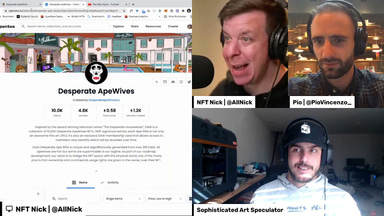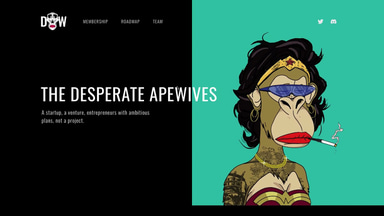 REFERENCES
[1]
Desperateapewives website
Aug 12, 2022
[2]
Desperate ApeWives Collection on Opensea
Aug 12, 2022
[3]
Desperate ApeWives Info
Aug 12, 2022
[4]
Desperate Apewives Team info
Aug 12, 2022
[5]
An Interview with the Desperate Apewives
Aug 12, 2022
[6]
About the Desperate Apewives
Aug 12, 2022
[7]
DAW DAW DAW DAW being discussed on The Nifty Alpha
Aug 12, 2022
[8]
Nifty Alpha discussing the Desperate ApeWives
Aug 12, 2022
[9]
Cryptowise Discussing the Desperate Apewives
Aug 12, 2022