DNAxCAT
DNAxCAT (launched in August 2021) is a decentralized metaverse game built on the Binance Smart Chain (BSC). DNAxCAT creates a digital cat pet world where players can raise and breed various cute cats and fight shoulder to shoulder in the adventure world with their NFT cat characters.[13]
DXCT is the governance currency of cat metaverse and can be used for trading, exchanging, and breeding hero cats in the game.[1][2][3]
Overview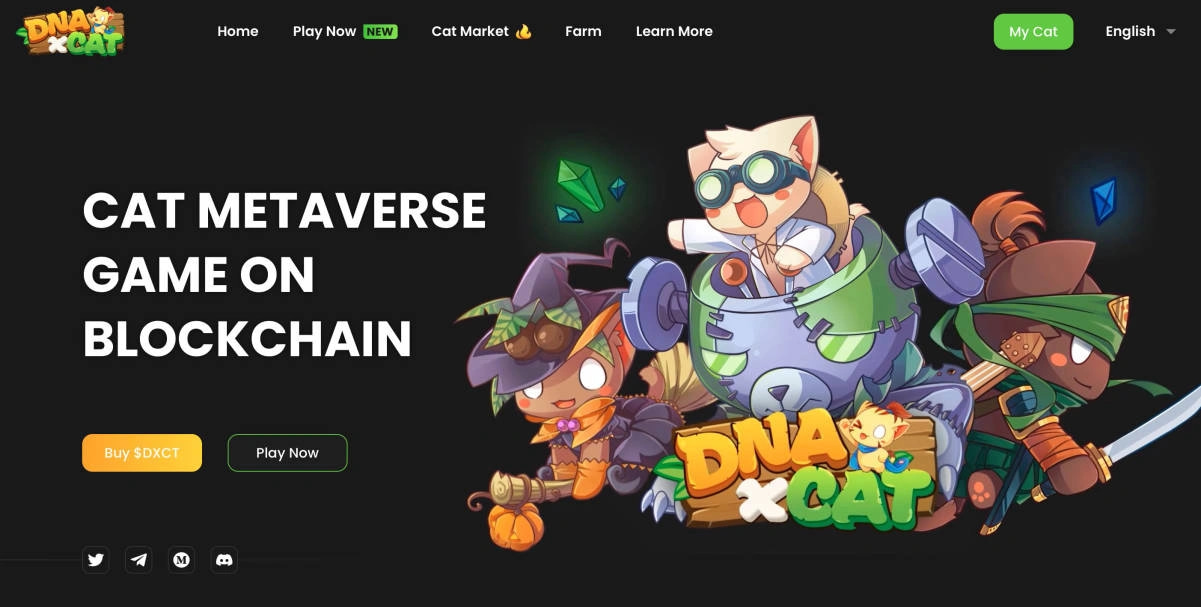 DNAxCAT is a 
Non-Fungible Token
(NFT) game built on Binance Smart Chain (BSC).  In the digital cat pet world, players can raise and breed various cute cats and fight shoulder to shoulder in the adventure world with their cats, raising and breeding a variety of cute meow warriors and fighting side by side with them gets players more rewards through daily missions, PVE, and PVP systems in the game.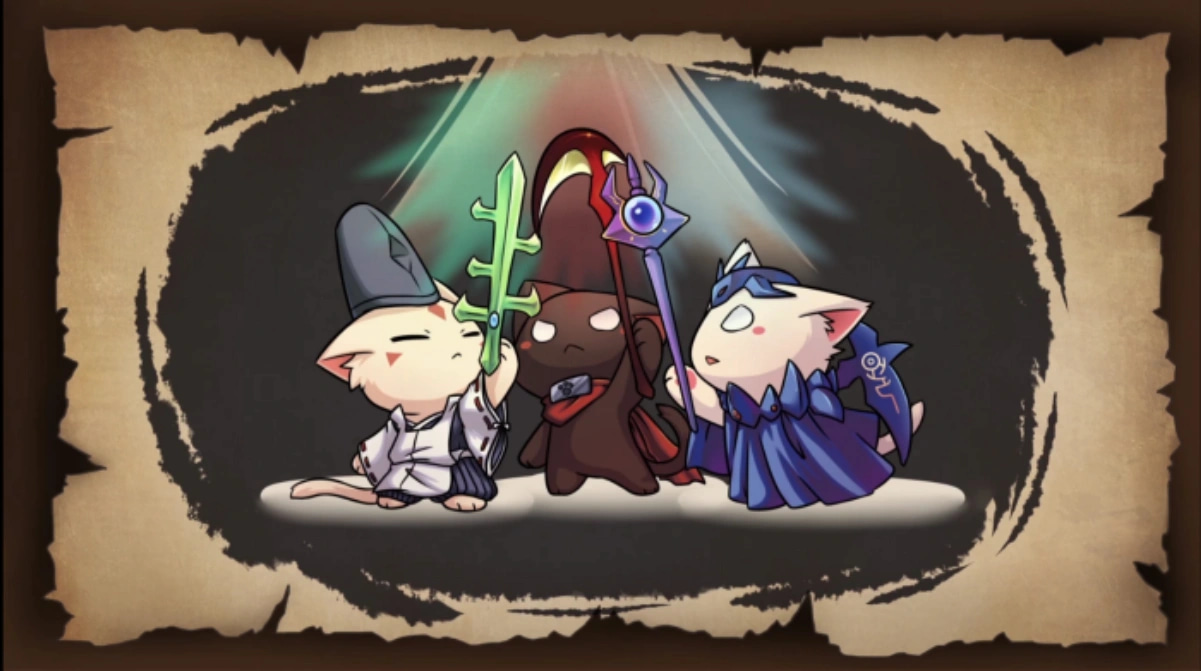 Players breed cute cats into cat-hero and use them to battle against Monsters or players within the cat metaverse. 
[6]
It is the first incubated project launched on YooShi Gamepad. YooShi GamePad is the first game crowdfunding platform based on NFTs on the BSC which offers the platform a lot of help in terms of the GameFi system and blockchain technology.  [7][8]
Story
The cute and playful family of cats lived on the Aydin. One day a powerful force of darkness appeared, which changed the peaceful life. At this time, the three cats used legendary artifacts to defeat the monster. In order to maintain peace, the hero of Meow, holding a sickle, established the kingdom of meow, and That's the king of Kyuzo.
In the world of meow, it is a place completely devoid of human beings and you will see some of the fun in the daily life of the meows. In the story, there will be villains of wild dog races, who will fight and make trouble with the meows. Many wonderful stories are in the animation.
There are three major forces in the world of meow warriors: meow kingdom, Sakura Village, and meow devildom. [9]
Features
Play 2 Earn
It is a Free to Play, Play to Earn game mode. Players can get rewards and collections in the adventure, then trade and auction their collections in NFT Market to get profits.
Marketplace with Low Fee
BSC-based Binance Smart Chain (BSC) in-game trading market, providing a more convenient user experience and lower transaction fees.
Craft Items
Materials can be used to make hundreds of items and equipment according to different recipes and trade freely.
Exhibition
Collect a variety of uniquely shaped brave cats to show them to their friends and other players through social platforms.
Expedition
Build a team to eliminate enemies in the game. Every cat has genetic characteristics, makes a good arrangement of their cat's team, and wins rewards with their team.
Social
Communicate with more than 250,000+ users to get more game skills, strategies, and experience.  [1][10]
Gameplay
The gameplay consist of two modes, PVE Expedition and PVP Arena.
PVE Expedition
In the PVE expedition, players play against monsters in the game. There are a total of 40 passes in the PVE expedition. Players need to clean the previous pass to unlock the next pass. The later the pass, the more difficult it is to clean. But the more experience points and fish cookie rewards they get.
In the PVE mode the passes that have been cleaned will light up, and the player can select a different pass by clicking the corresponding serial number. If they clean the 3rd pass, they can choose the 4th pass next time. But if they don't clean the 4th pass, they won't be able to unlock the following pass.
PVP Arena
The PVP arena is a place for players to battle. Compared with the PVE expedition, the PVP arena will bring players a more intense combat experience.
By participating in the PVP arena, players will have the opportunity to get rich rewards in competitions or rankings, which requires players to conduct more practice and research on game strategies.  [1][11]
DNAxCAT token
The DNAxCAT Token (DXCT) is the BEP-20 governance Token for the DNAxCAT metaverse and also the glue that binds all members of the DXC community together. It can be used for trading, exchanging, and breeding hero cats in the game.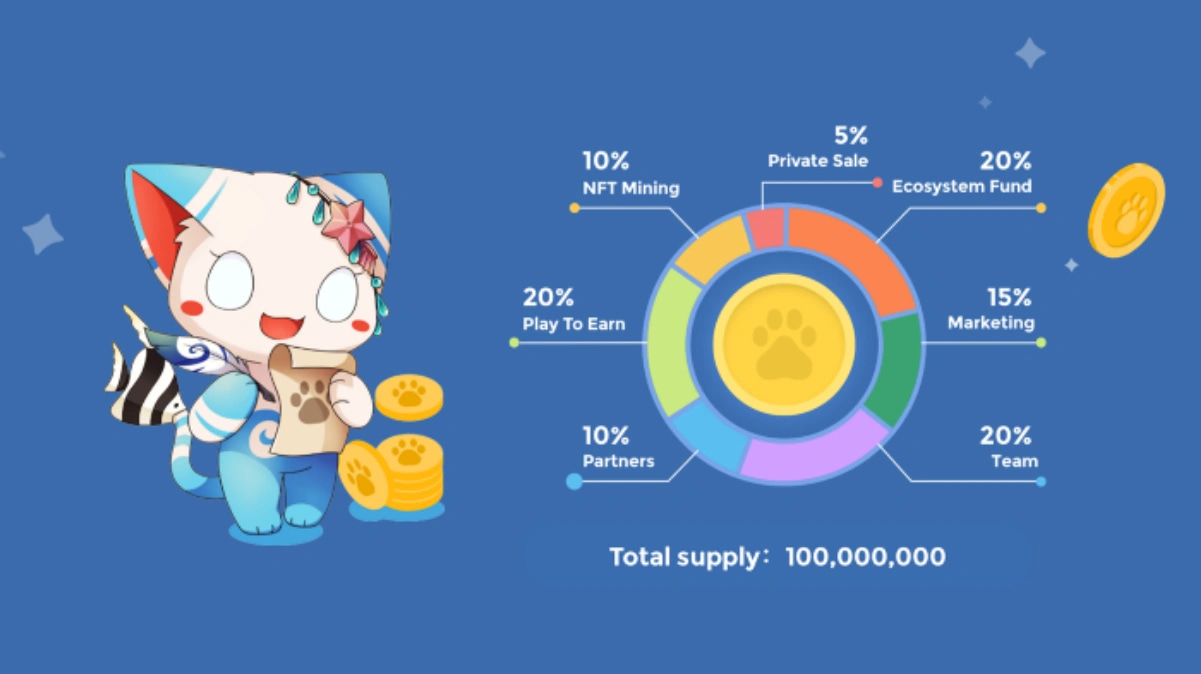 DNAxCAT token has a total supply of 100,000,000 $DXCT coins.
$DXCT holders will get rewards by holding tokens, participating in the game, and the key governance votes. Players can also earn $DXCT by playing games in DNAxCAT metaverse. [1]
Token Utilities
In-game Currency: Most items in the game will be payable using DXCT tokens.
Governance: Vote for Community Treasury, new features and settings of the game to earn special rewards. Lock DXCT tokens for a certain time to gain voting power.
Staking: Become part of the game by staking DXCT tokens into pools. Different pools will yield different returns such as new items, new hero cats or DXCT tokens.
Play 2 Earn: Simply playing can also get DXCT tokens via mission and Season Event. [8]
Token Allocation
The token are distributed in the following ways:
| DNAxCAT | Percentage | Token: DXCT |
| --- | --- | --- |
| Total Supply | 100% | 100,000,000 |
| Team | 20% | 20,000,000 |
| Market | 15% | 15,000,000 |
| Ecological fund | 20% | 20,000,000 |
| Partner | 10% | 10,000,000 |
| Play To Earn | 20% | 20,000,000 |
| NFT Minting | 10% | 10,000,000 |
| Private Sale | 5% | 5,000,000 |
Token Release Schedule
| Unlock | Unlocking Mode |
| --- | --- |
| Team | Lock for 6 months and unlock 25% every 6 months |
| Market | TGE unlock 20%, and the rest unlock 10% every month |
| Ecological fund | TGE has no unlocking, no lock, and is used regularly according to the actual situation |
| Partner | TGE has no unlocking and no lock on a regular basis. It is locked for 6 months according to the actual situation, and then 25% is unlocked every 6 months |
| Play to Earn | TGE has no unlocking, no lock, and is used regularly according to the actual situation |
| NFT Mining | With the release of the block, the release will be completed in about 90 days |
| Private Sale | TGE unlock 40%, the remaining unlock 20% every 3 months. [12] |
Fish Cookies
Fish cookie are assets in the DNAxCAT game. Players can earn them by completing PVE expedition and daily tasks. Fish cookie is mainly used for cat summoning. As an asset, fish cookies can also be transferred and traded.
Game Characters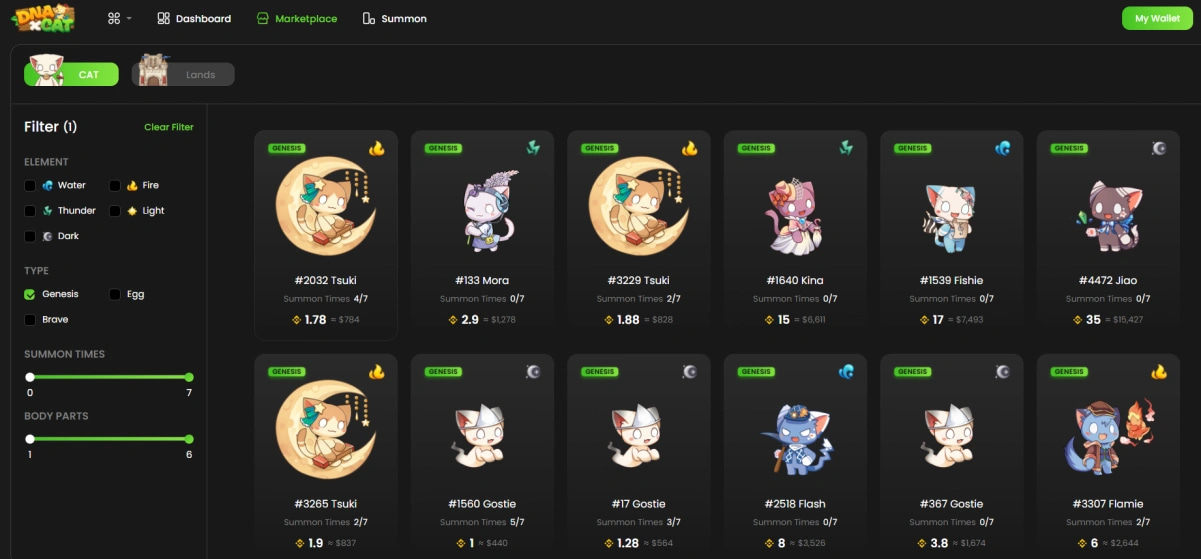 The Genesis NFT in DNAxCAT is a gem formed by the blessing of the goddess meow. Meow Goddess Gem is a kind of NFT asset in DNAxCAT. From low to high, it is divided into 6 different grades: Meow Goddess Emerald, Meow Goddess Light Sapphire, Meow Goddess Dark Sapphire, Meow Goddess Purple Gem, Meow Goddess Topaz, Meow Goddess Ruby, with a total of 6156.
The Genesis cat and meow warrior NFT play a very important role in the DNAxCAT. Only genesis cat and meow warrior NFT can participate in various scenes of the game. Each NFT will reflect its uniqueness because of its different appearance, properties, element, skills and numbers. At the same time, as a kind of Non-Fungible Token (NFT) asset, cat NFT can be traded on the market and transferred on the chain.
Genesis Cats
Genesis cat is the earliest cat at the beginning of the game, and the earliest meow warriors are also from genesis cat's summons. genesis cats are the most special kind of cats. First of all, their settings and images are derived from the cats in the animation works of DNAxCAT.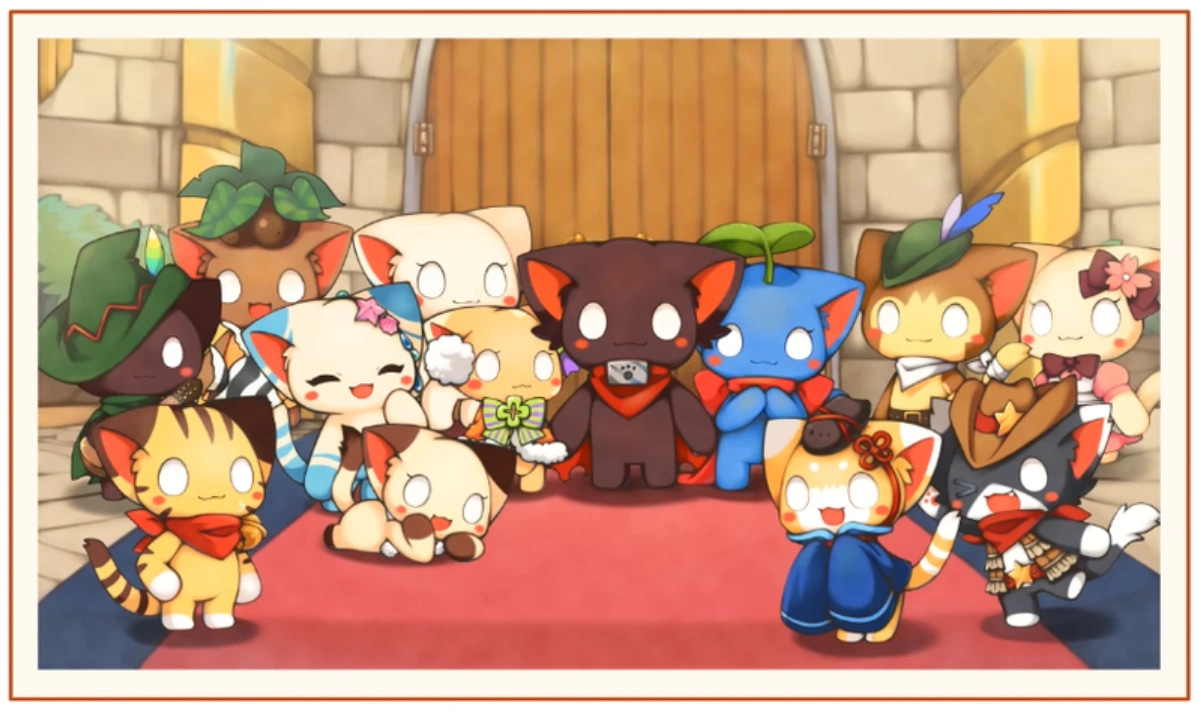 They have certain popularity in many regions. Secondly, Genesis cat is currently in limited release, the same genesis cat as the current one will not be released in the future, and each of them carries unique components (skills). In the future, we will continue to release the genesis cats that are different from the current ones, and they will still carry more new fun and unique components (skills).
There are currently 18 genesis cats in DNAxCAT exchanged through genesis crystal NFT. [14]
Meow Warrior
The meow warriors and the genesis cat are both necessary roles to participate in the DNAxCAT game. The difference between genesis cat and meow warrior is that the meow warrior is summoned and hatched. In terms of appearance, attributes, elements, and skills, it will show specificity due to the influence of inheritance and mutation.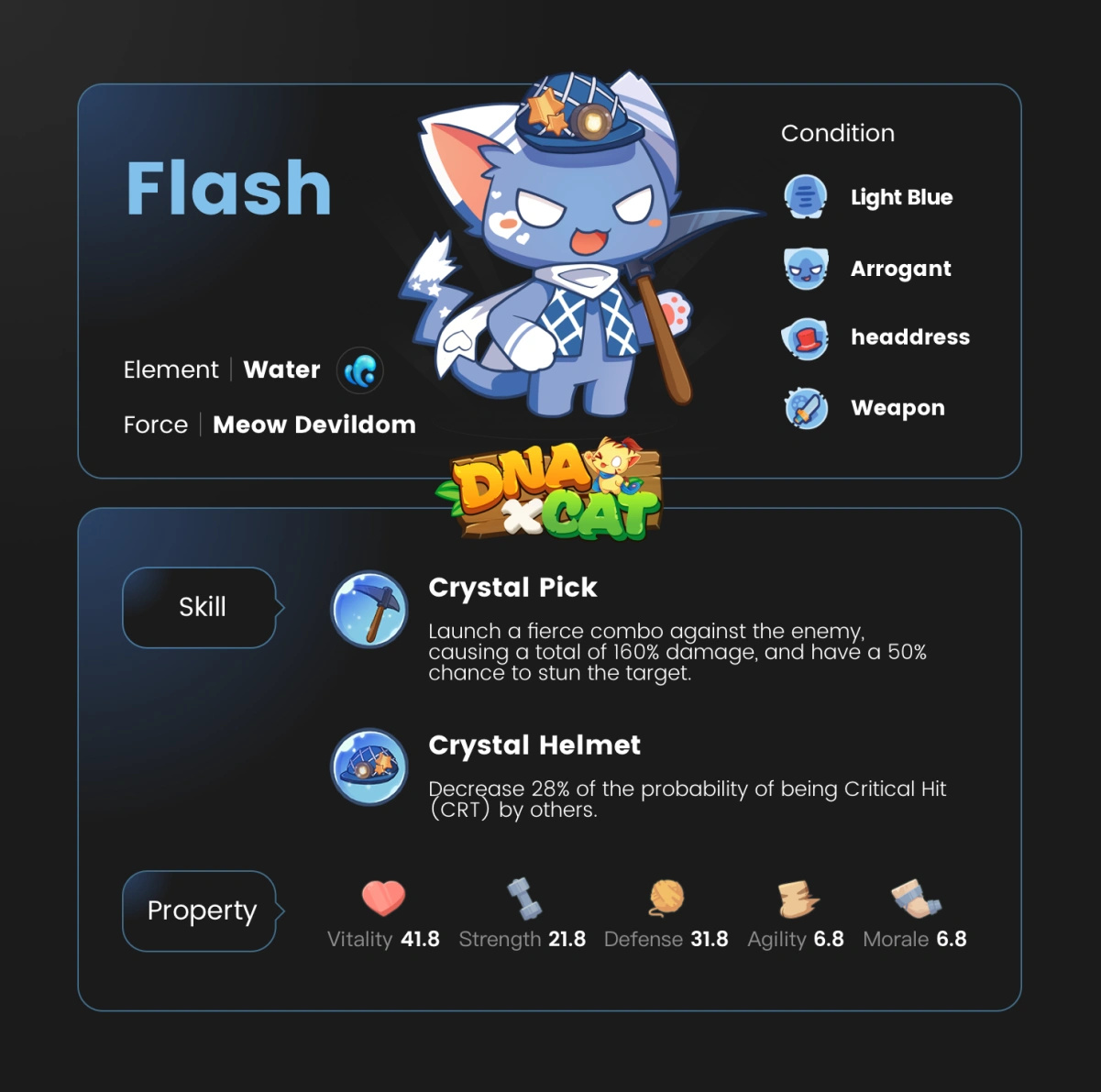 Elements
There are 5 element attributes for meow warriors, including water, fire, thunder, light, dark.
The basic element is closely related to the basic attribute, and the element type will also affect the cat's coat color. For the two coat colors corresponding to an element, one of them has a higher probability of occurrence and the other has a lower probability of occurrence. For example, fire element cats have a higher probability of reddish-brown fur color and a lower probability of orange coat color. By observing the cat's body hair color, we can judge its element, for example, reddish-brown can judge it as a fire element.
Character
Cats also have their own personalities. They are docile, brave or calm, which makes each meow warrior unique. Meow warriors currently have 12 personalities and they will affect meow warriors in two aspects: expression changes & basic attribute deviations.
The expression changes are: Dull, Shy, Hasty, Lazy, Careless, Out-going, Serious, Naughty, Timid, Brave, Gloomy, Arrogant. [18]
Skill Base
Each cat in the DNAxCAT game has different anger skills and passive skills, which play a very important role in the game. At present, all genesis cat species have 45 skills, including increasing attack damage, shield, sucking blood, healing, gaining and reducing benefits, etc. The skill library is the summary of these skills, and the skills inherited by the original brave cat can also be found in this skill library.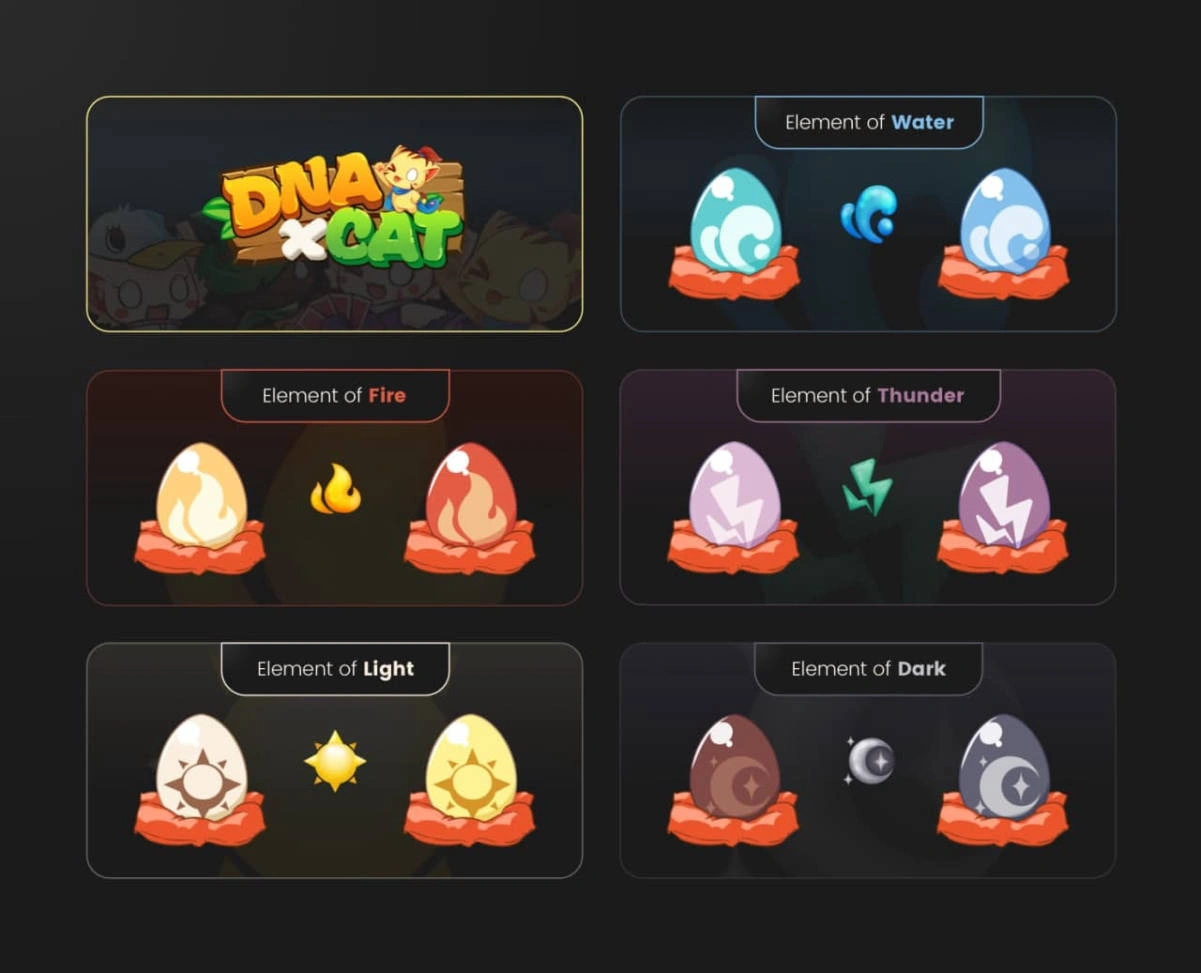 At present, the skills in the skill base can be divided into attack skills, auxiliary skills, healing skills and tank skills.
Basic Attributes
Each meow warrior has 5 basic attribute values: Vitality, Strength, Defense, Agility and Morale, being used to calculate combat attributes: HP, ATK, def, SPD, CRT, and Rev.
These attributes represent:
Vitality: Mainly affect the upper limit of meow warrior's life. When the life value is zero, the meow warrior dies
Strength: Mainly affect the damage caused when the meow warrior attacks
Defense: Mainly reduce the damage that the meow warrior receives
Agility: Mainly affect the sequence of actions of the meow warrior, as well as the probability of dodge and hit probability in battle
Agility: Mainly affect the sequence of actions of the meow warrior, as well as the probability of dodge and hit probability in battle.
The basic attribute determines the cat's positioning, that is, the common professional positioning of tanks and output in traditional games, such as cats with relatively high basic attribute values of physical strength and intensity can be used as tanks; cats with more basic attributes of strength and agility are more suitable for output.
Summoning System
DNAxCAT's summoning system is similar to the reproduction of biological offspring in the real world, but regardless of gender, a new cat can be summoned by the combination of two cats. In order to avoid an excessive increase in the number of cats, the number of cats summon is set to a maximum of 7 times, and as the number of cats summoned increases, the fee for summoning will also increase.[15]
DNAxCat Blind Box Sales & Mining
There were a total of 5,130 blind boxes issued, with NFTs separated into six various tiers of goddess jewels, with rubies being the rarest.
Use Cases of DNAxCAT NFT
The mysterious gems of the Meow Goddess contain mysterious power.
Meow goddess' mysterious gems can be staked in the magic altar to participate in mining $DXCT
All of the meow goddess gems will be able to exchange to a limited edition meow warriors in the DNAxCAT game. Meow warriors carry excellent genes and more outstanding meow warriors will bear through "breeding".
The mysterious gems of Meow Goddess can be used as a voucher to participate in the DNAxCAT game and will enjoy more game privileges and use cases in the future.
DNAxCAT Genesis Blind Box Sales
Each DNAxCAT blind box costs 0.5 BNB. Blind boxes were available for purchase from 12:00 (UTC) on August 10th, 2021, and sold out in 4 mins.
Users purchased DNAxCAT blind boxes from BNB. After discounting with the user's mining power level, 90% of the $BNB paid by users goes to the DNAxCAT game development team for subsequent game development and maintenance, 10% will be used as YooShi GamePad launch fees, and this portion of the $BNB will be swapped to $YOOSHI, of which 10% will be distributed to the YooShi dev team, 40% will enter the YOSHI mining pool, and 50% will be returned to the user.
DNAxCAT Genesis Mining Pool
The DNAxCAT mining pool has 8 unlocked gem slots for each fighter. Each gem slot has a starting mining power level of 1.
Mining powers are divided into four levels: 2 times, 4 times, 6 times, and 8 times. Each level must stake a certain sum of $DXCT.
See something wrong?
Report to us.
DNAxCAT
Did you find this article interesting?