Jieyi Long
Jieyi Long is the Co-founder and Chief Technology Officer (CTO) at Theta Network, a blockchain-powered network purpose-built for video streaming, and SLIVER.tv (now THETA.tv), an eSports entertainment platform that live-streams top eSports games. [1][2]

Education
Jieyi Long attended Peking University in Beijing, China in 2002 and graduated with a Bachelor of Science degree in Microelectronics in 2006. [1]
He also attended Northwestern University in Evanston, IL (2006) where he conducted research in mathematical modeling and algorithms to optimize large-scale electronics systems. He obtained a Ph.D. at Northwestern University in Computer Engineering in 2010. [1][3]
Career
Jieyi Long served as a Research Assistant from 2006 to 2010 at Northwestern University where he conducted research and made publications[5][4] related to virtual reality (VR) streaming, replay, thermal sensor allocation for microprocessors, etc. [1]
From June 2010 to April 2012, he served as a Senior Member of Technical Staff at Magma Design Automation. Afterward, he moved to Synopsys as an R&D Engineer until November 2013. He co-founded MadSkill Game Studios, a 3D mobile MMO game and game engine in 2014. [5]
In September 2015, Jieyi Long co-founded SLIVER.tv (now THETA.tv), an eSports entertainment platform that live-streams eSports games in fully immersive, 360° cinematic VR video. [6][7]
Theta Network
Jieyi Long co-founded Theta Labs, the organization behind the Theta Network in July 2017 alongside the CEO, Mitch Liu and he serves as the CTO of the company. The project was focused on video streaming technology, mainly in VR and ESports. Theta Network was also created as a way to solve their problems in delivering 4k, 8k, and VR videos efficiently around the world. [1]
Theta Network is a media and entertainment-focused blockchain. Its infrastructure enables existing video and media platforms to drive revenues and reduce content delivery CDN costs while rewarding end-users for sharing their storage and/or bandwidth on any PC, mobile, Smart TV, or IoT device. [8]
Theta Network creates a sharing economy, where viewers share bandwidth with other peers to reduce costs and are rewarded with Theta Fuel tokens for their contribution. The network addresses technical challenges through ultra-high throughput data delivery, high transactional throughput, and transparent creator rewards. - Jieyi Long[9]
See something wrong?
Report to us.
Jieyi Long
Did you find this article interesting?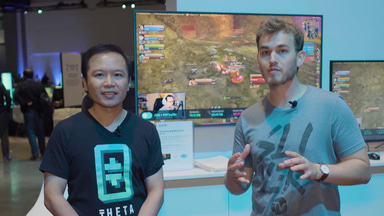 REFERENCES
[4]
publications from jieyi long
Apr 26, 2023
[5]
publications from jiayi long II
Apr 26, 2023
[6]
crunchbase - sliver tv
Apr 27, 2023
[7]
jieyi long about-sliver tv
Apr 27, 2023
[8]
theta website
Apr 27, 2023
[9]
web3 tech talk - theta
Apr 27, 2023