Jon Noorlander
Jon Noorlander is a multidisciplinary artist working in the creative field for over a decade. He is currently the Executive Creative Director at Method Studios. [1]
Early Life
He hails from Sweden. Jon grew up ready to follow in his father's footsteps and become an architect, but in his teens, he discovered 3D and was intrigued to follow the endless possibilities of creating his own 3D art.
Education
Jon Noorlander earned his Bs in Animation from Luleå University of Technology from 2001 to 2005. He went further to study computer graphics in Sweden and after uni moved to London to pursue a career in VFX/Design.
Professional Life
Jon's artistic journey began at an early age, surrounded by different art forms stemming from his family. His mother is a painter, and his father is an architect. Jon Noorlander has gained inspiration for his designs through time spent living and working in London, Los Angeles, California, and currently New York. [3]
As a media artist, designer, and spatial thinker, Jon is intrigued by the ways in which the transformation of the subject of contemporary culture requires rethinking of the new aesthetic, technique, and dynamic perception of space. His creative force is expressed through print, motion, and installations. They are bold, contemporary, and abstract.  [2][7]
Huge viral effect and a lot of attention came to Jon's works after his studio's video using Major Lazer's track was noticed by the producer himself and his team contacted Method Studios for permission to post this clip on their YouTube channel as a remixed version of the song. [9]
According to him during an interview section,
"I spent 8 years in London at various studios. Started out in a small studio called Darkside. I've worked as Head of 3D at ManVsMachine, where I set up the 3D design department. Also did a short stint at Prime Focus Commercials."
Jon has worked with clients such as MTV, Nascar, Nike, Range Rover, Syfy, VW, eBay & FOX. The turning point in his design career was his involvement in the Syfy rebranding at MvsM. It was internationally acclaimed, setting a new precedent for TV branding & on-screen identities.[6]
He stated that
"Working in both smaller design studios and bigger VFX houses I gain a broad scope of visual effects knowledge and design experience, and I think that my sweetspot I love all the super technical stuff that comes with VFX and to use that in my design jobs."
When not working on client projects Jon likes to flex his creativity with procedural art experiments and trying to figure out Houdini. Jon is using Calico for his personal portfolio. With a spotlight layout placing his vibrant cover imagery close to each other he's created a wall of impressive snapshots from his work.  [5][8]
Projects
Nature Move #1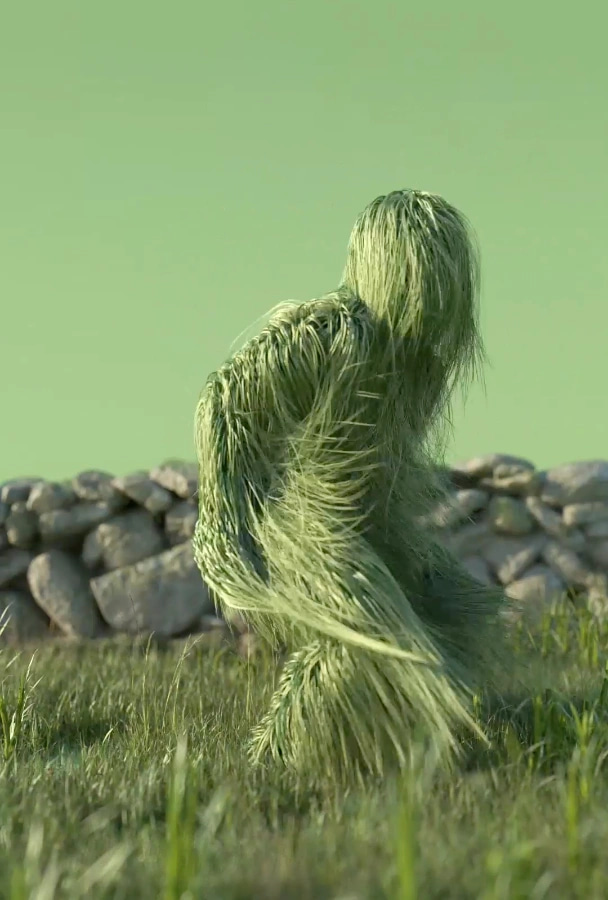 Digital art collectors may be interested in Nature Move #1, which was released on August 7th, 2020, from a few distinct perspectives. It is the first book of a well-established series that presently has four 1/1 editions. Second, it's Jon Noorlander's second token that was produced for
SuperRare
. Each of the Nature Move series' tokens has a figure genuinely grooving out in its natural setting, showcasing Jon Noorlander's talent as a world-class animator.
Fiat vs Bitcoin: Stimulus.
It seems that Jon Noorlander favours hard currency stimulus. In the whole Fiat vs. Bitcoin series, this is the first token where we can witness US dollars burning. Although the title Fiat vs Bitcoin: Burning has a fire theme, the actual thing that is burning in that token is the real Bitcoin. This token is, at the very least, a prophetic piece of art since, interestingly enough, the price of Bitcoin swiftly increased from about $30k to close to $60k in the previous month after it was issued.
Social Media
Followed by hundreds of thousands of fans on social media, Jon has recently performed successful sales on Nifty Gateway and Superrare premiering his NFT Authenticated Digital art Career for crypto art enthusiasts. [4]
See something wrong?
Report to us.
Jon Noorlander
Did you find this article interesting?