Jonathan Wolfe
Jonathan Wolfe is a Canadian artist and painter that is based in Calgary, Alberta. He has created 4 new exclusive NFTs in the $$MEME collab. He is also one of the hottest young artists in the NFT art scene.[2]
Biography
He is a 21 years old artist based in Calgary, Alberta. He is currently studying at the University of Alberta of the Arts.
He has been making art since he could remember but he's primarily a painter.
Career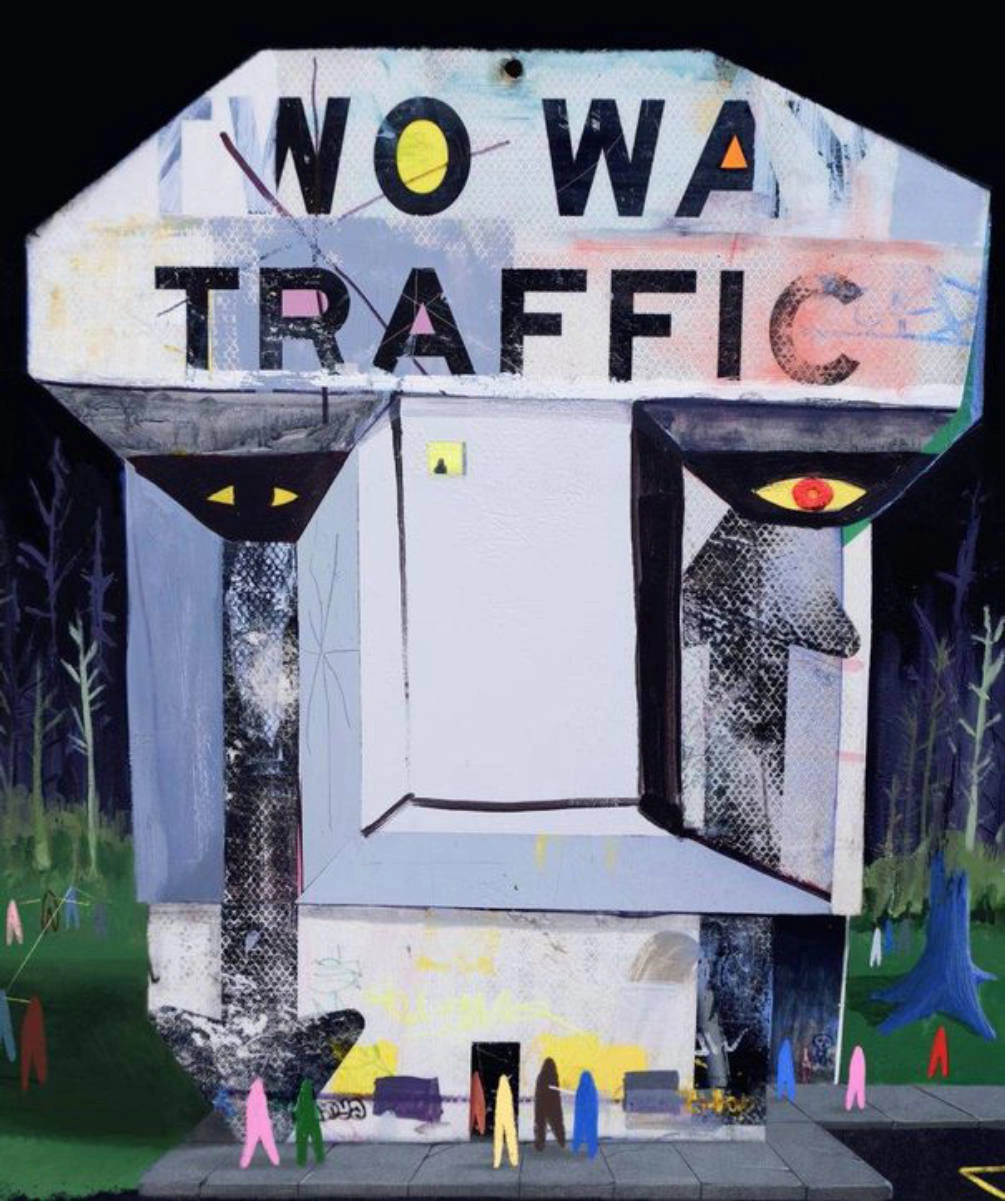 Jonathan is a digital painter and artist. He has been making art since he could remember but he's primarily a painter. Recently he has been really interested in blending digital and physical art together. The main focus of his work lately has been taking everyday and familiar objects, places, or symbols and turning them into something new, hopefully making people see the day-to-day a little different.
Digital Painting
He had auctioned off one of his digital paintings, a piece called "Living in my Head," for 24.43 units of the cryptocurrency, the equivalent of $55,555.55. Painted onto the back of a "Two-way Traffic" sign, the image depicts a textured grey structure with a furrowed brow and two blinking eyes.
He knew the piece would sell high, but he hadn't seen this coming.
"I had to call the bank being like, 'Hey guys, don't worry, it's OK,' "
Jonathan said.
The branch, satisfied he wasn't doing anything nefarious, set him up with a few mutual funds and a retirement savings plan. Or,
"all the boring stuff,"
as Jonathan described it.
That was early in March. Since the auction, He's income has grown astronomically. He's been caught up in a gold rush for nonfungible tokens (NFTs), a trend that has allowed him to sell artwork he once posted for free on Instagram for tens of thousands of dollars instead.
Speaking from his home in Calgary, the student from the Alberta University of the Arts sounded a little embarrassed to admit his earnings. Rather than speak the figure aloud, he directed me to a website called cryptoart.io, which tracks sales made by most prominent NFT artists. According to the site, Wolfe has sold 130 pieces of art since his first sale last October, amounting to more than $1.3 million (U.S.).
He confessed that.
"It's bizarre, that I'm years ahead of where I thought I'd be by now."
In a matter of months, the NFT market has flooded digital artists with cash, upending the conventions of an art world that typically ascribes little value to online media. The tokens, which function as digital certificates used to verify the authenticity of a digital item, distinguish original works from their duplicates, tapping into a common allure shared by art collectors. With the new-found ability to identify original art online, buyers are rushing to collect work they think will appreciate in value.
Through online marketplaces, artists no longer have to appeal to gallery curators or forfeit proceeds when a piece is sold. They're instead free to price the work as they see fit and make exchanges directly with buyers. The new middlemen, self-styled marketplaces like Nifty Gateway or SuperRare, take marginal cuts from thousands of trades while expanding their profits at little cost to the artists or resellers.[5][6]
The artwork itself isn't the artist's only source of revenue. In the world of NFTs, art is traded like musical chairs. Investors break the bank on a piece they think will grow in value and then they resell it to prospective buyers at a higher price. The artist receives a cut of each trade, earning between 10 and 30 per cent of most transactions.
Wolfe's pieces are traded on crypto art forums regularly, most at a higher price than the trade before. He's pocketed a portion of every third-party sale.
The Collection
He has created 4 new exclusive NFTs in the $MEME Artist Series. Three pieces will go into a pool where users can stake $MEME.
Watching Tree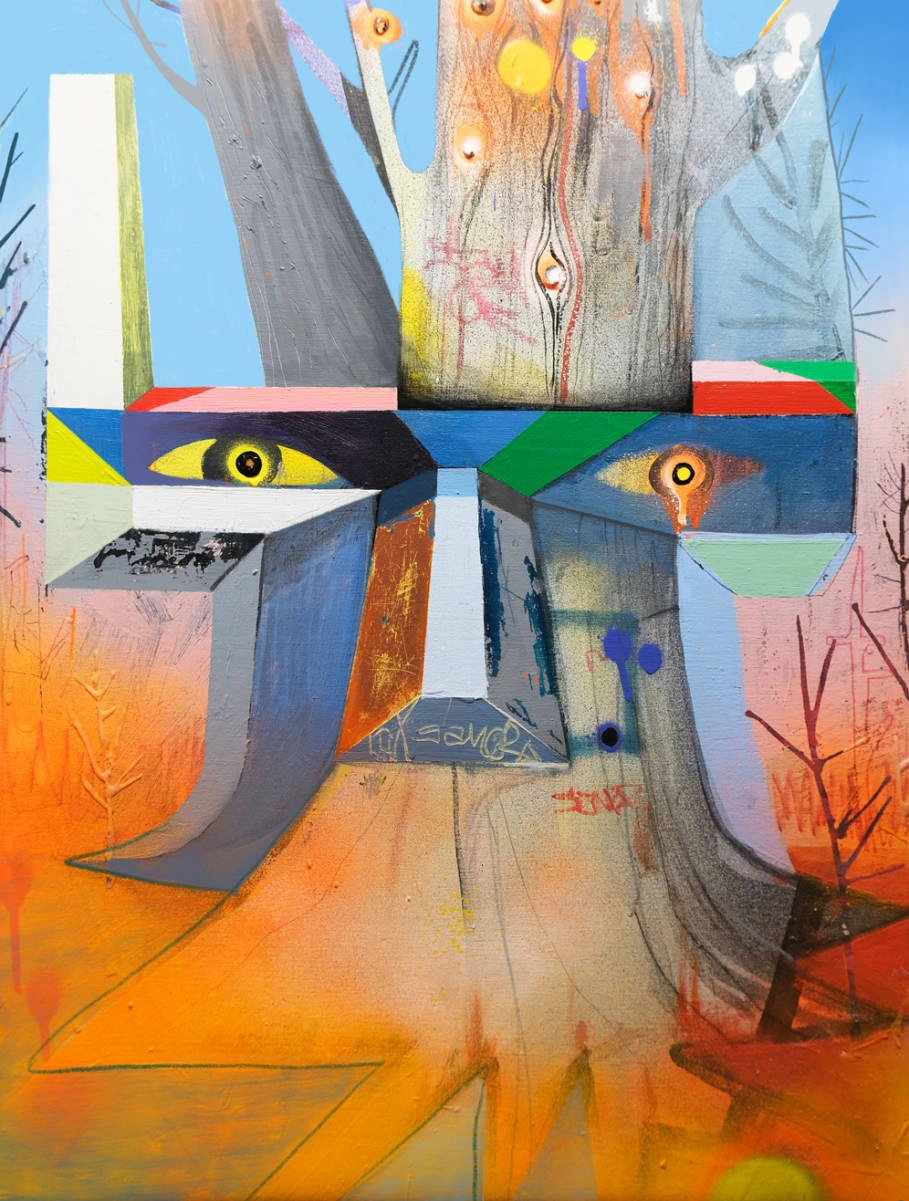 This is a Digitally edited painting (acrylic, ink, oil, and spray paint on a 18" x 24" stretched canvas).
NFTs
He learned about NFTs last year, shortly before they exploded in popularity. He'd connected with a Seattle-based artist named Fewocious, through social media, who encouraged him to hop on the trend early.
A painter at heart, Wolfe was initially skeptical his digital work would make money. But he learned a few basic skills — stop-motion animation, some Photoshop tricks — and bought himself an iPad. His first piece sold for $500.
His artwork ranges from acrylic-based abstractions to flipbook-style cartoons. Some are deep and heartfelt, alluding to themes of loneliness and melancholy. Others are "utterly meaningless," he says. He recently sold 50 sketches of a frog video-conferencing another frog for $200 (U.S.) each. "Inspired by the recent lockdowns," he captioned them. It all sells.
He's listed as the 43rd highest-grossing NFT artist, according to cryptoart.io. The first is an artist named Mike Winkelmann, commonly known as Beeple, who recently auctioned an NFT for $69 million (U.S.) at Christie's, the famed British auction house. The piece, "Everydays: The First 5000 Days," a collage of Beeple's most recent work, is the third-most expensive piece of art ever.
Fewocious is no slouch either. The 18-year-old has earned $17.4 million from NFT sales since July. Now a major influence in the NFT art community, Fewocious told Gotham Magazine he fled an abusive household in Las Vegas at the age of 12 and made his way to Seattle where he took up digital drawing.
Last March, as the COVID-19 pandemic spread, he sold one of his first pieces to a New York-based art collector for $90. His most recent piece, "Overthinking Again," sold for $348,000.
The allure of NFTs, beyond artistic autonomy, is the concept of irreplaceability. Owning an NFT means that the user possess the original version of the artwork it accompanies.
This distinction, in essence, is the difference between fungible and nonfungible. A print of Vermeer's "Girl with a Pearl Earring" is fungible: anyone can swap it for another identical print and nothing will change. But the original "Girl with a Pearl Earring," sitting in the Mauritshuis art gallery in The Hague and surrounded by Dutch security personnel, is nonfungible: there's only one of them and it can't be swapped for anything.
Without NFTs, there's no obvious way to attribute value to digital artwork. Images spread on the internet without a trace of their original source. The artists behind them are often forgotten, and they certainly aren't paid.
Growing up got Old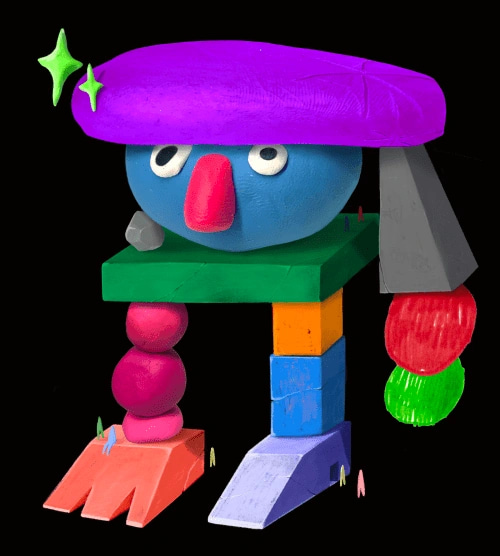 This most recent release, "Growing Up Got Old," emphasizes the vivid and childlike quality that clay provides to his artwork. In addition to using clay, Jonathan also combines lego bricks into his artwork; this is a clear nod to his youth and also adds joy and color, which Jonathan likes to infuse into his work.
Exhibitions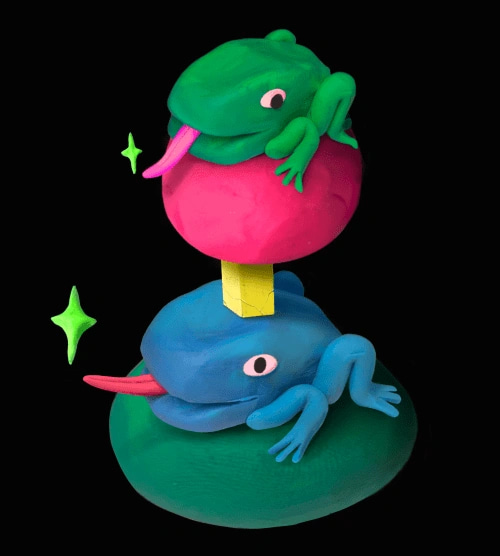 While experimenting with a variety of media, including acrylic, gouache, computer animation, and print, Wolfe's artwork frequently engages with comedy, color, and play. His creations have appeared in exhibitions all across the world.
Some of the Recent Exhibitions are outlined below:
2021
Toronto Star Interview
Albert Einstein Foundation Collaboration
Dart MIlano Group Show
Nifty Gateway Solo Drop "Growing Up Got Old"
Super Rare "Unrealism" Group Show
$MEME Artist feature.
Nifty Gateway "Fabricated Fairytales" group show
2020
Artsy Thesis Art Collective
IOSG 7th Old Friends Reunion DeFi Summit Artists Feature, Crypto Art Gallery — The Time of Variation
SuperRare New Artist Feature
Sobrh Q&A Interview
Social Media
He is very active on social media has he keeps posting and showing off his paintings and artworks. He is active on Instagram, his handle is jonathan.wolfe with over 8K followers. He is also quite popular on Twitter and has over 24.5K followers.[3][4]
See something wrong?
Report to us.
Jonathan Wolfe
Did you find this article interesting?